Abstract
There have been studies of the compatibility between entomopathogenic nematodes and insecticides commonly used to control crop pests, but this same approach has not been widely studied regarding the control of ticks. Therefore, this work examines the association between a species of entomopathogenic nematode, Steinernema glaseri, and an organophosphate acaricide to control the cattle tick Rhipicephalus microplus. Engorged females were separated into 12 groups, with ten repetitions each, immersed for 5 min in varied concentrations of acaricide (commercial dose and one-half, one-fourth, one-eighth and one-sixteenth of that dose), associated or not with the nematodes, maintained under controlled conditions. There were two control groups, one containing nematodes and water and the other only water. The absence of egg laying and significant reduction in the survival period of the females in the nematode treatments associated with the lowest acaricide doses demonstrated the compatibility between the two agents. We observed the presence of S. glaseri adults on the cuticle of the females in the treatments with one-eighth and one-sixteenth the commercial dose. These results indicate greater efficacy of the treatments with lower acaricide concentrations in association with S. glaseri, with less environmental impact, reduced costs and less resistance selection pressure on the tick populations.
Access options
Buy single article
Instant access to the full article PDF.
US$ 39.95
Tax calculation will be finalised during checkout.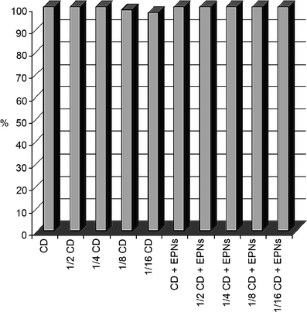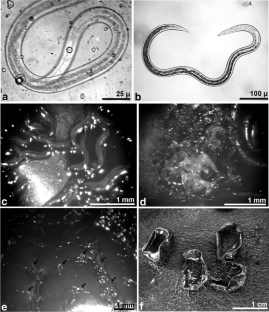 References
Alumai A, Grewal PS (2004) Tank-mix compatibility of entomopathogenic nematodes Heterorhabditis bacteriophora and Steinernema carpocapsae, with selected chemical pesticides used in turfgrass. Biocontrol Sci Technol 14:725–730

Alvarado RU, Gonzalez JC (1979) A postura e a viabilidade do Boophilus microplus (Canestrini, 1887) (Acarina, Ixodidae) em condições de laboratório. Rev Latinoam Microbiol 21:31–36

Barbara KA, Buss EA (2005) Integration of insect parasitic nematodes (Rhabditida: Steinernematidae) with insecticides for control of pest mole crickets (Orthoptera: Gryllotalpidae: Scapteriscus spp.). J Econ Entomol 98:689–693

Cuthbertson AGS, Head J, Walters KFA, Murray AWA (2003) The integrated use of chemical insecticides and the entomopathogenic nematodes, Steinernema feltiae, for the control of sweetpotato whitefly, Bemisia tabaci. Nematology 5:713–720

Davey RB, Garza Jr J, Thompson GD, Drummond RO (1980) Ovipositional biology of the southern cattle tick, Boophilus microplus (Acari: Ixodidae), in the laboratory. J Med Entomol 17:117–121

Drummond RO, Ernst SE, Trevino JL, Gladney WJ, Graham OH (1973) Boophilus annulatus and Boophilus microplus, laboratory tests of insecticides. J Econ Entomol 66:130–133

Furlong J, Martins JR, Prata MCA (2007) O carrapato dos bovinos e a resistência: temos o que comemorar? A Hora Vet 27:26–32

Glória MA, Daemon E, Faccini JLH, Grisi L (1993) Influência de diferentes temperaturas sobre a biologia da fase não parasitária de Boophilus microplus (Can; 1887) (Acari: Ixodidae). Rev Bras Parasitol Vet 2:85–91

Gonzalez JC (2003) O controle do carrapato do boi. Universidade de Passo Fundo, Passo Fundo

Grisi L, Massard CL, Moya Borja GE, Pereira JB (2002) Impacto econômico das principais ectoparasitoses em bovinos no Brasil. A Hora Vet 21:8–10

Head J, Walters KFA, Langton S (2000) The compatibility of entomopathogenic nematode, Steinernema feltiae, and chemical insecticides for the control of the South American leafminer Liriomyza huidobrensis. BioControl 45:345–353

Kaya HK, Stock P (1997) Techniques in insect nematology. In: Lacey LA (ed) Manual of techniques in insect pathology. Academic, San Diego, CA, pp 281–324

Koppenhöfer AM, Kaya HK (1998) Synergism of imidacloprid and entomopathogenic nematode: a novel approach to white grub (Coleoptera: Scarabaeidae) control in turfgrass. J Econ Entomol 91:618–623

Koppenhöfer AM, Brown IM, Gaugler R, Grewal PS, Kaya HK, Klein MG (2000a) Synergism of entomopathogenic nematodes and imidacloprid against white grubs: greenhouse and field evaluation. Biol Control 19:245–251

Koppenhöfer AM, Grewal PS, Kaya HK (2000b) Synergism of imidacloprid and entomopathogenic nematodes against white grubs: the mechanism. Entomol Exp Appl 94:283–293

Koppenhöfer AM, Cowles RS, Cowles EA, Fuzy EM, Baumgartner L (2002) Comparison of neonicotinoid insecticides as synergists for entomopathogenic nematodes. Biol Control 24:90–97

Samish M, Glazer I (2001) Entomopathogenic nematodes for the biocontrol of ticks. Trends Parasitol 17:368–371

Shapiro-Ilan DI, Gouge DH, Piggott SJ, Fife JP (2006) Application technology and environmental considerations for use of entomopathogenic nematodes in biological control. Biol Control 38:124–133

Soriano PA, Del Pino FG (2000) Compatibilidad de los nematodos entomopatógenos (Rhabditida: Steinernematidae y Heterorhabditidae) con el oxamilo. Bol Sanid Veg Plagas 26:377–387

Vasconcelos VO, Furlong J, Freitas GM, Dolinski C, Aguillera MM, Rodrigues RC, Prata MCA (2004) Steinernema glaseri Santa Rosa strain (Rhabditida: Steinernematidae) and Heterorhabditis bacteriophora CCA strain (Rhabditida: Heterorhabditidae) as biological control agents of Boophilus microplus (Acari: Ixodidae). Parasitol Res 94:201–206
Acknowledgements
The authors thank CAPES (Office for Improvement of University Education), CNPq (National Council for Scientific and Technological Development) and the Embrapa Dairy Cattle Unit for financial support. The experiments were done according to the Brazilian laws.
About this article
Cite this article
Reis-Menini, C.M.R., Prata, M.C.A., Furlong, J. et al. Compatibility between the entomopathogenic nematode Steinernema glaseri (Rhabditida: Steinernematidae) and an acaricide in the control of Rhipicephalus (Boophilus) microplus (Acari: Ixodidae). Parasitol Res 103, 1391–1396 (2008). https://doi.org/10.1007/s00436-008-1147-5
Received:

Accepted:

Published:

Issue Date:
Keywords
Survival Period

Entomopathogenic Nematode

Engorge Female

Female Tick

Tick Population