Abstract
In mosquito control programs, botanical origin may have the potential to be used successfully as larvicides. The larvicidal activity of crude acetone, hexane, ethyl acetate, methanol, and petroleum ether extracts of the leaf of Centella asiatica Linn., Datura metal Linn., Mukia scabrella Arn., Toddalia asiatica (Linn.) Lam, extracts of whole plant of Citrullus colocynthis (Linn.) Schrad, and Sphaeranthus indicus Linn. were assayed for their toxicity against the early fourth instar larvae of Culex quinquefasciatus (Diptera: Culicidae). The larval mortality was observed after 24 h exposure. All extracts showed moderate larvicidal effects; however, the highest larval mortality was found in whole plant petroleum ether extract of C. colocynthis. In the present study, bioassay-guided fractionation of petroleum ether extract led to the separation and identification of fatty acids; oleic acid and linoleic acid were isolated and identified as mosquito larvicidal compounds. Oleic and Linoleic acids were quite potent against fourth instar larvae of Aedes aegypti L. (LC50 8.80, 18.20 and LC90 35.39, 96.33 ppm), Anopheles stephensi Liston (LC50 9.79, 11.49 and LC90 37.42, 47.35 ppm), and Culex quinquefasciatus Say (LC50 7.66, 27.24 and LC90 30.71, 70.38 ppm). The structure was elucidated from infrared, ultraviolet, 1H-nuclear magnetic resonance, 13C-NMR, and mass spectral data. This is the first report on the mosquito larvicidal activity of the reported isolated compounds from C. colocynthis.
Access options
Buy single article
Instant access to the full article PDF.
USD 39.95
Price excludes VAT (USA)
Tax calculation will be finalised during checkout.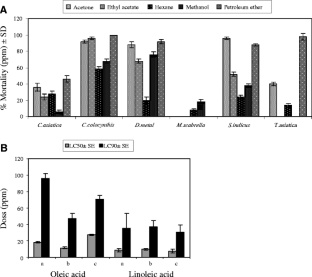 References
Amer A, Mehlhorn H (2006a) Larvicidal effects of various essential oils against Aedes, Anopheles, and Culex larvae (Diptera, Culicidae). Parasitol Res 99:466–472

Amer A, Mehlhorn H (2006b) Persistency of larvicidal effects of plant oil extracts under different storage conditions. Parasitol Res 99:473–477

Bagavan A, Rahuman AA, Kamaraj C, Geetha K (2008) Larvicidal activity of saponin from Achyranthes aspera against Aedes aegypti and Culex quinquefasciatus (Diptera: Culicidae). Parasitol Res 103:223–229

Bandara BMR, Hewaze CM, Jayamanne DHLW, Karunaratne V, Adikaram NKB Bandara KANP, Pinto MRM, Wijesundara DSA (1990) Biological activity of some distillates from leaves of ten species of rutaceous plants. J Natl Sci Counc Sri Lanka 18(1):71–77

Bernhard L, Bernhard P, Magnussen P (2003) Management of Patients with Lymphoedema Caused by Filariasis in North-eastern Tanzania: alternative approaches. Physiotherapy 89:743–749

Brown AWA (1986) Insecticide resistance in mosquitoes: pragmatic review. J Am Mosq Control Assoc 2:123–40

Chakraborty T, Babu SPS, Sukul NC, Babu SPS (1996) Preliminary evidence of antifilarial effect of Centella asiatica on Canine dirofilariasis. Fitoterapia 67(2):110–112

Chaubal R, Pawar PV, Hebbalkar GD, Tungikar VB, Puranik VG, Deshpande VH, Deshpande NR (2005) Larvicidal activity of Acacia nilotica extracts and isolation of D-pinitol–a bioactive carbohydrate. Chem Biodivers 2(5):684–688

Chauret DC, Bernard CB, Arnason JT, Durst T, Krishnamurthy HG, Vindas PS, Moreno N, Roman LS, Poveda L (1996) Insecticidal neolignans from Piper decurrens. J Nat Prod 59(2):152–155

Cheng SS, Huang CG, Chen WJ, Kuo YH, Chang ST (2008) Larvicidal activity of tectoquinone isolated from red heartwood-type Cryptomeria japonica against two mosquito species. Bioresour Technol 99(9):3617–3622

De Omena MC, Bento ES, De Paula JE, Sant'Ana AE (2006) Larvicidal diterpenes from Pterodon polygalaeflorus. Vector Borne Zoonotic Dis 6:216–222

Dilika F, Bremner PD, Meyer JJM (2000) Antibacterial activity of linoleic and oleic acids isolated from Helichrysum pedunculatum: a plant used during circumcision rites. Fitoterapia 71(4):450–452

Fradin MS, Day JF (2002) Comparative efficacy of insect repellents against mosquitoes bites. N Engl J Med 347:13–18

Gokunju DMN, Mberu EK, Dossaji SF, Gray AL, Waigh RD, Waterman PG, Watkins WM (1996) Potent antimalarial activity of the alkaloid nitidine, isolated from Kenyan herbal remedy. J Clin Microbiol 34(1):2606–2609

Goswami BK, Vijayalakshmi K (1987) Studies on the effect of some plant and non-edible oil seed cake extracts on larval hatching of Meloidogyne incognita. J Res Assam Agric Univ 8(1–2):62–64

Govindarajan M, Jebanesan A, Pushpanathan T, Samidurai K (2008) Studies on effect of Acalypha indica L. (Euphorbiaceae) leaf extracts on the malarial vector, Anopheles stephensi Liston (Diptera:Culicidae). Parasitol Res 103(3):691–695

Hales S, Wet ND, Maindonald J, Woodward A (2002) Potential effect of population and climate changes on global distribution of dengue fever: an empirical model. The Lancet 360:830–834

Jang YS, Jeon JH, Lee HS (2005) Mosquito larvicidal activity of active constituent derived from Chamaecyparis obtusa leaves against 3 mosquito species. J Am Mosq Control Assoc 21:400–403

Kamaraj C, Rahuman AA, Bagavan A (2008) Antifeedant and larvicidal effects of plant extracts against Spodoptera litura (F.), Aedes aegypti L. and Culex quinquefasciatus Say. Parasitol Res 103(2):325–331

Katade SR, Pawar PV, Tungikar VB, Tambe AS, Kalal KM, Wakharkar RD, Deshpande NR (2006) Larvicidal activity of bis(2-ethylhexyl) benzene-1,2-dicarboxylate from Sterculia guttata seeds against two mosquito species. Chem Biodivers 3(1):49–53

Krugliak M, Deharo E, Shalmiev G, Sauvain M, Moretti C, Ginsburg H (1995) Antimalarial effects of C18 fatty acids on Plasmodium falciparum in culture and on Plasmodium vinckei petteri and Plasmodium yoelii nigeriensis in vivo. Exp Parasitol 81(1):97–105

Lee SE (2000) Mosquito larvicidal activity of pipernonaline, a piperidine alkaloid derived from long pepper, Piper longum. J Am Mosq Control Assoc 16:245–247

León L, Garrido-Varo A, Downey G (2004) Parent and harvest year effects on near-infrared reflectance spectroscopic analysis of olive (Olea europaea L.) fruit traits. J Agric Food Chem 52(16):4957–4962

Mansour F, Azaizeh H, Saad B, Tadmor Y, Abo-Moch F, Said O (2004) The potential of Middle Eastern flora as a source of new safe bio-acaricides to control Tetranychus cinnabarinus,the Carmine Spider Mite. Phytoparasitica 32(1):66–72

Metcalf RL (1986) Coevolutionary adaptations of rootworm beetles (Coleoptera: Chrysomelidae) to cucurbitacins. J Chem Ecol 12(5):1109–1124

Mohan L, Sharma P, Srivastava CN (2007) Comparative efficacy of Solanum xanthocarpum extracts alone and in combination with a synthetic pyrethroid, cypermethrin, against malaria vector, Anopheles stephensi. Southeast Asian J Trop Med Public Health 38(2):256–260

Mullai K, Jebanesan A (2007) Larvicidal, ovicidal and repellent activities of the leaf extract of two cucurbitacious plants against filarial vector Culex quinquefasciatus (Say) (Diptera: Culicidae). Trop Biomed 24(1):1–6

Mullai K, Jebanesan A, Pushpanathan T (2008) Mosquitocidal and repellent activity of the leaf extract of Citrullus vulgaris (cucurbitaceae) against the malarial vector, Anopheles stephensi liston (diptera culicidae). Eur Rev Med Pharmacol Sci 12(1):1–7

Murugan K, Babu R, Sivaramakrishnan S (1999) Toxic effect of plants on Spodoptera litura Fab. Insect Environment 4(4):135

Ndung'u MW, Kaoneka B, Hassanali A, Lwande W, Hooper AM, Tayman F, Zerbe O, Torto B (2004) New mosquito larvicidal tetranortriterpenoids from Turraea wakefieldii and Turraea floribunda. J Agric Food Chem 52:5027–5031

Nisha M, Kalyanasundaram M, Paily KP, Abidha, Vanamail P, Balaraman K (2007) In vitro screening of medicinal plant extracts for macrofilaricidal activity. Parasitol Res 100(3):575–579

Pandey V, Agrawal V, Raghavendra K, Dash AP (2007) Strong larvicidal activity of three species of Spilanthes (Akarkara) against malaria (Anopheles stephensi Liston, Anopheles culicifacies, species C) and filaria vector (Culex quinquefasciatus Say). Parasitol Res 102(1):171–174

Park IK, Shin SC, Kim CS, Lee HJ, Choi WS, Ahn YJ (2005) Larvicidal activity of lignans identified in Phryma leptostachya Var. asiatica roots against three mosquito species. J Agric Food Chem 53:969–972

Perich MJ, Wells C, Bertstsch W, Tredway KE (1995) Isolation of the insecticidal components of Targetes minuta (Compositae) against mosquito larvae and adults. J Am Mosq Cont Ass 11:307–310

Rahuman AA, Venkatesan P (2008) Larvicidal efficacy of five cucurbitaceous plant leaf extracts against mosquito species. Parasitol Res 103:133–139

Rahuman AA, Gopalakrishnan G, Ghouse BS, Arumugam S, Himalayan B (2000) Effect of Feronia limonia on mosquito larvae. Fitoterapia 71:553–555

Rahuman AA, Gopalakrishnan G, Venkatesan P, Geetha K (2008a) Isolation and identification of mosquito larvicidal compound from Abutilon indicum (Linn.) Sweet. Parasitol Res 102(5):981–988

Rahuman AA, Gopalakrishnan G, Venkatesan P, Geetha K (2008b) Larvicidal activity of some Euphorbiaceae plant extracts against Aedes aegypti and Culex quinquefasciatus (Diptera: Culicidae). Parasitol Res 102(5):867–873

Ramsewak RS, Nair MG, Murugesan S, Mattson WJ, Zasada J (2001) Insecticidal fatty acids and triglycerides from Dirca palustris. J Agric Food Chem 49(12):5852–5856

Reddy PJ, Krishna D, Murthy US, Jamil K (1992) A microcomputer FORTRAN program for rapid determination of lethal concentration of biocides in mosquito control. CABIOS 8:209–213

Resch M, Heilmann J, Steigel A, Bauer R (2001) Further phenols and polyacetylenes from the rhizomes of Atractylodes lancea and their anti-inflammatory activity. Planta Med 67(5):437–442

Roberts CA, Ren C, Beuselinck PR, Benedict HR, Bilyeu K (2006) Fatty acid profiling of soybean cotyledons by near-infrared spectroscopy. Appl Spectrosc 60(11):1328–1333

Rongsriyam Y, Trongtokit Y, Komalamisra N, Sinchaipanich N, Apiwathnasorn C, Mitrejet A (2006) Formulation of tablets from the crude extract of Rhinacanthus nasutus (Thai local plant) against Aedes aegypti and Culex quinquefasciatus larvae: a preliminary study. Southeast Asian J Trop Med Public Health 7(2):265–271

Seenivasan SP, Jayakumar M, Raja N, Ignacimuthu S (2004) Effect of bitter apple, Citrullus colocynthis (L.) Schrad seed extracts against pulse beetle, Callosobruchus maculatus Fab.(Coleoptera:Bruchidae). Entomon 29(1):81–84

Sharma M, Saxena RC (1996) Sphaeranthus indicus as a mosquito larvicidae. J Appl Zool Res 7(1):87–88

Sharma P, Mohan L, Srivastava CN (2004) Larval susceptibility of Ajuga remota against anopheline and culicine mosquitos. Southeast Asian J Trop Med Public Health 35(3):608–610

Sharma P, Mohan L, Srivastava CN (2005) Larvicidal potential of Nerium indicum and Thuja oriertelis extracts against malaria and Japanese encephalitis vector. J Environ Biol 26(4):657–660

Siddiqui BS, Afshan F, Faizi S, Naqvi SNH, Tariq RM (2002) Two new triterpenoids from Azadirachta indica and their insecticidal activity. J Nat Prod 65:1216–1218

Siddiqui BS, Afshan F, Gulzar T, Sultana R, Naqvi SN, Tariq RM (2003) Tetracyclic triterpenoids from the leaves of Azadirachta indica and their insecticidal activities. Chem Pharm Bull (Tokyo) 51:415–417

Srivastava R, Shukla YN, Darokar MP (1997a) Antibacterial activity of Centella asiatica. Fitoterapia 68(5):466–467

Srivastava R, Shukla YN, Tripathi AK (1997b) Antifeedant compounds from Centella asiatica. Fitoterapia 68(1):93–94

Su BN, Cuendet M, Farnsworth NR, Fong HH, Pezzuto JM, Kinghorn AD (2002) Activity-guided fractionation of the seeds of Ziziphus jujuba using a cyclooxygenase-2 inhibitory assay. Planta Med 68(12):1125–1128

Sun YF, Xiao YQ, Liu XH (1994) [Chemical constituents of Notopterygium incisium Ting.III: Chemical constituents isolated and identified from petroleum ether extracts of N. incisium Ting]. Zhongguo Zhong Yao Za Zhi 19(2):99–100

Sundararajan G, Kumuthakalavalli R (2001) Antifeedant activity of aqueous extract of Gnidia glauca Gilg. and Toddalia asiatica Lam. on the gram pod borer, Helicoverpa armigera (Hbn). J Environ Biol 22(1):11–14

Tallamy DW, Stull J, Ehresman NP, Gorski PM, Mason CE (1997) Cucurbitacins as feeding and oviposition deterrents to insects. Environ Entomol 26(3):678–683

Tonk S, Bartarya R, Maharaj Kumari K, Bhatnagar VP, Srivastava SS (2006) Effective method for extraction of larvicidal component from leaves of Azadirachta indica and Artemisia annua Linn. J Environ Biol 27(1):103–105

Vatandoost H, Vaziri VM (2004) Larvicidal activity of a neem tree extract (Neemarin) against mosquito larvae in the Islamic Republic of Iran. East Mediterr Health J 10:573–581

Wang D, Girard TJ, Kasten TP, LaChance RM, Miller-Wideman MA, Durley RC (1998) Inhibitory activity of unsaturated fatty acids and anacardic acids toward soluble tissue factor-factor VIIa complex. J Nat Prod 61(11):1352–1355

Wernsdorfer G, Wernsdorfer WH (2003) Malaria at the turn from the 2nd to the 3rd millenium. Wien Klin Wochenschr 115(3):2–9

WHO (1996) Report of the WHO informal consultation on the evaluation on the testing of insecticides CTD/WHO PES/IC/96.1: p. 69

Wiesman Z, Chapagain BP (2006) Larvicidal activity of saponin containing extracts and fractions of fruit mesocarp of Balanites aegyptiaca. Fitoterapia 77(6):420–424

Wink M (1993) Production and application of pytochemicals from an agricultural perspective. In: Van Beek TA, Breteler H (eds) Phytochemistry and agriculture. Clerendon, Oxford, pp 171–213

Zani CL, Macedo ME, Consoli RA, Grandi TS, Anjos AMJ, Oliveira ABD, Mendes NM, Queiroz RO (1997) Screening of Asteraceae (Compositae) plant extracts for larvicidal activity against Aedes fluviatilis (Diptera: Culicidae). Mem Inst Oswaldo Cruz 92(4):565–570
Acknowledgements
The authors are grateful to C. Abdul Hakeem College Management, Dr. S. Mohammed Yousuff, Principal, Dr. Ahmed Najib, HOD of Zoology Department and Dr. Sait Sahul Hameed, Reader in Zoology for their help and suggestion. AR is indebted to University Grants Commission, New Delhi for award of fellowship.
About this article
Cite this article
Rahuman, A.A., Venkatesan, P. & Gopalakrishnan, G. Mosquito larvicidal activity of oleic and linoleic acids isolated from Citrullus colocynthis (Linn.) Schrad. Parasitol Res 103, 1383–1390 (2008). https://doi.org/10.1007/s00436-008-1146-6
Received:

Accepted:

Published:

Issue Date:

DOI: https://doi.org/10.1007/s00436-008-1146-6
Keywords
Linoleic Acid

Larvicidal Activity

Petroleum Ether Extract

Cucurbitacin

Antifeedant Activity