Abstract
Dracunculiasis is a preventable parasitic disease that for many years has affected poor communities without a safe portable water supply. Transmission is basically limited among the nomadic in remote rural settings. Most countries, including Asia, are declared free from the Guinea worm disease restraining the burden of transmission to Africa especially Sudan, Ghana, Mali, Nigeria and Niger. This review focuses mainly on the progress made so far by the Global Guinea Worm Eradication Programme championed by the Carter Center, Centers for Disease Control and Prevention, World Health Organisation, The United Nations Children's Fund and the individual efforts of endemic nations through their National Guinea Worm Eradication Programme aimed towards total global Guinea worm eradication.
Access options
Buy single article
Instant access to the full article PDF.
USD 39.95
Price excludes VAT (USA)
Tax calculation will be finalised during checkout.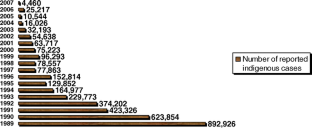 References
Anosike JC, Azoro VA, Nwoke BE, Keke RI, Okere AN, Oku EE, Ogbulie JN, Tony-Njoku RF, Okoro OU, Nwosu DC (2003a) Dracunculiasis in the north eastern border of Ebonyi State. Int J Environ Health 206(1):45–51

Anosike JC, Nwoke BE, Dozie I, Thoern UA, Okere AN, Njoku-Tony R, Nwosu DC, Oguwuike UT, Dike MC, Alozie JI, Okungun GR, Ajero CM, Onyirioha CU, Ezike MN, Ogbusu FI, Ajayi EG (2003b) Control of endemic dracunculiasis in Ebonyi State, south-eastern Nigeria. Int J Environ Health 206(6):591–596

Barry M (2006) Editorial—slaying little dragons: lessons from the Dracunculiasis eradication program. Am J Hyg Trop Med 75(1):1–2

Barry M (2007) The tail end of Guinea worm—global eradication without a drug or a vaccine. N Engl J Med 356(25):2561–2564

CDC (1995) Update: Dracunculiasis eradication—Ghana and Nigeria, 1994. MMWR 44(10):189–191

CDC (2004) Dracunculiasis (Guinea worm disease). Fact sheet for the general public. Available at: http://www.cdc.gov/ncidod/dpd/parasites/dracunculiasis/2004_PDF_Dracunculiasis.pdf (Accessed on October 30, 2007)

CDC (2007) Progress toward global eradication of dracunculiasis, January 2005–May 2007. MMWR 56(32):813–817

Fenwick A (2006) Waterborne infectious diseases – could they be consigned to history? Science 313:1077–1081

Greenaway C (2004) Dracunculiasis (Guinea worm disease). Canadian Med Assoc J 170:495–500

Hopkins DR, Foege WH (1981) Guinea worm disease (Letter). Science 212:495

Hopkins DR, Withers PC Jr (2002) Sudan's war and eradication of dracunculiasis. Lancet 360(Suppl):s21–s22

Hopkins DR, Azam M, Ruiz-Tiben E, Kappus KD (1995) Eradication of dracunculiasis from Pakistan. Lancet 346(8975):621–624

Hopkins DR, Ruiz-Tiben E, Ruebush TK, Diallo N, Agle A, Withers PC Jr (2000) Dracunculiasis eradication: delayed, not denied. Am J Trop Med Hyg 62(2):163–168

Hopkins DR, Ruiz-Tiben E, Diallo N, Wither PC Jr, Maguire JH (2002) Dracunculiasis eradication: and now, Sudan. Am J Trop Med Hyg 67(4):415–422

Hopkins DR, Ruiz-Tiben E, Downs P, Withers PC Jr, Maguire JH (2005) Dracunculiasis eradication: the final inch. Am J Trop Med Hyg 73(4):669–675

Hopkins DR, Richards FO, Ruiz-Tiben E, Emerson P, Withers PC (2007) Dracunculiasis, onchocerciasis, schistosomiasis, and trachoma. Ann NY Acad Sci (in press)

Karam M, Tayeh A (2006) Dracunculiasis eradication. Bull Soc Pathol Exot 99(5):377–385

Menon T (2005) Incidental finding Dracunculus medinensis in Australia. Med J Aust 183(1):51

Ogamdi SO, Onwe F (2001) Guinea Worm (Dracunculus medinensis) eradication: a pilot study conducted at the Ohaukwu Local Government Areas, Ebonyi State, Nigeria, West Africa. Ethn Dis 11(2):320–324

Sam-Abbenyi A, Dama M, Graham S, Obate Z (1999) Dracunculiasis in Cameroon at the threshold of elimination. Int Epidemiol Assoc 28:163–168

Ruiz-Tiben E, Hopkins DR (2006) Dracunculiasis (Guinea worm disease) eradication. Adv Parasitol 61:275–309

Rwakimari JB, Hopkins DR, Ruiz-Tiben E (2006) Uganda's successful Guinea worm eradication program. Am J Hyg Med 75(1):3–8

WER (1995) Dracunculiasis eradication update. Wkly Epidemiol Rec 70:48–50

WHO (1993) Dracunculiasis: global surveillance summary. Wkly Epidemiol Rec 17:121–128

WHO (2004) Dracunculiasis eradication: Geneva declaration on guinea-worm eradication, Geneva, 2004. Wkly Epidemiol Rec 79:234–235

WHO (2006) Dracunculiasis eradication: ministerial meeting, Geneva, 25 May 2006. Wkly Epidemiol Rec 81:237–240
Acknowledgement
The authors wish to thank Dr Gawa Bidla for proof appraisal of the manuscript. We apologise to authors whose articles were not cited in this review.
About this article
Cite this article
Iriemenam, N.C., Oyibo, W.A. & Fagbenro-Beyioku, A.F. Dracunculiasis—the saddle is virtually ended. Parasitol Res 102, 343–347 (2008). https://doi.org/10.1007/s00436-007-0828-9
Received:

Accepted:

Published:

Issue Date:

DOI: https://doi.org/10.1007/s00436-007-0828-9
Keywords