Abstract
In the present work, we have investigated the effect of essential oils obtained from Origanum vulgare L. (oregano) and Thymus vulgaris L. (thyme) on growth and ultrastructure of diverse evolutive forms of Trypanosoma cruzi. Culture epimastigotes and bloodstream trypomastigotes were incubated for 24 h with different concentrations of oregano or thyme essential oils and with thymol (the main constituent of thyme), and the inhibitory concentration (IC)50 was determined by cell counting. Crude extract of oregano essential oil inhibited epimastigote growth (IC50/24 h = 175 μg/ml) and also induced trypomastigote lysis (IC50/24 h = 115 μg/ml). Thyme essential oil presented IC50/24 h values of 77 μg/ml for epimastigotes and 38 μg/ml for trypomastigotes, while treatment with thymol resulted in an IC50/24 h of 62 μg/ml for epimastigotes and 53 μg/ml for trypomastigotes. Scanning electron microscopy of treated cells showed few morphological alterations at the plasma membrane. Observation by transmission electron microscopy showed cytoplasmic swelling with occasional morphological alterations in plasma and flagellar membrane. Our data indicate that oregano and thyme essential oils are effective against T. cruzi, with higher activity of thyme, and that thymol may be the main component responsible for the trypanocidal activity.
This is a preview of subscription content, log in to check access.
Access options
Buy single article
Instant access to the full article PDF.
US$ 39.95
Price includes VAT for USA
Subscribe to journal
Immediate online access to all issues from 2019. Subscription will auto renew annually.
US$ 199
This is the net price. Taxes to be calculated in checkout.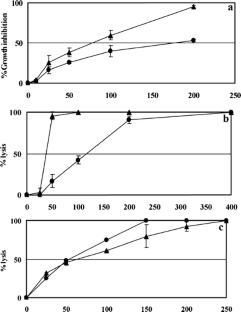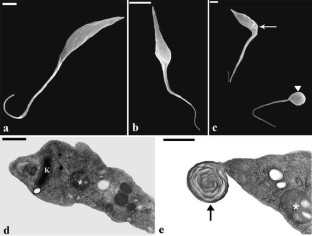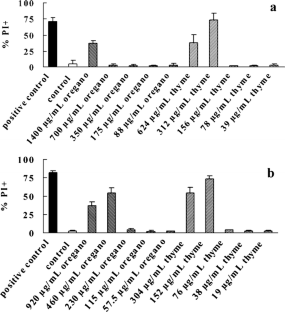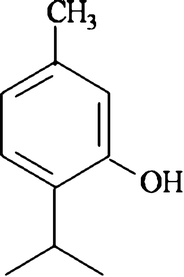 References
Adams RP (1995) Identification of essential oils components by gas chromatography/mass spectroscopy. Allured, Carol Stream, IL

Aligiannis N, Kalpoutzakis E, Mitaku S, Chinou IB (2001) Composition and antimicrobial activity of the essential oils of two Origanum species. J Agric Food Chem 49:4168–4170

Bishop CD (1995) Antiviral activity of the essential oil of Melaleuca alternifolia (Maiden and Betche) Cheel (tea tree) against tobacco mosaic virus. J Essent Oil Res 7:641–644

Burt S (2004) Essential oils: their antibacterial properties and potential applications in foods—a review. Int J Food Microbiol 94:223–253

Burt SA, Reinders RD (2003) Antibacterial activity of selected plant essential oils against Escherichia coli O157:H7. Lett Appl Microbiol 36:162–167

Burt SA, Vlielander R, Haagsman HP, Veldhuizen EJ (2005) Increase in activity of essential oil components carvacrol and thymol against Escherichia coli O157:H7 by addition of food stabilizers. J Food Prot 68:919–926

Cai L, Wu CD (1996) Compounds from Syzygium aromaticum possessing growth inhibitory activity against oral pathogens. J Nat Prod 59:987–990

Camargo EC (1964) Growth and differentiation in Trypanosoma cruzi. Origin of metacyclic trypanosomes in liquid media. Rev Inst Med Trop Sao Paulo 6:93–100

Campos FR, Januario AH, Rosas LV, Nascimento SK, Pereira PS, Franca SC, Cordeiro MS, Toldo MP, Albuquerque S (2005) Trypanocidal activity of extracts and fractions of Bertholletia excelsa. Fitoterapia 76:26–29

Carson CF, Cookson BD, Farrelly HD, Riley TV (1995) Susceptibility of methicillin-resistant Staphylococcus aureus to the essential oil of Melaleuca alternifolia. J Antimicrob Chemother 35:421–424

Craveiro AA, Fernandes AG, Andrade CHS, Matos FJA, Alencar JW, Machado MIL (1981) Óleos Essenciais do Nordeste. Edições UFC, Fortaleza

Croft SL (1999) Pharmacological approaches to antitrypanosomal chemotherapy. Mem Inst Oswaldo Cruz 94:215–220

Croft SL, Urbina JA, Brun R (1997) Chemotherapy of human of leishmaniasis and trypanosomiasis. In: Hide G, Mottram JC, Coombs GH, Holmes PH (eds) Trypanosomiasis and leishmaniasis. CAB International, London, pp 245–257

De Castro SL (1993) The challenge of Chagas disease chemotherapy: an update of drugs assayed against Trypanosoma cruzi. Acta Trop 53:83–98

Deans SG, Ritchie G (1987) Antibacterial properties of plant essential oils. Int J Food Microbiol 5:165–180

Ditry N, Dureuil L, Pinkas M (1994) Activity of thymol, carvacrol, cinnamaldehyde and eugenol on oral bacteria. Pharm Acta Helv 69:25–28

Dorman HJD, Deans SG (2000) Antimicrobial agents from plants: Antibacterial activity of plant volatile oils. J Appl Microbiol 88:308–316

Friedman M, Henika PR, Mandrell RE (2002) Bactericidal activities of plant essential oils and some of their isolated constituents against Campylobacter jejuni, Escherichia coli, Listeria monocytogenes, and Salmonella enterica. J Food Prot 65:1545–1560

Giordani R, Regli P, Kaloustian J, Mikail C, Abou L, Portugal H (2004) Antifungal effect of various essential oils against Candida albicans. Potentiation of antifungal action of amphotericin B by essential oil from Thymus vulgaris. Phytother Res 18:990–995

Guenther E (1948) The production of essential oils. In: Guenther ED (ed) The essential oils, vol. 1. Van Nostrand, New York, pp 85–226

Holetzi FB, Ueda-Nakamura T, Dias BP, Cortez DAG, Morgado-Diaz JA, Nakamura CV (2003) Effect of essential oil of Ocimum gratissimum on the trypanosomatid Herpetomonas samuelpessoai. Acta Protozool 42:269–275

Janssen AM, Scheffer JJC, Baerheim Svendsen A (1987) Antimicrobial activity of essential oils: a 1976–1986 literature review. Aspects of the test methods. Planta Med 53:396–398

Kayser O, Kiderlen AF, Croft SL (2003) Natural products as antiparasitic drugs. Parasitol Res 90:S55–S62

Knobloch K, Weigand H, Weis N, Schwarm H-M, Vigenschow H (1986) Action of terpenoids on energy metabolism. In: Brunke EJ (ed) Progress in essential oil research: 16th international symposium on essential oils. De Gruyter, Berlin, pp 429–445

Kohlert C, Schindler G, Marz RW, Abel G, Brinkhaus B, Derendorf H, Grafe EU (2002) Systemic availability and pharmacokinetics of thymol in humans. J Clin Pharmacol 42:731–737

Lambert RJW, Skandamis PN, Coote PJ, Nychas GJE (2001) A study of the minimum inhibitory concentration and mode of action of oregano essential oil, thymol and carvacrol. J Appl Microbiol 91:453–462

Lis-Balchin M, Deans SG (1997) Bioactivity of selected plant essential oils against Listeria monocytogenes. J Appl Microbiol 82:759–762

Mahmoud SS, Croteau RB (2002) Strategies for transgenic manipulation of monoterpene biosynthesis in plants. Trends Plant Sci 7:366–373

Meirelles RMS, Soares MJ (2001) Quick fixation of eukaryotic cell suspension for routine transmission electron microscopy. Acta Microsc 10:19–22

Mikus J, Harkenthal M, Steverding D, Reichling J (2000) In vitro effect of essential oils and isolated mono- and sesquiterpenes on Leishmania major and Trypanosoma brucei. Planta Med 66:366–368

Mourey A, Canillac N (2002) Anti-Listeria monocytogenes activity of essential oils components of conifers. Food Control 13:289–292

Nychas GJE (1995) Natural antimicrobials from plants. In: Gould GW (ed) New methods of food preservation. Blackie Academic and Professional, London, pp 58–89

Pandey R, Kalra A, Tandon S, Mehrotra N, Singh HN, Kumar S (2000) Essential oil compounds as potent source of nematicidal compounds. J Phytopathol 148:501–502

Paster N, Menasherov M, Ravid U, Juven B (1995) Antifungal activity of oregano and thyme essential oils applied as fumigants against fungi attacking stored grain. J Food Prot 58:81–85

Pessoa LM, Morais SM, Bevilaqua CML, Luciano JHS (2002) Anthelmintic activity of essential oil of Ocimum gratissimum Linn. and eugenol against Haemonchus contortus. Vet Parasitol 109:59–63

Rassi A, Luquetti AO (1992) Therapy of Chagas disease. In: Wendel S, Brener Z, Camargo ME, Rassi A (eds) Chagas disease (American trypanosomiasis): its impact on transfusion and clinical medicine. SBHH, São Paulo, pp 237–247

Rosa MSS, Mendonça-Filho RR, Bizzo HR, Rodrigues IA, Soares RMA, Souto-Padrón T, Alviano CS, Lopes AHCS (2003) Antileishmanial activity of a linalool-rich essential oil from Croton cajucara. Antimicrob Agents Chemother 47:1895–1901

Sepúlveda-Boza S, Cassels BK (1996) Plant metabolites active against Trypanosoma cruzi. Planta Med 62:98–105

Shelef LA (1983) Antimicrobial effects of spices. J Food Safety 6:29–44

Silva LHP, Nussenzweig V (1953) Sobre uma cepa de Trypanosoma cruzi altamente virulenta para o camundongo branco. Folia Clin Biol (Sao Paulo) 20:191–208

Sivropoulou A, Papanikolaou E, Nikolaou C, Kokkini S, Lanaras T, Arsenakis M (1996) Antimicrobial and citotoxic activities of Origanum essential oils. J Agric Food Chem 44:1202–1205

Soylu EM, Soylu S, Kurt S (2006) Antimicrobial activities of the essential oils of various plants against tomato late blight disease agent Phytophthora infestans. Mycopathologia 161:119–128

Stoppani AO (1999) The chemotherapy of Chagas disease. Medicina (B Aires) 59:147–165

Tchoumbougnang F, Amvam Zollo PH, Dagne E, Mekonnen Y (2005) In vivo antimalarial activity of essential oils from Cymbopogon citratus and Ocimum gratissimum on mice infected with Plasmodium berghei. Planta Med 71:20–23

Ultee A, Bennik MHJ, Moezelaar R (2002) The phenolic hydroxyl group of carvacrol is essential for action against the foodborne pathogen Bacillus cereus. Appl Environ Microbiol 68:1561–1568

Urbina JA, Docampo R (2003) Specific chemotherapy of Chagas disease: controversies and advances. Trends Parasitol 19:495–501

WHO (2002) Control of Chagas disease. Tech Rep Ser 905:1–109
Acknowledgements
This work was supported by CNPq, FIOCRUZ, and PAPES-IV. The authors thank Ms. Patricia Meuser Rego for technical assistance and Mr. Bruno Ávila (Departamento de Ultra-estrutura e Biologia Celular, IOC/FIOCRUZ) and Mr. Rodrigo Mexas (Laboratório de Produção e Tratamento de Imagens, IOC/FIOCRUZ) for help with the digital image treatment. The experiments comply with the current laws of Brazil.
About this article
Cite this article
Santoro, G.F., das Graças Cardoso, M., Guimarães, L.G.L. et al. Effect of oregano (Origanum vulgare L.) and thyme (Thymus vulgaris L.) essential oils on Trypanosoma cruzi (Protozoa: Kinetoplastida) growth and ultrastructure. Parasitol Res 100, 783–790 (2007). https://doi.org/10.1007/s00436-006-0326-5
Received:

Accepted:

Published:

Issue Date:
Keywords
Thymol

Carvacrol

Trypanosoma Cruzi

Mouse Peritoneal Macrophage

Trypanocidal Activity