Abstract
In the world, giardiosis is still a very important parasitic disease; only in Asia, Africa and America, there are more than 200 million of infected people in a year. The usual treatments are drugs that produce undesirable secondary effects, perhaps favouring the resistant strain selection. One alternative is to research compounds from plants used as antidiarrhoeic or antiparasitic in the traditional medicine. In a previous work, we found that Lippia beriandieri (Oregano) revealed to be more potent than tinidazole, a common antigiardiasic drug. In this current work, we tested the cell viability by re-culture and reduction of MTT-tetrazolium salts to MTT-formazan, and we showed the effect of oregano ethanolic extracts against Giardia intestinalis (synonyms: Giardia duodenalis, Giardia lamblia) trophozoites at concentrations ranging form 58 to 588 μg. We demonstrated the ultrastructural injury produced by oregano extracts in this parasite. Trophozoites lost their size and shape and showed damage in nucleus structure, perhaps by breaking the pattern of nucleoskeleton proteins.
This is a preview of subscription content, log in to check access.
Access options
Buy single article
Instant access to the full article PDF.
US$ 39.95
Price includes VAT for USA
Subscribe to journal
Immediate online access to all issues from 2019. Subscription will auto renew annually.
US$ 199
This is the net price. Taxes to be calculated in checkout.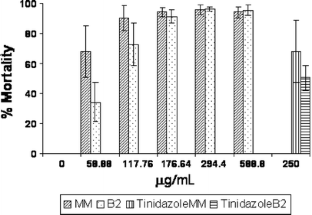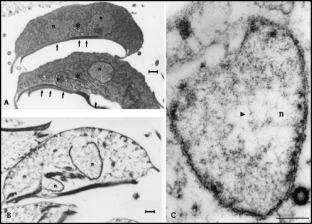 References
Adam RD (2001) Biology of Giardia lamblia. Clin Microbiol Rev 14:447–475

Astiazarán-García H, Espinosa-Cantellano M, Castañón G, Chávez-Munguía V, Martínez-Palomo A (2000) Giardia lamblia: effect of infection with symptomatic and asymptomatic isolates on the growth of gerbils (Meriones unguiculatus). Exp Parasitol 95:128–135

Bulut BU, Gulnar SB, Syseb D (1996) Alternative treatment protocols in giardiasis: a pilot study. Scand J Infect Dis 28:493–495

Comité OMS d'Experts (1988) Importance des parasitoses intestinalis en santé publique. Bull Org Mon San 66:23–34

Freeman CD, Klutman NE, Lamp KC (1997) Metronidazole a therapeutic review and update. Drugs 54:679–708

Gardner TB, Hill D (2001) Treatment of giardiasis. Clin Microbiol Rev 14:114–128

Gillis GC, Weisman LR (1996) Secnidazole. A review of its antimicrobial activity, pharmacokinetic properties and therapeutic use en the management of protozoal infections and bacterial vaginosis. Drugs 51:621–638

Harris JC, Plumber S, Lloyd D (2001) Antigiardial drugs. Appl Microbiol Biotechnol 57:614–619

Johnson PJ (1993) Metronidazole and drug resistance. Parasitol Today 9:183–186

Lasky AL (2000) The nucleoskeleton: go EAST, young man. Nat Cell Biol 2:241–243

Lemée V, Zaharia I, Nevez G, Rabodonirina M, Brasseur P, Ballet JJ, Favennec L (2000) Metronidazole and albendazole susceptibility of 11 clinical isolates of Giardia duodenalis from France. J Antimicrob Chemother 46:819–821

Martinez V, Caumes E (2001) Métronidazole. Ann Dermatol Venereol 128:903–909

Mendelson RM (1980) The treatment of giardiasis. Trans R Soc Trop Med Hyg 74:438–439

Pickering LK (1985) Problems in diagnosing and managing giardiasis. Pediatr Infect Dis 4(3 Suppl) S6–S10

Ponce-Macotela M, Navarro-Alegría I, Martínez-Gordillo MN, Álvarez-Chacón R (1994) Efecto antigiardiásico in vitro de 14 extractos de plantas. Rev Invest Clin 46:343–347

Ponce-Macotela M, Gómez-Garduño J, González-Maciel A, Reynoso-Robles R, Anislado-Tolentino V, Martínez-Gordillo MN (2001a) Determinación in vitro de la susceptibilidad a la nitazoxanida de cuatro aislados de Giardia intestinalis obtenidos de diferentes huéspedes. Rev Invest Clin 53:41–45

Ponce-Macotela M, Rufino-González Y, de la Mora-de la Mora JI, González-Maciel A, Reynoso-Robles R, Martínez-Gordillo MN (2001b) Mortality and morphological changes in Giardia duodenalis induced by exposure to ethanolic extracts of Justicia spicigera. Proc West Pharmacol Soc 44:151–152

Ponce-Macotela M, Martínez-Gordillo MN, Bermúdez-Cruz RM, Salazar-Schettino PM, Ortega-Pierres G, Ey PL (2002) Unusual prevalence of the Giardia intestinalis A-II subtype amongst isolates from humans and domestic animals in Mexico. Int J Parasitol 32:1201–1202

Romero CR, Robert GL, Muñoz GMR, Geyne CA (1997) Nitazoxanide for the treatment of intestinal protozoan and helminthic infections in Mexico. Trans R Soc Trop Med Hyg 91:701–703

Sangster N, Batterham P, Chapman DH, Duraisingh M, Jambre LL, Shirley M, Upcroft JA, Upcroft P (2002) Resistance to antiparasitic drugs: the role of molecular diagnosis. Int J Parasitol 32:637–652

Towson SM, Boreham PFL, Upcroft P, Upcroft JA (1994) Resistance to the nitroheterocyclic drugs. Acta Trop 56:173–194

Upcroft P (1994) Multiple drug resistance in the pathogenic protozoa. Acta Trop 56:195–212

Upcroft P, Upcroft JA (2001) Drug targets and mechanisms of resistance in the anaerobic protozoa. Clin Microbiol Rev 14:150–164
About this article
Cite this article
Ponce-Macotela, M., Rufino-González, Y., González-Maciel, A. et al. Oregano (Lippia spp.) kills Giardia intestinalis trophozoites in vitro: antigiardiasic activity and ultrastructural damage. Parasitol Res 98, 557–560 (2006). https://doi.org/10.1007/s00436-005-0082-y
Received:

Accepted:

Published:

Issue Date:
Keywords
Nuclear Envelope

Tinidazole

Nitrofuranes

Nitazoxanide

Giardia Lamblia