Abstract
A recent molecular phylogenetic study has suggested that the genus Hirudo contains a neglected species previously known as the orientalis coloration type of the medicinal leech Hirudo medicinalis. In this paper, the new species is formally described as Hirudo orientalis sp. n. It can most readily be identified by the grass green coloration of the dorsum, segmentally arranged pairs of black quadrangular or rounded dots on its paramarginal dorsal stripes and similarly arranged, but less regular light-colored markings on the predominantly black venter. It has medium-sized epididymes and an evenly coiled vagina. H. orientalis is known from Transcaucasia, Iran, and Uzbekistan. It is widely used in medicine as the "medicinal leech." Very little is known about its exact distribution, specific habitat, and conservation status. The paper contains an identification key to all species of the genus Hirudo.
Access options
Buy single article
Instant access to the full article PDF.
US$ 39.95
Tax calculation will be finalised during checkout.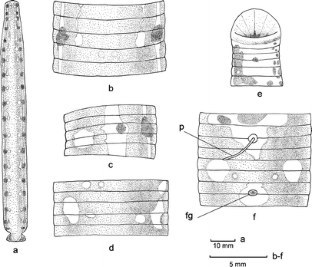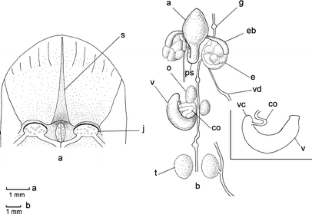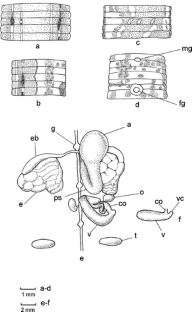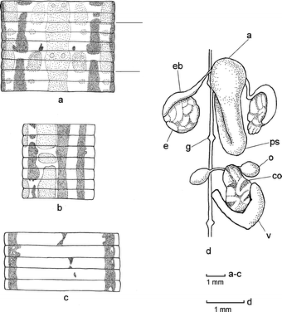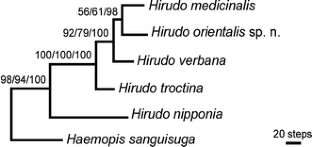 References
Elliott JM, Tullett PA (1984) The status of the medicinal leech Hirudo medicinalis in Europe and especially in the British Isles. Biol Conserv 29:15–26

Hechtel FOP, Sawyer RT (2002) Toward a taxonomic revision of the medicinal leech Hirudo medicinalis Linnaeus, 1758 (Hirudinea: Hirudinidae): re-description of Hirudo troctina Johnston, 1816 from North Africa. J Nat Hist 36:1269–1289

International Commission on Zoological Nomenclature (1999) International code of zoological nomenclature. International Trust for Zoological Nomenclature, London

Kobakhidze DN (1946) Materialy k inventarizatsii gidrofauny Gruzii. [Information on the inventory of the hydrofauna of Georgia]. Tr Zool Inst AN Gruz SSR 6:641–645

Lukin EI (1976) Piyavki [Leeches]. In: Fauna SSSR. Academy of Sciences of the USSR, vol. 1. Nauka, Moscow

Moquin-Tandon A (1846) Monographie de la Famille des Hirudineés. J.-B. Bailliére, Paris

Nesemann H, Neubert E (1999) Annelida: Clitellata: Branchiobdellida, Acanthobdellea, Hirudinea. In: Süßwasserfauna von Mitteleuropa, 6/2. Spektrum Akad Verl, Heidelberg

Sawyer RT (1981) Why we need to save the medicinal leech. Oryx 16:165–168

Sawyer RT (1986) Leech biology and behaviour. Oxford University Press, Oxford

Shevkunova EA, Kristman V (1962) Piyavki [Leeches]. Bol'shaya meditsinskaya entsiklopediya 24:794–800

Stschegolew GG, Fedorova MS (1955) Meditsinskaya piyavka i yeyo primenenie [The medicinal leech and its application]. Medgiz, Moscow

Trontelj P, Utevsky SY (2005) Celebrity with a neglected taxonomy: molecular systematics of the medicinal leech (genus Hirudo). Mol Phylogenet Evol 34:616–624

Trontelj P, Sotler M, Verovnik R (2004) Genetic differentiation between two species of the medicinal leech, Hirudo medicinalis and the neglected H. verbana, based on random amplified polymorphic DNA. Parasitol Res 94:118–124

Utevsky SY, Utevsky AY, Utevskaya OM (1998) Nakhodka aptechnoy meditsinskoy piyavki Hirudo medicinalis f. officinalis v Ukraine. [A find of the officinal medicinal leech Hirudo medicinalis f. officinalis in Ukraine]. Vestn zool 32:37

Whitman CO (1886) The Leeches of Japan. Q J Microsc Sci 26:317–416

Zapkuvenè D (1972) Razvedenie i vyrashchivanie meditsinskikh piyavok v laboratornykh usloviyakh (1. Razvedenie Hirudo medicinalis f. serpentina i H. medicinalis f. officinalis). [Breeding and growing of medical leeches under laboratory conditions (1. Breeding of Hirudo medicinalis f. serpentina and H. medicinalis f. officinalis)]. Liet TSR Mokslų akad darb, C ser 3(59):71–76
Acknowledgements
Our thanks go to Vladimir Samoylov (Kharkiv, Ukraine) for furnishing some of specimens and to Abdumalik Abdullaev (Samarkand, Uzbekistan) for the information on the distribution of medicinal leeches in Uzbekistan.
About this article
Cite this article
Utevsky, S.Y., Trontelj, P. A new species of the medicinal leech (Oligochaeta, Hirudinida, Hirudo) from Transcaucasia and an identification key for the genus Hirudo . Parasitol Res 98, 61 (2005). https://doi.org/10.1007/s00436-005-0017-7
Received:

Accepted:

Published:
Keywords
Cytochrome Oxidase Subunit

Medicinal Leech

Longitudinal Stripe

Zoological Nomenclature

Reddish Stripe