Abstract
Infection with the apicomplexan parasite Toxoplasma gondii results in a significant alteration of the host-cell transcriptional profile. We have previously shown that the transferrin receptor (TfR) is specifically up-regulated in T. gondii-infected human fibroblasts but not in host cells infected with the bacterial pathogens Salmonella Typhimurium and Chlamydia trachomatis. In this report, we describe the prerequisites and physiological conditions that are associated with this pathogen-specific gene induction. Band-shift assays revealed that T. gondii infection resulted in increased activity in the iron response protein IRP1, which, in this state, stabilizes TfR mRNA from degradation. Although T. gondii depends on host-cell iron as demonstrated by sensitivity to deferoxamine, a parasite-induced iron starvation is not responsible for TfR up-regulation. The increased iron availability due to treatment with holotransferrin and FeNTA did not prevent TfR induction nor was the transferrin-independent iron-transporter NRAMP2 up-regulated in infected host cells. In addition, inhibition of parasite replication by drug treatment did not prevent TfR up-regulation. Instead, TfR induction was sensitive to cycloheximide and could be induced by treatment with conditioned media from infected human fibroblasts. Together our findings suggest that the T. gondii-specific TfR up-regulation is not due to a direct interaction of parasitic factors with the iron-uptake machinery of the host cell but is instead mediated indirectly as a result of secreted host cell- or parasite-derived factors.
Access options
Buy single article
Instant access to the full article PDF.
US$ 39.95
Tax calculation will be finalised during checkout.
Subscribe to journal
Immediate online access to all issues from 2019. Subscription will auto renew annually.
US$ 119
Tax calculation will be finalised during checkout.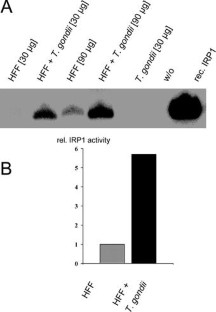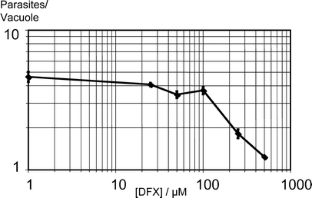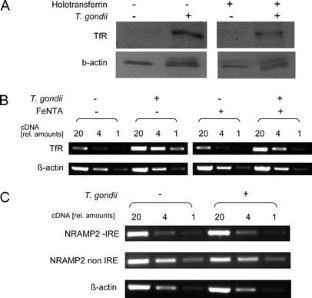 References
Aisen P, Wessling-Resnick M, Leibold EA (1999) Iron metabolism. Curr Opin Chem Biol 3:200–206

Barnewall RE, Ohashi N, Rikihisa Y (1999) Ehrlichia chaffeensis and E. sennetsu, but not the human granulocytic ehrlichiosis agent, colocalize with transferrin receptor and up-regulate transferrin receptor mRNA by activating iron-responsive protein 1. Infect Immun 67:2258–2265

Blader IJ, Manger ID, Boothroyd JC (2001) Microarray analysis reveals previously unknown changes in Toxoplasma gondii-infected human cells. J Biol Chem 276:24223–24231

Bliss SK, Marshall AJ, Zhang Y, Denkers EY (1999) Human polymorphonuclear leukocytes produce IL-12, TNF-alpha, and the chemokines macrophage-inflammatory protein-1 alpha and -1 beta in response to Toxoplasma gondii antigens. J Immunol 162:7369–7375

Denney CF, Eckmann L, Reed SL (1999) Chemokine secretion of human cells in response to Toxoplasma gondii infection. Infect Immun 67:1547–1552

Dobrowolski J, Sibley LD (1997) The role of the cytoskeleton in host cell invasion by Toxoplasma gondii. Behring Inst Mitt 99:90–96

Fischer HG, Nitzgen B, Reichmann G, Hadding U (1997) Cytokine responses induced by Toxoplasma gondii in astrocytes and microglial cells. Eur J Immunol 27:1539–1548

Gail M, Gross U, Bohne W (2001) Transcriptional profile of Toxoplasma gondii-infected human fibroblasts as revealed by gene-array hybridization. Mol Genet Genom 265:905–912

Galan JE (1999) Interaction of Salmonella with host cells through the centisome 63 type III secretion system. Curr Opin Microbiol 2:46–50

Garcia del Portillo F, Finlay BB (1995) The varied lifestyles of intracellular pathogens within eukaryotic vacuolar compartments. Trends Microbiol 3:373–380

Goebel S, Luder CG, Gross U (1999) Invasion by Toxoplasma gondii protects human-derived HL-60 cells from actinomycin D-induced apoptosis. Med Microbiol Immunol 187:221–226

Gomez-Marin JE, Valere A, Bonhomme A, el'Btaouri H, Antonicelli F, Burlet H, Aubert D, Villena I, Guenounou M, Haye B, Pinon JM (1998) Interferon-gamma signal transduction during parasite infection: modulation of MAP kinases in the infection of human monocyte cells (THP1) by Toxoplasma gondii. Parasite Immunol 20:631–635

Gray NK, Quick S, Goossen B, Constable A, Hirling H, Kuhn LC, Hentze MW (1993) Recombinant iron-regulatory factor functions as an iron-responsive-element-binding protein, a translational repressor and an aconitase. A functional assay for translational repression and direct demonstration of the iron switch. Eur J Biochem 218:657–667

Haile DJ (1999) Regulation of genes of iron metabolism by the iron-response proteins. Am J Med Sci 318:230–240

Henderson BR, Seiser C, Kuhn LC (1993) Characterization of a second RNA-binding protein in rodents with specificity for iron-responsive elements. J Biol Chem 268:27327–27334

Hentze MW, Kuhn LC (1996) Molecular control of vertebrate iron metabolism: mRNA-based regulatory circuits operated by iron, nitric oxide, and oxidative stress. Proc Natl Acad Sci USA 93:8175–8182

Hentze MW, Rouault TA, Harford JB, Klausner RD (1989) Oxidation-reduction and the molecular mechanism of a regulatory RNA-protein interaction. Science 244:357–359

Howe D, Mallavia LP (1999) Coxiella burnetii infection increases transferrin receptors on J774A 1 cells. Infect Immun 67:3236–3241

Joiner KA, Fuhrman SA, Miettinen HM, Kasper LH, Mellman I (1990) Toxoplasma gondii: fusion competence of parasitophorous vacuoles in Fc receptor-transfected fibroblasts. Science 249:641–646

Kim S, Ponka P (1999) Control of transferrin receptor expression via nitric oxide-mediated modulation of iron-regulatory protein 2. J Biol Chem 274:33035–33042

Klausner RD, Rouault TA, Harford JB (1993) Regulating the fate of mRNA: the control of cellular iron metabolism. Cell 72:19–28

Lingelbach K, Joiner KA (1998) The parasitophorous vacuole membrane surrounding Plasmodium and Toxoplasma: an unusual compartment in infected cells. J Cell Sci 111:1467–1475

Luder CG, Lang T, Beuerle B, Gross U (1998) Down-regulation of MHC class II molecules and inability to up-regulate class I molecules in murine macrophages after infection with Toxoplasma gondii. Clin Exp Immunol 112:308–316

Luft BJ, Remington JS (1992) Toxoplasmic encephalitis in AIDS. Clin Infect Dis 15:211–222

Manger ID, Relman DA (2000) How the host 'sees' pathogens: global gene expression responses to infection. Curr Opin Immunol 12:215–218

Nash PB, Purner MB, Leon RP, Clarke P, Duke RC, Curiel TJ (1998) Toxoplasma gondii-infected cells are resistant to multiple inducers of apoptosis. J Immunol 160:1824–1830

Mordue DG, Hakansson S, Niesman I, Sibley LD (1999) Toxoplasma gondii resides in a vacuole that avoids fusion with host cell endocytic and exocytic vesicular trafficking pathways. Exp Parasitol 92:87–99

Nagineni CN, Detrick B, Hooks JJ (2000) Toxoplasma gondii infection induces gene expression and secretion of interleukin 1 (IL-1), IL-6, granulocyte-macrophage colony-stimulating factor, and intercellular adhesion molecule 1 by human retinal pigment epithelial cells. Infect Immun 68:407–410

Pantopoulos K, Hentze MW (1998) Activation of iron regulatory protein-1 by oxidative stress in vitro. Proc Natl Acad Sci USA 95:10559–10563

Saleppico S, Boelaert JR, Sale FO, Mazzolla R, Morucci P, Bistoni F, Blasi E (1999) Differential effects of iron load on basal and interferon-gamma plus lipopolysaccharide enhance anticryptococcal activity by the murine microglial cell line BV-2. J Neuroimmunol 93:102–107

Samaniego F, Chin J, Iwai K, Rouault TA, Klausner RD (1994) Molecular characterization of a second iron-responsive element binding protein, iron regulatory protein 2. Structure, function, and post-translational regulation. J Biol Chem 269:30904–30910

Schwab JC, Beckers CJ, Joiner KA (1994) The parasitophorous vacuole membrane surrounding intracellular Toxoplasma gondii functions as a molecular sieve. Proc Natl Acad Sci USA 91:509–513

Sinai AP, Joiner KA (1997) Safe haven: the cell biology of nonfusogenic pathogen vacuoles. Annu Rev Microbiol 51:415–462

Tchernitchko D, Bourgeois M, Martin ME, Beaumont C (2002) Expression of the two mRNA isoforms of the iron transporter Nrmap2/DMTI in mice and function of the iron responsive element. Biochem J 363:449–455

Wong SY, Remington JS (1994) Toxoplasmosis in pregnancy. Clin Infect Dis 18:853–861
About this article
Cite this article
Gail, M., Gross, U. & Bohne, W. Transferrin receptor induction in Toxoplasma gondii-infected HFF is associated with increased iron-responsive protein 1 activity and is mediated by secreted factors. Parasitol Res 94, 233–239 (2004). https://doi.org/10.1007/s00436-004-1209-2
Received:

Accepted:

Published:

Issue Date:
Keywords
Chlamydia Trachomatis

Deferoxamine

Intracellular Iron

Parasitophorous Vacuole

Human Foreskin Fibroblast