Abstract
The SDS-PAGE and immunoblot were used to identify Trichomonas vaginalis antigenic epitopes present in purified somatic and exo-antigens. The presence of common immunogenic proteins corresponding to molecular weights of 76, 60 and 23 kDa was revealed. Distinctive immunogenic bands of 92, 72, 55 and 40 kDa for the exo-antigens, and of 110, 80, 78 and 50 kDa for the somatic antigens, appeared when the antigens were probed by the homologous immune rabbit serum.
Access options
Buy single article
Instant access to the full article PDF.
US$ 39.95
Tax calculation will be finalised during checkout.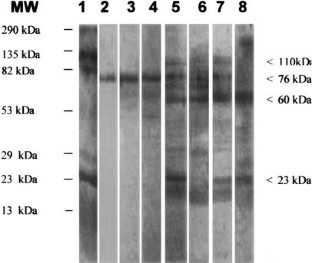 References
Alderete JF, Garza,JE (1984) Soluble Trichomonas vaginalis antigens in cell free culture supernatants. Mol Biochem Parasitol 13:147–158

Azab ME, Salem SA, Abdel-Ghaffar FM, El Sherif EA, Habib KS, Habib FS (1992) Characterization of Egyptian isolates of Trichomonas vaginalis I. Serotyping. J Egypt Soc Parasitol 22:77--80

Azab ME, Fikry MF, Abdel Baki M H, Habib FS, Khalifa KE, El-Wakil HS (1999a) Standardization of an ELISA format for the detection of Trichomonas vaginalis exo-antigens in vaginal discharge. Egypt J Immunol 6(2):1–8

Azab ME, Fikry MF, Abdel Baki M H, Habib FS, Khalifa KE, El-Wakil HS (1999b) Diagnosis of trichomoniasis by detection of antigens in vaginal discharge. Egypt J Immunol 6(2):9–15

Garber GE, Lemchuk-Favel LT (1989) Characterization and purification of extracellular proteases of Trichomonas vaginalis. J Clin Microbiol 28:2415–2417

Laemmli UK (1970) Cleavage of structural proteins during the assembly of the head of bacteriophage T4. Nature 227:680–685

Lockwood BC, North MJ, Coombs GH (1988) The release of hydrolases from Trichomonas vaginalis and Trichomonas foetus. Mol Biochem Parasitol 30:135–142

Peterson KM, Alderete JF (1982) Host plasma proteins on the surface of pathogenic Trichomonas vaginalis. Infect Immun 37:755–762

Towbin H, Staehelin T, Gordon J (1979) Electrophoretic transfer of proteins from polyacrylamide gels to nitrocellulose sheets: procedures and applications. Proc Natl Acad Sci U S A 76:4350–4354
Acknowledgements
We are grateful to the Parasitology Diagnostic Unit and Medical Research Center, Faculty of Medicine, Ain Shams University, Cairo, Egypt, for giving us free use of all the facilities of their laboratories while carrying out this study. We herewith declare that the experiments comply with the current laws and regulations of the Egyptian Ministry of Higher Education and Scientific Research.
About this article
Cite this article
Khalifa, K.E., El-Wakil, H.S.I., Habib, F.S. et al. Immunoblot analysis of Trichomonas vaginalis antigens recognized by rabbit hyperimmune serum raised against exoantignes. Parasitol Res 92, 48–49 (2004). https://doi.org/10.1007/s00436-003-0940-4
Received:

Accepted:

Published:

Issue Date:
Keywords
Antigenic Epitope

Vaginal Discharge

Trichomoniasis

Preliminary Attempt

Immunogenic Protein