Abstract
An experiment was conducted to examine the effects of dietary supplementation with 0.1% and 0.5% ground root preparations of Echinacea purpurea (EP; common name: purple cone flower) on the development of immunity following live vaccination and subsequent challenge with multiple coccidia species in an experimental model using a commercial live vaccine preparation. Effects of immunization and EP supplementation on weight gains before challenge, and weight gains, lesion scores and plasma levels of carotenoids and NO2 -+NO3 - following challenge were determined. In this experiment, combined live vaccination and feed supplementation with 0.1% or 0.5% EP during the first 2 weeks of life provided significant weight gain advantage compared to live vaccination alone. This advantage persisted through 2 weeks of EP withdrawal and subsequent challenge infection. EP supplementation also significantly lowered total lesion scores but did not significantly modify the effects of vaccination and challenge on plasma carotenoids or NO2 -+NO3 -.
Access options
Buy single article
Instant access to the full article PDF.
US$ 39.95
Tax calculation will be finalised during checkout.
Subscribe to journal
Immediate online access to all issues from 2019. Subscription will auto renew annually.
US$ 119
Tax calculation will be finalised during checkout.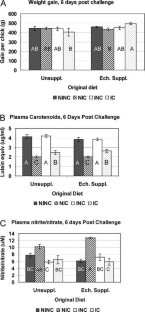 References
Allen PC (1997) Production of free radical species during Eimeria maxima infections in chickens. Poultry Sci 76:814–821

Allen PC, Danforth HD, Gregory SA, Comens-Keller P (1997) Assessment of recombinant bovine somatotropin as an immunomodulator during avian coccidiosis: immunization with living oocysts. Poultry Sci 76:1150–1155

Bauer R (1996) Echinacea drugs, effects and active ingredients. Z Aerztl Fortbild (Jena) 90:111–115

Burger RA, Torres AR, Warren RP, Caldwell VD, Hughs BG (1997) Echinacea-induced cytokine production by human macrophages. Int J Immunopharmacol 19:371–379

Currier NL, Miller SC (2001) Echinacea purpurea and melatonin augment natural-killer cells in leukemic mice and prolong life span. J Altern Complement Med 7:241–251

Danforth HD (1998) Use of live oocyst vaccines in the control of avian coccidiosis: experimental studies and field trials. Int J Parasitol 28:1099–1109

Gazzinelli RT, Eltoum I, Wynn TA, Sher A (1993) Acute cerebral toxoplasmosis is induced by in vivo neutralization of TNF-α, and correlates with down regulated expression of inducible nitric oxide synthase and other markers of macrophage activation. J Immunol 151:3672–3681

Goel V, Chang C, Slama JV, Barton R, Bauer R, Gahler R, Basu TK (2002) Alkylimides of Echinacea purpurea stimulate alveolar macrophage function in normal rats. Int Immunopharmacol 2–3:381–387

Hobbs C (1989) The Echinacea handbook. Miovich M (ed). Eclectic Medical, Portland, Ore.

Johnson J, Reid M (1970) Anticoccidial drugs: lesion scoring techniques in battery and floor pen experiments with chickens. Exp Parasitol 28:30–36

Laurent F, Mancassola R, Lacroix S, Menezes R, Naciri M (2001) Analysis of chicken mucosal immune response to Eimeria tenella and Eimeria maxima infection by quantitative reverse transcription PCR. Infect Immun 69:2527–2534

Lillehoj HS, Lillehoj EP (2001) Avian coccidiosis. A review of acquired intestinal immunity and vaccine strategy. Avian Dis 44:408–425

O'Neill W, McKee S, Clark AF (2002) Immunological and haematinic consequences of feeding a standardized Echinacea (Echinacea angustifolia) extract to healthy horses. Equine Vet J 34:222–227

Roesler J, Stienmueller C, Kiderlen A, Emmendorffer A, Wagner H, Lohmann-Matthes ML (1991) Application of purified polysaccharides from cell cultures of the plant Echinacea purpurea to mice mediates protection against systemic infections with Listeria monocytogenes and Candida albicans. Int J Immunopharmacol 13:27–37

SAS Institute (1990) SAS/STAT user's guide, vol 2. SAS Institute, Cary, N.C.

Schuberth HJ, Riedel-Caspari G, Leibold W (2002) Flow cytometric testing of immunological effects of a phytomedicinal combination (equimun) and its compounds on bovine leucocytes. J Vet Med A Physiol Pathol Clin Med 49:291–298

See DM, Broumand N, Sahl L, Tilles JG (1997) In vitro effects of Echinacea and ginseng on natural killer and antibody-dependent cell cytotoxicity in healthy subjects and chronic fatigue syndrome or acquired immunodeficiency syndrome patients. Immunopharmacology 35:229–235

Stahl M, Reifenberg K, Okpanyi S, Losch U (1990) Porcine granulocyte functions: evaluation and modulation. Zentralbl Veterinarmed 37:261–267

Stephen B, Rommel M, Daugshies A, Haberkorn A, (1997) Studies of resistance to anticoccidials in field isolates and pure strains. Vet Parasitol 69:19–29

Stimple M, Proksch A, Wagner H, Lohmann-Matthes M-L (1984) Macrophage activation and induction of macrophage cytoxicity by purified polysaccharide fractions from the plant Echinacea purpurea. Infect Immun 46:845–849

Sun LZ, Currier NL, Miller SC (1999) The American coneflower: a prophylactic role involving nonspecific immunity. J Altern Complement Med 5:437–446

Sung YJ, Hotchkiss JH, Austic RE, Dietert RR (1991) L-arginine-dependent production of a reactive nitrogen intermediate by macrophages of uricotelic species. J Leukoc Biol 50:49–56

Verdon CP, Burton BA, Pryor RL (1995) Sample pretreatment with nitrate reductase and glucose-6-phosphate dehydrogenase quantitatively reduces nitrate while avoiding interference by NADPH when the Griess reaction is used to assay for nitrite. Anal Biochem 224:502–508.

Xie QW, Nathan C (1994) The high-output nitric oxide pathway: role and regulation. J Leukoc Biol 56:576–582

Yvore P, Mainguy P (1972) Influence de la coccidiose duodenale sur la tenure en carotenoids du serum chez le poulet. Ann Rech Vet 3:381–387
Acknowledgements
The author thanks USDA employees Eli Miramontes, Harlyn Skinner, and Gary Wilkins for their excellent technical assistance, H. Danforth for scoring lesions, Mark Anderson, TriArco Industries for providing the Echinacea supplement, and E.H. Lee of Vtech Ltd.for providing the Immucox vaccine.
About this article
Cite this article
Allen, P.C. Dietary supplementation with Echinacea and development of immunity to challenge infection with coccidia. Parasitol Res 91, 74–78 (2003). https://doi.org/10.1007/s00436-003-0938-y
Received:

Accepted:

Published:

Issue Date:
Keywords
Live Vaccine

Lesion Score

Challenge Infection

Plasma Carotenoid

Echinacea Purpurea