Abstract
Morphometric parameters of hepatocytes have been studied in five small mammal species with different ecological specificity from two taxonomic groups: a surface-dwelling insectivore (the common shrew, Sorex araneus), a subterranean insectivore (the European mole, Talpa europaea), surface-dwelling rodents (the bank vole, Myodes glareolus and herb field mouse, Apodemus uralensis) and a subterranean rodent (the northern mole vole, Ellobius talpinus). The results show that the hepatocytes of the European mole differ markedly from those of all other species, being characterized by smaller size and nuclear area, low anisocytosis and anisokaryosis, the almost complete absence of binuclear cells and, on the other hand, high nuclear–cytoplasmic ratio and packing density. The common shrew differs from the European mole containing a relatively high proportion of binuclear hepatocytes, and the size of hepatocytes in this species is smaller than in rodents. Differences in the parameters of these cells between rodents are minimal or absent. The differences observed in the characteristics of hepatocytes between the above species cannot be explained solely by either taxonomic or ecological specificity. Comparative research involving a greater number of closely related species (at the levels of families and orders) is needed to reveal and evaluate the taxonomic and ecological specificity of hepatocytes in greater detail.
Access options
Buy single article
Instant access to the full article PDF.
US$ 39.95
Tax calculation will be finalised during checkout.
Subscribe to journal
Immediate online access to all issues from 2019. Subscription will auto renew annually.
US$ 119
Tax calculation will be finalised during checkout.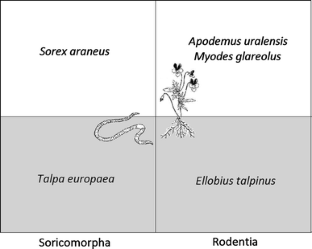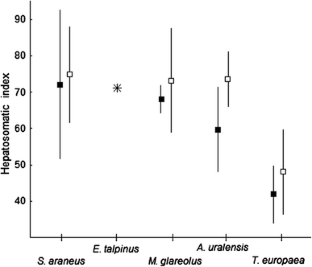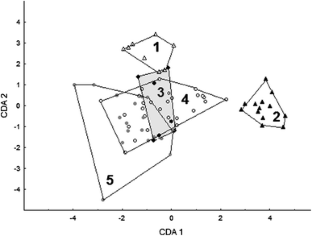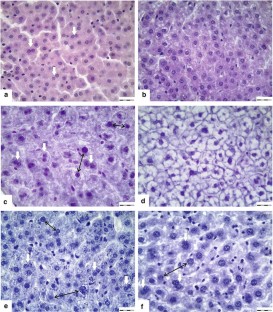 References
Akiyoshi H, Inoue AM (2004) Comparative histological study of teleost livers in relation to phylogeny. Zool Sci 21(8):841–850

Akiyoshi H, Inoue AM (2012) Comparative histological study of hepatic architecture in the three orders amphibian livers. Comp Hepatol 11(2):2–8

Antonova EI (2009) Reactivity and plasticity of liver tissue components in a comparative series of vertebrates under normal conditions and after exposure to hyperthermia. Doctoral Biol. Dissertation, Astrakhan State Univ

Atlas patomorfologicheskikh izmemenii u polevok-ekonomok iz ochagov lokal'nogo radioactivnogo sagryazneniya (Atlas of Pathomorphological Changes in Root Voles from Local Radioactive Contamination Foci) (1994) Nauka, St. Petersburg

Bezborodkina NN, Vakhtina AA, Baidyuk EV, Yakupova GS, Kudryavtsev BN (2009) Relationship between the glycogen content and size of hepatocytes in the normal and cirrhotic rat liver. Tsitologiya 51(5):417–427

Böhm N, Noltemeyer N (1981) Development of binuclearity and DNA-polyploidization in the growing mouse liver. Histochemistry 72(1):55–61

Bonda-Ostaszewska E, Włostowski T (2015) Apoptosis, proliferation, and cell size in seasonal changes of body and organ weight in male bank voles Myodes glareolus. Mammal Res 60:255–261

Darveau CA, Suarez RK, Andrews RD, Hochachka PW (2002) Allometric cascade as a unifying principle of body mass effects on metabolism. Nature 417:166–170

Davydova YA, Nesterkova DV, Mukhachva SV (2015) Specific features of hepatocytes in the European mole, bank vole, and herb field mouse. In: Rozenberg GS (ed) Mechanisms of homeostasis in biological systems. Kassandra, Tolyatti, pp 110–113

Deparma NK (1951) Krot (The Mole). Gos. Izd. Nauch. Tekh Nauch. Lit, Moscow

Evdokimov NG (2002) The northern mole vole: is it a hibernator? Russ J Ecol 33(1):32–37

Evdokimov NG (2003) Fluctuations of population size and structure in the northern mole vole: preliminary analysis. Russ J Ecol 34(3):202–209

Evdokimov NG, Pozmogova VP (1998) Method of family capture and census of the northern mole vole (Ellobius talpinus Pall.). Russ. J Ecol 29(5):349–352

Faith DP (1992a) Conservation evaluation and phylogenetic diversity. Biol Conserv 61(1):1–10

Faith DP (1992b) Systematics and conservation: on predicting the feature diversity of subsets of taxa. Cladistics 8(4):361–373

Gaidash AA, Klimatskaya LG (2004) Morphological changes in the liver of root voles exposed to small doses of fluorine. Sib Nauch Med Zh 24(4):118–121 https://elibrary.ru/item.asp?id=9126544

Galantsev VP, Rusakov OS (1967) Branching of the stomach arteries in the muskrat and European mole depending on specific features of feeding. Advances in science and technology. Ekonomika, Moscow, pp 41–44

Gebhardt R, Matz-Soja M (2014) Liver zonation: novel aspects of its regulation and its impact on homeostasis. World J Gastroenterol 20(26):8491–8504

Gerlyng P, Åbyholm A, Grotmol T, Erikstein B, Huitfeldt HS, Stokke T, Seglen PO (1993) Binucleation and polyploidization patterns in developmental and regenerative rat liver growth. Cell Prolif 26(6):557–565

Godfrey G, Crowcroft P (1960) The life of the mole (Talpa europaea Linnaeus) Museum Press, London

Goldman BD, Goldman SL, Lanz T, Magaurin A, Maurice A (1999) Factors influencing metabolic rate in naked mole-rats (Heterocephalus glaber). Physiol Behav 66(3):447–459

Gumucio JJ (1989) Hepatocyte heterogeneity: the coming of age from the description of a biological curiosity to a partial understanding of its physiological meaning and regulation. Hepatology 9(1):154–160

Ham AW, Cormack DH (1974) Histology. Lippincott, New York

Herbert EN (1967) Nuclear/cytoplasmic ratio (N/C) and nuclear chromatin. Diagnostic cell pathology in tissue and smears. Grune & Stratton, New York

Hoppeler H, Weibel ER (2005) Scaling functions to body size: theories and facts. J Exp Biol 208:1573–1574

Hudson LN, Isaac NJ, Reuman DC (2013) The relationship between body mass and field metabolic rate among individual birds and mammals. J Anim Ecol 82(5):1009–1020

Ikpegbu E, Nlebedum UC, Nnadozie O, Agbakwuru IO (2014) The liver micromorphology of the African palm squirrel Epixerus ebii. Int J Morphol 32(1):241–244

Ishikawa M, Murakami Y, Ahi ST, Yamaguchi M, Kobayashi N, Kiyuna T, Yamashita Y, Saito A, Abe T, Hashiguchi A, Sakamoto M (2016) Automatic quantification of morphological features for hepatic trabeculae analysis in stained liver specimens. J Med Imag. doi:10.1117/1.JMI.3.2.027502

Jarrar BM, Taib NT (2012) Histological and histochemical alterations in the liver induced by lead chronic toxicity. Saudi J Bio Sci 19:203–210 http://www.sciencedirect.com/science/article/pii/S1319562X11000945

Jungermann K, Keitzmann T (1996) Zonation of parenchymal and nonparenchymal metabolism in liver. Annu Rev Nutr 16(1):179–203

Kotb BS (2001) Comparative study on the effect of some histological techniques on the quantitative morphometric analysis. Egypt J Hospital Med 3:177–189 http://egyptianjournal.net78.net/

Lamers WH, Hilberts A, Furt E, Smith J, Jonges GN, van Noorden CJ, Janzen JW, Charles R, Moorman AF (1989) Hepatic enzymic zonation: a reevaluation of the concept of the liver acinus. Hepatology 10:72–76

Liquori GE, Calamita G, Cascella D, Mastrodonato M, Portincasa P, Ferri D (2009) An innovative methodology for the automated morphometric and quantitative estimation of liver steatosis. Histol Histopathol 24:49–60

Manskikh VN, Gancharova OS, Novikov EA, Kondratiuk EYu, Skulachev VN, Moshkin MP (2015) Spectrum of spontaneous pathological changes in mole-voles and the effect of mitochondria-targeted antioxidant SkQ1 on it. Adv Gerontol 28(1):53–61

McNab BK (1966) The metabolism of fossorial rodents: a study of convergence. Ecology 47(5):712–733

Miyaoka Y, Ebato K, Kato H, Arakawa S, Shimizu S, Miyajima A (2012) Hypertrophy and unconventional cell division of hepatocytes underlie liver regeneration. Curr Biol 22(13):1166–1175

Moura LR, Santos ALQ, Beletti ME, Vieira LG, Orpinelli SR, Alves Júnior JR (2012) Morphological aspects of the liver of the Podocnemis expansa (Testudines, Podocnemididae). J Morphol Sci 29(3):159–166 https://repositorio.unesp.br/handle/11449/73726

Mueller P, Diamond J (2001) Metabolic rate and environmental productivity: well-provisioned animals evolved to run and idle fast. Proc Natl Acad Sci 98(22):12550–12554

Odokuma EI, Omokaro EI (2015) Comparative histologic anatomy of vertebrate liver. Ann Bioanthropol 3(1):1–5

Pavlinov IY (2006) Sistematika sovremennykh mlekopitayushchikh (Systematics of Recent Mammals), 2nd edn. Mosk Gos Univ, Moscow

Pereira R, Pereira ML, Ribeiro R, Gonçalves F (2006) Tissues and hair residues and histopathology in wild rats (Rattus L.) and Algerian mice (Mus spretus Lataste) from an abandoned mine area (Southeast Portugal). Environ Pollut 139:561–575

Popescu R, Filimon MN, Dumitrescu G, Petculescu Ciochina L, Dumitrascu V, Vlad D, Verdes D (2012) Histological and morphometrical studies in liver regeneration in mice. Animal Sci Biotechnol 45(2):203–207 http://www.spasb.ro/index.php/spasb/article/view/372

Rubner M (1883) Über den Einfluss der Körpergrösse auf Stoff- und Kraftwechsel. Z Biol 19:536–562

Salińska A, Włostowski T, Zambrzycka E (2012) Effect of dietary cadmium and/or lead on histopathological changes in the kidneys and liver of bank voles Myodes glareolus kept in different group densities. Ecotoxicology 21:2235–2243

Sánchez-Chardi A, Ribeiro CA, Nadal J (2009) Metals in liver and kidneys and the effects of chronic exposure to pyrite mine pollution in the shrew Crocidura russula inhabiting the protected wetland of Doñana. Chemosphere 76:387–394

Sasse D, Spornitz UM, Maly IP (1992) Liver architecture. Enzyme 46:8–32

Savage VM, Allen AP, Brown JH, Gillooly JF, Herman AB, Woodruff WH, West GB (2007) Scaling of number, size, and metabolic rate of cells with body size in mammals. Proc Natl Acad Sci USA 104(11):4718–4723

Schmucker DL (1990) Hepatocyte fine structure during maturation and senescence. J Electron Microsc Tech 14(2):106–125

Sorensen EMB (1989) Validation of a morphometric analysis procedure using indomethacin-induced alterations in cultured hepatocytes. Toxicol Lett 45(1):101–110

Speakman JR (1999) The cost of living: field metabolic rates of small mammals. Adv Ecol Res 30:177–297

Tête N, Durfort M, Rieffel D, Scheifler R, Sánchez-Chardi A (2014) Histopathology related to cadmium and lead bioaccumulation in chronically exposed wood mice, Apodemus sylvaticus, around a former smelter. Sci Tot Environ 481:167–177

Thoolen B, Maronpot RR, Harada T, Nyska A, Rousseaux C, Nolte T, Malarkey DE, Kaufman W, Küttler K, Deschl U, Nakae D, Gregson R, Vinlove MP, Brix AE, Singh B, Belpoggi F, Ward JM (2010) Proliferative and nonproliferative lesions of the rat and mouse hepatobiliary system. Toxicol Pathol 38:5–81

Tormos AM, Taléns-Visconti R, Sastre J (2015) Regulation of cytokinesis and its clinical significance. Crit Rev Clin Lab Sci 52(4):159–167

Visscher GE, Stifano TM (1981) Practical applications of morphometric analysis in toxicology. Toxicol Pathol 9(2):30–35

Wheatley DN (1972) Binucleation in mammalian liver. Studies on the control of cytokinesis in vivo. Exp Cell Res 74:455–465

White CR, Seymour RS (2003) Mammalian basal metabolic rate is proportional to body mass2/3. Proc Natl Acad Sci USA 100(7):4046–4049

Wilson DE, Reeder DA (2005) Mammal species of the world: a taxonomic and geographic reference. John Hopkins Univ. Press, Baltimore

Włostowski T, Bonda E, Krasowska A (2004) Photoperiod affects hepatic and renal cadmium accumulation, metallothionein induction, and cadmium toxicity in the wild bank vole (Clethrionomys glareolus). Ecotoxicol Environ Saf 58:29–36
Acknowledgements
We thank E.L. Vorobeichik, L.E. Lukyanova, K.I. Berdyugin, N.A. Gorgolyuk and the anonymous referees for their insightful comments on the manuscript. This study was supported by the Integrated Research Program of the Ural Branch, Russian Academy of Sciences, Project no. 15-3-4-28.
Ethics declarations
Conflict of interest
The authors declare that they have no conflict of interest.
Ethical approval
All applicable international, national, and institutional guidelines for the care and use of animals were followed. All procedures performed in studies involving animals were in accordance with the ethical standards of the Institute of Plant and Animal Ecology, Russian Academy of Sciences (Protocol No. 3 of 18/12/2014).
About this article
Cite this article
Davydova, Y.A., Nesterkova, D.V., Mukhacheva, S.V. et al. Distinctive features of hepatocytes in five small mammal species (insectivores and rodents): taxonomic versus ecological specificity. Zoomorphology 136, 539–548 (2017). https://doi.org/10.1007/s00435-017-0368-5
Received:

Revised:

Accepted:

Published:

Issue Date:
Keywords
Liver

Hepatocytes

Bank vole

Herb field mouse

European mole

Northern mole vole