Abstract
Populations of the eastern medicinal leech, Hirudo orientalis from 13 localities at six freshwater eco-regions from Kazakhstan, Uzbekistan, Azerbaijan and Iran were analyzed for coloration pattern variability. In addition, coloration patterns of 1017 reared specimens including hatched, juvenile and adult leeches were considered. Elements of coloration pattern including dorsal paramarginal, paramedian and lateral stripes and ventral pattern variations were chosen as the basis of comparative population analysis. Data analyses revealed a strong association of the dorsal paramarginal stripe with other dorsal elements. The dominant morphotype remained stable from hatchlings to older individuals, and coloration traits seem to be inheritable. A sufficient monomorphy of dorsal elements of the coloration pattern was recorded in most localities suggesting potential signs of genetic drift. On a larger geographical scale, populations of the western Caspian Sea (Azerbaijan) differ from all other localities (Central Asia and Iran) in their pattern variation. The high morphotype diversity in the populations of southern distribution ranges, especially southern Caspian Sea, could suggest that the area is a probable historical refugium for the species.
This is a preview of subscription content,
to check access.
Access this article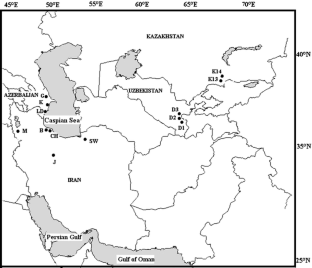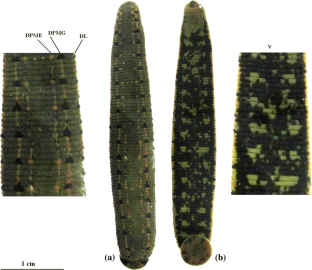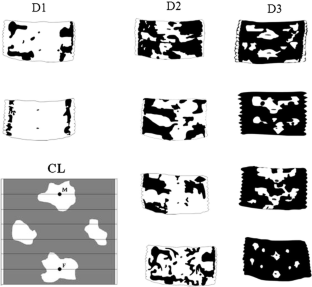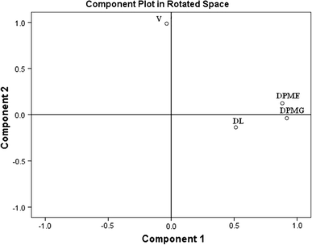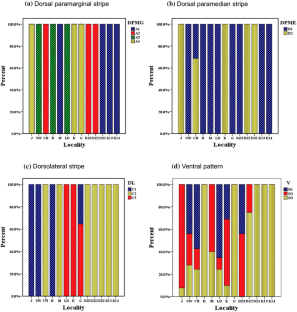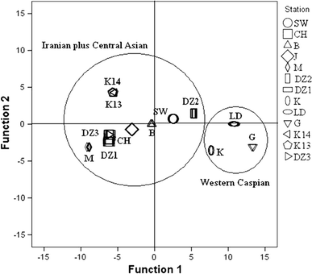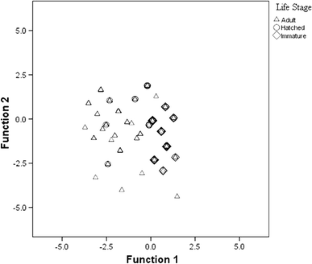 References
Abell R, Thieme ML, Revenga C, Bryer M, Kottelat M, Bogutskaya N, Coad B, Mandrak N, Balderas SC, Bussing W, Stiassny MLJ, Skelton P, Allen GR, Unmack P, Naseka A, Ng R, Sindorf N, Robertson J, Armijo E, Higgins JV, Heibel TJ, Wikramanayake E, Olson D, Lopez HL, Reis RE, Lundberg JG, Perez MHS, Petry P (2008) Freshwater ecoregions of the world: a new map of biogeographic units for freshwater biodiversity conservation. Bioscience 58:403–414

Anderson CN, Grether GF (2010) Interspecific aggression and character displacement of competitor recognition in Hetaerina damselflies. Proc R Soc Lond B Biol Sci 277:549–555

Cordoba-Aguilar A (2002) Wing pigmentation in territorial male damselflies, Calopteryx haemorrhoidalis: a possible relation to sexual selection. Anim Behav 63:759–766

Darwin C (1859) On the origin of species. John Murray, London

Ferguson-Lees J, Christie DA (2001) Raptors of the World. Helm Identification Guides, London

Fisher RA (1930) The genetical theory of natural selection. Clarendon Press, Oxford

Gallesi MM, Mobili S, Cigognini R, Hardersen S (2015) Sexual dimorphism in wings and wing bands of Sympetrum pedemontanum (Muller in Allioni 1776). Zoomorphology 134:531–540

Glombova J, Schenkova J (2015) Habitat preferences and ventral color variability of Hirudo medicinalis (Clitellata: Hirudinida). Ecol Mon 2(1):51–61

Hewitt G (2000) The genetic legacy of the quaternary ice ages. Nature 405:907–913

Hoffman EA, Blouin MS (2000) A review of color and pattern polymorphisms in anurans. Biol J Linn Soc 70:633–665

Kay QON (1978) The role of preferential and assortative pollination in the maintenance of flower color polymorphisms. In: Richards AJ (ed) The pollination of flowers by insects. Academic Press, New York, pp 175–190

Koperski P, Milanowski R, Krzyk A (2011) Searching for cryptic species in Erpobdella octoculata (L.) (Hirudinea: Clitellata): discordance between the results of genetic analysis and cross-breeding experiments. Contrib Zool 80(1):85–94

Lukin EI (1976) Piyavki [Leeches]. In: Fauna USSR. Academy of sciences of the USSR, vol 1. Nauka, Moscow

Moquin-Tandon A (1827) Monographie de la Famille des Hirudine´es. Maison de Commerce, Montpellier

Nei M (1987) Molecular evolutionary genetics. Columbia University Press, New York

Nesemann H, Neubert E (1999) Annelida, Clitellata: Branchiobdellida, Acanthobdellea, Hirudinea. In: Schwoerbel J, Zwick P (eds) Süßwasserfauna von Mitteleuropa 6/2. Spektrum, Heidelberg

Nichols RA, Hewitt GM (1994) The genetic consequences of long distance dispersal during colonization. Heredity 72:312–317

Outomuro D, Johansson F (2015) Bird predation selects for wing shape and coloration in a damselfly. J Evol Biol 28:791–799

Pawłowski LK (1936) Pijawki (Hirudinea). Fauna słodkowodna Polski, Warszawa, 2: 1–176

Sawyer RT (1986) Leech biology and behaviour. Clarendon Press, Oxford

Schmitt T (2007) Molecular biogeography of Europe: Pleistocene cycles and postglacial trends. Front Zool 4:11

Siddall ME, Trontelj P, Utevsky SY, Nkamany M, Macdonald KS III (2007) Diverse molecular data demonstrate that commercially available medicinal leeches are not Hirudo medicinalis. Proc R Soc Lond B Bio 274:1481–1487

Siddall ME, Rood-Goldman R, Barrio A, Barboutis C (2013) The eyes have it: long-distance dispersal by an intraorbital leech parasite of birds. J Parasitol 99:1137–1139

Taberlet P, Fumagalli L, Wust-Saucy AG, Cossons J-F (1998) Comparative phylogeography and post-glacial colonization routes in Europe. Mol Ecol 7:453–464

Trontelj P, Utevsky S (2005) Celebrity with a neglected taxonomy: molecular systematics of the medicinal leech (genus Hirudo). Mol Phylogenet Evol 34:616–624

Trontelj P, Utevsky S (2012) Phylogeny and phylogeography of medicinal leeches (genus Hirudo): fast dispersal and shallow genetic structure. Mol Phylogenet Evol 63:475–485

Trontelj P, Sotler M, Verovnik R (2004) Genetic differentiation between two species of the medicinal leech, Hirudo medicinalis the neglected H. verbana, based on random amplified polymorphic DNA. Parasitol Res 94:118–124

Utevsky S, Trontelj P (2005) A new species of the medicinal leech (Oligochaeta, Hirudinida, Hirudo) from Transcaucasia and an identification key for the genus Hirudo. Parasitol Res 98:61–66

Utevsky S, Trontelj P (2015) Phylogeography of the southern medicinal leech, Hirudo verbana: a response to Živić et al. (2015). Aquat Ecol. doi:10.1007/s10452-015-9553-0

Utevsky A, Utevska OM, Boyarshin KS, Utevsky SY (2010a) Polymorphism of the coloration pattern in the medicinal leech (Clitellata, Hirudinida). J V N Karazin Kharkiv Natl Univ 11(905):139–147

Utevsky S, Zagmajster M, Atemasov A, Zinenko O, Utevska O, Utevsky A, Trontelj P (2010b) Distribution and status of medicinal leeches (genus Hirudo) in the Western Palaearctic: anthropogenic, ecological, or historical effects? Aquat Conserv 20:198–210

Wright S (1931) Evolution in Mendelian populations. Genetics 16:97–159

Yablokov AV (1989) Progress and problems in population biology. Sov Sci Rev Sect F Physiol Gen Biol Rev 35:353–379

Zheng X, Yang Q, Hu Y, Lei C, Wang X (2015) Latitudinal variation of morphological characteristics in the swallowtail Sericinus montelus Gray, 1798 (Lepidoptera: Papilionidae). Acta Zool Stockh 96:242–252
Acknowledgments
We appreciate Marina Kovalenko for her help in photography of specimens. We also appreciate generous help of Misters Ahmadreza Katouzian, Abbas Kazemi, Hassan Salehi, Mousa Bayat, Akbari and Kouhi in field sampling. The financial supports are provided by Ministry of Science, Research and Technology of Iran and Research council, University of Tehran.
Ethics declarations
Conflict of interest
The authors declare that they have no conflict of interest.
Additional information
Communicated by A. Schmidt-Rhaesa.
About this article
Cite this article
Darabi-Darestani, K., Sari, A., Utevska, O. et al. Coloration pattern in populations of the eastern medicinal leech, Hirudo orientalis Utevsky & Trontelj, 2005 (Clitellata, Hirudinida): geographical distribution and life history. Zoomorphology 135, 291–303 (2016). https://doi.org/10.1007/s00435-016-0316-9
Received:

Revised:

Accepted:

Published:

Issue Date:

DOI: https://doi.org/10.1007/s00435-016-0316-9
Keywords