Abstract
The Teredinidae possess specialised calcareous paddle-like structures, the pallets, which flank the siphons. The external segmentation/non-segmentation of the pallets is used as the main diagnostic character to distinguish between the Teredininae (non-segmented pallet line) and the Bankiinae (segmented pallet line). The internal segmentation of the pallets has, however, seldom been accessed. Therefore, in the present study, the internal structure of the pallets of Psiloteredo megotara (Teredininae) and Nototeredo norvagica (Bankiinae) was analysed using scanning electron microscopy. Pallets of P. megotara were segmented, in a fashion similar to those of N. norvagica, rather than lacking true segmentation as had been reported previously. This finding, affecting a key character state, supports results from previous molecular work and shows the need for further work to ascertain the valid compositions of the Teredininae and Bankiinae.
This is a preview of subscription content, log in to check access.
Access options
Buy single article
Instant access to the full article PDF.
US$ 39.95
Price includes VAT for USA
Subscribe to journal
Immediate online access to all issues from 2019. Subscription will auto renew annually.
US$ 199
This is the net price. Taxes to be calculated in checkout.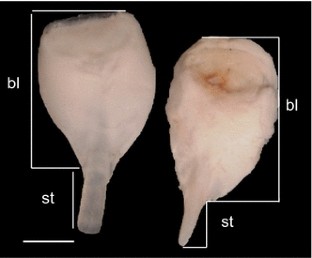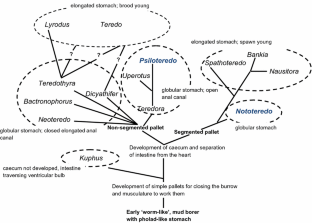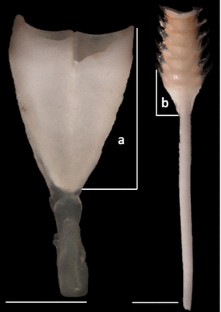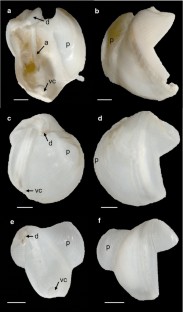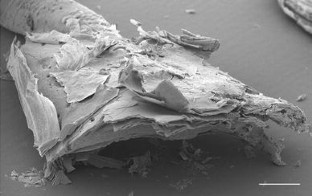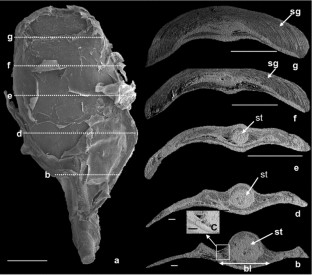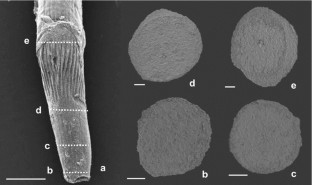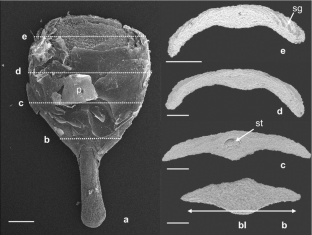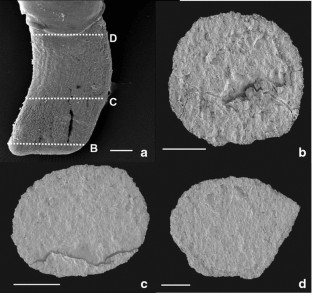 References
Borges LMS, Sivrikaya H, le Roux A, Shipway JR, Cragg SM, Costa FO (2012) Investigating the taxonomy and systematics of marine wood borers (Bivalvia: Teredinidae) combining evidence from morphology, DNA barcodes and nuclear locus sequences. Invert Syst 26:572–582

Calloway CB, Turner RD (1983) Documentation and implications of rapid successive gametogenic cycles and broods in the shipworm Lyrodus floridanus (Bartsch) (Bivalvia, Teredinidae). J Shellfish Res 3(1):65–69

Cragg SM, Jumel M-C, Al-Horani FA, Hendy IW (2009) The life history characteristics of the wood-boring bivalve Teredo bartschi are suited to the elevated salinity, oligotrophic circulation in the Gulf of Aqaba, Red Sea. J Exp Mar Biol Ecol 375:99–105

Distel DL, Amin M, Burgoyne A, Linton E, Mamangkey G, Morrill W, Nove J, Wood N, Yang J (2011) Molecular phylogeny of Pholadoidea Lamarck, 1809 supports a single origin for xylotrophy (wood feeding) and xylotrophic bacterial endosymbiosis in Bivalvia. Mol Phylogenet Evol 61(2):245–254

Forbes E, Hanley S (1853) A history of the British Mollusca, and their shells. John van Voorst, London

Fuller SC, Hu YP, Lutz RA, Castagna M (1989) Shell and pallet morphology in early developmental stages of Teredo navalis Linné (Bivalvia, Teredinidae). Nautilus 103:24–35

Hoagland KE (1986) Genetic variation in seven wood-boring teredinid and pholadid bivalves with different patterns of life history and dispersal. Malacologia 27(2):323–339

Hoagland KE, Turner RD (1981) Evolution and adaptative radiation of wood-boring bivalves (Pholadacea). Malacologia 21:11–148

Kofoid CA, Miller RC (1927) Marine borers and their relation to marine construction on the Pacific coast. In: Final report of the San Francisco Bay marine piling committee, California

Morton B (1971) The functional anatomy of the organs of feeding and digestion of Teredo navalis Linnaeus and Lyrodus pedicellatus (Quatrefages). Proc Malacol Soc Lond 39:151–167

Quayle D (1992) Marine borers in British Columbia. Can Spec Publ Fish Aquat Sci 115:1–55

Santos SML, Tagliaro CH, Beasley CR, Schneider H, Sampaio I, Filho CS, Müller ACP (2005) Taxonomic implications of molecular studies on Northern Brazilian Teredinidae (Mollusca: Bivalvia) specimens. Genet Mol Biol 28:175–179

Spengler L (1792) Betragtninger og Anmaerkniger ved den Linneiske Slaegt Pholas blantde mangeskallede Muskeler, med dens hidindtil bekiendte gamle og nye Arter, samt den dermed i Forbindelse staaende Slaegt Teredo Linn. Skrivter af Naturhistorie-Selskabet (Kiøenhavn) 2:72–106

Tan AS, Hu YP, Castagna M, Lutz RA, Kennish MJ, Pooley AS (1993) Shell and pallet morphology of early developmental stages of Bankia gouldi (Bartsch, 1908) (Bivalvia, Teredinidae). Nautilus 107:63–75

Turner RD (1966) A survey and illustrated catalogue of the Teredinidae. The museum of comparative zoology. Harvard University, Cambridge

Turner RD (1971) Methods of identification of marine borers and fungi. In: Jones GEB, Eltringham SK (eds) Marine borers, fungi and fouling organisms. Organisation for Economic Cooperation and Development-OECD, Paris, pp 17–62

Turner RD (1987) Cellulolytic nitrogen-fixing bacteria in the Teredinidae. Biodeterioration 7:743–748
Acknowledgments
I am grateful to Simon Cragg for his guidance during this work. I am also grateful for the financial support received from Fundação para a Ciência e a Tecnologia, Portugal (SFRH/BD/17915/2004). I wish to thank the collaborators Dr J.-A. Sneli, Dr N. Smodlaka and Dr F. Bingel for deploying of wooden panels in Norway, Croatia and Turkey, respectively, and for sending them back to our laboratory. I also thank Mr Geoff Long for sectioning the pallets, and Mr Derek Weights and Dr Tony Butcher for their help with the SEM.
Additional information
Communicated by A. Schmidt-Rhaesa.
About this article
Cite this article
Borges, L.M.S. The internal structure of the pallets of Nototeredo norvagica and Psiloteredo megotara (Bivalvia: Teredinidae): implications for subfamilial allocations. Zoomorphology 135, 33–41 (2016). https://doi.org/10.1007/s00435-015-0277-4
Received:

Revised:

Accepted:

Published:

Issue Date:
Keywords
Psiloteredo megotara
Nototeredo norvagica

Shipworms

Teredininae

Bankiinae

Segmentation of pallets