Abstract
The Indochinese box turtle Cuora galbinifrons is regarded as a purely terrestrial species, but our results demonstrate that it can feed both on land and in water. The inverse relationship between the relative development of the hyoid apparatus and the tongue found in the most investigated chelonians is not valid in the Indochinese box turtle. Our morphological analysis of the feeding apparatus reveals that the palate shape and the design of the tongue are consistent with terrestrial feeders, but the construction of the hyoid complex is more characteristic of aquatic feeders. Previous studies have demonstrated that tongue enlargement negatively impacts the capacity of the turtles to suction feed. The present study focuses on the aquatic intraoral prey transport kinematic patterns. Our analysis is based on high-speed films with 250 fr/s and high-speed cineradiography with 50 fr/s. The aquatic intraoral food transport mechanisms differ depending on prey size: small items are transported predominantly by "inertial suction", whereas larger items are moved by the tongue—normally a clear terrestrial strategy. As the genus Cuora is ancestrally aquatic, the use of lingual food transport in the aquatic environment is presumably an aberrant modus typical only for the most terrestrial among the Asian box turtles.
Access options
Buy single article
Instant access to the full article PDF.
USD 39.95
Price excludes VAT (USA)
Tax calculation will be finalised during checkout.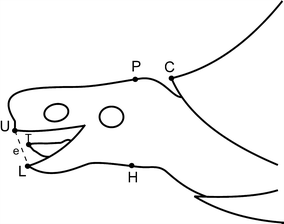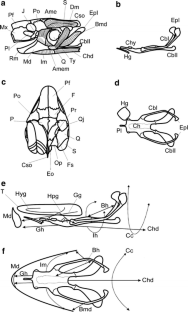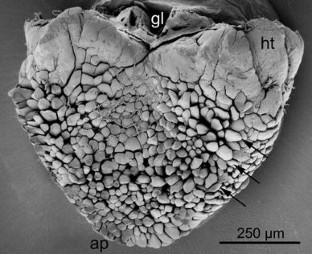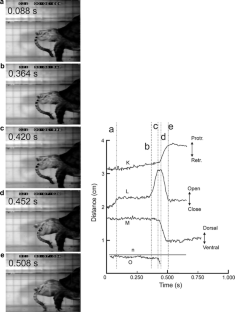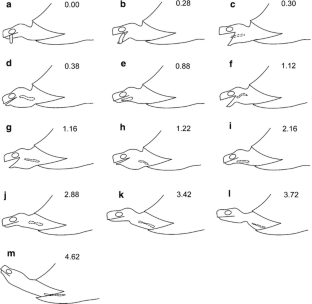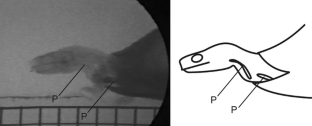 References
Aerts P, Van Damme J, Herrel A (2001) Intrisic mechanics and control of fast cranio–cervical movements in aquatic feeding turtles. Am Zool 41:1299–1310

Beisser CJ, Weisgram J, Splechtna H (1995) The dorsal lingual epithelium of Platemys pallidipectoris (Pleurodira, Chelidae). J Morphol 226:267–276

Beisser CJ, Weisgram J, Hilgers H, Splechtna H (1998) Fine structure of the dorsal lingual epithelium of Trachemys scripta elegans (Chelonia: Emydidae). Anat Rec Part A 250:127–135

Beisser CJ, Lemell P, Weisgram J (2001) Light and electron microscopy of the tongue of Pelusios castaneus (Chelonia; Pleurodira). Tissue Cell 33(1):63–71

Beisser CJ, Lemell P, Weisgram J (2004) The dorsal lingual epithelium of Rhinoclemmys pulcherrima incisia (Chelonia, Cryptodira). Anat Rec Part A 277:227–235

Bels VL, Renous S (1992) Kinematics of feeding in two marine turtles (Chelonia mydas and Dermochelys coriacea). In: Proc 6th ordinary meet Soc Eur Herp Hung Nat Hist Mus, pp 73–78

Bels VL, Davenport J, Delheusy V (1997) Kinematic analysis of the feeding behaviour in the box turtle Terrapene carolina (L.), (Reptilia: Emydidae). J Exp Zool 277:198–212

Bels VL, Davenport J, Renous S (1998) Food Ingestion in the Estuarine Turtle Malaclemys terrapin: Comparison with the Marine Leatherback Turtle Dermochelys coriacea. Mar Biol Ass UK 78:1–20

Bels VL, Baussart S, Davenport J, Shorten M, O'Riordan RM, Renous S, Davenport J (2008) Functional evolution of feeding behaviour in turtles. In: Wyneken J, Godfrey MH, Bels V (eds) Biology of turtles, vol 8. CRC Press, Boca Raton, pp 189–212

Bonin F, Devaux B, Dupré A (2006) Turtles of the World. Translated by P.C.H. Pritchard. Johns Hopkins University Press, Baltimore

Bramble DM (1973) Media dependent feeding in turtles. Am Zool 13:1342

Bramble DM (1974) Occurrence and significance of the Os transiliens in Gopher Tortoises. Copeia 74:102–108

Bramble DM (1978) Functional analysis of underwater feeding in the snapping turtle. Am Zool 18:623

Bramble DM, Wake DB (1985) Feeding mechanisms of lower tetrapods. In: Hildebrand M, Bramble DM, Liem KF, Wake DB (eds) Functional vertebrate morphology 13. Harvard University Press, Cambridge, MA, pp 230–261

Claude J, Paradis E, Tong H, Auffray JC (2003) A geometric morphometric assessment of the effects of the environment and cladogenesis on the evolution of the turtle shell. Biol J Linn Soc 79:485–501

Claude J, Pritchard PCH, Tong H, Paradis E, Auffray JC (2004) Ecological correlates and evolutionary divergence in the skull of turtles: a geometric morphometric assessment. Syst Biol 53:933–948

Ernst CH, Barbour RW (1989) Turtles of the world. USA Smithsonian Inst, Washington, DC

Ernst CH, Altenburg RGM, Barbour RW, (2000) Turtles of the world. World Biodiversity Database, CD-ROM Series, Windows, Version 1.2. Biodiversity Center of ETI, Amsterdam

Fritz U, Havaš P (2007) Checklist of Chelonians of the world. Vertebr Zool 57:149–368

Gans C (1969) Comments on inertial Feeding. Copeia 4:855–857

Heiss E, Plenk H Jr, Weisgram J (2008) Microanatomy of the palatal mucosa of the semiaquatic Malayan box turtle, Cuora amboinensis, and functional implications. Anat Rec 291:876–885

Herrel A, Cleuren J, De Vree F (1996) Kinematics of feeding in the lizard Agama stelio. J Exp Biol 199:1727–1742

Iordanskii N (1990) Evolucija komplexnaich adaptacii: Chelustnoi aparat amfibii I reptilii. Izdatelstvo Nauka

Iwasaki S (1992) Fine structure of the dorsal epithelium of the tongue of the freshwater turtle, Geoclemys reevesii (Chelonia, Emydinae). J Morphol 211:125–135

Joyce W, Gauthier J (2004) Paleoecology of Triassic stem turtles sheds new light on turtle origins. Proc R Soc Lond B 271:1–5

Karnovsky MJ (1965) A formaldehyde-glutaraldehyde fixative of high osmolarity for use in electron microscopy. J Cell Biol 27:137

Lauder GV, Prendergast T (1992) Kinematics of aquatic prey capture in the snapping turtle Chelydra serpentina. J Exp Biol 164:55–78

Lauder GV, Shaffer HB (1985) Functional morphology of the feeding mechanism in aquatic ambystomatid salamanders. J Morphol 185:297–326

Lauder GV, Schaffer HB (1986) Functional design of the feeding mechanism in lower vertebrates: unidirectional and bidirectional flow systems in the tiger salamander. Zool J Linn Soc 88:277–290

Lemell P, Weisgram J (1997) Feeding patterns of Pelusios castaneus (Chelonia: Pleurodira). Neth J Zool 47:429–441

Lemell P, Beisser CJ, Weisgram J (2000) Morphology and function of the feeding apparatus of Pelusios castaneus (Chelonia; Pleurodira). J Morphol 244:127–135

Lemell P, Lemell C, Snelderward P, Gumpenberger M, Wochesländer R, Weisgram J (2002) Feeding patterns of Chelus fimbriatus (Pleurodira: Chelidae). J Exp Biol 205:1495–1506

McDowell SB (1972) The evolution of the tongue in snakes and its bearing on snake origins. Evol Biol 6:191–273

Natchev N, Heiss E, Lemell P, Stratev D, Weisgram J (2009) Analysis of prey capture and food transport kinematics in two Asian box turtles, Cuora amboinensis and Cuora flavomarginata (Chelonia, Geoemydidae), with emphasis on terrestrial feeding patterns. Zoology 112:113–127

Pritchard PCH (1979) Encyclopedia of turtles. TFH Publications Inc., Neptune, NJ

Reilly SM, Lauder GV (1990) The evolution of the tetrapoda feeding behaviour: kinematic homologies in prey transport. Evolution 44(6):1542–1557

Richter S, Auer M, Fritz U (2007) Variation of hyoid morphology in geoemydid terrapins. Amphib-Reptil 28:148–153

Scheidel E (2002) Histologie and histochemie des Oesophagusepithels der Schildkroete Cuora galbinifrons Bourret 1939 (Emydidae, Chelonia), University of Vienna, (Unpublished diploma thesis)

Schumacher G (1956) Morphologische Studie zum Gleitmechanismus des M. adductor mandibulae externus bei Schildkröten. Anat Anz 103:1–12

Schumacher G (1973) The head muscles and hyolaryngeal skeleton of turtles and Croccodilians. In: Gans C, Parsons TS (eds) Biology of the Reptilia 4. Academic Press, New York, pp 101–199

Schwenk K (2000) Feeding: form, function and evolution in tetrapod vertebrates. Academic Press, San Diego

Schwenk K, Rubega M (2005) Diversity of vertebrate feeding systems. In: Stark M, Wang T (eds) Physiological and ecological adaptations to feeding in vertebrates. Science Publishers, Enfield, NH, pp 1–41

Smith KK (1984) The use of the tongue and hyoid apparatus during feeding in lizards (Ctenosauria similes and Tupinambus nigropunctatus). J Zool Lond 202:115–143

Summers AP, Darouian KF, Richmond AM, Brainerd EL (1998) Kinematics of aquatic and terrestrial prey capture in Terrapene carolina, with implications for the evolution of feeding in Cryptodire turtles. J Exp Zool 281:280–287

Van Damme J, Aerts P (1997) Kinematics and functional morphology of aquatic feeding in Australian snake-necked turtles (Pleurodira; Chelodina). J Morphol 233:113–125

Weisgram J (1985) Feeding mechanics of Claudius angustatus COPE 1865. Fortschr Zool 30:257–260

Weisgram J, Ditrich H, Splechtna H (1989) Comparative functional study of the oral cavity in two turtle species. Plzen lek Sborn Supp l59:117–122

Wermuth H, Mertens R (1961) Schildkröten, Krokodile, Brückenechsen. VEB Gustav Fischer, Jena

Winokur BM (1973) Adaptive modifications of the buccal mucosae in turtles. Am Zool 13:1347–1348

Winokur BM (1988) The buccopharyngeal mucosa of the turtles (Testudines). J Morphol 196:33–52

Wochesländer R, Hilgers H, Weisgram J (1999) Feeding mechanism of Testudo hermanni boettgeri (Chelonia, Cryptodira). Neth J Zool 49:1–13

Wochesländer R, Gumpenberger M, Weisgram J (2000) Intraoral food transport in Testudo hermanni (Chelonia, Cryptodira)–a radiographic video analysis. Neth J Zool 50:445–454
Acknowledgments
We are very grateful for the material support by Richard Gemel, NHM Wien. Alexander Rabanser (Univ. Vienna) is acknowledged for statistical advices. Furthermore, we would like to thank Rebecca German and Kenneth Kardong for discussing and commenting on our work. Four anonymous reviewers are acknowledged for helpful comments on the manuscript. Michael Stachowitsch improved our English. This study was supported by the FWF 20094-B17 Austrian research grant.
Additional information
Communicated by T. Bartolomaeus.
About this article
Cite this article
Natchev, N., Lemell, P., Heiss, E. et al. Aquatic feeding in a terrestrial turtle: a functional-morphological study of the feeding apparatus in the Indochinese box turtle Cuora galbinifrons (Testudines, Geoemydidae). Zoomorphology 129, 111–119 (2010). https://doi.org/10.1007/s00435-010-0104-x
Received:

Revised:

Accepted:

Published:

Issue Date:

DOI: https://doi.org/10.1007/s00435-010-0104-x
Keywords
Turtle

Feeding

Kinematics

Morphology

Cuora galbinifrons