Abstract
The Australian thorny devil, Moloch horridus Gray, 1841, and the Texas horned lizard, Phrynosoma cornutum Harlan, 1825, have the remarkable ability to rapidly move water through interscalar spaces on their skin's surface to their mouth for drinking. The morphology of these scale hinges has not been studied. We used histological and SEM techniques to examine and compare the scale hinges of both species. Additional taxa in their respective lineages were examined in order to evaluate the potential that convergent evolution has occurred. In the two species that transport water, each scale hinge has a basally expanded and semi-enclosed channel formed by the hinge joint that is interconnected with all scale hinges on the body. We hypothesize that it is within this semi-tubular channel system of hinge joints, where the β-layer keratin of the integument is very thin, that water is transported. Hinge joint walls are covered by a complex topography of fractured surfaces that greatly expand the channel's surface area and probably enhance capillary transport of water. In addition, we note differing morphology of scale surfaces at the rear of the jaws of both species. We hypothesize that capillary forces fill the scale-hinge system and additional forces, generated within the mouth by observed motions during drinking, depress local water-pressure to pull water through the channels of the hinge-joint system. We conclude that the combined features in the two species, semi-tubular hinge-joint channels with convoluted walls and a jaw-buccal cavity pumping-mechanism, have convergently evolved for capture, transport, and drinking of water from sporadic rainfall.
Access options
Buy single article
Instant access to the full article PDF.
US$ 39.95
Tax calculation will be finalised during checkout.
Subscribe to journal
Immediate online access to all issues from 2019. Subscription will auto renew annually.
US$ 119
Tax calculation will be finalised during checkout.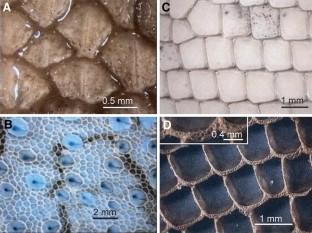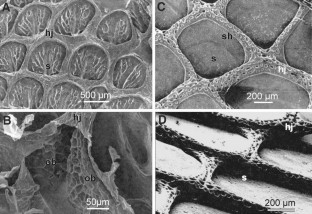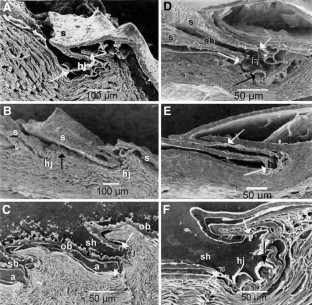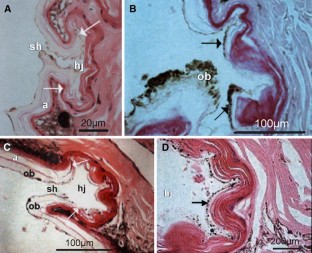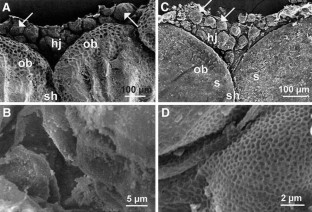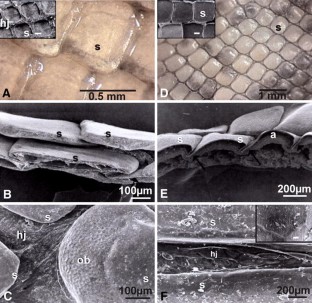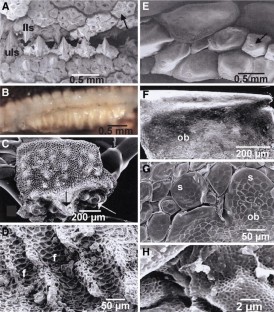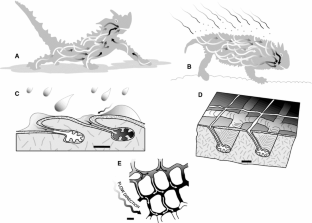 References
Adamson AW, Gast AP (1997) Physical chemistry of surfaces, 6th edn. Wiley, New York

Alibardi L (1999) Formation of large micro-ornamentations in developing scales of agamine lizards. J Morphol 240:251–266

Alibardi L (2001) Keratohyalin-like granules in lizard epidermis: evidence from cytochemical, autoradiographic, and microanalytic studies. J Morphol 248:64–79

Alibardi L, Maderson PFA (2003) Observations on the histochemistry and ultrastructure of the epidermis of the tuatara, Sphenodon punctatus (Sphenodontia, Lepidosauria, Reptilia): a contribution to an understanding of the lepidosaurian epidermal generation and the evolutionary origin of the squamate shedding complex. J Morphol 256:111–133

Baverstock PR, Donnellan SC (1990) Molecular evolution in Australian dragons and skinks: a progress report. Mem Queensl Mus 29:323–331

Bentley PJ, Blumer WFC (1962) Uptake of water by the lizard, Moloch horridus. Nature 194:699–700

During M von, Miller MR (1979) Sensory nerve endings of the skin and deeper structures. In: Gans C, Northcutt RG, Ulinski P (eds) Biology of the Reptilia, vol 9. Academic, London, pp 407–441

Frost DR, Etheridge R. (1989) A phylogenetic analysis and taxonomy of iguanian lizards (Reptilia: Squamata). Univ Kansas Mus Nat Hist Misc Publ 81:1–65

Gans C, Baic D (1977) Regional specialization of reptilian scale surfaces: relation to texture and biological role. Science 195:1348–1350

Gans C, Merlin R, Blumer WFC (1982) The water-collecting mechanism of Moloch horridus re-examined. Amphib-Reptil 3:57–64

Harvey MB (1993) Microstructure, ontogeny, and evolution of scale surfaces in xenosaurid lizards. J Morphol 216:161–177

Harvey MB, Gutberlet RL Jr (1995) Microstructure, evolution, and ontogeny of scale surfaces in cordylid and gerrhosaurid lizards. J Morphol 226:121–139

Hocknull SA (2002) Comparative maxillary and dentary morphology of the Australian dragons (Agamidae: Squamata): a framework for fossil identification. Mem Queensl Mus 48:125–145

Irish FJ, Williams EE, Seling E (1988) Scanning electron microscopy of changes in epidermal structure occurring during the shedding cycle in squamate reptiles. J Morphol 197:105–126

Lillywhite HB, Maderson PFA (1982) Skin structure and permeability. In: Gans C, Pough FH (eds) Biology of the Reptilia, vol 12. Academic, New York, pp 397–442

Losos JB, Miles DB (2002) Testing the hypothesis that a clade has adaptively radiated: iguanid lizard clades as a case study. Am Nat 160:147–157

Maclean S (1980) Ultrastructure of epidermal sensory receptors in Amphibolurus barbatus (Lacertilis [sic]: Agamidae). Cell Tissue Res 210:435–445

Maderson PFA (1985) Some developmental problems of the reptilian integument. In: Gans C, Billett F, Maderson PFA (eds) Biology of the Reptilia, vol 14. Wiley, New York, pp 523–598

Maderson PFA, Rabinowitz T, Tandler B, Alibardi L (1998) Ultrastructural contributions to the understanding of the cellular mechanisms involved in lizard skin shedding with comments on the function and evolution of a unique lepidosaurian phenomenon. J Morphol 236:1–24

Mayhew WW, Wright SJ (1971) Water impermeable skin of the lizard Phrynosoma m'calli. Herpetologica 27:8–11

Meyers JJ, Herrel A (2005) Prey capture kinematics of ant-eating lizards. J Exp Biol 208:113–127

Meyers JJ, Herrel A, Mead J (2001) Morphology of the feeding apparatus of the Australian thorny devil (Moloch horridus). Am Zool 41:1526

Mittal AK, Singh JPN (1987a) Scale epidermis of Natrix piscator during its sloughing cycle—structural organization and protein histochemistry (Reptilia: Colubridae). J Zool, Lond 213:545–568

Mittal AK, Singh JPN (1987b) Hinge epidermis of Natrix piscator during its sloughing cycle – structural organization and protein histochemistry. J Zool, Lond 213:685–695

Peterson CC (1998) Rain-harvesting behavior by a free-ranging desert horned lizard (Phrynosoma platyrhinos). Southwest Nat 43:391–394

Peterson JA (1984) The microstucture of the scale surface in iguanid lizards. J Herpetol 18:437–467

Pianka ER, Pianka HD (1970) The ecology of Moloch horridus (Lacertilia: Agamidae) in Western Australia. Copeia 1970:90–103

Pianka ER, Parker WS (1975) Ecology of horned lizards: a review with special reference to Phrynosoma platyrhinos. Copeia 1975:141–162

Schwenk K, Greene HW (1987) Water collection and drinking in Phrynocephalus helioscopus: a possible condensation mechanism. J Herpetol 21:134–139

Sherbrooke WC (1990) Rain-harvesting in the lizard, Phrynosoma cornutum: behavior and integumental morphology. J Herpetol 24:302–308

Sherbrooke WC (1993) Rain-drinking behaviors of the Australian thorny devil (Sauria: Agamidae). J Herpetol 27:270–275

Sherbrooke WC (1999) Thorny devils and horny toads. Nat Aust 26(6):54–63

Sherbrooke WC (2002) Phrynosoma modestum (round-tailed horned lizard). Rain-harvest drinking behavior. Herpetol Rev 33:310–312

Sherbrooke WC (2003) Introduction to horned lizards of North America. University of California Press, Berkeley

Sherbrooke WC (2004) Integumental water movement and rate of water ingestion during rain harvesting in the Texas horned lizard, Phrynosoma cornutum. Amphib-Reptil 25:29–39

Sherbrooke WC, Nagle RB (1996) A dorsal intraepidermal mechanoreceptor in horned lizards (Phrynosoma; Phrynosomatidae; Reptilia). J Morphol 228:145–154

Spearman RIC, Riley PA (1969) A comparison of the epidermis and pigment cells of the crocodile with those in two lizard species. Zool J Linn Soc 48:453–466

Vesely M, Modry D (2002) Rain-harvesting behavior in agamid lizards (Trapelus). J Herpetol 36:311–314

Withers P (1993) Cutaneous water acquisition by the thorny devil (Moloch horridus; Agamidae). J Herpetol 27:265–270

Zucker A (1980) Procedural and anatomical considerations of the determination of cutaneous water loss in squamate reptiles. Copeia 1980:425–439
Acknowledgement
For assistance in providing specimens, we thank P. Couper (Queensland Museum), D. Wilson (AMNH), and V.N. Sherbrooke. K. Koopman drew the water-flow diagrams (Figure 8). EPA Queensland Parks and Wildlife Service provided collecting and transfer permits, and the STB Animal Ethics Sub-Committee approved protocols. K. Blake (Advanced Analytical Centre, JCU) facilitated SEM use and S. Reilly (STB, JCU) prepared histological slides. Financial support was provided by the Australian Defence Science and Technology Organization—Biomimetic Fouling Control Program.
About this article
Cite this article
Sherbrooke, W.C., Scardino, A.J., de Nys, R. et al. Functional morphology of scale hinges used to transport water: convergent drinking adaptations in desert lizards (Moloch horridus and Phrynosoma cornutum). Zoomorphology 126, 89–102 (2007). https://doi.org/10.1007/s00435-007-0031-7
Received:

Accepted:

Published:

Issue Date:
Keywords
Iguania

Water transport

Drinking

Scale hinge

Convergent evolution