Abstract
Purpose
The aim of this study was to assess the clinical significance of RUNX3 gene hypermethylation in the pathogenetic mechanisms of breast cancer in women, taking into account its cohypermethylation with the BRCA1 gene.
Methods
This study included 74 women with newly diagnosed breast cancer (samples from female primary breast carcinomas and paired peripheral blood samples) and 62 women without oncological pathology—control group (peripheral blood samples). Epigenetic testing for hypermethylation status studying was performed in all samples on freshly collected material with the addition of a preservative before the storage and DNA isolation.
Results
Hypermethylation of the RUNX3 gene promoter region was detected in 71.6% samples of breast cancer tissue and in 35.13% samples of blood. The RUNX3 gene promoter region hypermethylation was significantly higher among breast cancer patients compared to the control group. The frequency of cohypermethylation in RUNX3 and BRCA1 genes was significantly increased in breast cancer tissues compared to the blood of patients.
Conclusion
A significantly increased frequency of the hypermethylation of the RUNX3 gene promoter region and its cohypermethylation with the BRCA1 gene promoter region was found in tumor tissue and blood samples from patients with breast cancer, in contrast to the control group. The identified differences indicate the importance of further investigations of suppressor genes cohypermethylation in patients with breast cancer. Further large-scale studies are needed to find out whether the detected hypermethylation and cohypermethylation of the RUNX3 gene promoter region will have an impact on the treatment strategy in patients.
This is a preview of subscription content,
to check access.
Access this article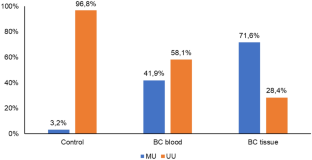 Data availability
All data generated or analyzed during this study are included in this published article.
References
Chen F, Liu X, Bai J et al (2016) The emerging role of RUNX3 in cancer metastasis (Review). Oncol Rep 35(3):1227–1236. https://doi.org/10.3892/or.2015.4515

Cipriano NM Jr, de Brito AM, de Oliveira ES et al (2019) Mutation screening of TP53, CHEK2 and BRCA genes in patients at high risk for hereditary breast and ovarian cancer (HBOC) in Brazil. Breast Cancer 26(3):397–405. https://doi.org/10.1007/s12282-018-00938-z

Das PM, Singal R (2004) DNA methylation and cancer. J Clin Oncol 22(22):4632–4642. https://doi.org/10.1200/JCO.2004.07.151

Ilango S, Paital B, Jayachandran P et al (2020) Epigenetic alterations in cancer. Front Biosci (landmark Ed) 25(6):1058–1109. https://doi.org/10.2741/4847

Kang HF, Dai ZJ, Bai HP et al (2013) RUNX3 gene promoter demethylation by 5-Aza-CdR induces apoptosis in breast cancer MCF-7 cell line. Onco Targets Ther 6:411–417. https://doi.org/10.2147/OTT.S43744

Kawachi A, Yamashita S, Okochi-Takada E et al (2020) BRCA1 promoter methylation in breast cancer patients is associated with response to olaparib/eribulin combination therapy. Breast Cancer Res Treat 181(2):323–329. https://doi.org/10.1007/s10549-020-05647-w

Kim TY, Lee HJ, Hwang KS et al (2004) Methylation of RUNX3 in various types of human cancers and premalignant stages of gastric carcinoma. Lab Invest 84(4):479–484. https://doi.org/10.1038/labinvest.3700060

Kornatska AG, Rossokha ZI, Fishchuk LY et al (2021) ESR1 gene variants affect FSHR-depended risk of fibrocystic mastopathy in infertile women. Exp Oncol 43(3):266–269. https://doi.org/10.32471/exp-oncology.2312-8852.vol-43-no-3.16468

Lau QC, Raja E, Salto-Tellez M et al (2006) RUNX3 is frequently inactivated by dual mechanisms of protein mislocalization and promoter hypermethylation in breast cancer. Cancer Res 66(13):6512–6520. https://doi.org/10.1158/0008-5472.CAN-06-0369

Li WQ, Pan KF, Zhang Y et al (2011) RUNX3 methylation and expression associated with advanced precancerous gastric lesions in a Chinese population. Carcinogenesis 32(3):406–410. https://doi.org/10.1093/carcin/bgq259

Li Z, Guo X, Wu Y et al (2015) Methylation profiling of 48 candidate genes in tumor and matched normal tissues from breast cancer patients. Breast Cancer Res Treat 149(3):767–779. https://doi.org/10.1007/s10549-015-3276-8

Lobanova O, Medvedieva N, Fishchuk L et al (2022) Methylation of promoter region of BRCA1 gene versus pathogenic variants of gene: risk factor or clinical marker of breast cancer. Breast Cancer Res Treat 196(3):505–515. https://doi.org/10.1007/s10549-022-06774-2

Lobo I (2008) Chromosome abnormalities and cancer cytogenetics. Nat Educ 1(1):68

Lu DG, Ji XQ, Liu W (2011) Significance of RUNX3 Hypermethylation in Serum DNA of Non-small Cell Lung Cancer Patients. China Res Prev Treat 38:671–674. https://doi.org/10.3971/j.issn.1000-8578.2011.06.016

Mathews LA, Hurt EM, Zhang X et al (2010) Epigenetic regulation of CpG promoter methylation in invasive prostate cancer cells. Mol Cancer 9:267. https://doi.org/10.1186/1476-4598-9-267

Moore LD, Le T, Fan G (2013) DNA methylation and its basic function. Neuropsychopharmacol 38(1):23–38. https://doi.org/10.1038/npp.2012.112

Osborne C, Wilson P, Tripathy D (2004) Oncogenes and tumor suppressor genes in breast cancer: potential diagnostic and therapeutic applications. Oncologist 9(4):361–377. https://doi.org/10.1634/theoncologist.9-4-361

Paliychuk OV, Polishchuk LZ, Rossokha ZI et al (2018) Molecular-genetic models for prognosis of development of tumors of reproductive system in women with family history of cancer. Exp Oncol 40(1):59–67. https://doi.org/10.31768/2312-8852.2018.40(1):59-67

Park J, Kim HJ, Kim KR et al (2017) Loss of RUNX3 expression inhibits bone invasion of oral squamous cell carcinoma. Oncotarget 8(6):9079–9092. https://doi.org/10.18632/oncotarget.14071

Samusieva A, Serga S, Klymenko S et al (2022) Contribution of BRCA1 5382insC mutation to triplene-gative and luminal types of breast cancer in Ukraine. Breast Cancer Res Treat 195(3):453–459. https://doi.org/10.1007/s10549-022-06692-3

Schröder C, Steimer W (2018) gDNA extraction yield and methylation status of blood samples are affected by long-term storage conditions. PLoS ONE 13(2):e0192414. https://doi.org/10.1371/journal.pone.0192414

Selvarajan V, Osato M, Nah GSS et al (2017) RUNX3 is oncogenic in natural killer/T-cell lymphoma and is transcriptionally regulated by MYC. Leukemia 31(10):2219–2227. https://doi.org/10.1038/leu.2017.40

Shiovitz S, Korde LA (2015) Genetics of breast cancer: a topic in evolution. Ann Oncol 26(7):1291–1299. https://doi.org/10.1093/annonc/mdv022

Song XY, Li BY, Zhou EX et al (2016) The clinicopathological significance of RUNX3 hypermethylation and mRNA expression in human breast cancer, a meta-analysis. Onco Targets Ther 9:5339–5347. https://doi.org/10.2147/OTT.S77828

Stefansson OA, Villanueva A, Vidal A et al (2012) BRCA1 epigenetic inactivation predicts sensitivity to platinum-based chemotherapy in breast and ovarian cancer. Epigenetics 7(11):1225–1229. https://doi.org/10.4161/epi.22561

Tan SH, Ida H, Lau QC et al (2007) Detection of promoter hypermethylation in serum samples of cancer patients by methylation-specific polymerase chain reaction for tumour suppressor genes including RUNX3. Oncol Rep 18(5):1225–1230. https://doi.org/10.3892/or.18.5.1225

Wu H, Zhang Y (2014) Reversing DNA methylation: mechanisms, genomics, and biological functions. Cell 156(1–2):45–68. https://doi.org/10.1016/j.cell.2013.12.019

Yeroshkina K, Rossokha Z, Fishchuk L et al (2022) Betaine consumption as a new clinical approach to treatment and prophylaxis of folate-related pathologies. Nutr Rev. https://doi.org/10.1093/nutrit/nuac084

Yu Y, Chen C, Kong F et al (2014) Clinicopathological significance and potential drug target of RUNX3 in breast cancer. Drug Des Devel Thern 8:2423–2430. https://doi.org/10.2147/DDDT.S71815

Zakhartseva LM, Gorovenko NG, Podolskaya SV et al (2009) Breast cancer immunohistochemical features in young women with BRCA 1/2 mutations. Exp Oncol 31(3):174–178
Funding
The authors declare that no funds, grants, or other support was received during the preparation of this manuscript.
Ethics declarations
Conflict of interest
The authors have no relevant financial or non-financial interests to disclose.
Ethical approval
This study was performed in line with the principles of the Declaration of Helsinki. Approval was granted by the Commission on Bioethical Expertise and Research Ethics of Bogomolets National Medical University (0120U100871).
Consent to participate
Informed consent for the collection of biological material, medical examinations, and data processing was obtained from each participant included in the study.
Additional information
Publisher's Note
Springer Nature remains neutral with regard to jurisdictional claims in published maps and institutional affiliations.
Rights and permissions
Springer Nature or its licensor (e.g. a society or other partner) holds exclusive rights to this article under a publishing agreement with the author(s) or other rightsholder(s); author self-archiving of the accepted manuscript version of this article is solely governed by the terms of such publishing agreement and applicable law.
About this article
Cite this article
Rossokha, Z., Fishchuk, L., Lobanova, O. et al. Clinical significance of determining the hypermethylation of the RUNX3 gene promoter and its cohypermethylation with the BRCA1 gene for patients with breast cancer. J Cancer Res Clin Oncol 149, 11919–11927 (2023). https://doi.org/10.1007/s00432-023-05034-0
Received:

Accepted:

Published:

Issue Date:

DOI: https://doi.org/10.1007/s00432-023-05034-0
Keywords