Abstract
Background
Remnant gastric cancer (RGC) is defined as a carcinoma that develops in the gastric remnant from 5 years after gastrectomy, regardless of the primary gastric disease. The pattern of lymph node dissemination in these patients is not well understood. The present study aims to understand the lymph node distribution of patients with RGC in a single center.
Methods
In a total of 1380 patients with gastric cancer, between 1998 and 2020, 43 patients operated on for RGC were analyzed. The pattern of lymph node dissemination was evaluated based on the number of dissected lymph node stations, the number of positive lymph node stations, the positivity index at each analyzed station, the number of dissected lymph nodes per patient, and the positivity index per lymph node station.
Results
A mean of 13.0 ± 8.1 lymph nodes were dissected. The incidence of lymph node involvement by dissected station was higher at Stations 19, 11p, 3, 4sb and 7 (50, 40, 37.5, 36 and 31.7%, respectively). Among the positive dissected stations, Station 3 with 52.2%, 4sb with 39.1% and 4sa with 34.8% were the most affected.
Conclusion
There was no predilection for lymph node involvement when comparing the lesser and greater gastric curvature. The dissection of Stations 3, 4sb and 4sa is fundamental in surgical treatment with curative purposes. The totalization of gastrectomy with lymphadenectomy of the perigastric and supra-pancreatic stations should be the surgery of choice.
Access options
Buy single article
Instant access to the full article PDF.
USD 39.95
Price excludes VAT (USA)
Tax calculation will be finalised during checkout.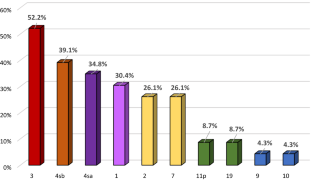 References
Ajani JA, D'Amico TA, Bentrem DJ, Chao J, Corvera C, Das P et al (2019) National comprehensive cancer network nccn clinical practice guidelines in oncology. Gastric Cancer 2(1):121

Di Leo A, Pedrazzani C, Bencivenga M, Coniglio A, Rosa F, Morgani P et al (2014) Gastric stump cancer after distal gastrectomy for benign disease: clinicopathological features and surgical outcomes. Ann Surg Oncol 21(8):259–600

Firat O, Guler A, Sozbilen M, Ersin S, Kaplan H (2009) Gastric remnant cancer: an old problem with novel concerns. Langenbecks Arch Surg 394:93–97

Ganem LM, Brito PHF, Nogueira EP, Castro OAP, Fukuhara DK, Cordts RM et al (2020) Validation of a prospective data collection and registration protocol of stomach cancer cases. Clin Res Trials. https://doi.org/10.15761/CRT.1000294

Honda S, Bando E, Makuuchi R, Tokunaga M, Tanizawa Y, Kawamura T et al (2017) Effects of initial disease status on lymph flow following gastrectomy in cases of carcinoma in the remnant stomach. Gastric Cancer 20(3):457–464

Irino T, Hiki N, Ohashi M, Nunobe S, Tokunaga M, Sano T et al (2016) Characteristics of gastric stump cancer: a single hospital retrospective analysis of 262 patients. Surgery 159:1539–1547

Katai H, Ishikawa T, Akazawa K, Fukagawa T, Isobe Y, Miyashiro I et al (2020) Optimal extent of lymph node dissection for remnant advanced gastric carcinoma after distal gastrectomy: a retrospective analysis of more than 3000 patients from the nationwide registry of the Japanese gastric cancer association. Gastric Cancer 23(6):1091–1101

Laks S, Meyers MO, Kim HJ (2017) Surveillance for gastric cancer. Surg Clin N Am 97(2):317–331

Mezhir JJ, Gonen M, Ammori JB, Strong VE, Brennan MF, Coit DG (2011) Treatment and outcome of patients with gastric remnant cancer after resection for peptic ulcer disease. Ann Surg Oncol 18:670–676

Nakagawa M, Choi YY, An JY, Hong JH, Kim JW, Kim H et al (2016) Staging for remnant gastric cancer: the metastatic lymph node ratio vs the UICC 7th edition system. Ann Surg Oncol 23(13):4322–4331

Ohashi M, Katai H, Fukagawa T, Gotoda T, Sano T, Sasako M (2007) Cancer of the gastric stump following distal gastrectomy for cancer. Br J Surg 94:92–95

Ohashi M, Morita S, Fukagawa T, Kushima R, Katai H (2015) Surgical treatment of non-early gastric remnant carcinoma developing after distal gastrectomy for gastric cancer. J Surg Oncol 111(2):208–212

Ohira M, Toyokawa T, Sakurai K, Kubo N, Tanaka H, Muguruma K et al (2016) Current status in remnant gastric cancer after distal gastrectomy. World J Gastroenterol 22(8):2424

Paduranu DN, Nica A, Ion D, Handaric M, Andronic O (2016) Considerations on risk factors correlated to the occurence of gastric stump cancer. J Med Life 9(2):130–136

Shimada H, Fukagawa T, Haga Y, Oba K (2016) Does remnant gastric cancer really differ from primary gastric cancer? A systematic review of the literature by the task force of japanese gastric cancer association. Gastric Cancer 19(2):339–349

Son S, Kong S, Ahn HS, Park YS, Ahn S, Suh Y, Park DJ, Lee H, Kim H, Yang H (2017) The value of N staging with the positive lymph node ratio and splenectomy, for remnant gastric cancer: a multicenter retrospective study. J Surg Oncol 116(7):884–893

Thorban S, Bottcher K, Etter M, Roder JD, Busch R, Siewert JR (2000) Prognostic factors in gastric stump carcinoma. Ann Surg 231:188–194

Tokunaga M, Sano T, Ohyama S, Hiki N, Fukunaga T, Yamada K et al (2013) Clinicopathological characteristics and survival difference between gastric stump carcinoma and primary upper third gastric cancer. J Gastrointest Surg 17:313–318

Tran TB, Hatzaras I, Worhunsky DJ, Vitiello GA, Squires MH III, Jin LX et al (2015) Gastric remnant cancer: a distinct entity or simply another proximal gastric cancer? J Surg Oncol 112:877–882
Funding
The authors have not disclosed any funding.
Ethics declarations
Competing interests
The authors declare no competing interests.
Conflict of interest
The authors declare that they have no conflict of interest.
Additional information
Publisher's Note
Springer Nature remains neutral with regard to jurisdictional claims in published maps and institutional affiliations.
About this article
Cite this article
Bafutto, A.A.F., Castro, O.A.P., Fukuhara, D.K. et al. Lymph node distribution in patients with remnant gastric cancer. J Cancer Res Clin Oncol 149, 2367–2374 (2023). https://doi.org/10.1007/s00432-022-04104-z
Received:

Accepted:

Published:

Issue Date:

DOI: https://doi.org/10.1007/s00432-022-04104-z
Keywords