Abstract
Objective
To compare the efficacy and safety of intra-arterial chemotherapy (IAC) combined with intravesical chemotherapy (IVC) against intravesical BCG immunotherapy in high-risk non-muscle-invasive bladder cancer (NMIBC) after transurethral resection of the bladder tumor (TURBT).
Materials and methods
130 patients with high-risk NMIBC who had underwent TURBT were divided into two groups, of which IAC + IVC group received four courses of IAC (cisplatin and epirubicin) combined with IVC (epirubicin or pirarubicin) after surgery and BCG group received intravesical BCG immunotherapy. Recurrence rate and progression rate were assessed by Chi-square test, while recurrence-free survival and progression-free survival were calculated using the Kaplan–Meier method.
Results
In this study, the recurrence rate was 27.9% (12/43) in IAC + IVC group and 26.4% (14/53) in BCG group, while progression rate was 9.3% (4/43) in IAC + IVC group and 9.4% (5/53) in BCG group. Both of the recurrence and progression rate did not show a significant difference. In the Kaplan–Meier plot, no difference was found with respect to recurrence-free survival and progression-free survival. Moreover, 46.5% (20/43) patients suffered from adverse events of IAC and 83.1% (49/59) patients suffered from adverse events associated with BCG, of which 6 patients discontinued treatment due to serious adverse events of BCG. Univariate analysis suggested that only recurrent tumor could be an independent risk factor related to recurrence.
Conclusions
IAC combined with IVC used in high-risk NMIBC could reduce the recurrence and progression as effective as BCG instillation with lower adverse events.
This is a preview of subscription content, log in to check access.
Access options
Buy single article
Instant access to the full article PDF.
US$ 39.95
Tax calculation will be finalised during checkout.
Subscribe to journal
Immediate online access to all issues from 2019. Subscription will auto renew annually.
US$ 199
Tax calculation will be finalised during checkout.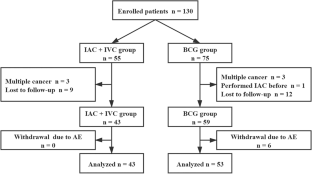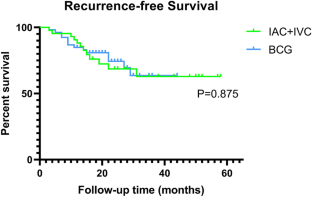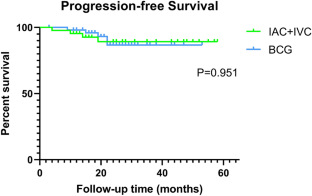 Data availability
The datasets generated during and/or analyzed during the current study are available from the corresponding author on reasonable request.
Funding
This work was supported by grants from the National Natural Science Foundation of China (No.81402116, No.82072817) and Natural Science Foundation of Guangdong Province, China (No. 2019A1515010285).
Ethics declarations
Conflict of interest
The authors declare that they have no conflicts of interest.
Ethical approval
All the procedures performed in studies involving human participants were in accordance with the ethical standards of the institutional and/or national research committee and with the 1975 Helsinki Declaration and its later amendments or comparable ethical standards.
Informed consent
Informed consent was obtained from all individual participants included in the study.
Additional information
Publisher's Note
Springer Nature remains neutral with regard to jurisdictional claims in published maps and institutional affiliations.
About this article
Cite this article
Huang, B., Huang, G., Li, W. et al. Intra-arterial chemotherapy combined with intravesical chemotherapy compared with intravesical BCG immunotherapy retrospectively in high-risk non-muscle-invasive bladder cancer after transurethral resection of the bladder tumor. J Cancer Res Clin Oncol (2020). https://doi.org/10.1007/s00432-020-03453-x
Received:

Accepted:

Published:
Keywords
Intra-arterial chemotherapy

Intravesical chemotherapy

BCG

High-risk non-muscle-invasive bladder cancer