Abstract
Purpose
We investigated whether ADT use was associated with the risk of ischemic cardiovascular diseases (CVD) and cerebrovascular diseases (CrVD) in a nationwide population-based cohort.
Methods
Claims data of the Health Insurance and Review Assessment system in South Korea were used. In total, 195,308 men with newly diagnosed prostate cancer between January 1, 2008 and December 31, 2017 were identified. After applying the exclusion criteria, 131,189 men were enrolled. The study cohort was divided into ADT and non-ADT groups. Study outcomes were newly developed CVD, cardiovascular intervention (CVI), and CrVD. To control for potential confounders, various cardiovascular risk factors were balanced between groups. Cox proportional hazard regression models were used to estimate adjusted hazard ratios (HRs) and 95% confidence intervals (CIs) of events.
Results
Univariable analysis revealed that ADT was significantly associated with an increased risk of CVD and CrVD. Multivariable analysis did not reveal this association. In the propensity score matched cohort (n = 61,722), multivariable analysis demonstrated that ADT independently reduced the risk of CVD (HR 0.890; 95% CI 0.846–0.936; p < 0.0001), CVI (HR 0.873; 95% CI 0.770–0.991; p = 0.0352), and CrVD (HR 0.869; 95% CI 0.824–0.917; p < 0.0001). CVD risk was significantly decreased in patients using ADT for over 2 years. CVI and CrVD risks were significantly lower in men using ADT for over 3 years.
Conclusion
This study demonstrated that ADT may reduce the risk of CVD, CVI, and CrVD, and ADT duration is associated with this risk reduction.
Access options
Buy single article
Instant access to the full article PDF.
USD 39.95
Price excludes VAT (USA)
Tax calculation will be finalised during checkout.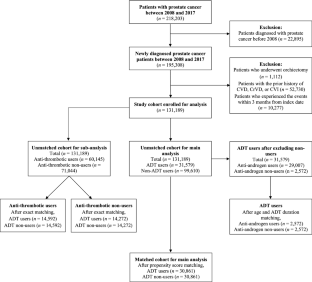 Data availability
The data are not publicly available due to privacy or ethical restrictions.
Acknowledgements
This study was supported by Korean Urological Oncology Society research grant 2018
Ethics declarations
Conflict of interest
The authors report no conflicts of interest in relation to this work.
Additional information
Publisher's Note
Springer Nature remains neutral with regard to jurisdictional claims in published maps and institutional affiliations.
Electronic supplementary material
Below is the link to the electronic supplementary material.
About this article
Cite this article
Kim, D., Lee, H.S., Park, JY. et al. Does androgen-deprivation therapy increase the risk of ischemic cardiovascular and cerebrovascular diseases in patients with prostate cancer? A nationwide population-based cohort study. J Cancer Res Clin Oncol 147, 1217–1226 (2021). https://doi.org/10.1007/s00432-020-03412-6
Received:

Accepted:

Published:

Issue Date:

DOI: https://doi.org/10.1007/s00432-020-03412-6
Keywords