Abstract
Purpose
Many cancer patients (PTS) suffer from somatic or non-somatic symptoms. Studies have shown positive effects of music intervention (MI) on aspects of quality of life or symptom management.
Methods
Since there are poor data available about patient's needs regarding the use of MI as an adjunct to cancer treatment, n = 548 tumor PTS were polled anonymously at the outpatient department of the University Hospital Mannheim Tumor Center using a self-designed questionnaire. Univariate and multivariate analyses were performed.
Results
486 data sets were eligible for analysis. 240 of the PTS were male and median age was 63 years. 38% had metastatic disease. 81% (n = 386) were currently receiving anti-tumor treatment. The majority of the PTS stated to have somatic symptoms. However, some of the PTS reported non-somatic symptoms like anxiety, loneliness, and depression. N = 187 (40%) of the PTS reported interest in complementary MI. In the univariate and multivariate analyses, especially PTS with non-somatic complaints and PTS, actively playing or making music showed significantly more interest in complementary MI, hoping for a relaxing therapeutic effect. PTS who play instruments would prefer more active forms of MI.
Conclusion
40% of PTS reported interest in additional MI during cancer treatment. PTS with non-somatic symptoms as well as patients affine to music might benefit from the use of MI potentially reducing their symptom burden. The inconsistent and heterogeneous data from randomized trials underline the importance of systematic research approaches with more relevant and standardized endpoints.
Access options
Buy single article
Instant access to the full article PDF.
USD 39.95
Price excludes VAT (USA)
Tax calculation will be finalised during checkout.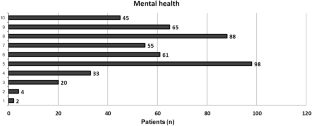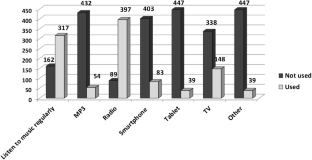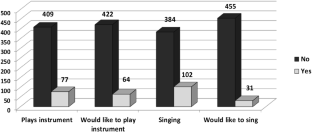 References
American Music Therapy Association website. https://www.musictherapy.org/. Accessed 18 May 2017

Arruda M, Garcia M, Garcia J (2016) Evaluation of the effects of music and poetry in oncologic pain relief: a randomized clinical trial. J Palliat Med 19:943–948. https://doi.org/10.1089/jpm.2015.0528

Bradt J, Dileo C, Grocke D, Magill L (2011) Music interventions for improving psychological and physical outcomes in cancer patients. Cochrane Database Syst Rev 8:CD006911. https://doi.org/10.1002/14651858.cd006911

Gillen E, Biley F, Allen D (2008) Effects of music listening on adult patients' pre-procedural state anxiety in hospital. Int J Evid Based Healthc 6:24–49. https://doi.org/10.1111/j.1744-1609.2007.00097.x

Gold C, Erkkila J, Bonde LO et al (2011) Music therapy or music medicine? (Letter to the Editor). Psychother Psychosom 80:304. https://doi.org/10.1159/000323166

Mische LL, Glennon C, Fiscus V et al (2017) Effects of making art and listening to music on symptoms related to blood and marrow transplantation. Oncol Nurs Forum 43:E56–E63. https://doi.org/10.1188/16.ONF.E56-E63 (PubMed PMID: 26906139)

Nakayama H, Kikuta F, Takeda H (2009) A pilot study on effectiveness of music therapy in hospice in Japan. J Music Ther 46:160–172 PMID:19463033

Nilsson U (2009) Soothing music can increase oxytocin levels during bed rest after open-heart surgery: a randomised control trial. J Clin Nurs 18:2153–2161. https://doi.org/10.1111/j.1365-2702.2008.02718.x

Richardson MM, Babiak-Vazquez AE, Frenkel MA (2008) Music therapy in a comprehensive cancer center. J Soc Integr Oncol 6:76–81 (PMID:18544287)

Richter P, Werner J, Heerlein A, Kraus A, Sauer H (1998) On the validity of the beck depression inventory. A review. Psychopathology 31(3):160–168 (Review. PubMed PMID: 9636945)

Salimpoor VN, Benovoy M, Larcher K et al (2011) Anatomically distinct dopamine release during anticipation and experience of peak emotion to music. Nat Neurosci 14:257–262. https://doi.org/10.1038/nn.2726

Trappe HJ, Voit G (2016) The cardiovascular effect of musical genres. Dtsch Arztebl Int 113(20):347–352. https://doi.org/10.3238/arztebl.2016.0347 (Erratum. In: Dtsch Arztebl Int. 2016 Jun 17;113(24):414. PubMed PMID: 27294814; PubMed Central PMCID: PMC4906829)

Yinger OS, Gooding L (2014) Music therapy and music medicine for children and adolescents. Child Adolesc Psychiatr Clin N Am 23:535–553. https://doi.org/10.1016/j.chc.2013.03.003
Funding
No Funding was received for the current study.
Ethics declarations
Conflict of interest
There are no conflicts of interest of any of the authors.
Ethical statement
The current study is in accordance with the ethical standards of the institutional and/or national research committee and with the 1964 Helsinki declaration and its later amendments or comparable ethical standards. The study was approved by the local ethic committee (Medizinische Ethik-Kommission II, University of Heidelberg).
Informed consent
Informed consent was obtained from all individual participants included in the study.
Additional information
Publisher's Note
Springer Nature remains neutral with regard to jurisdictional claims in published maps and institutional affiliations.
Electronic supplementary material
Below is the link to the electronic supplementary material.
About this article
Cite this article
Gencer, D., Diel, A., Klotzbach, K. et al. Cancer patients and music: (prospective) results from a survey to evaluate potential complementary treatment approaches. J Cancer Res Clin Oncol 145, 2141–2148 (2019). https://doi.org/10.1007/s00432-019-02959-3
Received:

Accepted:

Published:

Issue Date:

DOI: https://doi.org/10.1007/s00432-019-02959-3
Keywords
Music intervention

Complementary

Cancer patients

Symptom distress