Abstract
Purpose
Based on the poor prognosis of drug resistance in pediatric acute lymphoblastic leukemia (ALL) and adverse effects of chemotherapy, this study was aimed to evaluate the effect of several herbal extracts on leukemic cells.
Methods
Two subtypes of T- and B-ALL cell lines, followed by ALL primary cells were treated with cinnamon, ginger, and green tea extracts, alone or in combination with methotrexate (MTX). Possible apoptosis was investigated using Annexin-V/PI double staining. Real-time PCR was applied to evaluate the expression levels of related ABC transporters upon combination therapy.
Results
The IC50s for cinnamon, ginger and green tea extracts on ALL cell lines were 300 μg/ml, 167 μg/ml and 70 μg/ml, respectively. Surprisingly, the methotrexate (MTX)-resistant sub-line showed more sensitivity to ginger. Combined treatment with ginger and MTX showed synergistic effects on CCRF-CEM, Nalm-6 and ALL primary cells. It was shown that ginger does not impair the high expression levels of ABCA2 or ABCA3 transporter genes in the ALL malignant cells, suggesting other molecular pathways involved in its anticancer potential.
Conclusion
To the best of our knowledge, this is the first study that reveals the antileukemic effect of ginger extract on both, pediatric ALL cell lines and primary cells.
Access options
Buy single article
Instant access to the full article PDF.
US$ 39.95
Tax calculation will be finalised during checkout.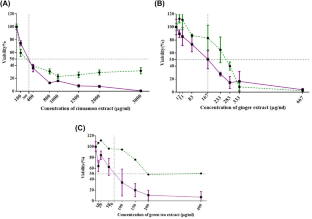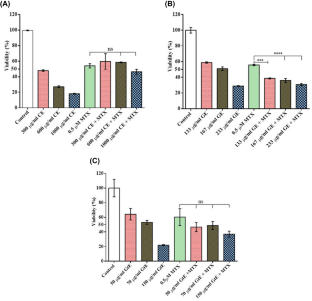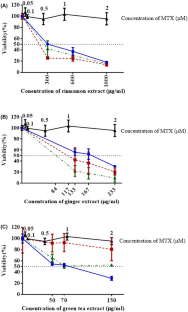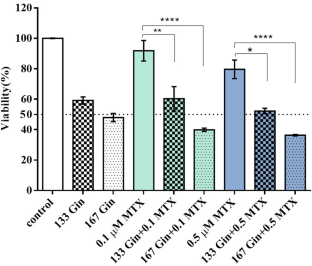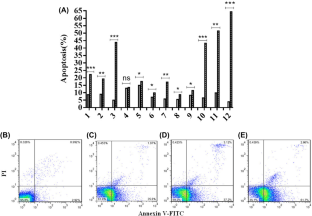 References
Aberuyi N, Rahgozar S, Khosravi Dehaghi Z, Moafi A, Masotti A, Paolini A (2017) The translational expression of ABCA2 and ABCA3 is a strong prognostic biomarker for multidrug resistance in pediatric acute lymphoblastic leukemia. Onco Targets Ther 10:3373–3380. https://doi.org/10.2147/ott.S140488

Abolmaali SS, Tamaddon AM, Dinarvand R (2013) A review of therapeutic challenges and achievements of methotrexate delivery systems for treatment of cancer and rheumatoid arthritis. Cancer Chemother Pharmacol 71:1115–1130. https://doi.org/10.1007/s00280-012-2062-0

Baliga MS, Haniadka R, Pereira MM, D'Souza JJ, Pallaty PL, Bhat HP, Popuri S (2011) Update on the chemopreventive effects of ginger and its phytochemicals. Crit Rev Food Sci Nutr 51:499–523. https://doi.org/10.1080/10408391003698669

Bhojwani D, Yang JJ, Pui CH (2015) Biology of childhood acute lymphoblastic leukemia. Pediatr Clin N Am 62:47–60. https://doi.org/10.1016/j.pcl.2014.09.004

Butt MS, Sultan MT (2011) Ginger and its health claims: molecular aspects. Crit Rev Food Sci Nutr 51:383–393. https://doi.org/10.1080/10408391003624848

Cabrera C, Artacho R, Giménez R (2006) Beneficial effects of green tea—a review. J Am Coll Nutr 25:79–99. https://doi.org/10.1080/07315724.2006.10719518

Cheung-Ong K, Giaever G, Nislow C (2013) DNA-damaging agents in cancer chemotherapy: serendipity and chemical biology. Chem Biol 20:648–659. https://doi.org/10.1016/j.chembiol.2013.04.007

Dabaghi M, Rahgozar S, Moshtaghian J, Moafi A, Abedi M, Pourabutaleb E (2016) Overexpression of SORCIN is a prognostic biomarker for multidrug-resistant pediatric acute lymphoblastic leukemia and correlates with upregulated MDR1/P-gp. Genet Test Mol Biomark 20:516–521. https://doi.org/10.1089/gtmb.2016.0031

de Beaumais TA, Jacqz-Aigrain E (2012) Intracellular disposition of methotrexate in acute lymphoblastic leukemia in children. Curr Drug Metab 13:822–834. https://doi.org/10.2174/138920012800840400

Dugoua J-J, Seely D, Perri D, Cooley K, Forelli T, Mills E, Koren G (2007) From type 2 diabetes to antioxidant activity: a systematic review of the safety and efficacy of common and cassia cinnamon bark. Can J Physiol Pharmacol 85:837–847. https://doi.org/10.1139/Y07-080

Eichhorn T, Efferth T (2012) P-glycoprotein and its inhibition in tumors by phytochemicals derived from Chinese herbs. J Ethnopharmacol 141:557–570. https://doi.org/10.1016/j.jep.2011.08.053

Fotoohi AK, Albertioni F (2008) Mechanisms of antifolate resistance and methotrexate efficacy in leukemia cells. Leuk Lymphoma 49:410–426. https://doi.org/10.1080/10428190701824569

Hamidpour R, Hamidpour M, Hamidpour S, Shahlari M (2015) Cinnamon from the selection of traditional applications to its novel effects on the inhibition of angiogenesis in cancer cells and prevention of Alzheimer's disease, and a series of functions such as antioxidant, anticholesterol, antidiabetes, antibacterial, antifungal, nematicidal, acaricidal, and repellent activities. J Tradit Complement Med 5:66–70. https://doi.org/10.1016/j.jtcme.2014.11.008

Housman G, Byler S, Heerboth S, Lapinska K, Longacre M, Snyder N, Sarkar S (2014) Drug resistance in cancer: an overview. Cancers (Basel) 6:1769–1792. https://doi.org/10.3390/cancers6031769

Hunger SP, Mullighan CG (2015) Acute lymphoblastic leukemia in children. N Engl J Med 373:1541–1552. https://doi.org/10.1056/NEJMra1400972

Kato M, Manabe A (2018) Treatment and biology of pediatric acute lymphoblastic leukemia. Pediatr Int 60:4–12. https://doi.org/10.1111/ped.13457

Kelly T, Owusu-Apenten RK (2015) Effect of methotrexate and tea polyphenols on the viability and oxidative stress in MDA-MB-231 breast cancer cells. J Appl Life Sci Int 2:152–159. https://doi.org/10.9734/JALSI/2015/14142

Kodidela S, Chandra PS, Dubashi B (2014) Pharmacogenetics of methotrexate in acute lymphoblastic leukaemia: why still at the bench level? Eur J Clin Pharmacol 70:253–260. https://doi.org/10.1007/s00228-013-1623-4

Lage H (2008) An overview of cancer multidrug resistance: a still unsolved problem. Cell Mol Life Sci 65:3145–3167. https://doi.org/10.1007/s00018-008-8111-5

Ma X et al (2015) Rise and fall of subclones from diagnosis to relapse in pediatric B-acute lymphoblastic leukaemia. Nat Commun 6:6604. https://doi.org/10.1038/ncomms7604

Mahbub A, Le Maitre C, Haywood-Small S, Cross N, Jordan-Mahy N (2017) Dietary polyphenols influence antimetabolite agents: methotrexate, 6-mercaptopurine and 5-fluorouracil in leukemia cell lines. Oncotarget 8:104877–104893. https://doi.org/10.18632/oncotarget.20501

Paul S, Kantarjian H, Jabbour EJ (2016) Adult acute lymphoblastic leukemia. Mayo Clin Proc 91:1645–1666. https://doi.org/10.1016/j.mayocp.2016.09.010

Rahgozar S et al (2014) mRNA expression profile of multidrug-resistant genes in acute lymphoblastic leukemia of children, a prognostic value for ABCA3 and ABCA2. Cancer Biol Ther 15:35–41. https://doi.org/10.4161/cbt.26603

Rao PV, Gan SH (2014) Cinnamon: a multifaceted medicinal plant. Evid Based Complement Altern Med 2014:642942. https://doi.org/10.1155/2014/642942

Saxena R, Rida PC, Kucuk O, Aneja R (2016) Ginger augmented chemotherapy: a novel multitarget nontoxic approach for cancer management. Mol Nutr Food Res 60:1364–1373. https://doi.org/10.1002/mnfr.201500955

Sheikh BY, Sarker MMR, Kamarudin MNA, Ismail A (2017) Prophetic medicine as potential functional food elements in the intervention of cancer: a review. Biomed Pharmacother 95:614–648. https://doi.org/10.1016/j.biopha.2017.08.043

Shen Y, Jia L-N, Honma N, Hosono T, Ariga T, Seki T (2012) Beneficial effects of cinnamon on the metabolic syndrome, inflammation, and pain, and mechanisms underlying these effects—a review. J Tradit Complement Med 2:27–32

Singh BN, Shankar S, Srivastava RK (2011) Green tea catechin, epigallocatechin-3-gallate (EGCG): mechanisms, perspectives and clinical applications. Biochem Pharmacol 82:1807–1821. https://doi.org/10.1016/j.bcp.2011.07.093

Tian H, Cronstein BN (2007) Understanding the mechanisms of action of methotrexate: implications for the treatment of rheumatoid arthritis. Bull NYU Hosp Jt Dis 65:168–173

Wijdeven RH, Pang B, Assaraf YG, Neefjes J (2016) Old drugs, novel ways out: drug resistance toward cytotoxic chemotherapeutics. Drug Resist Updates 28:65–81. https://doi.org/10.1016/j.drup.2016.07.001

Wojtuszkiewicz A et al (2015) Methotrexate resistance in relation to treatment outcome in childhood acute lymphoblastic leukemia. J Hematol Oncol 8:61. https://doi.org/10.1186/s13045-015-0158-9
Acknowledgements
We would like to thank Dr. Alireza Moafi for kindly providing patients bone marrow samples, and all patients, and their parents who participated in the present study.
Ethics declarations
Conflict of interest
The authors declare no conflict of interest.
Additional information
Publisher's Note
Springer Nature remains neutral with regard to jurisdictional claims in published maps and institutional affiliations.
About this article
Cite this article
Rahimi Babasheikhali, S., Rahgozar, S. & Mohammadi, M. Ginger extract has anti-leukemia and anti-drug resistant effects on malignant cells. J Cancer Res Clin Oncol 145, 1987–1998 (2019). https://doi.org/10.1007/s00432-019-02949-5
Received:

Accepted:

Published:

Issue Date:
Keywords
Childhood acute lymphoblastic leukemia

Ginger

Methotrexate

Multidrug resistance

Supplemental therapy