Abstract
Purpose
Following radiation therapy (RT), women with gynecologic malignancies report high rates of sexual dysfunction, but little is known regarding sexual health communication between these patients and health-care providers. This study assessed these patients' beliefs/attitudes toward providers' sexual history taking.
Methods
Surveys were administered to women who presented for follow-up care for gynecologic cancers in an academic radiation oncology department. The surveys assessed patient sexual health beliefs and inquiry preferences. Sexual functioning was assessed using the Female Sexual Function Index (FSFI). Ordered logistic regressions were performed to assess for correlations between survey responses, FSFI, and demographic characteristics.
Results
Seventy-five subjects participated. Most (89.8%) had FSFI scores indicating sexual dysfunction. Most patients agreed that sexual function is an important component of overall health (78.7%) and that providers should inquire regularly (62.8%). Few (12.0%) reported embarrassment around provider discussions. Most (62.7%) preferred discussion with female providers, especially married patients (p = 0.03). Half (53.4%) agreed that sexual problems are an unavoidable part of aging, a view that was more common as education level decreased (p = 0.01). Most (62.7%) patients agreed that providers should regularly ask about their sexual history, with patients having significant differences in education level. Patients with low FSFI scores were less likely to report inquiry from their OB/Gyn (p = 0.03).
Conclusions
Gynecologic cancer radiotherapy patients want to discuss sexual health, but report suboptimal provider inquiry. Patient views and experiences varied based on marital status, education level, and FSFI score. This work highlights the need for improved sexual health communication between cancer patients and providers.
This is a preview of subscription content, log in to check access.
Access options
Buy single article
Instant access to the full article PDF.
US$ 39.95
Price includes VAT for USA
Subscribe to journal
Immediate online access to all issues from 2019. Subscription will auto renew annually.
US$ 199
This is the net price. Taxes to be calculated in checkout.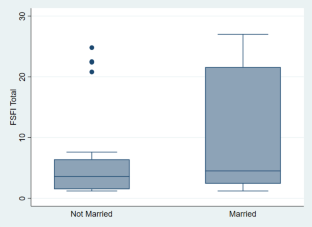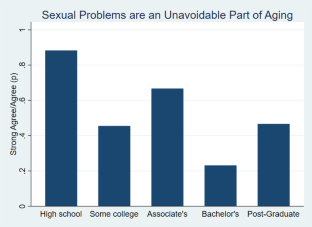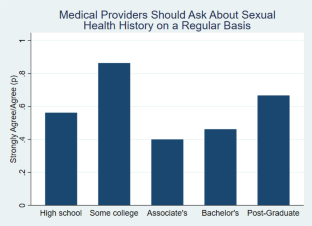 References
Alazri MH, Neal RD (2003) The association between satisfaction with services provided in primary care and outcomes in type 2 diabetes mellitus. Diabet Med 20:486–490

Anastasiadis AG, Davis AR, Ghafar MA, Burchardt M, Shabsigh R (2002) The epidemiology and definition of female sexual disorders. World J Urol 20:74–78. https://doi.org/10.1007/s00345-002-0272-5

Araujo AB, Durante R, Feldman HA, Goldstein I, McKinlay JB (1998) The relationship between depressive symptoms and male erectile dysfunction: cross-sectional results from the Massachusetts Male Aging. Study Psychosom Med 60:458–465

Arora NK (2003) Interacting with cancer patients: the significance of physicians' communication behavior. Soc Sci Med 57:791–806

Association of Reproductive Health Professionals (2010) Sexual health fundamentals: talking with patients about sexuality and sexual health. https://www.arhp.org/images/uploadDocs/SHF_Talking.pdf. Accessed 10 Sept 2018

Baser RE, Li Y, Carter J (2012) Psychometric validation of the Female Sexual Function Index (FSFI) in. cancer survivors Cancer 118:4606–4618. https://doi.org/10.1002/cncr.26739

Bertakis KD, Azari R (2012) Patient-centered care: the influence of patient and resident physician gender and gender concordance in primary care. J Womens Health (Larchmt) 21:326–333. https://doi.org/10.1089/jwh.2011.2903

Castelo-Branco C, Palacios S, Ferrer-Barriendos J, Alberich X, Group CS (2010) Do patients lie? An open interview vs. a blind questionnaire on sexuality. J Sex Med 7:873–880. https://doi.org/10.1111/j.1743-6109.2009.01575.x

Chen WT et al (2007) Chinese HIV-positive patients and their healthcare providers: contrasting Confucian versus Western notions of secrecy and support ANS. Adv Nurs Sci 30:329–342. https://doi.org/10.1097/01.ANS.0000300182.48854.65

Damast S et al (2012) Sexual functioning among endometrial cancer patients treated with adjuvant high-dose-rate intra-vaginal radiation therapy. Int J Radiat Oncol Biol Phys 84:e187–e193. https://doi.org/10.1016/j.ijrobp.2012.03.030

DeSimone M, Spriggs E, Gass JS, Carson SA, Krychman ML, Dizon DS (2014) Sexual dysfunction in female cancer survivors. Am J Clin Oncol 37:101–106. https://doi.org/10.1097/COC.0b013e318248d89d

Donovan JL et al (2016) Patient-reported outcomes after monitoring, surgery, or radiotherapy for prostate cancer. N Engl J Med 375:1425–1437. https://doi.org/10.1056/NEJMoa1606221

Ekwall E, Ternestedt BM, Sorbe B (2003) Important aspects of health care for women with gynecologic cancer. Oncol Nurs Forum 30:313–319. https://doi.org/10.1188/03.ONF.313-319

Fisher LL, Anderson G, Chapagain M, Montenegro X, Smoot J, Takalkar A (2010) Sex, romance, and relationships: AARP survey of midlife and older adults. AARP, Washington, DC

Geiss IM, Umek WH, Dungl A, Sam C, Riss P, Hanzal E (2003) Prevalence of female sexual dysfunction in gynecologic and urogynecologic patients according to the international consensus classification. Urology 62:514–518

Goldstein I, Lines C, Pyke R, Scheld JS (2009) National differences in patient-clinician communication regarding hypoactive sexual desire disorder. J Sex Med 6:1349–1357. https://doi.org/10.1111/j.1743-6109.2008.01204.x

Greenfield S, Kaplan S, Ware JE (1985) Expanding patient involvement in care. Effects on patient outcomes. Ann Intern Med 102:520–528

Hall JA, Roter DL, Rand CS (1981) Communication of affect between patient and physician. J Health Soc Behav 22:18–30

Harmon G, Lefante J, Krousel-Wood M (2006) Overcoming barriers: the role of providers in improving patient adherence to antihypertensive medications. Curr Opin Cardiol 21:310–315. https://doi.org/10.1097/01.hco.0000231400.10104.e2

Harris PA, Taylor R, Thielke R, Payne J, Gonzalez N, Conde JG (2009) Research electronic data capture (REDCap)—a metadata-driven methodology and workflow process for providing translational research informatics support. J Biomed Inform 42:377–381. https://doi.org/10.1016/j.jbi.2008.08.010

Hendren SK et al (2005) Prevalence of male and female sexual dysfunction is high following surgery for rectal cancer. Ann Surg 242:212–223

Herndon JH, Pollick KJ (2002) Continuing concerns, new challenges, and next steps in physician–patient communication. J Bone Jt Surg Am 84-A:309–315

Hinchliff S, Gott M (2011) Seeking medical help for sexual concerns in mid- and later life: a review of the literature. J Sex Res 48:106–117. https://doi.org/10.1080/00224499.2010.548610

Hordern A (2000) Intimacy and sexuality for the woman with breast cancer. Cancer Nurs 23:230–236

Hordern AJ, Street AF (2007) Let's talk about sex: risky business for cancer and palliative care clinicians. Contemp Nurse 27:49–60. https://doi.org/10.5555/conu.2007.27.1.49

Incrocci L (2011) Talking about sex to oncologists and cancer to sexologists. J Sex Med 8:3251–3253. https://doi.org/10.1111/j.1743-6109.2011.02548.x

Incrocci L, Jensen PT (2013) Pelvic radiotherapy and sexual function in men and women J Sex Med 10(Suppl 1):53–64 https://doi.org/10.1111/jsm.12010

Juraskova I, Butow P, Robertson R, Sharpe L, McLeod C, Hacker N (2003) Post-treatment sexual adjustment following cervical and endometrial cancer: a qualitative insight. Psychooncology 12:267–279. https://doi.org/10.1002/pon.639

Kaplan SH, Greenfield S, Ware JE (1989) Assessing the effects of physician–patient interactions on the outcomes of chronic disease. Med Care 27:S110–S127

Kindler CH, Szirt L, Sommer D, Häusler R, Langewitz W (2005) A quantitative analysis of anaesthetist–patient communication during the pre-operative visit. Anaesthesia 60:53–59. https://doi.org/10.1111/j.1365-2044.2004.03995.x

Lindau ST, Schumm LP, Laumann EO, Levinson W, O'Muircheartaigh CA, Waite LJ (2007) A study of sexuality and health among older adults in the United States. N Engl J Med 357:762–774. https://doi.org/10.1056/NEJMoa067423

Moreira ED, Kim SC, Glasser D, Gingell C (2006) Sexual activity, prevalence of sexual problems, and associated help-seeking patterns in men and women aged 40–80 years in Korea: data from the Global Study of Sexual Attitudes and Behaviors (GSSAB). J Sex Med 3:201–211. https://doi.org/10.1111/j.1743-6109.2006.00210.x

Nicolosi A, Moreira ED, Villa M, Glasser DB (2004) A population study of the association between sexual function, sexual satisfaction and depressive symptoms in men. J Affect Disord 82:235–243. https://doi.org/10.1016/j.jad.2003.12.008

O'Keefe M (2001) Should parents assess the interpersonal skills of doctors who treat their children? A literature review. J Paediatr Child Health 37:531–538

Roos AM, Sultan AH, Thakar R (2012) Sexual problems in the gynecology clinic: are we making a mountain out of a molehill? Int Urogynecol J 23:145–152. https://doi.org/10.1007/s00192-011-1516-y

Rosen R et al (2000) The Female Sexual Function Index (FSFI): a multidimensional self-report instrument for the assessment of female sexual function. J Sex Marital Ther 26:191–208. https://doi.org/10.1080/009262300278597

Roter DL (1983) Physician/patient communication: transmission of information and patient effects Md. State Med J 32:260–265

Sadovsky R, Basson R, Krychman M, Morales AM, Schover L, Wang R, Incrocci L (2010) Cancer and sexual problems. J Sex Med 7:349–373. https://doi.org/10.1111/j.1743-6109.2009.01620.x

Sobecki JN, Curlin FA, Rasinski KA, Lindau ST (2012) What we don't talk about when we don't talk about sex: results of a national survey of US obstetrician/gynecologists. J Sex Med 9:1285–1294. https://doi.org/10.1111/j.1743-6109.2012.02702.x

Song T, Choi CH, Lee YY, Kim TJ, Lee JW, Kim BG, Bae DS (2012) Sexual function after surgery for early-stage cervical cancer: is there a difference in it according to the extent of surgical radicality? J Sex Med 9:1697–1704. https://doi.org/10.1111/j.1743-6109.2012.02723.x

Stead ML (2003) Sexual dysfunction after treatment for gynaecologic and breast malignancies. Curr Opin Obstet Gynecol 15:57–61. https://doi.org/10.1097/01.gco.0000051561.77832.72

Wei JT, Dunn RL, Litwin MS, Sandler HM, Sanda MG (2000) Development and validation of the expanded prostate cancer index composite (EPIC) for comprehensive assessment of health-related quality of life in men with prostate cancer. Urology 56:899–905

Wiegel M, Meston C, Rosen R (2005) The Female Sexual Function Index (FSFI): cross-validation and development of clinical cutoff scores. J Sex Marital Ther 31:1–20. https://doi.org/10.1080/00926230590475206
Funding
Investigator support for MBB was provided by Eunice Kennedy Shriver National Institute of Child Health and Human Development BIRCWH Career Development Award # K12 HD001438. Institutional support for use of the REDCap application was provided through CTSA, National Center for Advancing Translational Sciences Grant UL1TR000433.
Ethics declarations
Ethical approval
All procedures performed in studies involving human participants were in accordance with the ethical standards of the institutional and/or national research committee and with the 1964 Helsinki Declaration and its later amendments or comparable ethical standards.
Conflict of interest
The authors declare that they have no conflict of interest.
About this article
Cite this article
Chapman, C.H., Heath, G., Fairchild, P. et al. Gynecologic radiation oncology patients report unmet needs regarding sexual health communication with providers. J Cancer Res Clin Oncol 145, 495–502 (2019). https://doi.org/10.1007/s00432-018-2813-3
Received:

Accepted:

Published:

Issue Date:
Keywords
Sexual dysfunction

Sexual history taking

Radiation therapy

Gynecological cancer