Abstract
Background and purpose
The botanical formula LCS101 has been shown in clinical research to reduce chemotherapy-induced toxicities. In pre-clinical research, the formula demonstrated selective anti-cancer effects, in part as a result of radical oxygen species (ROS) activity of the botanical components. The present study examined the interaction between LCS101 and radiation therapy on cancer cell lines.
Methods
Incremental doses of LCS101 were added to breast adenocarcinoma (MCF7), prostate (DU145), transitional cell bladder carcinoma (T24), pancreatic epithelioid carcinoma (PANC-1), and osteosarcoma (U20S) cell lines 4 h after single-dose irradiation (range 0.5–4 Gy). Cell viability was tested using sulforhodamine B (SRB) assay after 1 week, with ROS activity examined using 1 mM of the ROS scavenger sodium pyruvate (ROS scavenger), testing cell viability with an SRB assay.
Results
The addition of LCS101 to MCF7 (breast) and DU-145 (prostate) cancer cell lines resulted in a dose-dependent increase in the antiproliferative effects of radiation treatment. The addition of pyruvate inhibited radiation-induced cell death in all of the cell lines treated with LCS101.
Conclusions
The addition of the botanical formula LCS101 to irradiated cancer cells results in an apparent additive effect, most likely through a ROS-mediated mechanism. These findings support the use of LCS101 by patients undergoing radiation therapy, for both its clinical as well as anti-cancer effects.
Access options
Buy single article
Instant access to the full article PDF.
US$ 39.95
Tax calculation will be finalised during checkout.
Subscribe to journal
Immediate online access to all issues from 2019. Subscription will auto renew annually.
US$ 119
Tax calculation will be finalised during checkout.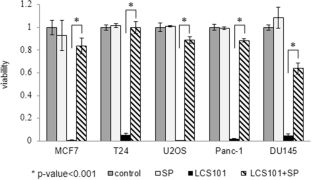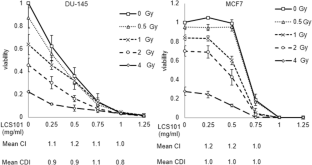 References
Bairati I, Meyer F, Gelinas M et al (2005) Randomized trial of antioxidant vitamins to prevent acute adverse effects of radiation therapy in head and neck cancer patients. J Clin Oncol 23(24):5805–5813

Ben-Arye E, Mahajna J, Aly R, Ali-Shtayeh MS, Bentur Y, Lev E, Deng G, Samuels N (2016) Exploring an herbal "wonder cure" for cancer: a multidisciplinary approach. J Cancer Res Clin Oncol 142:1499–1508

Cohen Z, Maimon Y, Yoeli-Lerner M, Yang P, Samuels N, Berger R (2015) Selective anticancer effects and protection from chemotherapy by the botanical compound LCS101: implications for cancer treatment. Int J Oncol 46(1):308–316

Cohen Z, Maimon Y, Samuels N, Berger R (2017) Role of reactive oxygen species in the anticancer activity of botanicals: comparing sensitivity profiles. Oncol Lett 13(4):2642–2648

Eisenberg DM, Kessler RC, Foster C, Norlock FE, Calkins DR, Delblanco TL (1993) Unconventional medicine in the United States. Prevalence, costs, and patterns of use. N Engl J Med 328:246–252

Hall E (2000) Repair of radiation damage and the dose-rate effect. In: John J-R, sutton P, Marino D (eds) Radiobiology for the radiologist, 5th edn. Lippincott Williams and Wilkins, Philadelphia, 67–90

Kataoka T (2013) Study of antioxidative effects and anti-inflammatory effects in mice due to low-dose X-irradiation or radon inhalation. J Radiat Res 54(4):587–596

Mathijssen RHJ, Verweij J, de Bruijn P, Loos WJ, Sparreboom A (2002) Effects of St. John's wort on irinotecan metabolism. J Natl Cancer Inst 94:1247–1249

Moertel CG, Fleming TR, Rubin J et al (1982) A clinical trial of amygdalin (Laetrile) in the treatment of human cancer. N Engl J Med 306:201–206

Mooiman KD, Goey AK, Meijerman I, Beijnen JH, Schellens JH (2012) Letter to the editor regarding "A prospective, controlled study of the botanical compound mixture LCS101 for chemotherapy-induced hematological complications in breast cancer" by Yaal-Hahoshen et al. (The Oncologist 2011;16:1197–1202). Oncologist 17(5):740–741 (author reply 742–3)

National Cancer Institute: Antioxidants and Cancer Prevention (2018) https://www.cancer.gov/about-cancer/causes-prevention/risk/diet/antioxidants-fact-sheet. Accessed Aug 2018

Padayatty SJ, Sun H, Wang Y et al (2004) Vitamin C pharmacokinetics: implications for oral and intravenous use. Ann Intern Med 140(7):533–537

Pauwels B, Korst AE, de Pooter CM et al (2003) Comparison of the sulforhodamine B assay and the clonogenic assay for in vitro chemoradiation studies. Cancer Chemother Pharmacol 51(3):221-226

Prasad KN, Kumar R (1996) Effect of individual and multiple antioxidant vitamins on growth and morphology of human nontumorigenic and tumorigenic parotid acinar cells in culture. Nutr Cancer 26(1):11–19

Prasad KN, Cole WC, Kumar B, Prasad KC (2001) Scientific rationale for using high-dose multiple micronutrients as an adjunct to standard and experimental cancer therapies. J Am Coll Nutr 20(5 suppl):450S–463S (discussion 473S–475S)

Rachmut IH, Samuels N, Melnick SJ, Ramachandran C, Sharabi Y, Pavlovsky A, Maimon Y, Shoham J (2013) Immunomodulatory effects of the botanical compound LCS101: implications for cancer treatment. Onco Targets Ther 24:6:437–445

Ratnam DV, Ankola DD, Bhardwaj V, Sahana DK, Kumar MN (2006) Role of antioxidants in prophylaxis and therapy: a pharmaceutical perspective. J Control Release 20(113):189–207

Sakamoto K, Sakka M (1973) Reduced effect of irradiation on normal and malignant cells irradiated in vivo in mice pretreated with vitamin E. Br J Radiol 46(547):538–540

Samuels N, Maimon Y, Zisk-Rony RY (2013) Effect of the botanical compound LCS101 on chemotherapy-induced symptoms in patients with breast cancer: a case series report. Integr Med Insights 8:1–8

Witenberg B, Kletter Y, Kalir HH, et al (1999) Ascorbic acid inhibits apoptosis induced by X irradiation in HL60 myeloid leukemia cells. Radiat Res 152(5):468–478

Yaal-Hahoshen N, Maimon Y, Siegelmann-Danieli N, Lev-Ari S, Ron IG, Sperber F, Samuels N, Shoham J, Merimsky O (2011) A prospective, controlled study of the botanical compound mixture LCS101 for chemotherapy-induced hematological complications in breast cancer. Oncologist 16(9):1197–1202
Acknowledgements
We are grateful for the Adelis Foundation for their ongoing support of our research.
Funding
No funding was provided for this study.
Ethics declarations
Conflict of interest
Dr. Yair Maimon is a shareholder of LifeBiotics Ltd. No conflict of interest exists for any of the other authors.
Ethical approval
This article does not contain any studies with human participants or animals performed by any of the authors.
About this article
Cite this article
Cohen, Z., Samuels, N., Maimon, Y. et al. Effect of the botanical formula LCS101 on the anti-cancer effects of radiation therapy. J Cancer Res Clin Oncol 145, 609–613 (2019). https://doi.org/10.1007/s00432-018-2812-4
Received:

Accepted:

Published:

Issue Date:
Keywords
Botanical formula

LCS101

Cancer

Radiation therapy

Radical oxygen species