Abstract
Introduction
Breast cancer is the most common cancer disease of women in industrialized countries. Neurotoxic chemotherapy drugs are known to harm peripheral nerves and cause a chemotherapy-induced peripheral neuropathy (CIPN). CIPN is one of the most common adverse events associated with Paclitaxel chemotherapy and may remain present long after the termination of chemotherapy. Thus, it reduces the patients' quality of life (QoL) both during chemotherapy and onwards, and can impose a danger on breast cancer survivors due to an increased risk of falling and fall-related injuries.
Methods
The aim of this randomized-controlled trial (RCT) (n = 36) (IG: intervention group, n = 17) (CG: control group, n = 19) was to determine whether sensorimotor exercises have a positive effect on physical and psychological parameters in breast cancer patients undergoing neurotoxic chemotherapy (Paclitaxel).
Results
As a result, we were able to show significant improvements in postural stability in monopedal stance [left leg 16.17 ± 3.67 vs. 21.55 ± 5.33 (p < 0.001) and right leg 15.14 ± 2.30 vs. 20.85 ± 5.05 (p < 0.001)] and in bipedal stance [T1 vs. T0, − 0.49 (IG) vs. + 1.14 (CG) p = 0.039].
Discussion
These results in posturography correlate with the clinical presentation with intervention group patients scoring significantly better on the Fullerton Advanced Balance Scale [37.71 ± 2.73 vs. 34.47 ± 3.98 (p = 0.004)]. Moderate strength training successfully prevented a strength loss in the IG that was remarkable in the CG (− 1.60 vs. 0.60, p = 0.029). Concerning the psychological parameters assessed via EORTC- and MFI-questionnaires, no significant improvements were found.
Conclusion
Future studies should focus on the correlation of clinical and posturometry findings and subjective QOL such as the long-term-development of CIPN.
Access options
Buy single article
Instant access to the full article PDF.
USD 39.95
Price includes VAT (USA)
Tax calculation will be finalised during checkout.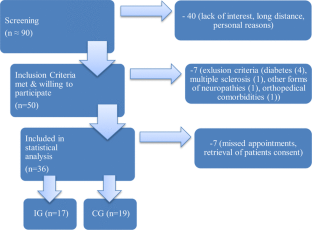 References
Adraskela K, Veisaki E, Koutsilieris M, Philippou A (2017) Physical exercise positively influences breast cancer evolution. Clin Breast Cancer 17(6):408–417

Ahn S, Song R (2012) Effects of Tai Chi Exercise on glucose control, neuropathy scores, balance, and quality of life in patients with type 2 diabetes and neuropathy. J Altern Complement Med (New York, N.Y.) 18(12):1172–1178

Bakogeorgos M, Georgoulias V (2017) Risk-reduction and treatment of chemotherapy-induced peripheral neuropathy. Expert Rev Anticancer Ther 17(11):1045–1060

Baumann FT, Bloch W, Weissen A, Brockhaus M, Beulertz J, Zimmer P, Streckmann F, Zopf EM (2013) Physical activity in breast cancer patients during medical treatment and in the aftercare—a review. Breast Care 8(5):330–334

Blank SE, Jones TB, Lee EG, Brahler CJ, Gallucci RM, Fox ML, Meadows GG (1997) Modulation of NK cell cytolytic activity by macrophages in chronically exercise-stressed mice. J Appl Physiol (Bethesda, Md.: 1985) 83(3):845–850

Bradshaw PT, Ibrahim JG, Khankari N, Cleveland RJ, Abrahamson PE, Stevens J, Satia JA, Teitelbaum SL, Neugut AI, Gammon MD (2014) Post-diagnosis physical activity and survival after breast cancer diagnosis: the Long Island Breast Cancer Study. Breast Cancer Res Treat 145(3):735–742

Cammisuli S, Cavazzi E, Baldissarro E, Leandri M (2016) Rehabilitation of balance disturbances due to chemotherapy-induced peripheral neuropathy: a pilot study. Eur J Phys Rehabil Med 52(4):479–488

Cavaletti G, Cornblath DR, Merkies ISJ, Postma TJ, Rossi E, Frigeni B, Alberti P, Bruna J, Velasco R, Argyriou AA, Kalofonos HP, Psimaras D, Ricard D, Pace A, Galiè E, Briani C, Dalla Torre C, Faber CG, Lalisang RI, Boogerd W, Brandsma D, Koeppen S, Hense J, Storey D, Kerrigan S, Schenone A, Fabbri S, Valsecchi MG (2013) The chemotherapy-induced peripheral neuropathy outcome measures standardization study: from consensus to the first validity and reliability findings. Ann Oncol 24(2):454–462

Courneya KS, Segal RJ, McKenzie DC, Dong H, Gelmon K, Friedenreich CM, Yasui Y, Reid RD, Crawford JJ, Mackey JR (2014) Effects of exercise during adjuvant chemotherapy on breast cancer outcomes. Med Sci Sports Exerc 46(9):1744–1751

de Lima FD, Bottaro M, de Oliveira Valeriano R, Cruz L, Battaglini CL, Vieira CA, de Oliveira RJ (2017) Cancer-related fatigue and muscle quality in Hodgkin's lymphoma survivors. Integr Cancer Ther 1(2):1534735417712009

Dixit S, Maiya A, Shasthry BA, Kumaran DS, Guddattu V (2015) Postural sway in diabetic peripheral neuropathy among Indian elderly. Indian J Med Res 142(6):713–720

Duregon F, Vendramin B, Bullo V, Gobbo S, Cugusi L, Di Blasio A, Neunhaeuserer D, Zaccaria M, Bergamin M, Ermolao A (2018) Effects of exercise on cancer patients suffering chemotherapy-induced peripheral neuropathy undergoing treatment: a systematic review. Crit Rev Oncol Hematol 121:90–100

Eckhoff L, Knoop A, Jensen MB, Ewertz M (2015) Persistence of docetaxel-induced neuropathy and impact on quality of life among breast cancer survivors. Eur J Cancer (Oxford, England: 1990) 51(3):292–300

El Fakir S, El Rhazi K, Zidouh A, Bennani M, Benider A, Errihani H, Mellass N, Bekkali R, Nejjari N (2016) Health-related quality of life among breast cancer patients and influencing factors in Morocco. Asian Pac J Cancer Prev APJCP 17(12):5063–5069

Eyigor S, Karapolat H, Yesil H, Uslu R, Durmaz B (2010) Effects of pilates exercises on functional capacity, flexibility, fatigue, depression and quality of life in female breast cancer patients: a randomized controlled study. Eur J Phys Rehabil Med 46(4):481–487

Felisaz PF, Maugeri G, Busi V, Vitale R, Balducci F, Gitto S, Leporati P, Pichiecchio A, Baldi M, Calliada F, Chiovato L, Bastianello S (2017) MR micro-neurography and a segmentation protocol applied to diabetic neuropathy. Radiol Res Pract 2017:2761818

Friedenreich CM, Shaw E, Neilson HK, Brenner DR (2017) Epidemiology and biology of physical activity and cancer recurrence. J Mol Med (Berl) 95(10):1029–1041

Greenlee H, Crew KD, Capodice J, Awad D, Buono D, Shi Z, Jeffres A, Wyse S, Whitman W, Trivedi MS, Kalinsky K, Hershman DL (2016) Randomized sham-controlled pilot trial of weekly electro-acupuncture for the prevention of taxane-induced peripheral neuropathy in women with early stage breast cancer. Breast Cancer Res Treat 156(3):453–464

Hayes SC, Johansson K, Stout NL, Prosnitz R, Armer JM, Gabram S, Schmitz KH (2012) Upper-body morbidity after breast cancer: incidence and evidence for evaluation, prevention, and management within a prospective surveillance model of care. Cancer 118(8 Suppl):2237–2249

Hayes SC, Rye S, DiSipio T, Yates P, Bashford J, Pyke C, Saunders C, Battistutta D, Eakin E (2013) Exercise for health: a randomized, controlled trial evaluating the impact of a pragmatic, translational exercise intervention on the quality of life, function and treatment-related side effects following breast cancer. Breast Cancer Res Treat 137(1):175–186

Høyer M, Johansson B, Nordin K, Bergkvist L, Ahlgren J, Lidin-Lindqvist A, Lambe M, Lampic C (2011) Health-related quality of life among women with breast cancer—a population-based study. Acta Oncol (Stockholm, Sweden), 50(7):1015–1026

Jeon Y-J, Kim G-M (2017) Comparison of the Berg Balance Scale and Fullerton Advanced Balance Scale to predict falls in community-dwelling adults. J Phys Ther Sci 29(2):232–234

Johansson J, Nordström A, Gustafson Y, Westling G, Nordström P (2017) Increased postural sway during quiet stance as a risk factor for prospective falls in community-dwelling elderly individuals. Age Ageing 46(6):1–6

Jones D, Zhao F, Brell J, Lewis MA, Loprinzi CL, Weiss M, Fisch MJ (2015) Neuropathic symptoms, quality of life, and clinician perception of patient care in medical oncology outpatients with colorectal, breast, lung, and prostate cancer. J Cancer Surviv Res Pract 9(1):1–10

Kalron A, Givon U, Frid L, Dolev M, Achiron A (2016) Static posturography and falls according to pyramidal, sensory and cerebellar functional systems in people with multiple sclerosis. PLoS One 11(10):e0164467

Kandula T, Farrar MA, Kiernan MC, Krishnan AV, Goldstein D, Horvath L, Grimison P, Boyle F, Baron-Hay S, Park SB (2017) Neurophysiological and clinical outcomes in chemotherapy-induced neuropathy in cancer. Clin Neurophysiol 128(7):1166–1175

Khan F, Shehna A, Ramesh S, Sandhya KS, Paul R (2017) Subjective symptoms of carpal tunnel syndrome correlate more with psychological factors than electrophysiological severity. Ann Indian Acad Neurol 20(1):69–72

Kleckner IR, Kamen C, Gewandter JS, Mohile NA, Heckler CE, Culakova E, Fung C, Janelsins MC, Asare M, Lin P-J, Reddy PS, Giguere J, Berenberg J, Kesler SR, Mustian KM (2018) Effects of exercise during chemotherapy on chemotherapy-induced peripheral neuropathy: a multicenter, randomized controlled trial. Support Care Cancer 26(4):1019–1028

Kneis S, Wehrle A, Freyler K, Lehmann K, Rudolphi B, Hildenbrand B, Bartsch HH, Bertz H, Gollhofer A, Ritzmann, R (2016) Balance impairments and neuromuscular changes in breast cancer patients with chemotherapy-induced peripheral neuropathy. Clin Neurophysiol 127(2):1481–1490

Koelwyn GJ, Quail DF, Zhang X, White RM, Jones LW (2017) Exercise-dependent regulation of the tumour microenvironment. Nat Rev Cancer 17(10):545–549

Kuhnt S, Szalai C, Erdmann-Reusch B, Kubel C, Boehncke A, Hoffmann W, Mehnert A, Weis J (2017) Tumorassoziierte fatigue in der onkologischen rehabilitation. Die Rehabil 56(5):337–343

Loprinzi CL, Reeves BN, Dakhil SR, Sloan JA, Wolf SL, Burger KN, Kamal A, Le-Lindqwister NA, Soori GS, Jaslowski AJ, Novotny PJ, Lachance DH (2011) Natural history of paclitaxel-associated acute pain syndrome: prospective cohort study NCCTG N08C1. J Clin Oncol 29(11):1472–1478

Madzima TA, Ormsbee MJ, Schleicher EA, Moffatt RJ, Panton LB (2017) Effects of resistance training and protein supplementation in breast cancer survivors. Med Sci Sports Exerc 49(7):1283–1292

McCrary JM, Goldstein D, Boyle F, Cox K, Grimison P, Kiernan MC, Krishnan AV, Lewis CR, Webber K, Baron-Hay S, Horvath L, Park SB (2017) Optimal clinical assessment strategies for chemotherapy-induced peripheral neuropathy (CIPN): a systematic review and Delphi survey. Support Care Cancer 25(11):3485–3493

Moore SC, Lee I-M, Weiderpass E, Campbell PT, Sampson JN, Kitahara CM, Keadle SK, Arem H, Berrington de Gonzalez A, Hartge P, Adami H-O, Blair CK, Borch KB, Boyd E, Check DP, Fournier A, Freedman ND, Gunter M, Johannson M, Khaw K-T, Linet MS, Orsini N, Park Y, Riboli E, Robien K, Schairer C, Sesso H, Spriggs M, van Dusen R, Wolk A, Matthews CE, Patel AV (2016) Association of leisure-time physical activity with risk of 26 types of cancer in 1.44 million adults. JAMA Int Med 176(6):816–825

Muir-Hunter SW, Clark J, McLean S, Pedlow S, van Hemmen A, Montero Odasso M, Overend T (2014) Identifying balance and fall risk in community-dwelling older women: the effect of executive function on postural control. Physiother Can 66(2):179–186

Pike CT, Birnbaum HG, Muehlenbein CE, Pohl GM, Natale RB (2012) Healthcare costs and workloss burden of patients with chemotherapy-associated peripheral neuropathy in breast, ovarian, head and neck, and nonsmall cell lung cancer. Chemother Res Pract 2012:913848

Quasthoff S, Hartung HP (2002) Chemotherapy-induced peripheral neuropathy. J Neurol 249(1):9–17

Robert-Koch-Institut (2017) Z. f. K. Krebs in Deutschland 2013/2014:72–75

Rowinsky EK, Eisenhauer EA, Chaudhry V, Arbuck SG, Donehower RC (1993) Clinical toxicities encountered with Paclitaxel (Taxol). Semin Oncol 20(4 Suppl 3):1–15

Schlenstedt C, Muthuraman M, Witt K, Weisser B, Fasano A, Deuschl G (2016) Postural control and freezing of gait in Parkinson's disease. Parkinsonism Relat Disord 24:107–112

Schmidt T, Weisser B, Jonat W, Baumann FT, Mundhenke C (2012) Gentle strength training in rehabilitation of breast cancer patients compared to conventional therapy. Anticancer Res 32(8):3229–3233

Schmidt T, Berner J, Jonat W, Weisser B, Rocken C, van Mackelenbergh M, Mundhenke C (2017a) Influence of arm crank ergometry on development of lymphedema in breast cancer patients after axillary dissection: a randomized controlled trail. J Rehabil Med 49(1):78–83

Schmidt T, van Mackelenbergh M, Wesch D, Mundhenke C (2017b) Physical activity influences the immune system of breast cancer patients. J Cancer Res Ther 13(3):392–398

Schubert P, Kirchner M (2014) Ellipse area calculations and their applicability in posturography. Gait Posture 39(1):518–522

Schwenk M, Grewal GS, Holloway D, Muchna A, Garland L, Najafi B (2016) Interactive sensor-based balance training in older cancer patients with chemotherapy-induced peripheral neuropathy: a randomized controlled trial. Gerontology 62(5):553–563

Scripture CD, Figg WD, Sparreboom A (2006) Peripheral neuropathy induced by paclitaxel: recent insights and future perspectives. Curr Neuropharmacol 4(2):165–172

Shimozuma K, Ohashi Y, Takeuchi A, Aranishi T, Morita S, Kuroi K, Ohsumi S, Makino H, Katsumata N, Kuranami M, Suemasu K, Watanabe T, Hausheer FH (2012) Taxane-induced peripheral neuropathy and health-related quality of life in postoperative breast cancer patients undergoing adjuvant chemotherapy: N-SAS BC 02, a randomized clinical trial. Support Care Cancer 20(12):3355–3364

Siegel R, Naishadham D, Jemal A (2012) Cancer statistics, 2012. CA Cancer J Clin 62(1):10–29

Staff NP, Grisold A, Grisold W, Windebank AJ (2017) Chemotherapy-induced peripheral neuropathy: a current review. Ann Neurol 81(6):772–781

Starobova H, Vetter I (2017) Pathophysiology of chemotherapy-induced peripheral neuropathy. Front Mol Neurosci 10:174

Streckmann F, Kneis S, Leifert JA, Baumann FT, Kleber M, Ihorst G, Herich L, Grüssinger V, Gollhofer A, Bertz H (2014) Exercise program improves therapy-related side-effects and quality of life in lymphoma patients undergoing therapy. Ann Oncol 25(2):493–499

Taillibert S, Le Rhun E, Chamberlain MC (2016) Chemotherapy-related neurotoxicity. Curr Neurol Neurosci Rep 16(9):81

van Rooijen SJ, Engelen MA, Scheede-Bergdahl C, Carli F, Roumen RMH, Slooter GD, Schep G (2017) Systematic review of exercise training in colorectal cancer patients during treatment. Scand J Med Sci Sports 259(4):916

Wampler MA, Topp KS, Miaskowski C, Byl NN, Rugo HS, Hamel K (2007) Quantitative and clinical description of postural instability in women with breast cancer treated with taxane chemotherapy. Arch Phys Med Rehabil 88(8):1002–1008

Winters-Stone KM, Horak F, Jacobs PG, Trubowitz P, Dieckmann NF, Stoyles S, Faithfull S (2017) Falls, functioning, and disability among women with persistent symptoms of chemotherapy-induced peripheral neuropathy. J Clin Oncol 35(23):2604–2612

Wolf S, Barton D, Kottschade L, Grothey A, Loprinzi C (2008) Chemotherapy-induced peripheral neuropathy: prevention and treatment strategies. Eur J Cancer (Oxford, England: 1990) 44(11):1507–1515

Zimmer P, Bloch W, Schenk A, Zopf EM, Hildebrandt U, Streckmann F, Beulertz J, Koliamitra C, Schollmayer F, Baumann F (2015) Exercise-induced natural killer cell activation is driven by epigenetic modifications. Int J Sports Med 36(6):510–515

Zimmer P, Trebing S, Timmers-Trebing U, Schenk A, Paust R, Bloch W, Rudolph R, Streckmann F, Baumann FT (2017) Eight-week, multimodal exercise counteracts a progress of chemotherapy-induced peripheral neuropathy and improves balance and strength in metastasized colorectal cancer patients: a randomized controlled trial. Support Care Cancer 26(2):615–624
Ethics declarations
Conflict of interest
We declare that no conflicts of interest exist. No financial gain is obtained from this study and its findings.
Ethical approval
All procedures performed in studies involving human participants were carried out in accordance with the ethical standards of the institutional and/or national research committee and with the 1964 (and subsequent) Helsinki declaration(s) and its later amendments or comparable ethical standards. Informed consent was obtained from all individual participants included in this study.
About this article
Cite this article
Vollmers, P.L., Mundhenke, C., Maass, N. et al. Evaluation of the effects of sensorimotor exercise on physical and psychological parameters in breast cancer patients undergoing neurotoxic chemotherapy. J Cancer Res Clin Oncol 144, 1785–1792 (2018). https://doi.org/10.1007/s00432-018-2686-5
Received:

Accepted:

Published:

Issue Date:
Keywords
Breast cancer

Mamma-carcinoma

Chemotherapy

Paclitaxel

Taxol

Neurotoxic

Neuropathy

Chemotherapy-induced peripheral polyneuropathy

Nerves

Sensorimotor exercise

Training

Exercise intervention

Posturometry

Posturography

Sway area

Monopedal stance

Bipedal stance

Fullterton Advanced Balance Scale

FAB

Postural instability

Risk of falling

Fall risk

Strength

Upper extremity

Lower extremity

Hand dynamometer

Chair rising test

Eortc

European organization of research and treatment of cancer

Qol

Quality of life

QLQ-C30

CIPN-20

BR-23

Multidimensional Fatigue Inventory

MFI-20

Adverse events

Survivors