Abstract
Background
Our goal was to compare the survival advantage of tamoxifen (TAM) and aromatase inhibitor (AI) in female (FBC) and male breast cancer (MBC).
Patients and methods
We performed a retrospective study of 2785 FBC and 257 MBC patients treated with hormonal therapy.
Results
The median follow-up was 106 months (range 3–151 months) and 42 months (range 2–115 months) for FBC and MBC, respectively. The patients were divided into two groups according to the hormonal therapy used: TAM-treated and AI-treated. MBC was characterized by older age, advanced tumor stage, and higher rate of lymph node metastases, in comparison with FBC. Matching analysis was performed using six prognostic criteria: patient age, tumor stage, tumor grade, lymph node status, human epidermal growth factor receptor (HER2) status, and administration of chemotherapy. The female and male patients were matched 2:1. In this analysis, 316 women and 158 men treated with TAM, and 60 women and 30 men treated with AI, were included. The overall survival (OS) was estimated by the Kaplan–Meier method and was compared between FBC and MBC. TAM-treated FBC and MBC patients had similar 5-year OS, 85.1 and 89.2%, respectively (p = 0.972). Notably, FBC patients treated with AI had significantly greater 5-year OS (85.0%) in comparison with AI-treated MBC patients (5-year OS of 73.3%; p = 0.028).
Conclusions
The OS of TAM-treated patients with MBC was similar to the OS of TAM-treated FBC patients, whereas AI treatment is associated with poorer survival of MBC patients.
This is a preview of subscription content, log in to check access.
Access options
Buy single article
Instant access to the full article PDF.
US$ 39.95
Price includes VAT for USA
Subscribe to journal
Immediate online access to all issues from 2019. Subscription will auto renew annually.
US$ 199
This is the net price. Taxes to be calculated in checkout.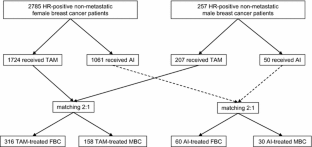 References
Anderson WF, Althuis MD, Brinton LA, Devesa SS (2004) Is male breast cancer similar or different than female breast cancer? Breast Cancer Res Treat 83(1):77–86

Eggemann H, Ignatov A, Smith BJ, Altmann U, von Minckwitz G, Rohl FW, Jahn M, Costa SD (2013) Adjuvant therapy with tamoxifen compared to aromatase inhibitors for 257 male breast cancer patients. Breast Cancer Res Treat 137(2):465–470

Eggemann H, Ignatov T, Burger E, Kantelhardt EJ, Fettke F, Thomssen C, Costa SD, Ignatov A (2015) Moderate HER2 expression as a prognostic factor in hormone receptor positive breast cancer. Endocr Relat Cancer 22(5):725–733

Goss PE, Reid C, Pintilie M, Lim R, Miller N (1999) Male breast carcinoma: a review of 229 patients who presented to the Princess Margaret Hospital during 40 years: 1955–1996. Cancer 85(3):629–639

Losurdo A, Rota S, Gullo G, Masci G, Torrisi R, Bottai G, Zuradelli M, Gatzemeier W, Santoro A (2017) Controversies in clinicopathological characteristics and treatment strategies of male breast cancer: a review of the literature. Crit Rev Oncol Hematol 113:283–291

Ribeiro G, Swindell R (1992) Adjuvant tamoxifen for male breast cancer (MBC). Br J Cancer 65(2):252–254

Roselli CE, Resko JA (1997) Sex differences in androgen-regulated expression of cytochrome P450 aromatase in the rat brain. J Steroid Biochem Mol Biol 61(3–6):365–374

Shetty G, Krishnamurthy H, Krishnamurthy HN, Bhatnagar AS, Moudgal NR (1998) Effect of long-term treatment with aromatase inhibitor on testicular function of adult male bonnet monkeys (M. radiata). Steroids 63(7–8):414–420

Volm MD (2003) Male breast cancer. Curr Treat Options Oncol 4(2):159–164

von Elm E, Altman DG, Egger M, Pocock SJ, Gotzsche PC, Vandenbroucke JP, Initiative S (2007) The strengthening the reporting of observational studies in epidemiology (STROBE) statement: guidelines for reporting observational studies. Lancet 370(9596):1453–1457
Ethics declarations
Conflict of interest
All authors declare that they have no conflict of interest.
Funding
This study was not funded.
Ethical approval
This article does not contain any studies with animals performed by any of the authors. All procedures performed in studies involving human participants were in accordance with the ethical standards of the institutional and/or national research committee and with the 1964 Helsinki declaration and its later amendments or comparable ethical standards.
Informed consent
Written informed consent was obtained from all patients before treatment. An additional individual consent for this analysis was not needed.
About this article
Cite this article
Eggemann, H., Altmann, U., Costa, S. et al. Survival benefit of tamoxifen and aromatase inhibitor in male and female breast cancer. J Cancer Res Clin Oncol 144, 337–341 (2018). https://doi.org/10.1007/s00432-017-2539-7
Received:

Accepted:

Published:

Issue Date:
Keywords
Male breast cancer

Tamoxifen

Aromatase inhibitor