Abstract
Purpose
Renal cell carcinoma (RCC) is the most common malignancy of urogenital system, and patients with RCC may face a poor prognosis. However, limited curable therapeutic options are currently available. The aim of this study is to investigate the role of Cannabinoid receptor 2 (CB2) in RCC progression.
Methods
Immunohistochemistry was to investigate the expression pattern of CB2 in 418 RCC tissues and explore its prognostic function in RCC patients. Furthermore, the role of used CB2 si-RNA knockdown and inhibited by AM630, a CB2 inverse agonist, on cell proliferation, migration, and cell cycle of RCC cell lines in vitro was also investigated.
Results
We observed that CB2 was up-regulated in RCC tissues, and presented as an independent prognostic factor for overall survival of RCC patients and higher CB2 expression tends to have poor clinical outcomes in survival analyses. Moreover, we also observed that CB2, incorporated with pN stage, pathological grade, and recurrence or distant metastasis after surgery, could obviously enhance their prognostic accuracy in a predictive nomogram analysis. In addition, knockdown or inhibition by AM630 for the expression of CB2 in vitro could significantly decreased cell proliferation and migration, and obviously induced cell cycle arrest in G2/M of RCC cells.
Conclusions
CB2 expression is functionally related to cellular proliferation, migration, and cell cycle of RCC cells. Our data suggest that CB2 might be a potential therapeutic target for RCC.
Access options
Buy single article
Instant access to the full article PDF.
US$ 39.95
Tax calculation will be finalised during checkout.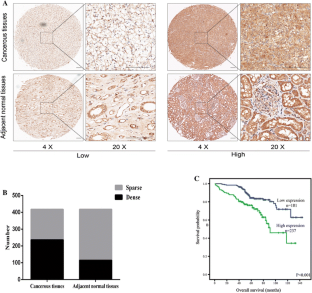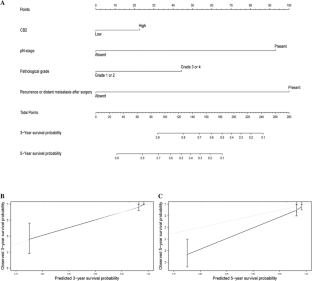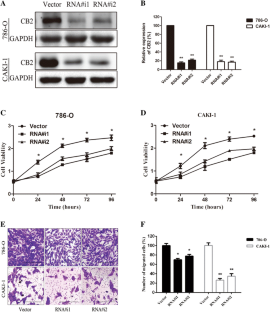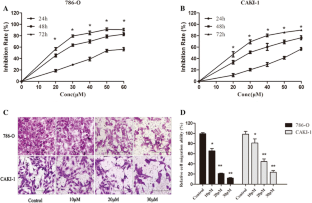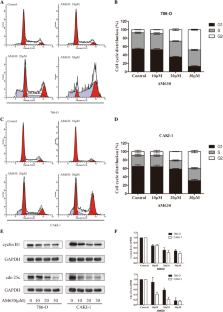 Abbreviations
RCC:

Renal cell carcinoma

CB2:

Cannabinoid receptor 2

ccRCC:

Clear-cell renal cell carcinoma

OS:

Overall survival

TMA:

Tissue microarrays

FBS:

Fetal bovine serum

DMSO:

Dimethyl sulfoxide

SRB:

Sulforhodamine B

C-index:

Harrell's concordance index

AIC:

Akaike information criteria

IHC:

Immunohistochemistry
References
Brown I, Cascio MG, Rotondo D, Pertwee RG, Heys SD, Wahle KW (2013) Cannabinoids and omega-3/6 endocannabinoids as cell death and anticancer modulators. Prog Lipid Res 52(1):80–109

Caffarel MM, Andradas C, Mira E, Perez-Gomez E, Cerutti C, Moreno-Bueno G et al (2010) Cannabinoids reduce ErbB2-driven breast cancer progression through Akt inhibition. Mol Cancer 9:196

Chan PC, Sills RC, Braun AG, Haseman JK, Bucher JR (1996) Toxicity and carcinogenicity of delta 9-tetrahydrocannabinol in Fischer rats and B6C3F1 mice. Fundam Appl Toxicol 30(1):109–117

Chow WH, Dong LM, Devesa SS (2010) Epidemiology and risk factors for kidney cancer. Nat Rev Urol 7(5):245–257

De Jesus ML, Hostalot C, Garibi JM, Salles J, Meana JJ, Callado LF (2010) Opposite changes in cannabinoid CB1 and CB2 receptor expression in human gliomas. Neurochem Int 56(6–7):829–833

Elbaz M, Ahirwar D, Ravi J, Nasser MW, Ganju RK (2016) Novel role of cannabinoid receptor 2 in inhibiting EGF/EGFR and IGF-I/IGF-IR pathways in breast cancer. Oncotarget 8(18):29668–29678

Elmore JM, Kadesky KT, Koeneman KS, Sagalowsky AI (2003) Reassessment of the 1997 TNM classification system for renal cell carcinoma. Cancer 98(11):2329–2334

Engeli S (2012) Central and peripheral cannabinoid receptors as therapeutic targets in the control of food intake and body weight. Handb Exp Pharmacol 209:357–381

Felder CC, Glass M (1998) Cannabinoid receptors and their endogenous agonists. Annu Rev Pharmacol Toxicol 38:179–200

Ficarra V, Novara G, Galfano A, Brunelli M, Cavalleri S, Martignoni G et al (2009) The 'Stage, Size, Grade and Necrosis' score is more accurate than the University of California Los Angeles Integrated Staging System for predicting cancer-specific survival in patients with clear cell renal cell carcinoma. BJU Int 103(2):165–170

Gupta K, Miller JD, Li JZ, Russell MW, Charbonneau C (2008) Epidemiologic and socioeconomic burden of metastatic renal cell carcinoma (mRCC): a literature review. Cancer Treat Rev 34(3):193–205

Guzman M, Sanchez C, Galve-Roperh I (2002) Cannabinoids and cell fate. Pharmacol Ther 95(2):175–184

Hang J, Hu H, Huang J, Han T, Zhuo M, Zhou Y et al (2016) Sp1 and COX2 expression is positively correlated with a poor prognosis in pancreatic ductal adenocarcinoma. Oncotarget 7(19):28207–28217

Hong SK, Jeong CW, Park JH, Kim HS, Kwak C, Choe G et al (2011) Application of simplified Fuhrman grading system in clear-cell renal cell carcinoma. BJU Int 107(3):409–415

Hu G, Ren G, Shi Y (2011) The putative cannabinoid receptor GPR55 promotes cancer cell proliferation. Oncogene 30(2):139–141

Jia N, Zhang S, Shao P, Bagia C, Janjic JM, Ding Y et al (2014) Cannabinoid CB2 receptor as a new phototherapy target for the inhibition of tumor growth. Mol Pharm 11(6):1919–1929

Klein Nulent TJ, Van Diest PJ, van der Groep P, Leusink FK, Kruitwagen CL, Koole R et al (2013) Cannabinoid receptor-2 immunoreactivity is associated with survival in squamous cell carcinoma of the head and neck. Br J Oral Maxillofac Surg 51(7):604–609

Larrinaga G, Sanz B, Perez I, Blanco L, Candenas ML, Pinto FM et al (2010) Cannabinoid CB(1) receptor is downregulated in clear cell renal cell carcinoma. J Histochem Cytochem 58(12):1129–1134

Larrinaga G, Sanz B, Blanco L, Perez I, Candenas ML, Pinto FM et al (2013) Cannabinoid CB1 receptor is expressed in chromophobe renal cell carcinoma and renal oncocytoma. Clin Biochem 46(7–8):638–641

Ligresti A, Bisogno T, Matias I, De Petrocellis L, Cascio MG, Cosenza V et al (2003) Possible endocannabinoid control of colorectal cancer growth. Gastroenterology 125(3):677–687

Ligresti A, De Petrocellis L, Di Marzo V (2016) From phytocannabinoids to cannabinoid receptors and endocannabinoids: pleiotropic physiological and pathological roles through complex pharmacology. Physiol Rev 96(4):1593–1659

Liu CS, Chau SA, Ruthirakuhan M, Lanctot KL, Herrmann N (2015) Cannabinoids for the treatment of agitation and aggression in Alzheimer's Disease. CNS Drugs 29(8):615–623

Ljungberg B, Campbell SC, Choi HY, Jacqmin D, Lee JE, Weikert S et al (2011) The epidemiology of renal cell carcinoma. Eur Urol 60(4):615–621

Ljungberg B, Bensalah K, Canfield S, Dabestani S, Hofmann F, Hora M et al (2015) EAU guidelines on renal cell carcinoma: 2014 update. Eur Urol 67(5):913–924

Malik Z, Baik D, Schey R (2015) The role of cannabinoids in regulation of nausea and vomiting, and visceral pain. Curr Gastroenterol Rep 17(2):429

Martínez-Martínez E, Gómez I, Martín P, Sánchez A, Román L, Tejerina E et al (2015) Cannabinoids receptor type 2, CB2, expression correlates with human colon cancer progression and predicts patient survival. Oncoscience 2(2):131–141

Martínez-Martínez E, Martín-Ruiz A, Martín P, Calvo V, Provencio M, García JM (2016) CB2 cannabinoid receptor activation promotes colon cancer progression via AKT/GSK3β signaling pathway. Oncotarget 7(42):68781–68791

McKallip RJ, Nagarkatti M, Nagarkatti PS (2005) Delta-9-tetrahydrocannabinol enhances breast cancer growth and metastasis by suppression of the antitumor immune response. J Immunol 174(6):3281–3289

Mills B, Yepes A, Nugent K (2015) Synthetic cannabinoids. Am J Med Sci 350(1):59–62

Palazzo E, Luongo L, Novellis V, Rossi F, Maione S (2010) The role of cannabinoid receptors in the descending modulation of pain. Pharmaceuticals (Basel) 3(8):2661–2673

Patard JJ, Kim HL, Lam JS, Dorey FJ, Pantuck AJ, Zisman A et al (2004) Use of the University of California Los Angeles integrated staging system to predict survival in renal cell carcinoma: an international multicenter study. J Clin Oncol 22(16):3316–3322

Perez-Gomez E, Andradas C, Blasco-Benito S, Caffarel MM, Garcia-Taboada E, Villa-Morales M et al (2015) Role of cannabinoid receptor CB2 in HER2 pro-oncogenic signaling in breast cancer. J Natl Cancer Inst 107(6):077

Reimers M, Carey VJ (2006) Bioconductor: an open source framework for bioinformatics and computational biology. Methods Enzymol 411:119–134

Ross RA, Brockie HC, Stevenson LA, Murphy VL, Templeton F, Makriyannis A et al (1999) Agonist-inverse agonist characterization at CB1 and CB2 cannabinoid receptors of L759633, L759656, and AM630. Br J Pharmacol 126(3):665–672

Sarfaraz S, Afaq F, Adhami VM, Mukhtar H (2005) Cannabinoid receptor as a novel target for the treatment of prostate cancer. Cancer Res 65(5):1635–1641

Siegel RL, Miller KD, Jemal A (2016) Cancer statistics, 2016. CA Cancer J Clin 66(1):7–30

Smaletz O (2015) Current management and future directions in the treatment of advanced renal cell carcinoma-a latin american perspective: 10 years in review. Int Braz J Urol 41(5):835–843

Velasco G, Hernandez-Tiedra S, Davila D, Lorente M (2016) The use of cannabinoids as anticancer agents. Prog Neuropsychopharmacol Biol Psychiatry 64:259–266

Vemuri VK, Makriyannis A (2015) Medicinal chemistry of cannabinoids. Clin Pharmacol Ther 97(6):553–558

Waalkes S, Kramer M, Herrmann TR, Schrader AJ, Kuczyk MA, Merseburger AS (2010) Present state of target therapy for disseminated renal cell carcinoma. Immunotherapy 2(3):393–398

Wang L, Ma L, Wang X, Li B, Guo S, Qiao Q (2015) Therapeutic effects and associated adverse events of first-line treatments of advanced renal cell carcinoma (RCC): a meta-analysis. Int Urol Nephrol 47(4):617–624

Xu X, Liu Y, Huang S, Liu G, Xie C, Zhou J et al (2006) Overexpression of cannabinoid receptors CB1 and CB2 correlates with improved prognosis of patients with hepatocellular carcinoma. Cancer Genet Cytogenet 171(1):31–38

Zurier RB, Burstein SH (2016) Cannabinoids, inflammation, and fibrosis. Faseb J 30(11):3682–3689
Acknowledgements
This work was supported by National Natural Science Foundation of China (nos. 81472378, 81272841, and 91129725), Shanghai Committee of Science and Technology (13ZR1425100). All these study sponsors have no roles in the study design, in the collection, analysis, and interpretation of data.
Ethics declarations
Conflict of interest
The authors declare that they have no competing interests.
Ethics statement
This investigation was approved by the Ethics and Research Committees of Renji Hospital, Shanghai Jiao Tong University School of Medicine, and was conducted in accordance with the ethical standards and according to the Declaration of Helsinki and according to national and international guidelines. Tissue samples were obtained with written consent from all the patients.
Electronic supplementary material
Below is the link to the electronic supplementary material.
About this article
Cite this article
Wang, J., Xu, Y., Zhu, L. et al. Cannabinoid receptor 2 as a novel target for promotion of renal cell carcinoma prognosis and progression. J Cancer Res Clin Oncol 144, 39–52 (2018). https://doi.org/10.1007/s00432-017-2527-y
Received:

Accepted:

Published:

Issue Date:
Keywords
Renal cell carcinoma

Cannabinoid receptor 2

AM630