Abstract
Purpose
RRx-001, a minimally toxic tumor-associated macrophage and neutrophil-repolarizing agent, is under investigation in Phase II clinical trials as a sensitizer/resensitizer to cisplatin and carboplatin. On the basis of anecdotal clinical observations of improved platinum tolerability following a priming period with RRx-001 as well as preclinical studies that have previously demonstrated radioprotection of intestinal stem cells and cardioprotection from doxorubicin, the in vivo cytoprotective potential of RRx-001 pretreatment against cisplatin-induced bone marrow suppression and renal toxicity was investigated.
Methods
BALB/c mice were divided into three groups: (1) no treatment, (2) vehicle and cisplatin only, and (3) RRx-001 and cisplatin. RRx-001 treatment (5 mg/kg every other day for 3 days) was initiated 3 days prior to cisplatin administration. Blood was collected from the femoral vein at different intervals to measure total hemoglobin and leukocyte counts as well as renal functional markers (serum urea, creatinine and creatinine clearance). Metaphase spreads were prepared from whole bone marrow cells as markers of clastogenicity.
Results
RRx-001 pretreatment significantly decreased (P < 0.05) the blood urea nitrogen and creatinine levels. A statistically significant (P < 0.05) reduction in the mean total chromosome aberration frequency per metaphase in the RRx-001 and cisplatin group compared to the cisplatin-only group was observed.
Conclusions
This study is the first to demonstrate that RRx-001 has nephro-, geno- and myeloprotective effects in vivo. Importantly, RRx-001 did not protect sarcoma-180 solid tumor xenografts against cisplatin-induced cytotoxicity. These results potentially support the use of RRx-001 as a chemoprotector against cisplatin-induced toxicities.
This is a preview of subscription content, log in to check access.
Access options
Buy single article
Instant access to the full article PDF.
US$ 39.95
Price includes VAT for USA
Subscribe to journal
Immediate online access to all issues from 2019. Subscription will auto renew annually.
US$ 199
This is the net price. Taxes to be calculated in checkout.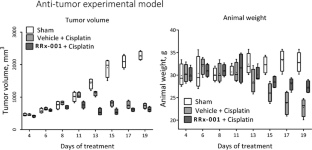 References
Cabrales P, Scicinski J, Reid T, Kuypers F, Larkin S, Fens M, Oronsky A, Oronsky B (2016) A look inside the mechanistic black box: are red blood cells the critical effectors of RRx-001 cytotoxicity? Med Oncol 33:63

Carter CA, Degesys A, Oronsky B, Scicinski J, Caroen SZ, Oronsky AL, Reid T, Cabrales P, Roswarski J (2015) Flushing out carcinoid syndrome: beneficial effect of the anticancer epigenetic agent RRx-001 in a patient with a treatment-refractory neuroendocrine tumor. Case Rep Oncol 8:461–465

Carter CA, Zeman K, Day RM, Richard P, Oronsky A, Oronsky N, Lybeck M, Scicinski J, Oronsky B (2016a) Addressing the elephant in the room, therapeutic resistance in non-small cell lung cancer, with epigenetic therapies. Oncotarget 7:40781–40791. doi:10.18632/oncotarget.8205

Carter CA, Oronsky BT, Caroen SZ, Scicinski JJ, Degesys A, Kim MM, Oronsky AL, Lybeck H, Cabrales P, Oronsky N et al (2016b) RRx-001 in refractory small-cell lung carcinoma: a case report of a partial response after a third reintroduction of platinum doublets. Case Rep Oncol 9:171–176

Carter CA, Schmitz B, Peterson PG, Quinn M, Degesys A, Jenkins J, Oronsky B, Scicinski J, Caroen S, Reid TR et al (2016c) Immune reactivity and pseudoprogression or tumor flare in a serially biopsied neuroendocrine patient treated with the epigenetic agent RRx-001. Case Rep Oncol 9:164–170

Cesano A, Lane SR, Poulin R, Ross G, Fields SZ (1999) Stabilization of disease as a useful predictor of survival following second-line chemotherapy in small cell lung cancer and ovarian cancer patients. Int J Oncol 15:1233–1238

Dasari S, Tchounwou PB (2014) Cisplatin in cancer therapy: molecular mechanisms of action. Eur J Pharmacol 740:364–378

Kim MM, Parmar H, Cao Y, Knox SJ, Oronsky B, Scicinski J, Lawrence TS, Lao CD (2016a) Concurrent whole brain radiotherapy and RRx-001 for melanoma brain metastases. Neuro Oncol 18:455–456

Kim MM, Parmar H, Cao Y, Pramanik P, Schipper M, Hayman J, Junck L, Mammoser A, Heth J, Carter CA et al (2016b) Whole brain radiotherapy and RRx-001: two partial responses in radioresistant melanoma brain metastases from a phase I/II clinical trial: a TITE-CRM phase I/II clinical trial. Transl Oncol 9:108–113

Koukourakis MI, Kyrias G, Kakolyris S, Kouroussis C, Frangiadaki C, Giatromanolaki A, Retalis G, Georgoulias V (2000) Subcutaneous administration of amifostine during fractionated radiotherapy: a randomized phase II study. J Clin Oncol 18:2226–2233

Lokich J, Anderson N (1998) Carboplatin versus cisplatin in solid tumors: an analysis of the literature. Ann Oncol 9:13–21

National Research Council of the National Academies (2011) Guide for the care and use of laboratory animals, 8th edn. The National Academies Press, Washington, DC

Ning S, Bednarski M, Oronsky B, Scicinski J, Saul G, Knox SJ (2012) Dinitroazetidines are a novel class of anticancer agents and hypoxia-activated radiation sensitizers developed from highly energetic materials. Cancer Res 72:2600–2608

Ning S, Sekar TV, Scicinski J, Oronsky B, Peehl DM, Knox SJ, Paulmurugan R (2015) Nrf2 activity as a potential biomarker for the pan-epigenetic anticancer agent, RRx-001. Oncotarget 6:21547–21556

Oronsky B, Oronsky N, Scicinski J, Fanger G, Lybeck M, Reid T (2014) Rewriting the epigenetic code for tumor resensitization: a review. Transl Oncol 7:626–631

Oronsky B, Scicinski J, Reid T, Oronsky A, Carter C, Oronsky N, Cabrales P (2016a) RRx-001, a novel clinical-stage chemosensitizer, radiosensitizer, and immunosensitizer, inhibits glucose 6-phosphate dehydrogenase in human tumor cells. Discov Med 21:251–265

Oronsky B, Scicinski J, Ning S, Peehl D, Oronsky A, Cabrales P, Bednarski M, Knox S (2016b) RRx-001, a novel dinitroazetidine radiosensitizer. Invest New Drugs 34:371–377

Oronsky B, Scicinski J, Ning S, Peehl D, Oronsky A, Cabrales P, Bednarski M, Knox S (2016c) Rockets, radiosensitizers, and RRx-001: an origin story part I. Discov Med 21:173–180

Oronsky B, Ao-ieong ES, Yalcin O, Scicinski J, Caroen S, Reid TR, Carter CA, Oronsky A, Cabrales P (2017) Cardioprotective effect of the clinical anticancer agent, RRx-001, in doxorubicin-induced acute cardiotoxicity in mice

Preston RJ, Dean BJ, Galloway S, Holden H, McFee AF, Shelby M (1987) Mammalian in vivo cytogenetic assays. Analysis of chromosome aberrations in bone marrow cells. Mutat Res 189:157–165

Rebillard A, Lagadic-Gossmann D, Dimanche-Boitrel MT (2008) Cisplatin cytotoxicity: DNA and plasma membrane targets. Curr Med Chem 15:2656–2663

Reid T, Oronsky B, Scicinski J, Scribner CL, Knox SJ, Ning S, Peehl DM, Korn R, Stirn M, Carter CA et al (2015) Safety and activity of RRx-001 in patients with advanced cancer: a first-in-human, open-label, dose-escalation phase 1 study. Lancet Oncol 16:1133–1142

Scicinski J, Oronsky B, Ning S, Knox S, Peehl D, Kim MM, Langecker P, Fanger G (2015) NO to cancer: the complex and multifaceted role of nitric oxide and the epigenetic nitric oxide donor, RRx-001. Redox Biol 6:1–8

Zhao H, Ning S, Scicinski J, Oronsky B, Knox SJ, Peehl DM (2015) Epigenetic effects of RRx-001: a possible unifying mechanism of anticancer activity. Oncotarget 6:43172–43181
Funding
This study was funded by EpicentRx.
Ethics declarations
Conflict of interest
EpicentRx Inc funds research of molecule RRx-001. B. Oronsky is an employee of EpicentRx. P. Cabrales and the other authors have no conflicts of interest to declare.
Ethical approval
All applicable international, national, and/or institutional guidelines for the care and use of animals were followed.
About this article
Cite this article
Oronsky, B., Reid, T.R., Larson, C. et al. RRx-001 protects against cisplatin-induced toxicities. J Cancer Res Clin Oncol 143, 1671–1677 (2017). https://doi.org/10.1007/s00432-017-2416-4
Received:

Accepted:

Published:

Issue Date:
Keywords
Cisplatin

Toxicity sparing

Chemoprotection

RRx-001

Myeloprotection