Abstract
Purpose
Cetuximab-induced skin rash Gd3+ occurs in ≥16% patients (pts) (Heinemann et al., Lancet Oncol 15(10):1065–1075, 2014; Van Cutsem et al. J Clin Oncol 27(19):3117–25; 2009b). Survival, response, and toxicity parameters were re-evaluated under a pre-defined skin prophylaxis consistent of vitamin K1 ointment and oral doxycycline.
Methods
This is a national, multicenter, phase 4, first-line mCRC (K-RAS wt) trial. Pts received irinotecan 180 mg/m² (d1), FA 400 mg/m² (d1), 5-FU 400 mg/m² (d1), 5-FU 2400 mg/m² (d1–2), and cetuximab [400 mg/m² (d1), and then 250 mg/m² qw], prophylactic 0.1% vitamin K1 ointment qd, and oral doxycycline 100 mg bid. Primary objective: 1-year PFS rate; secondary objectives: skin side-effects (grade, onset), objective response rate (ORR), disease control rate (DCR), progression-free survival (PFS) time, and overall survival (OS) time and safety.
Results
Twenty centers recruited 55 patients. Recruitment started Q1 2011 and ended Q3 2013 due to slow accrual. Characteristics were in line with CRYSTAL trial except for age and colonic location. 1-year PFS rate was 25.9%, mOS 21.8 months (m), and mPFS 8.5 m. ORR was 63.0%, DCR 77.8%. Rash Gd2+ occurred in 42.6% [median onset was 4.0 weeks (w)]; paronychia Gd2+ occurred in 22.2% (median onset 15.4w.); skin fissures Gd2+ occurred in 31.5% (median onset 19.9 weeks) 7% pts abandoned cetuximab treatment due to toxicity.
Conclusion
Our data reveal encouraging improvements in skin reactions and their time to occurrence due to a pre-defined skin care.
This is a preview of subscription content,
to check access.
Access this article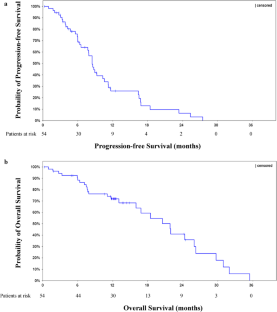 Similar content being viewed by others
References
Bokemeyer C, Bondarenko I, Makhson A, Hartmann JT, Aparicio J, de Braud F, Donea S, Ludwig H, Schuch G, Stroh C, Loos AH, Zubel A, Koralewski P (2009) Fluorouracil, leucovorin, and oxaliplatin with and without cetuximab in the first-line treatment of metastatic colorectal cancer. J Clin Oncol 27(5):663–671

Cunningham D, Humblet Y, Siena S, Khayat D, Bleiberg H, Santoro A, Bets D, Mueser M, Harstrick A, Verslype C, Chau I, Van Cutsem E (2004) Cetuximab monotherapy and cetuximab plus irinotecan in irinotecan-refractory metastatic colorectal cancer. N Engl J Med 351(4):337–345

Heinemann V, von Weikersthal LF, Decker T, Kiani A, Vehling-Kaiser U, Al-Batran SE, Heintges T, Lerchenmuller C, Kahl C, Seipelt G, Kullmann F, Stauch M, Scheithauer W, Hielscher J, Scholz M, Muller S, Link H, Niederle N, Rost A, Hoffkes HG, Moehler M, Lindig RU, Modest DP, Rossius L, Kirchner T, Jung A, Stintzing S (2014) FOLFIRI plus cetuximab versus FOLFIRI plus bevacizumab as first-line treatment for patients with metastatic colorectal cancer (FIRE-3): a randomised, open-label, phase 3 trial. Lancet Oncol 15(10):1065–1075

Janus N, Launay-Vacher V, Robert C, Souquet PJ, Mateus C, Dreno B, Deray G, Morere JF, Deplanque G (2009) Description of erlotinib-related skin effects management in France. Results of the PRECEDE study. Cancer Radiother 13(2):97–102

Jatoi A, Rowland K, Sloan JA, Gross HM, Fishkin PA, Kahanic SP, Novotny PJ, Schaefer PL, Johnson DB, Tschetter LK, Loprinzi CL (2008) Tetracycline to prevent epidermal growth factor receptor inhibitor-induced skin rashes: results of a placebo-controlled trial from the North Central Cancer Treatment Group (N03CB). Cancer 113(4):847–853

Karashima T, Sweeney P, Slaton JW, Kim SJ, Kedar D, Izawa JI, Fan Z, Pettaway C, Hicklin DJ, Shuin T, Dinney CP (2002) Inhibition of angiogenesis by the antiepidermal growth factor receptor antibody ImClone C225 in androgen-independent prostate cancer growing orthotopically in nude mice. Clin Cancer Res 8(5):1253–1264

Lacouture ME, Mitchell EP, Piperdi B, Pillai MV, Shearer H, Iannotti N, Xu F, Yassine M (2010) Skin toxicity evaluation protocol with panitumumab (STEPP), a phase II, open-label, randomized trial evaluating the impact of a pre-emptive skin treatment regimen on skin toxicities and quality of life in patients with metastatic colorectal cancer. J Clin Oncol 28(8):1351–1357

O'Dwyer PJ, Benson AB, 3rd (2002) Epidermal growth factor receptor-targeted therapy in colorectal cancer. Semin Oncol 29(5 Suppl 14): 10–17

Ocvirk J (2010) Management of cetuximab-induced skin toxicity with the prophylactic use of topical vitamin K1 cream. Radiol Oncol 44(4):265–266

Ocvirk J, Cencelj S (2010) Management of cutaneous side-effects of cetuximab therapy in patients with metastatic colorectal cancer. J Eur Acad Dermatol Venereol 24(4):453–459

Pinta F, Ponzetti A, Spadi R, Fanchini L, Zanini M, Mecca C, Sonetto C, Ciuffreda L, Racca P (2014) Pilot clinical trial on the efficacy of prophylactic use of vitamin K1-based cream (Vigorskin) to prevent cetuximab-induced skin rash in patients with metastatic colorectal cancer. Clin Colorectal Cancer 13(1):62–67

Racca P, Fanchini L, Caliendo V, Ritorto G, Evangelista W, Volpatto R, Milanesi E, Ciorba A, Paris M, Facilissimo I, Macripo G, Clerico M, Ciuffreda L (2008) Efficacy and skin toxicity management with cetuximab in metastatic colorectal cancer: outcomes from an oncologic/dermatologic cooperation. Clin Colorectal Cancer 7(1):48–54

Roe E, Garcia Muret MP, Marcuello E, Capdevila J, Pallares C, Alomar A (2006) Description and management of cutaneous side effects during cetuximab or erlotinib treatments: a prospective study of 30 patients. J Am Acad Dermatol 55(3):429–437

Schimanski CC, Moehler M, Zimmermann T, Worns MA, Steinbach A, Baum M, Galle PR (2010) Cetuximab-induced skin exanthema: improvement by a reactive skin therapy. Mol Med Rep 3(5):789–793

Scope A, Agero AL, Dusza SW, Myskowski PL, Lieb JA, Saltz L, Kemeny NE, Halpern AC (2007) Randomized double-blind trial of prophylactic oral minocycline and topical tazarotene for cetuximab-associated acne-like eruption. J Clin Oncol 25(34):5390–5396

Stintzing S, Kapaun C, Laubender RP, Jung A, Neumann J, Modest DP, Giessen C, Moosmann N, Wollenberg A, Kirchner T, Heinemann V (2013) Prognostic value of cetuximab-related skin toxicity in metastatic colorectal cancer patients and its correlation with parameters of the epidermal growth factor receptor signal transduction pathway: results from a randomized trial of the GERMAN AIO CRC Study Group. Int J Cancer 132(1):236–245

Van Cutsem E, Kohne CH, Hitre E, Zaluski J, Chang Chien CR, Makhson A, D'Haens G, Pinter T, Lim R, Bodoky G, Roh JK, Folprecht G, Ruff P, Stroh C, Tejpar S, Schlichting M, Nippgen J, Rougier P (2009a) Cetuximab and chemotherapy as initial treatment for metastatic colorectal cancer. N Engl J Med 360(14):1408–1417

Van Cutsem E, Labianca R, Bodoky G, Barone C, Aranda E, Nordlinger B, Topham C, Tabernero J, Andre T, Sobrero AF, Mini E, Greil R, Di Costanzo F, Collette L, Cisar L, Zhang X, Khayat D, Bokemeyer C, Roth AD, Cunningham D (2009b) Randomized phase III trial comparing biweekly infusional fluorouracil/leucovorin alone or with irinotecan in the adjuvant treatment of stage III colon cancer: PETACC-3. J Clin Oncol 27(19):3117–3125

Vanhoefer U (2003) Novel molecular approaches in the therapy of advanced colorectal carcinoma. Onkologie 26(Suppl 7): 70–74

Wehler TC, Graf C, Mohler M, Herzog J, Berger MR, Gockel I, Lang H, Theobald M, Galle PR, Schimanski CC (2013) Cetuximab-induced skin exanthema: prophylactic and reactive skin therapy are equally effective. J Cancer Res Clin Oncol 139(10):1667–1672
Acknowledgements
Merck KGaA provided a medical grant to the University Medicine Mainz to perform the trial, which is registered in the European Union Clinical Trials Register (EudraCT) under the Number 2010-019885-10.
Ethics declarations
Conflict of interest
Carl Christoph Schimanski is acting as an advisory board member for Merck KGaA. Carl Christoph Schimanski has previously received travel support and support for clinical studies from Merck KGaA. The remaining authors declare no conflicts of interest.
Research involving human participants
All procedures performed in studies involving human participants were in accordance with the ethical standards of the institutional and/or national research committee and with the 1964 Helsinki declaration and its later amendments or comparable ethical standards.
Informed consent
Informed consent was obtained from all individual participants included in the study.
Additional information
C. C. Schimanski and F. Staib contributed equally to the study.
About this article
Cite this article
Schimanski, C.C., Staib, F., Göhler, T. et al. Dermatux: phase IV trial of Cetuximab plus FOLFIRI in first-line metastatic colorectal cancer receiving a pre-defined skin care. J Cancer Res Clin Oncol 143, 1023–1034 (2017). https://doi.org/10.1007/s00432-017-2344-3
Received:

Accepted:

Published:

Issue Date:

DOI: https://doi.org/10.1007/s00432-017-2344-3
Keywords