Abstract
Purpose
To compare the renal function preservation between laparoscopic radio frequency ablation assisted tumor enucleation and laparoscopic partial nephrectomy.
Methods
Data were analyzed from 246 patients who underwent laparoscopic radio frequency ablation assisted tumor enucleation and laparoscopic partial nephrectomy for solitary cT1a renal cell carcinoma from January 2013 to July 2015. To reduce the intergroup difference, we used a 1:1 propensity matching analysis. The functional renal parenchyma volume preservation were measured preoperative and 12 months after surgery. The total renal function recovery and spilt GFR was compared. Multivariable logistic analysis was used for predictive factors for renal function decline.
Results
After 1:1 propensity matching, each group including 100 patients. Patients in the laparoscopic radio frequency ablation assisted tumor enucleation had a smaller decrease in estimate glomerular filtration rate at 1 day (−7.88 vs −20.01%, p < 0.001), 3 months (−2.31 vs −10.39%, p < 0.001), 6 months (−2.16 vs −7.99%, p = 0.015), 12 months (−3.26 vs −8.03%, p = 0.012) and latest test (−3.24 vs −8.02%, p = 0.040), also had better functional renal parenchyma volume preservation (89.19 vs 84.27%, p < 0.001), lower decrease of the spilt glomerular filtration rate (−9.41 vs −17.13%, p < 0.001) at 12 months. The functional renal parenchyma volume preservation, warm ischemia time and baseline renal function were the important independent factors in determining long-term functional recovery.
Conclusions
The laparoscopic radio frequency ablation assisted tumor enucleation technology has unique advantage and potential in preserving renal parenchyma without ischemia damage compared to conventional laparoscopic partial nephrectomy, and had a better outcome, thus we recommend this technique in selected T1a patients.
This is a preview of subscription content, log in to check access.
Access options
Buy single article
Instant access to the full article PDF.
US$ 39.95
Price includes VAT for USA
Subscribe to journal
Immediate online access to all issues from 2019. Subscription will auto renew annually.
US$ 199
This is the net price. Taxes to be calculated in checkout.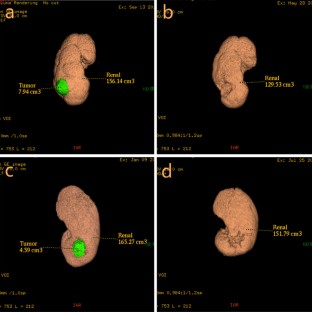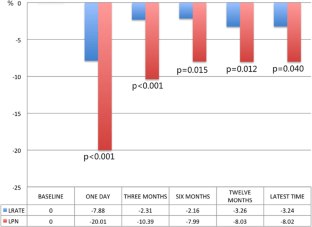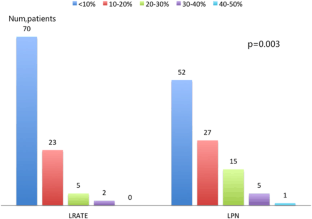 References
Campbell SC, Novick AC, Belldegrun A, Blute ML, Chow GK, Derweesh IH et al (2009) Guideline for management of the clinical T1 renal mass. J Urol 182(4):1271–1279

Gill IS, Aron M, Gervais DA, Jewett MA (2010) Clinical practice. Small renal mass. N Engl J Med 362(7):624–634

Gill IS, Eisenberg MS, Aron M, Berger A, Ukimura O, Patil MB et al (2011) "Zero ischemia" partial nephrectomy: novel laparoscopic and robotic technique. Eur Urol 59(1):128–134

Haber GP, Gill IS (2006) Laparoscopic partial nephrectomy: contemporary technique and outcomes. Eur Urol 49(4):660–665

Huang J, Zhang J, Wang Y, Kong W, Xue W, Liu D et al (2016) comparing zero ischemia laparoscopic radio frequency ablation assisted tumor enucleation and laparoscopic partial nephrectomy for clinical T1a renal tumor: a randomized clinical trial. J Urol 195(6):1677–1683

Hung AJ, Cai J, Simmons MN, Gill IS (2013) "Trifecta" in partial nephrectomy J Urol 189(1):36–42

Kopp RP, Mehrazin R, Palazzi K, Bazzi WM, Patterson AL, Derweesh IH (2012) Factors affecting renal function after open partial nephrectomy-a comparison of clampless and clamped warm ischemic technique. Urology 80(4):865–870

Kutikov A, Uzzo RG (2009) The R.E.N.A.L nephrometry score: a comprehensive standardized system for quantitating renal tumor size, location and depth. J Urol 182(3):844–853

Liu W, Zhu Y, Zhu X, Yang G, Xu Y, Tang L (2015) CT-based renal volume measurements: correlation with renal function in patients with renal tumours. Clin Radiol 70(12):1445–1450

Liu S, Lee S, Rashid P, Bangash H, Hamid A, Lau J et al (2016) Active surveillance is suitable for intermediate term follow-up of renal oncocytoma diagnosed by percutaneous core biopsy. BJU Int 118(Suppl 3):30–34

Matsuo S, Imai E, Horio M, Yasuda Y, Tomita K, Nitta K et al (2009) Revised equations for estimated GFR from serum creatinine in Japan. Am J Kidney Dis 53(6):982–992

Mir MC, Campbell RA, Sharma N, Remer EM, Simmons MN, Li J et al (2013) Parenchymal volume preservation and ischemia during partial nephrectomy: functional and volumetric analysis. Urology 82(2):263–268

Mir MC, Takagi T, Campbell RA, Sharma N, Remer EM, Li J et al (2014) Poorly functioning kidneys recover from ischemia after partial nephrectomy as well as strongly functioning kidneys. J Urol 192(3):665–670

Mir MC, Ercole C, Takagi T, Zhang Z, Velet L, Remer EM et al (2015) Decline in renal function after partial nephrectomy: etiology and prevention. J Urol 193(6):1889–1898

Porpiglia F, Fiori C, Bertolo R, Morra I, Russo R, Piccoli G et al (2012) Long-term functional evaluation of the treated kidney in a prospective series of patients who underwent laparoscopic partial nephrectomy for small renal tumors. Eur Urol 62(1):130–135

Shao P, Tang L, Li P, Xu Y, Qin C, Cao Q et al (2012) Precise segmental renal artery clamping under the guidance of dual-source computed tomography angiography during laparoscopic partial nephrectomy. Eur Urol 62(6):1001–1008

Simmons MN, Fergany AF, Campbell SC (2011) Effect of parenchymal volume preservation on kidney function after partial nephrectomy. J Urol 186(2):405–410

Venkatesan AM, Wood BJ, Gervais DA (2011) Percutaneous ablation in the kidney. Radiology 261(2):375–391

Zargar H, Atwell TD, Cadeddu JA, de la Rosette JJ, Janetschek G, Kaouk JH et al (2016) Cryoablation for small renal masses: selection criteria, complications, and functional and oncologic results. Eur Urol 69(1):116–128

Zhang Z, Zhao J, Dong W, Remer E, Li J, Demirjian S et al (2016) Acute Kidney injury after partial nephrectomy: role of parenchymal mass reduction and ischemia and impact on subsequent functional recovery. Eur Urol 69(4):745–752

Zhao X, Zhang S, Liu G, Ji C, Wang W, Chang X et al (2012) Zero ischemia laparoscopic radio frequency ablation assisted enucleation of renal cell carcinoma: experience with 42 patients. J Urol 188(4):1095–1101
Ethics declarations
Funding
This study was funded by by National Natural Science Foundation of China (Nos. 81472378, 91129725), Shanghai Committee of Science and Technology (13ZR1425100), and Shanghai Health System Advanced Technology Popularization Project (2013SY024).
Conflict of interest
No conflict of interest.
Ethical approval
All procedures performed in studies involving human participants were in accordance with ethical standards of the institutional and national research committee and with the 1964 Helsinki declaration and its later amendments or comparable ethical standards.
Informed consent
Informed consent was obtained from all individual participants included in the study.
Additional information
L. Zhu, G. Wu and J. Huang contributed fully and equally to this work.
About this article
Cite this article
Zhu, L., Wu, G., Huang, J. et al. Comparing renal function preservation after laparoscopic radio frequency ablation assisted tumor enucleation and laparoscopic partial nephrectomy for clinical T1a renal tumor: using a 3D parenchyma measurement system. J Cancer Res Clin Oncol 143, 905–912 (2017). https://doi.org/10.1007/s00432-017-2342-5
Received:

Accepted:

Published:

Issue Date:
Keywords
Renal tumor

Functional renal parenchymal

Ablation techniques

Three-dimensional volume measurement