Abstract
Purpose
To compare the disease-free survival (DFS) and overall survival (OS) rates of men and women undergoing treatment for breast cancer.
Methods
A retrospective cohort study of patients with breast cancer diagnosed and treated at the Cancer Hospital III of the National Cancer Institute of Brazil, Rio de Janeiro, Brazil, between 1999 and 2013. Male breast cancer cases were matched for age, year of diagnosis, and clinical staging to three female cases (1:3). Patient characteristics were abstracted from hospital records and medical charts. Cases were analyzed using descriptive statistics, and comparisons between the genders were performed using Kaplan–Meier curves and Cox regression analysis with 95% confidence intervals.
Results
The study population comprised 98 men and 294 women. There were significant differences (p < 0.05) between the genders for marital status, alcohol consumption, smoking, presence of hypertension and other comorbidities, histological type of tumor, expression of estrogen receptors, progesterone receptors, human epidermal growth factor receptor-type 2, type of breast surgery, neoadjuvant chemotherapy, adjuvant radiotherapy, and use of palliative bisphosphonate therapy. Five- and 10-year DFS rates were, respectively, 80.0 and 51.4% for men and 71.4 and 63.5% for women (p = 0.245), and 5- and 10-year OS rates were, respectively, 65.0 and 47.5% for men and 56.5 and 41.4% for women (p = 0.221).
Conclusion
There was no significant difference in prognosis (DFS and OS rates) between the genders, but significant differences in sociodemographic and clinical characteristics were detected between male and female breast cancer cases.
Access options
Buy single article
Instant access to the full article PDF.
US$ 39.95
Tax calculation will be finalised during checkout.
Subscribe to journal
Immediate online access to all issues from 2019. Subscription will auto renew annually.
US$ 119
Tax calculation will be finalised during checkout.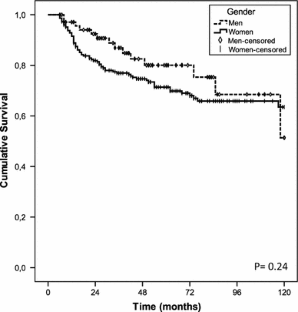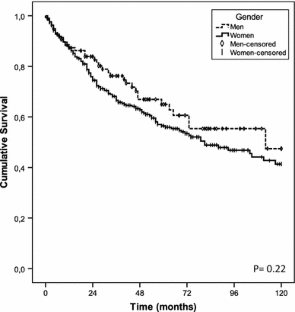 References
Abrahão KS, Bergmann A, Aguiar SS, Thuler LC (2015) Determinants of advanced stage presentation of breast cancer in 87,969 Brazilian women. Maturitas. doi:10.1016/j.maturitas.2015.07.021

Anderson WF, Jatoi I, TSE J, Rosemberg PS (2010) Male breast cancer: a population-based comparison with female breast cancer. J Clin Oncol 28:232–239

Baojiang L, Tingting L, Gang L, Li Z (2012) Male breast cancer: a retrospective study comparing survival with female breast cancer. Oncol lett 4:642–646

Bender P, Bergmann A, Costa CR, Thuler LCS (2014) Prognosis of male breast cancer: a systematic review of the literature. Br J Med Med Res 4:5179–5192

Borgen PI, Wong GY, Vlamis MSV et al (1992) Current management of male breast cancer: a review of 104 cases. Ann Surg 215:451–459

Chen X, Liu X, Zhang L et al (2013) Poorer survival of male breast cáncer compared with female breast cáncer patients may be due to biological differences. Jpn J Clin Oncol 43:954–963

Contractor KB, kaur K, Rodrigues GS et al (2008) Male breast cancer: is the scenario changing. World J Surg Oncol 16:58

Cutuli B, Lacroze M, Dilhuydy JM et al (1995) Male breast cancer: results of the treatments and prognostic factors in 397 cases. Eur J Cancer 31:1960–1964

Cutuli B, Le-Nir CC, Serin D et al (2010) Male breast cancer. Evolution of treatment and prognostic factors. Analysis of 489 cases. Crit Rev Oncol Hematol 73:246–254

Darkeh MHSE, Azevedo E (2014) Male breast cancer clinical features, risk factors, and current diagnostic and therapeutic approaches. Int J Clin Med 5:1068–1086

Dhiab TB, Bouzid T, Gamoudi A et al (2005) Male breast cancer: about 123 cases collected at the Institute Salah-Azaiz of Tunis from 1979 to 1999. Bull Cancer 92:281–285

Fentiman IS, Fourquet A, Hortobagyi GN (2006) Male breast cancer. Lancet 367:595–604

Foerster R, Foerster FG, Wulff V et al (2011) Matched-pair analysis of patients with female and male breast cancer: a comparative analysis. BMC Cancer 11:335

Fogh S, Hirsch AE, Langmead JP et al (2011) Use of tamoxifen with postsurgical irradiation may improve survival in estrogen and progesterone receptor-positive male breast cancer. Clin Breast Cancer 11:39–45

Giordano SH, Buzdar AU, Hortobagyi GN (2002) Breast cancer in men. Ann Intern Med 137:678–687

Giordano SH, Cohen DS, Buzdar AU et al (2004) Breast carcinoma in men: a population-based study. Cancer 01:51–57

Gnerlich JL, Deshpande AD, Jeffe DB, Seelam S, Kimbuende E (2011) Poorer survival outcomes for male breast cancer compared with female breast cancer may be attributable to in-stage migration. Ann Surg Oncol 18:1837–1844

Goss PE, Reid C, Pintilie M et al (1999) Male breast carcinoma: a review of 229 patients who presented to the Princess Margaret Hospital during 40 years: 1955–1996. Cancer 85:629–639

Greif JM, Pezzi CM, Klimberg VS, Bailey L, Zuraek M (2012) Gender differences in breast cancer: analysis of 13,000 breast cancers in men from the national cancer data base. Ann Surg Oncol 19:3199–3204

Hill TD, Khamis HJ, Tyczynki JE, Berkel HJ (2005) Comparison of male and female breast cancer incidence trends, tumor characteristics, and survival. Ann Epidemiol 15:773–780

Kamila C, Berqvist J, Hall P, Begh J (2007) How to treat male breast cancer. Breast 16:147–154

Korde LA, Zujewski JA, Kamin L et al (2010) Multidisciplinary meeting on male breast cancer: summary and research recommendations. J Clin Oncol 28:2114–2122

Liukkonen S, Saarto T, Maenpaa H, Sjostrom-Mattson J (2010) Male breast cancer: a survey at the Helsinki University Central Hospital during 1981–2006. Acta Oncol 49:322–327

Marchal F, Salou M, Marchal C et al (2009) Men with breast cancer have same disease-specific and event-free survival as women. Ann Surg Oncol 16:972–978

Müller AC, Gani C, Rehm ME et al (2012) Are there biologic differences between male and female breast cancer explaining inferior outcome of men despite equal stage and treatment?! Strahlenther Onkol 188:782–787

Nahleh ZA, Srikantiah R, Safa M et al (2007) Male breast cancer in the veterans affairs population. Cancer 109:471–1477

Ottini L, Palli D, Rizzo S et al (2010) Male breast cancer. Crit Rev Oncol Hematol 73:141–155

Ruddy KJ, Winer EP (2013) Male breast cancer: risk factors, biology, diagnosis, treatment, and survivorship. Ann Oncol 24:1434–1443

Selcukbiricik F, Tural D, Aydogan F, Bese N et al (2013) Male breast cancer: 37 year data study at a single experience center in Turkey. J breast cancer 16:60–65

Thalib L, Hall P (2009) Survival of male breast cancer patients: population-based cohort study. Cancer Sci 100:292–295

Thuler LC, Bergmann A (2015) Male breast cancer: clinical-epidemiological characteristics of 1189 Brazilian patients. Aging Male 18:118–123

Weiss JR, Kb Moysich, Swede H (2005) Epidemiology of male breast cancer. Cancer Epidemiol Biomark Prev 14:20–26

Willsher PC, Leach IH, Ellis IO et al (1997) A comparison outcome of male breast cancer with female breast cancer. Am J Surg 173:185–188

Xia LG, Zhou FF, Guo GF et al (2010) Chinese female breast cancer patients show a better overall survival than their male counterparts. Chin Med J 123:2347–2352

Zhou FF, Xia LP, Guo GF et al (2010) Changes in therapeutic strategies in Chinese male patients with breast cancer: 40 years of experience in a single institute. The Breast 19:450–455
Ethics declarations
Conflict of interest
The authors declare that they have no conflict of interest.
Ethical approval
All procedures performed in studies involving human participants were in accordance with the ethical standards of the institutional and national research committee and with the 1964 Helsinki Declaration and its later amendments or comparable ethical standards. The study was approved by the Committee of Ethics in Research of the National Cancer Institute of Brazil (INCA) on July 19, 2013, under Protocol Number CAAE 12107913.5274.
About this article
Cite this article
Bender, P.F.M., de Oliveira, L.L., Costa, C.R. et al. Men and women show similar survival rates after breast cancer. J Cancer Res Clin Oncol 143, 563–571 (2017). https://doi.org/10.1007/s00432-016-2311-4
Received:

Accepted:

Published:

Issue Date:
Keywords
Male breast cancer

Overall survival

Disease-free survival

Prognosis