Abstract
Background
With growing complexity of diagnostics and therapy, as well as increasing involvement of patients in the decision-making process, there is more and more demand for second opinions in oncology. This literature review aims at analyzing the benefits and risks involved, as well as the tools needed to establish a structured program for second opinion within a modern healthcare system.
Methods
A systematic literature search was performed using MEDLINE and Embase and the databases SocINDEX, ERIC and CINAHL. Thirteen articles met the inclusion criteria and offered a relevant insight into the topic of second opinions.
Results
Depending on the study, between 6.5 and 36 % of patients search for a second opinion, due to a variety of reasons. Changes in diagnosis, treatment recommendations or prognosis as a result of the second opinion occurred in 12–69 % of cases. In 43–82 % of cases, the original diagnosis or treatment was verified. Patient satisfaction was high, and the second opinion was deemed as helpful and reassuring in most cases. Yet, data on patient-relevant outcomes or on the quality of the second opinion are missing.
Conclusion
In general, outcome data on second opinion are divergent and scarce. Yet, with patients' demand for second opinion and influence of second opinion on treatment decisions, a structured, high quality and transparent second-opinion program seems mandatory. Such a program may support patient–physician communication and improve the flow of information, as well as decision-making. Its evaluation should be independent from the provider of the second opinion.
This is a preview of subscription content,
to check access.
Access this article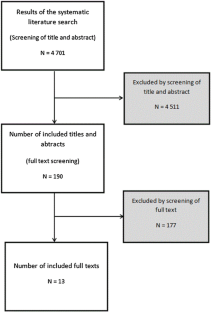 References
Clauson J, Hsieh YC, Acharya S, Rademaker AW, Morrow M (2002) Results of the Lynn Sage Second-Opinion Program for local therapy in patients with breast carcinoma: changes in management and determinants of where care is delivered. Cancer 94:889–894

Denberg TD, Melhado TV, Steiner JF (2009) Patient treatment preferences in localized prostate carcinoma: the influence of emotion, misconception, and anecdote. Cancer 107:620–630

Effective Practice and Organisation of Care (EPOC) (2013) What study designs should be included in an EPOC review? EPOC resources for review authors. http://epoc.cochrane.org/epoc-specific-resources-review-authors. Accessed 27 Nov 2015

Feldman-Stewart D, Brennenstuhl S, Brundage MD, Siemens DR (2009) Overall information needs of early-stage prostate cancer patients over a decade: highly variable and remarkably stable. Support Care Cancer 17:429–435

Heimpel H, Hess CF, Hohenberger W, Nagel GA, Schaefer HE (1999) Second opinion in cancer medicine. Onkologie 22:246–250

Husson O, Mols F, van de Poll-Franse LV (2011) The relation between information provision and health-related quality of life, anxiety and depression among cancer survivors: a systematic review. Ann Oncol 22:761–772

International Agency for Research on Cancer (IARC), World Health Organization (WHO) (2015) GLOBOCAN 2012: Estimated Cancer Incidence, Mortality and Prevalence Worldwide in 2012. http://globocan.iarc.fr/Default.aspx. Accessed 19 June 2015

Keinki C, Seilacher E, Ebel M, Ruetters D, Kessler I, Stellamanns J, Rudolph I, Huebner J (2015) Information needs of cancer patients and perception of impact of the disease, of self-efficacy and locus of control. J Cancer Educ. doi:10.1007/s13187-015-0860-x

Lund M, Bramley AM, Iyengar RG, Petersen J, Wood WC, Gabram SS (2009) Factors that influence seeking second opinions, patient satisfaction, and education in breast cancer care: an internet-based study. Cancer Res 69:3107–3110. doi:10.1158/0008-5472.SABCS-3107

Malfait TLA, Surmont VF, Hiddinga BI, Vermaelen KY, Van Meerbeeck JP (2013) Second opinion for thoracic cancer and its impact on diagnosis and treatment strategy: a single institutional series. J Thorac Oncol 8:S1315

Mellink WA, Dulmen AM, Wiggers T, Spreeuwenberg PM, Eggermont AM, Bensing JM (2003) Cancer patients seeking a second surgical opinion: results of a study on motives, needs and expectations. J Clin Oncol 21:1492–1497

Mellink WAM, Henzen-Logmans SC, Bongaerts AHH, Ooijen BV, Rodenburg CJ, Wiggers T (2006) Discrepancy between second and first opinion in surgical oncological patients. Eur J Surg Oncol 32:108–112

Mistry A, Wilson S, Priestman T, Damery S, Haque M (2010) How do the information needs of cancer patients differ at different stages of the cancer journey? A cross-sectional survey. J Royal Soc Med Short Rep 1:30

Morrow M, Jagsi R, Alderman AK, Griggs JJ, Hawley ST, Hamilton AS, Graff JJ, Katz SJ (2009) Surgeon recommendations and receipt of mastectomy for treatment of breast cancer. J Am Med Assoc 302:1551–1556

Nagler RH, Gray SW, Romantan A, Kelly BJ, DeMichele A, Armstrong K, Schwartz JS, Hornik RC (2010) Differences in information seeking among breast, prostate, and colorectal cancer patients: results from a population-based survey. Patient Educ Couns 81:S54–S62

Payne VL, Singh H, Meyer AND, Levy L, Harrison D, Graber ML (2014) Patient-initiated second opinions: systematic review of characteristics and impact on diagnosis, treatment, and satisfaction. Mayo Clin Proc 89:687–696

Philip J, Gold M, Schwarz M, Komesaroff P (2010) Second medical opinions: the views of oncology patients and their physicians. Support Care Cancer 18:1199–1205

Philip J, Gold M, Schwarz M, Komesaroff P (2011) An exploration of the dynamics and influences upon second medical opinion consultations in cancer care. Asia Pac J Clin Oncol 7:41–46

Ramsey SD, Zeliadt SB, Fedorenko CR, Blough DK, Moinpour CM, Hall IJ et al (2011) Patient preferences and urologist recommendations among local-stage prostate cancer patients who present for initial consultation and second opinions. World J Urol 29:3–9

Robert Koch Institut (RKI), Gesellschaft der epidemiologischen Krebsregister in Deutschland (2013) Krebs in Deutschland 2009/2010, 9th edn. RKI, Berlin

Rudolph I, Seilacher E, Koester MJ, Stellamanns J, Liebl P, Zell J, Ludwig S, Beck V, Huebner J (2015) Survey on information needs of cancer patients and their relatives in Germany. Dtsch Med Wochenschr 140:e43–e47

Schmidmaier R (2006) Die Zweitmeinung in der Onkologie. Kein Misstrauen, sondern wichtige Orientierungshilfe. MMW Fortschr Med 148:31–33

Schook RM, Avest MJ, Ter Setten CH, Van Smit EF, Postmus PE (2011) Second opinions in an expert center for lung cancer patients affect diagnosis and therapy. J Thorac Oncol 6:S472–S473

Tam KF, Cheng DKL, Ng TY, Ngan HYS (2005) The behaviors of seeking a second opinion from other health-care professionals and the utilization of complementary and alternative medicine in gynecologic cancer patients. Support Care Cancer 13:679–684

Tattersall MHN, Dear RF, Jansen J, Shepherd HL, Devine RJ, Horvath LG, Boyer MJ (2009) Second opinions in oncology: the experiences of patients attending the Sydney Cancer Centre. Med J Aust 191:209–212

Zengerling F, Hartmann M, Heidenreich A, Krege S, Albers P, Karl A et al (2014) German second-opinion network for testicular cancer: sealing the leaky pipe between evidence and clinical practice. Oncol Rep 31:2477–2481

Zysman M, Clement-Duchene C, Nguyen-Thi PL, Carnin C, Martinet Y (2014) Evaluation of requests for a second medical opinion by patients with lung cancer. Rev Mal Respir 31:412–420
Acknowledgments
There was no funding for our review.
Ethics declarations
Conflict of interest
The authors declare that they have no conflict of interest.
Ethical approval
This article does not contain any studies with human participants or animals performed by any of the authors.
About this article
Cite this article
Ruetters, D., Keinki, C., Schroth, S. et al. Is there evidence for a better health care for cancer patients after a second opinion? A systematic review. J Cancer Res Clin Oncol 142, 1521–1528 (2016). https://doi.org/10.1007/s00432-015-2099-7
Received:

Accepted:

Published:

Issue Date:

DOI: https://doi.org/10.1007/s00432-015-2099-7
Keywords