Abstract
Purpose
Many cancer patients use complementary and alternative medicine (CAM). However, data in hematological cancers are lacking on which types of CAM are being used, what information sources on CAM patients use and to what extent CAM is being addressed in the consultation with the hematologist.
Methods
We developed a standardized questionnaire on CAM which was provided online to the representatives of the worldwide Chronic Myeloid Leukemia Advocates Network.
Results
A total of 53 leaders of patients' advocacy groups for chronic myeloid leukemia (CML) patients from 35 countries responded to the survey. In almost all countries, CAM is important for CML patients and is widely used in addition to conventional leukemia treatment. Mostly, patients have to pay by themselves. General practitioners, herbalists, healers and naturopaths are the main sources for CAM treatments. Information on CAM is derived most frequently from the Internet, and family and friends, but rarely provided by the oncologist. Disclosure of CAM use to the oncologist is low, but increases if oncologists offer CAM.
Conclusions
In spite of very different health care systems, the features of CAM usage are similar in the different countries. We suggest extending the cooperation of self-help and scientists in order to provide training of oncologists on CAM and quality-controlled, evidence-based information on CAM on the Internet both for patients as well as health professionals as a promising strategy to increase safe use of CAM in patients with CML.
Access options
Buy single article
Instant access to the full article PDF.
USD 39.95
Price excludes VAT (USA)
Tax calculation will be finalised during checkout.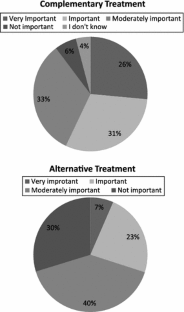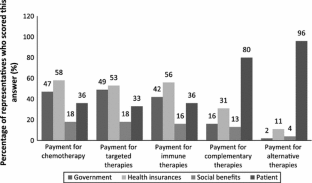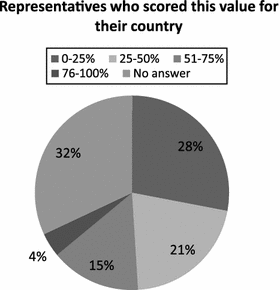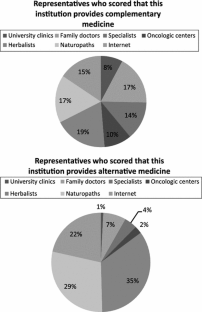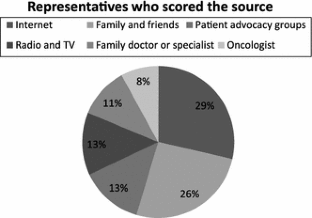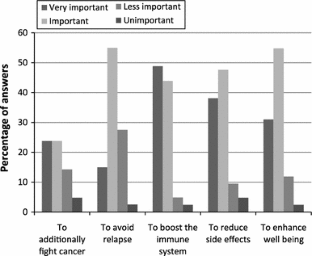 References
American Cancer Society (2013) http://www.cancer.org/treatment/treatmentsandsideeffects/complementaryandalternativemedicine/guidelines-for-using-complementary-and-alternative-methods; Assessed 26.02.2013

Broom A, Tovey P (2008) The role of the Internet in cancer patients' engagement with complementary and alternative treatments. Health (London) 12(2):139–155

Cassileth BR (2012) Alternative therapies: learning from patients who choose them. Oncologist 17(5):590–591

Dy GK, Bekele L, Hanson LJ, Furth A, Mandrekar S, Sloan JA et al (2000) Complementary and alternative medicine use by patients enrolled onto phase I clinical trials. J Clin Oncol 22(23):4810–4815

Eng J, Ramsum D, Verhoef M, Guns E, Davison J, Gallagher R (2003) A population-based survey of complementary and alternative medicine use in men recently diagnosed with prostate cancer. Integr Cancer Ther 2:212–216

Eschiti VS (2007) Lesson from comparison of CAM use by women with female-specific cancers to others: it's time to focus on interaction risks with CAM therapies. Integr Cancer Ther 6(4):313–344

Eysenbach G (2003) The impact of the Internet on cancer outcomes. CA Cancer J Clin 53(6):356–371

Hann D, Allen S, Ciambrone D, Shah A (2006) Use of complementary therapies during chemotherapy: influence of patients'satisfaction with treatment decision making and the treating oncologist. Integr Cancer Ther 5(3):224–231

Heaney ML (2008) Vitamin C antagonizes the cytotoxic effects of antineoplastic drugs. Cancer Res 68(19):8031–8038

Hlubocky FJ, Ratain MJ, Wen M, Daugherty CK (2007) Complementary and alternative medicine among advanced cancer patients enrolled on phase I trials: a study of prognosis, quality of life and preferences for decision making. J Clin Oncol 25:548–554

Horneber M, Bueschel G, Dennert G, Less D, Ritter E, Zwahlen M (2011) How many cancer patients use complementary and alternative medicine: a systematic review and metaanalysis. Integr Cancer Ther. PMID: 22019489

Kakai H, Maskarinec G, Shumay DM, Tatsumura Y, Tasaki K (2003) Ethnic differences in choices of health information by cancer patients using complementary and alternative medicine: an exploratory study with correspondence analysis.". Soc Sci Med 56(4):851–862

Maddock C, Lewis I, Ahmad K, Sullivan R (2011) Online information needs of cancer patients and their organizations. Ecancer 5:235. doi:10.3332/ecancer.2011.235

Maskarinec G, Shumay DM, Kakai H, Gotay CC (2000) Ethnic differences in complementary and alternative medicine use among cancer patients. J Altern Complement Med 6(6):531–538

Matthews SC, Camacho A, Mills PJ, Dimsdale JE (2003) The internet for medical information about cancer: help or hindrance? Psychosomatics 44(2):100–103

Micke O, Bruns F, Glatzel M, Schönekaes K, Micke P, Mücke R et al (2009) Predictive factors for the use of complementary and alternative medicine (CAM) in radiation oncology. Eur J Integr Med 1:22–30

Micke O, Buntzel J, Kisters K, Schafer U, Micke P, Mucke R (2010) Complementary and alternative medicine in lung cancer patients: a neglected phenomenon? Front Radiat Ther Oncol 42:198–205

Miller PE, Vasey JJ, Short PF, Hartman TJ (2009) Dietary supplement use in adult cancer survivors. Oncol Nurs Forum 36:61–68

Molassiotis A, Fernadez-Ortega P, Pud D, Ozden G, Scott JA, Panteli V et al (2005a) Use of complementary and alternative medicine in cancer patients: a European survey. Ann Oncol 16:655–663

Molassiotis A, Margulies A, Fernandez-Ortega P, Pud D, Panteli V, Bruyns I (2005b) Complementary and alternative medicine use in patients with haematological malignancies in Europe. Complement Ther Clin Pract 11(2):105–110

Naing A, Stephen SK, Frenkel M, Chandhasin C, Hong DS, Lei X et al (2011) Prevalence of complementary medicine use in a phase 1 clinical trials program: the MD anderson cancer center experience. Cancer 117(22):5142–5150

NCCAM (2013) http://nccam.nih.gov/about; Assessed 26.02.2013

Puissant A (2008) Imatinib mesylate-resistant human chronic myelogenous leukemia cell lines exhibit high sensitivity to the phytoalexin resveratrol. FASEB J 22(6):1894–1904

Rausch SM, Winegardner F, Kruk KM, Phatak V, Wahner-Roedler DL, Bauer B, Vincent A (2011) Complementary and alternative medicine: use and disclosure in radiation oncology community practice. Support Care Cancer 19(4):521–529

Robinson A, McGrail MR (2004) Disclosure of CAM use to medical practitioners: a review of qualitative and quantitative studies. Complement Ther Med 12(2-3):90–98

Saxe GA, Madlensky L, Kealey S, Wu DP, Freeman KL, Pierce JP (2008) Disclosure to physicians of CAM use by breast cancer patients: findings from the women's healthy eating and living study. Integr Cancer Ther 7(3):122–127

Shatzer AN, Espey MG, Chavez M, Tu H, Levine M, Cohen JI (2012) Ascorbic acid kills epstein-barr virus positive burkitt lymphoma cells and epstein-barr virus transformed B-cells in vitro, but not in vivo. Leuk Lymphoma. (Epub ahead of print)

Verhoef MJ, Trojan L, Armitage GD, Carlson L, Hilsden RJ (2009) Complementary therapies for cancer patients: assessing information use and needs. Chronic Dis Can 29:80–88

Zeller T, Muenstedt K, Stoll C, Schweder J, Senf B, Ruckhaeberle E et al (2012) Potential interactions of complementary and alternative medicine with cancer therapy in outpatients with gynecological cancer in a comprehensive cancer center 139:357–365. doi:10.1007/s00432-012-1336-6
Acknowledgments
We want to express our thanks to all patient advocates worldwide who supported this study.
Conflict of interest
The authors declare no conflict of interest.
Additional information
This study was conducted on behalf of working group Prevention and Integrative Oncology of the German Cancer Society.
Electronic supplementary material
Below is the link to the electronic supplementary material.
About this article
Cite this article
Elsner, T., Muecke, R., Micke, O. et al. Survey on the worldwide Chronic Myeloid Leukemia Advocates Network regarding complementary and alternative medicine. J Cancer Res Clin Oncol 139, 1025–1031 (2013). https://doi.org/10.1007/s00432-013-1414-4
Received:

Accepted:

Published:

Issue Date:

DOI: https://doi.org/10.1007/s00432-013-1414-4
Keywords
Patient advocacy

Complementary and alternative medicine

Patient information

Chronic myeloid leukemia

Risks and benefits