Abstract
Object
The aim of this study was to answer whether overall survival and progression-free survival are increased in patients with anaplastic glioma who are treated with radiotherapy plus chemotherapy as compared with those who treated with radiotherapy alone.
Methods
Searches of the MEDLINE (PubMed), Embase and Cochrane Library from January 2001 to May 2012 for relevant trials were undertaken. Selected studies based on the following criteria: First, only randomized clinical trial of adjuvant radiotherapy plus chemotherapy versus radiotherapy alone was permitted. Second, overall survival and/or progression-free survival was compared with patients in the studies. Third, cases were medically confirmed of anaplastic glioma.
Results
4 randomized clinical trials were found eligible for this article (involving a total of 963 patients). The meta-analysis showed a significant increase in overall survival in patients treated with radiotherapy plus chemotherapy (HR = 0.84, 95 % CI 0.72–0.98, P = 0.031).
Conclusions
Results of our meta-analysis indicated that adjuvant chemotherapy played a beneficial role in the treatment for anaplastic gliomas. But the role of adjuvant chemotherapy in the treatment for anaplastic astrocytoma or anaplastic oligodendroglioma/anaplastic oligoastrocytoma still needs further large randomized trials to demonstrate.
Access options
Buy single article
Instant access to the full article PDF.
USD 39.95
Price excludes VAT (USA)
Tax calculation will be finalised during checkout.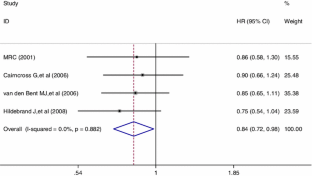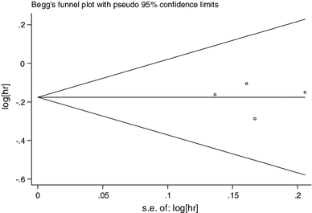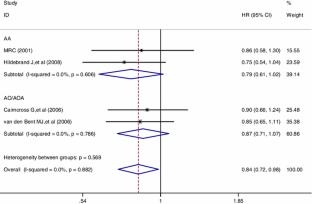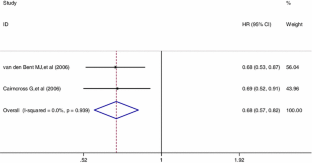 References
Abraham T, Nicolas F, Christos AV et al (2010) Biopsy versus resection in the management of malignant gliomas: a systematic review and meta-analysis. J Neurosurg 112:1020–1032

Athanassiou H, Synodinou M, Maragoudakis E et al (2005) Randomized phase II study of temozolomide and radiotherapy compared with radiotherapy alone in newly diagnosed glioblastoma multiforme. J Clin Oncol 23:2372–2377

Cairncross JG, Berkey B, Shaw E et al (2006) Phase III trial of chemotherapy plus radiotherapy (RT) versus RT alone for pure and mixed anaplastic oligodendroglioma (RTOG 9402): an intergroup trial by the RTOG, NCCTG, SWOG, NCI CTG and ECOG. J Clin Oncol 24:2707–2714

Cochran WG (1954) The combination of estimates from different experiments. Biometrics (10)1:101–129

Combs SE, Nagy M, Edler L et al (2008) Comparative evaluation of radiochemotherapy with temozolomide versus standard-of-care postoperative radiation alone in patients with WHO grade III astrocytic tumors. Radiother Oncol 88:177–182

Glioma Meta-analysis Trialists (GMT) Group (2002) Chemotherapy in adult high-grade glioma: a systematic review and meta-analysis of individual patient data from 12 randomised trials. Lancet 359:1011–1017

Higgins JPT, Thompson SG, Deeks JJ et al (2003) Measuring inconsistency in meta-analysis. BMJ 327(7414):557–560

Hildebrand J, Gorlia T, Kros JM et al (2008) Adjuvant dibromodulcitol and BCNU chemotherapy in anaplastic astrocytoma: results of a randomised European Organisation for Research and Treatment of Cancer phase III study (EORTC study 26882). Eur J Cancer 44:1210–1216

Medical Research Council Brain tumor Working Party (2001) Randomized trial of procarbazine, lomustine and vincristine in the adjuvant treatment of high-grade astrocytoma. J Clin Oncol 19:509–518

Meihua W, Cairncross JG, Edward S et al (2010) Cognition and quality of life after chemotherapy plus radiotherapy (RT) vs. RT for pure and mixed anaplastic oligodendrogliomas: Radiation Therapy Oncology Group Trial 9402. Int J Radiat Oncol Biol Phys 77(3):662–669

Park CK, Lee SH, Han JH et al (2009) Recursive partitioning analysis of prognostic factors in WHO grade III glioma patients treated with radiotherapy or radiotherapy plus chemotherapy. BMC Cancer 9:450–456

Silvia S, Stefano MM, Umberto R et al (2012) Radiotherapy and temozolomide in anaplastic astrocytoma: a retrospective muticencer study by the Central Nervous System Study Group of AIRO (Italian Association of Radiation Oncology). NeuroOncol 14(6):798–807

Stupp R, Mason WP, van den Bent MJ et al (2005) Radiotherapy plus concomitant and adjuvant temozolomide for glioblastoma. N Engl J Med 352:987–996

US National Institutes of Health ClinicalTrials.gov [online]. http://www.clinicaltrials.gov/ct2/show/NCT00004259 (2012)

US National Institutes of Health ClinicalTrials.gov [online]. http://www.clinicaltrials.gov/ct2/show/NCT00626990 (2011)

van den Bent MJ, Carpentier AF, Brandes AA et al (2006) Adjuvant PCV improves progression free survival but not overall survival in newly diagnosed anaplastic oligodendrogliomas and oligoastrocytomas: a randomized EORTC phase III trial. J Clin Oncol 24:2715–2722

Wolfgang W, Christian H, Corinna E et al (2009) NOA-04 randomized phase III trial of sequential radiochemotherapy of anaplastic glioma with procarbazine, lomustine, and vincristine or temozolomide. J Clin Oncol 27:5874–5880
Conflict of interest
We declared that there is no conflict of interest in this article.
Additional information
Lei Zhang and Xiaojun Wu contributed equally to the work.
About this article
Cite this article
Zhang, L., Wu, X., Xu, T. et al. Chemotherapy plus radiotherapy versus radiotherapy alone in patients with anaplastic glioma: a systematic review and meta-analysis. J Cancer Res Clin Oncol 139, 719–726 (2013). https://doi.org/10.1007/s00432-013-1387-3
Received:

Accepted:

Published:

Issue Date:

DOI: https://doi.org/10.1007/s00432-013-1387-3
Keywords
Chemotherapy

Radiotherapy

Meta-analysis

Overall survival

Anaplastic glioma