Abstract
Introduction
The transcription factors NF-kB, HIF-1 and vascular endothelial growth factors (VEGF) are known to play an important role in pathogenesis of squamous cell carcinoma of head and neck (SCCHN).
Purpose
The aim of the study was to determine the NF-kB, HIF-1 and VEGF, expression their characteristics in squamous cell carcinoma of head and neck.
Methods
Transcription factors and VEGF expression were measured by ELISA kits. Proteasome and calpain activity were determined using specific fluorogenic substrate. Proteasome subunits composition was measured by Western blot analysis.
Results
In the present study, we revealed the connection between SCCHN lymphogenous metastasis development and NF-kB p50 expression. An increase in total, 26S and 20S proteasome activities and calpain activity was observed in cancer tissues in comparison with agreed standard (non-transformed tissue). The dynamics of changes in proteasome activity and proteasome subunits content during lymph nodes metastasis development had a complex pattern. Nonparametric analysis of variance showed the connection between the extent of metastatic affection of regional lymph nodes, total proteasome activity and LMP2 expression. Proteasome and calpain systems corresponded and interacted with each other. We also revealed a positive correlation between the NF-kB p65 and p50 expression and proteasome activity.
Conclusion
Taken together, our results suggest that above mentioned transcription factors and intracellular proteolytic systems are involved in SCCHN progression and metastasis. Moreover, the opportunity of transcription factors regulation by proteasome takes place in oncogenesis of SCCHN. The results provide a basis for new prognostic tests and development of novel targeted therapy.
Access options
Buy single article
Instant access to the full article PDF.
US$ 39.95
Tax calculation will be finalised during checkout.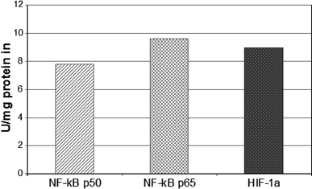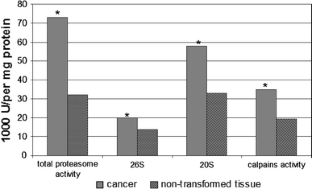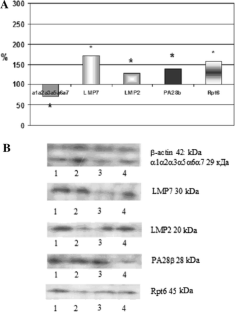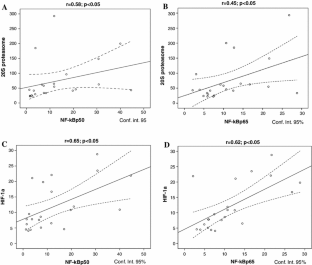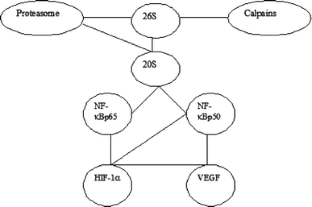 References
Abramova EB, Astakhova TM, Erokhov PA, Sharova NP (2004) Multiple forms of the proteasomes and some approaches to their separation. Izv Akad Nauk Ser Biol 2:150–156

Almond JB, Cohen GM (2002) The proteasome: a novel target for cancer chemotherapy. Leukemia 16(4):433–443

An J, Rettig MB (2005) Mechanism of von Hippel-Lindau protein-mediated suppression of nuclear factor kappa B activity. Mol Cell Biol 25:7546–7556

An J, Rettig MB (2007) Epidermal growth factor receptor inhibition sensitizes renal cell carcinoma cells to the cytotoxic effects of bortezomib. Mol Cancer Ther 6(1):61–69

Arlt A, Bauer I, Shagmayer C, Telep J et al (2009) Increased proteasome subunit protein expression and proteasome activity in colon cancer relate to an enhanced activation of nuclear factor E2-related factor 2 (Nrf2). Oncogene 28(45):3983–3996

Baldwin AS (1996) The NF-kappa B and I-kappa B proteins: new discoveries and insights. Annu Rev Immunol 14:649–683

Ben-Shahar S, Komlosh A, Nadav E et al (1999) 26S proteasome-mediated production of an authentic major histocompatibility class I-restricted epitope from an intact protein substrate. The J of Biol Chem 274(31):21963–21972

Chen C, Seth AK, Aplin AE (2006) Genetic and expression aberrations of E3 ubiquitin ligases in human breast cancer. Mol Cancer Res 4:695–707

Chen Z, Rickel JL, Malhotra PS, Nottingham L, Bagain L, Lee TL, Yen NT, Van Waes C (2008) Differential bortezomib sensitivity in head and neck cancer lines corresponds to proteasome, nuclear factor-kappaB and activator protein-1 related mechanisms. Mol Cancer Ther 7(7):1949–1960

Conner JR, Smirnova II, Moseman AP, Poltorak A (2010) IRAK1BP1 inhibits inflammation by promoting nuclear translocation of NF-kappaB p50. Proc Natl Acad Sci USA 107(25):11477–11482

Goldberg AL (2007) Functions of the proteasome: from protein degradation and immune surveillance to cancer therapy. Biochem Soc Trans 35:12–17

Goll DE, Thompson VF, Li H, Wei W, Cong J (2003) The calpain system. Physiol Rev 83:731–801

Hensley SE, Zanker D, Dolan BP, David A, Hickman HD, Embry AC, Skon CN, Grebe KM, Griffin TA, Chen W, Bennik JR, Yewdell JW (2010) Unexpected role for the immunoproteasome subunit LMP2 in antiviral humoral and innate immune responses. J Immunol 184(8):4115–4122

Jiang LZ, Wang P, Deng B, Huang C, Tang WX, Lu HY, Chen HY (2011) Overexpression of forkhead box M1 transcription factor and nuclear factor-kB in laryngeal squamous cell carcinoma: a potential indicator for poor prognosis. Hum Pathol 42(8):1185–1193

Juvekar A, Manna S, Ramaswami S, Chang TP, Vu HY, Ghosh CC, Celiker MY, Vancurova I (2011) Bortezomib induces nuclear translocation of IkBα resulting in gene-specific suppression of NF-kB-dependent transcription and induction of apoptosis in CTCL. Mol Cancer Res 9(2):183–194

Kelvin JAD, Reshma S (2006) Preferential degradation of oxidized proteins by the 20S proteasome may be inhibited in aging and in inflammatory neuromuscular diseases. Neurology 66:93–96

Klatte T, Seligson DB, Riggs SB, Leppert JT, Berkman MK (2007) Hypoxia-inducible factor 1 alpha in clear cell renal cell carcinoma. Clin Cancer Res 13:7388–7393

Kostadinova RM, Nawrocki AR, Frey FJ, Frey BM (2005) Tumor necrosis factor alpha and phorbol 12-myristate-13-acetate down-regulate human 11beta-hydroxysteroid dehydrogenase type 2 through p50/p50 NF-kappaB homodimers and Egr-1. FASEB J 19(6):650–652

Laemmi UK (1970) Cleavage of structural proteins during the assembly of the head of bacteriophage T4. Nature (Lond) 227:680–685

Li C, Li R, Grandis JR, Johnson DE (2008) Bortezomib induces apoptosis via Bim and Bik up-regulation and synergizes with cisplatin in the killing of head and neck squamous cell carcinoma cells. Mol Cancer Ther 7(6):1647–1655

Li C, Chen S, Yue P, Deng X, Lonial S, Khuri FR, Sun SY (2010) Proteasome inhibitor PS-341 (bortezomib) induces calpain-dependent IkappaB(alpha) degradation. J Biol Chem 285(21):16096–16104

Liang X, Yang D, Hu J, Hao X, Gao J, Mao Z (2008) Hypoxia inducible factor-1alpha expression correlates with vascular endothelial growth factor-C expression and lymphangiogenesis/angiogenesis in oral squamous cell carcinoma. Anticancer Res 28:1659–1666

Linder C, Linder S, Munck-Wikland E, Auer G, Aspenblad U (1998) Evaluation of tissue and serum VEGF in patients with head and neck carcinoma. Angiogenesis 2:365–372

Marui N, Medford RM, Ahmad M (2005) Activation of RelA homodimers by tumor necrosis factor alpha: a possible transcriptional activator in human vascular endothelial cells. Biochem J 390:317–324

Molitoris KH, Kazi AA, Koos RD (2009) Inhibition of oxygen-induced hypoxia-inducible factor-1alpha degradation unmasks estradiol induction of vascular endothelial growth factor expression in ECC-1 cancer cells in vitro. Endocrinology 150(12):5405–5414

Moorty AK, Savinova OV, Ho JQ, Wang VY, Vu D, Ghosh G (2006) The 20S proteasome processes NF-kappaB1 p105 into p50 in a translation-independent manner. EMBO J 25(9):1945–1956

Reichart J, Welter C, Mitschele T, Classen U, Meineke V, Seifert M (2003) Different expression patterns of calpain isozymes 1 and 2 (CAPN1 and 2) in squamous cell carcinomas (SCC) and basal cell carcinomas (BCC) of human skin. J Pathol 199(4):509–516

Ridge JA, Glisson BS., Lango MN, Feigenberg S (2011) Head and neck tumors cancer management, 14th edn. http://cancernetwork.com/cancer-management/head-and-neck/article/10165/1802498 Accessed 2 November 2011

Sandmann S, Prenzel F, Shaw L, Schauer R, Unger T (2002) Activity profile of calpains I and II in chronically infarcted rat myocardium–influence of the calpain inhibitor CAL 9961. Br J Pharmacol 135(8):1951–1958

Smith IJ, Dodd SL (2007) Calpain activation causes a proteasome dependent increase in protein degradation and inhibits the Akt signaling pathway in rat diaphragm muscle. Exp Physiol 92(3):561–573

Sorimachi H, Hata S, Ono Y (2011) Calpain chronicle—an enzyme family under multidisciplinary characterization. Proc Jpn Acad Ser B Phys Biol Sci 87:287–327

Sorokin AV, Kim ER, Ovchinnikov LP (2009) Proteasome system of protein degradation and processing. Biochemistry (Mosc) 74(13):1411–1442

Spirina LV, Kondakova IV, Choinzonov EL, Sharova NP, Chigevskaya SY, Shishkin DA (2010) Activity and subunit composition of proteasomes in head and cervical squamous cell carcinomas. Bull Exp Biol Med 149(1):82–85

Spirina LV, Yunusova NV, Kondakova IV, Kolomiets LA, Koval VD, Chernyshova AL, Shpileva OV (2012a) Association of growth factors, HIF-1 and NF-kB expression with proteasomes in endometrial cancer. Mol Biol Rep 39(9):8655–8662

Spirina LV, Bochkareva NV, Kondakova IV, Kolomiets LA, Shashova EE, Koval VD, Chernyshova AL, Asadchikova ON (2012b) Regulation of insulin-like growth NF-kappa B proteasome system in endometrial cancer. Mol Biol (Mosk) 46(3):452–460

van Uden P, Kenneth NS, Rocha S (2008) Regulation of hypoxia-inducible factor-1alpha by NF-kappaB. Biochem J 412(3):477–484

Voutsadakis IA (2007) Pathogenesis of colorectal carcinoma and therapeutic implications: the role of the ubiquitin-proteasome system and Cox-2. J Cell Mol Med 11(2):252–337

Yan M, Xu Q, Zhang P, Zhou X, Chen W (2010) Correlation of NF-kB signal pathway with tumor metastasis of human head and neck squamous cell carcinoma. BMC Cancer 10:437

Yue CX, Ma J, Zhou HJ (2011) The effect of RhoA and proteasome inhibitor MG132 on angiogenesis in tumors. Sichuan Da Xue Xue Bao Yi Xue Ban 42(4):445–501

Zhou J, Kohl R, Herr B, Frank R, Brune B (2006) Calpain mediates a von Hippel-Lindau protein-independent destruction of hypoxia-inducible factor -1α. Mol Biol Cell 17(4):1549–1558
Acknowledgments
This study was supported by the Federal target program "Scientific and scientific-pedagogical personnel of innovative Russia" in 2009–2013 (Governmental Contract No. P320).
About this article
Cite this article
Spirina, L.V., Kondakova, I.V., Choynzonov, E.L. et al. Expression of vascular endothelial growth factor and transcription factors HIF-1, NF-kB expression in squamous cell carcinoma of head and neck; association with proteasome and calpain activities. J Cancer Res Clin Oncol 139, 625–633 (2013). https://doi.org/10.1007/s00432-012-1366-0
Received:

Accepted:

Published:

Issue Date:
Keywords
Transcription factors NF-kB p65 and p50

HIF-1

VEGF

Proteasome

Calpain

Squamous cell carcinoma of head and neck