Abstract
Purpose
Oral squamous cell carcinoma (OSCC) is associated with substantial mortality and morbidity, and oral tongue squamous cell carcinoma (SCC) is representative in OSCC. Early detection of oral premalignant lesions (OPLs) that will develop into invasive tumors is necessary to improve the poor prognosis of this cancer.
Methods
To identify potential biomarkers that could be used for early detection, we compared the gene expression of incident primary oral tongue SCC, severe dysplasia, mild and moderate dysplasia. For this, we used three expression datasets obtained from a public database and selected chromosomal locations related with the progress of oral tongue cancer from a dataset. We then evaluated the gene set, which is included in the selected chromosomal locations, using out of bag (OOB) error and plots in two validation datasets.
Results
Sixty-two chromosomal locations were detected, and most genomic aberrations were shown in chromosome 3. We identified 62 genes included in those locations, and three precancerous and SCC groups were well classified with low OOB error rates. These were also discriminative in the two validation datasets.
Conclusions
The selected probes with genomic alteration in low-grade dysplasia can be used as an effective predictor for disease progression.
Access options
Buy single article
Instant access to the full article PDF.
USD 39.95
Price includes VAT (USA)
Tax calculation will be finalised during checkout.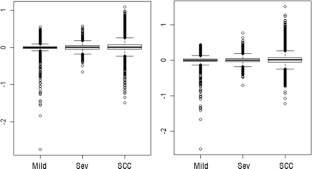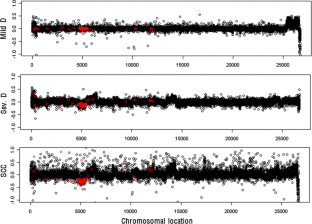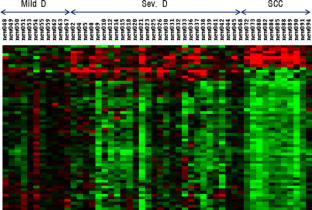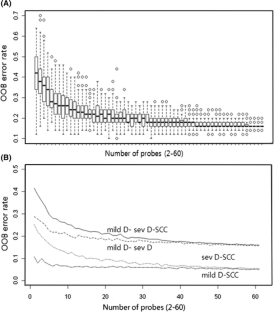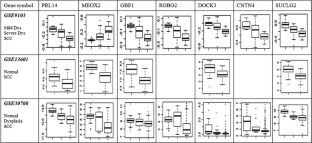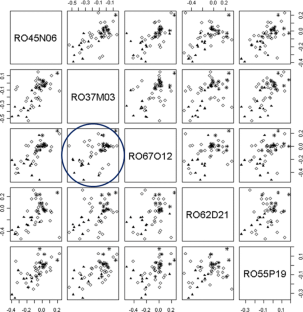 References
Asakawa T, Esumi M, Endo S, Kida A, Ikeda M (2008) Tongue cancer patients have a high frequency of allelic loss at the von Hippel-Lindau gene and other loci on 3p. Cancer 112:527–534. doi:10.1002/cncr.23200

Bhattacharya A, Roy R, Snijders AM, Hamilton G, Paquette J, Tokuyasu T, Bengtsson H, Jordan RC, Olshen AB, Pinkel D, Schmidt BL, Albertson DG (2011) Two distinct routes to oral cancer differing in genome instability and risk for cervical node metastasis. Clin Cancer Res 17:7024–7034. doi:10.1158/1078-0432.CCR-11-1944

Chen C, Mendez E, Houck J, Fan W, Lohavanichbutr P, Doody D, Yueh B, Futran ND, Upton M, Farwell DG, Schwartz SM, Zhao LP (2008) Gene expression profiling identifies genes predictive of oral squamous cell carcinoma. Cancer Epidemiol Biomarkers Prev 17:2152–2162. doi:10.1158/1055-9965.EPI-07-2893

Cortese R, Hartmann O, Berlin K, Eckhardt F (2008) Correlative gene expression and DNA methylation profiling in lung development nominate new biomarkers in lung cancer. Int J Biochem Cell Biol 40:1494–1508. doi:10.1016/j.biocel.2007.11.018

Emilion G, Langdon JD, Speight P, Partridge M (1996) Frequent gene deletions in potentially malignant oral lesions. Br J Cancer 73:809–813

Estilo CL, Oc P, Talbot S, Socci ND, Carlson DL, Ghossein R, Williams T, Yonekawa Y, Ramanathan Y, Boyle JO, Kraus DH, Patel S, Shaha AR, Wong RJ, Huryn JM, Shah JP, Singh B (2009) Oral tongue cancer gene expression profiling: identification of novel potential prognosticators by oligonucleotide microarray analysis. BMC Cancer 9:11. doi:10.1186/1471-2407-9-11

Garnis C, Buys TP, Lam WL (2004) Genetic alteration and gene expression modulation during cancer progression. Mol Cancer 3:9. doi:10.1186/1476-4598-3-9

Garnis C, Chari R, Buys TP, Zhang L, Ng RT, Rosin MP, Lam WL (2009) Genomic imbalances in precancerous tissues signal oral cancer risk. Mol Cancer 8:50. doi:10.1186/1476-4598-8-50

Ghosh S, Ghosh A, Maiti GP, Alam N, Roy A, Roy B, Roychoudhury S, Panda CK (2008) Alterations of 3p21.31 tumor suppressor genes in head and neck squamous cell carcinoma: correlation with progression and prognosis. Int J Cancer 123:2594–2604. doi:10.1002/ijc.23834

Ghosh S, Ghosh A, Maiti GP, Alam N, Roy A, Roychoudhury S, Panda CK (2009) Alterations of ROBO1/DUTT1 and ROBO2 loci in early dysplastic lesions of head and neck: clinical and prognostic implications. Hum Genet 125:189–198. doi:10.1007/s00439-008-0610-9

Lee JS, Kim SY, Hong WK, Lippman SM, Ro JY, Gay ML, Hittelman WN (1993) Detection of chromosomal polysomy in oral leukoplakia, a premalignant lesion. J Natl Cancer Inst 85:1951–1954

Mao L, Lee JS, Fan YH, Ro JY, Batsakis JG, Lippman S, Hittelman W, Hong WK (1996) Frequent microsatellite alterations at chromosomes 9p21 and 3p14 in oral premalignant lesions and their value in cancer risk assessment. Nat Med 2:682–685

Mao L, Hong WK, Papadimitrakopoulou VA (2004) Focus on head and neck cancer. Cancer Cell 5:311–316

Mehanna HM, Rattay T, Smith J, McConkey CC (2009) Treatment and follow-up of oral dysplasia—a systematic review and meta-analysis. Head Neck 31:1600–1609. doi:10.1002/hed.21131

Parkin DM, Bray F, Ferlay J, Pisani P (2005) Global cancer statistics, 2002. CA Cancer J Clin 55:74–108

Partridge M, Pateromichelakis S, Phillips E, Emilion GG, A'Hern RP, Langdon JD (2000) A case-control study confirms that microsatellite assay can identify patients at risk of developing oral squamous cell carcinoma within a field of cancerization. Cancer Res 60:3893–3898

Rosin MP, Cheng X, Poh C, Lam WL, Huang Y, Lovas J, Berean K, Epstein JB, Priddy R, Le ND, Zhang L (2000) Use of allelic loss to predict malignant risk for low-grade oral epithelial dysplasia. Clin Cancer Res 6:357–362

Rosin MP, Lam WL, Poh C, Le ND, Li RJ, Zeng T, Priddy R, Zhang L (2002) 3p14 and 9p21 loss is a simple tool for predicting second oral malignancy at previously treated oral cancer sites. Cancer Res 62:6447–6450

Tsui IF, Rosin MP, Zhang L, Ng RT, Lam WL (2008) Multiple aberrations of chromosome 3p detected in oral premalignant lesions. Cancer Prev Res (Phila) 1:424–429. doi:10.1158/1940-6207.CAPR-08-0123

Uchida K, Oga A, Nakao M, Mano T, Mihara M, Kawauchi S, Furuya T, Ueyama Y, Sasaki K (2011) Loss of 3p26.3 is an independent prognostic factor in patients with oral squamous cell carcinoma. Oncol Rep 26:463–469. doi:10.3892/or.2011.1327

Zabarovsky ER, Lerman MI, Minna JD (2002) Tumor suppressor genes on chromosome 3p involved in the pathogenesis of lung and other cancers. Oncogene 21:6915–6935. doi:10.1038/sj.onc.1205835
Acknowledgments
This work was supported by Priority Research Centers Program through the National Research Foundation of Korea (NRF) funded by the Ministry of Education, Science and Technology (2011-0031396).
Conflict of interest
None.
About this article
Cite this article
Kim, KY., Cha, IH. The identification of significant chromosomal regions correlated with oral tongue cancer progression. J Cancer Res Clin Oncol 138, 1667–1677 (2012). https://doi.org/10.1007/s00432-012-1241-z
Received:

Accepted:

Published:

Issue Date:
Keywords
Oral tongue squamous cell carcinoma

Cancer progression

Biomarker

Array comparative genomic hybridization

cDNA micoroarray data

Prognostic factor