Abstract
Objective
The aim of this study was to identify novel genes following genomic DNA copy number changes using a genome-wide array-based comparative genomic hybridization (array-CGH) analysis in uterine leiomyosarcoma (ULMS).
Methods
Genomic DNA copy number changes were analyzed in 15 cases of ULMS from St Mary's Hospital of the Catholic University of Korea. The paraffin-fixed tissue samples were micro-dissected under microscope, and DNA was extracted. Array-based CGH and genomic polymerase chain reaction were carried out with statistical analyses such as hierarchical clustering and Gene Ontology.
Results
All of 15 cases of ULMS showed specific gains and losses. The percentage of average gains and losses were 8.4 and 16.6 %, respectively. The analysis limit of average gains and losses was 40 %. The regions of high level of gain were 1q23.3, 7p14.2, 7q34, 7q35, 7q36.3, 13q34, and 16p13.3. And the regions of homozygous loss were 2q21.1, 2q22.1, 2p23.2, 12q23.3, 4q21.22, 4q34.3, 11q24.2, 12q23.3, 13q13.1, 13q21.33, and 14q24.3. In ULMS samples, recurrent regions of gain were 1p36.33, 1p36.32, 5q35.3, 7q36.3, and 8q24.3 and recurrent regions of loss were 1p31.1–p31.3, 1p32.1–p32.3, 2p12, 2p13.3, 2p14, 2p16.2–p16.3, 2q12.1–q12.3, 2q21.1–q21.2, 2q22.2–q22.3, 2q34, 2q36.1–q36.3, 5q21.3, 5q23.3, 5q31.1, 6p11.2, 6p12.1, 10q11.23, 10q21.2–q21.3, 10q23.2, 10q23.31, 10q25.1–q25.2, 10q25.3, 10q26.13, 10q26.2–q26.3, 11p11.2, 11p11.12, 11p12, 11p13, 11p15.4, 11q23.1–q23.2, 11q23.3, 13q14.12, 13q14.13–13q14.2, 13q14.2, 13q14.2, 13q14.3, 13q21.33, 13q22.1–q22.3, 14q24.2, 14q24.3, 14q31.1, 14q32.33, 15q11.2–q13, 15q14, 16q22.3, 16q23.1, 16q23.2, 16q24.1, 20p12.1, and 21q22.3. Representative frequently gained BAC clones encoded genes were HDAC9, CRR9, SOX18, PTPRN2, SKI, SOLH, and KIAA1199. The genes encoded by frequently lost BAC clones were LOC150516 and AMY2A. A subset of cellular processes from each gene were clustered by Gene Ontology database.
Conclusions
The present study using array-CGH analyses sought a deeper elucidation of the specific genomic alterations related to ULMS. The high resolution of array-CGH combined with human genome database would give a chance at identifying relevant target genes.
Access options
Buy single article
Instant access to the full article PDF.
US$ 39.95
Tax calculation will be finalised during checkout.
Subscribe to journal
Immediate online access to all issues from 2019. Subscription will auto renew annually.
US$ 119
Tax calculation will be finalised during checkout.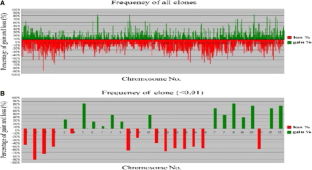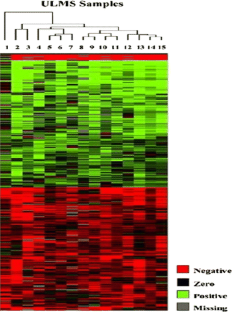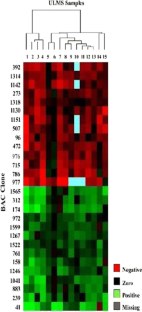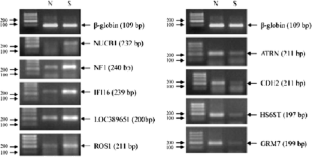 References
Albertson DG, Ylstra B, Segraves R, Collins C, Dairkee SH, Kowbel D, Kuo WL, Gray JW, Pinkel D (2000) Quantitative mapping of amplicon structure by array CGH identifies CYP24 as a candidate oncogene. Nat Genet 25:144–146

Ashar HR, Fejzo MS, Tkachenko A, Zhou X, Fletcher JA, Weremowicz S, Morton CC, Chada K (1995) Disruption of the architectural factor HMGI-C: DNA-binding AT hook motifs fused in lipomas to distinct transcriptional regulatory domains. Cell 82:57–65

Barbieri RL, Andersen JA (1992) Uterine leiomyomas: the somatic mutation theory. Semin Reprod Endocrinol 10:301–309

Boghosian L, Dal Cin P, Turc-Carel C, Rao U, Karakousis C, Sait SJ, Sandberg AA (1989) Three possible cytogenetic subgroups of leiomyosarcoma. Cancer Genet Cytogenet 43:39–49

Cho YL, Bae S, Koo MS, Kim KM, Chun HJ, Kim CK, Ro DY, Kim JH, Lee CH, Kim YW, Ahn WS (2005) Array comparative genomic hybridization analysis of uterine leiomyosarcoma. Gynecol Oncol 99:545–551

Dei Tos AP, Maestro R, Doglioni C, Piccinin S, Libera DD, Boiocchi M, Fletcher CD (1996) Tumor suppressor genes and related molecules in leiomyosarcoma. Am J Pathol 148:1037–1045

El-Rifai W, Sarlomo-Rikala M, Knuutila S, Miettinen M (1998) DNA copy number changes in development and progression in leiomyosarcomas of soft tissues. Am J Pathol 153:985–990

Gibas Z, Griffin CA, Emanuel BS (1988) Clonal chromosome rearrangements in a uterine myoma. Cancer Genet Cytogenet 32:19–24

Hamlin C, Finkler NJ (1992) Uterine myomas and cancer. Sem Reprod Endocrinol 10:339–343

Hsu LS, Lee HC, Chau GY, Yin PH, Chi CW, Lui WY (2006) Aberrant methylation of EDNRB and p16 genes in hepatocellular carcinoma (HCC) in Taiwan. Oncol Rep 15:507–511

Hu J, Khanna V, Jones M, Surti U (2001) Genomic alterations in uterine leiomyosarcomas: potential markers for clinical diagnosis and prognosis. Genes Chromosom Cancer 31:117–124

Knuutila S, Bjorkqvist AM, Autio K, Tarkkanen M, Wolf M, Monni O, Szymanska J, Larramendy ML, Tapper J, Pere H, El-Rifai W, Hemmer S, Wasenius VM, Vidgren V, Zhu Y (1998) DNA copy number amplifications in human neoplasms: review of comparative genomic hybridization studies. Am J Pathol 152:1107–1123

Krzywinski M, Bosdet I, Smailus D, Chiu R, Mathewson C, Wye N, Barber S, Brown-John M, Chan S, Chand S, Cloutier A, Girn N, Lee D, Masson A, Mayo M, Olson T, Pandoh P, Prabhu AL, Schoenmakers E, Tsai M, Albertson D, Lam W, Choy CO, Osoegawa K, Zhao S, de Jong PJ, Schein J, Jones S, Marra MA (2004) A set of BAC clones spanning the human genome. Nucleic Acids Res 32:3651–3660

Levy B, Mukherjee T, Hirschhorn K (2000) Molecular cytogenetic analysis of uterine leiomyoma and leiomyosarcoma by comparative genomic hybridization. Cancer Genet Cytogenet 121:1–8

Li J, Jiang T, Mao JH, Balmain A, Peterson L, Harris C, Rao PH, Havlak P, Gibbs R, Cai WW (2004) Genomic segmental polymorphisms in inbred mouse strains. Nat Genet 36:952–954

Mark J, Havel G, Grepp C, Dahlenfors R, Wedell B (1988) Cytogenetical observations in human benign uterine leiomyomas. Anticancer Res 8:621–626

Mittal K, Demopoulos RI (2001) MIB-1 (Ki-67), p53, estrogen receptor, and progesterone receptor expression in uterine smooth muscle tumors. Hum Pathol 32:984–987

Morton CC (1998) Warner-Lambert/Parke-Davis Award lecture. Many tumors and many genes: genetics of uterine leiomyomata. Am J Pathol 153:1015–1020

Packenham JP, du Manoir S, Schrock E, Risinger JI, Dixon D, Denz DN, Evans JA, Berchuck A, Barrett JC, Devereux TR, Ried T (1997) Analysis of genetic alterations in uterine leiomyomas and leiomyosarcomas by comparative genomic hybridization. Mol Carcinog 19:273–279

Pinkel D, Segraves R, Sudar D, Clark S, Poole I, Kowbel D, Collins C, Kuo WL, Chen C, Zhai Y, Dairkee SH, Ljung BM, Gray JW, Albertson DG (1998) High resolution analysis of DNA copy number variation using comparative genomic hybridization to microarrays. Nat Genet 20:207–211

Pollack JR, Perou CM, Alizadeh AA, Eisen MB, Pergamenschikov A, Williams CF, Jeffrey SS, Botstein D, Brown PO (1999) Genome-wide analysis of DNA copy-number changes using cDNA microarrays. Nat Genet 23:41–46

Quade BJ, Pinto AP, Howard DR, Peters WA 3rd, Crum CP (1999) Frequent loss of heterozygosity for chromosome 10 in uterine leiomyosarcoma in contrast to leiomyoma. Am J Pathol 154:945–950

Sait SN, Dal Cin P, Sandberg AA (1988) Consistent chromosome changes in leiomyosarcoma. Cancer Genet Cytogenet 35:47–50

Schoenmakers EF, Wanschura S, Mols R, Bullerdiek J, Van den Berghe H, Van de Ven WJ (1995) Recurrent rearrangements in the high mobility group protein gene, HMGI-C, in benign mesenchymal tumours. Nat Genet 10:436–444

Solinas-Toldo S, Lampel S, Stilgenbauer S, Nickolenko J, Benner A, Dohner H, Cremer T, Lichter P (1997) Matrix-based comparative genomic hybridization: biochips to screen for genomic imbalances. Genes Chromosom Cancer 20:399–407

Sreekantaiah C, Davis JR, Sandberg AA (1993) Chromosomal abnormalities in leiomyosarcomas. Am J Pathol 142:293–305

Tagawa H, Tsuzuki S, Suzuki R, Karnan S, Ota A, Kameoka Y, Suguro M, Matsuo K, Yamaguchi M, Okamoto M, Morishima Y, Nakamura S, Seto M (2004) Genome-wide array-based comparative genomic hybridization of diffuse large B-cell lymphoma: comparison between CD5-positive and CD5-negative cases. Cancer Res 64:5948–5955

Tsibris JC, Segars J, Coppola D, Mane S, Wilbanks GD, O'Brien WF, Spellacy WN (2002) Insights from gene arrays on the development and growth regulation of uterine leiomyomata. Fertil Steril 78:114–121

Walker CL, Stewart EA (2005) Uterine fibroids: the elephant in the room. Science 308:1589–1592

Wechsler DS, Shelly CA, Dang CV (1996) Genomic organization of human MXI1, a putative tumor suppressor gene. Genomics 32:466–470
About this article
Cite this article
Raish, M., Khurshid, M., Ansari, M.A. et al. Analysis of molecular cytogenetic alterations in uterine leiomyosarcoma by array-based comparative genomic hybridization. J Cancer Res Clin Oncol 138, 1173–1186 (2012). https://doi.org/10.1007/s00432-012-1182-6
Received:

Accepted:

Published:

Issue Date:
Keywords
Uterine leiomyosarcoma

Array-based comparative genomic hybridization