Abstract
Background
The phenomenon of hormesis is characterized by a biphasic dose–response, exhibiting opposite effects in the low- and high-dose zones. In this study, we explored the possibility that the hormesis concept may describe the interactions between two tumors implanted in a single mouse, such that the resulting tumors are of different sizes.
Materials and methods
We used two murine tumors of spontaneous origin and undetectable immunogenicity growing in BALB/c mice. A measure of cell proliferation was obtained by immunostaining for Ki-67 protein and by using the [3H] thymidine uptake assay. For serum fractionation, we utilized dialysis and chromatography on Sephadex G-15.
Results
The larger primary tumor induced inhibitory or stimulatory effects on the growth of the smaller secondary one, depending on the ratio between the mass of the larger tumor relative to that of the smaller one, with high ratios rendering inhibition and low ratios inducing stimulation of the secondary tumor.
Conclusion
Since metastases can be considered as natural secondary tumor implants in a tumor-bearing host and that they constitute the main problem in cancer pathology, the use of the concept of hormesis to describe those biphasic effects might have significant clinical implications. In effect, if the tumor-bearing host were placed in the inhibitory window, tumor extirpation could enhance the growth of distant metastases and, reciprocally, if placed in the stimulatory window, tumor extirpation would result not only in a reduction or elimination of primary tumor load but also in a slower growth or inhibition of metastases.
This is a preview of subscription content, log in to check access.
Access options
Buy single article
Instant access to the full article PDF.
US$ 39.95
Price includes VAT for USA
Subscribe to journal
Immediate online access to all issues from 2019. Subscription will auto renew annually.
US$ 199
This is the net price. Taxes to be calculated in checkout.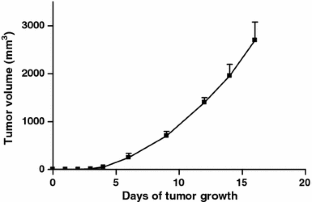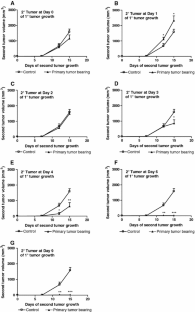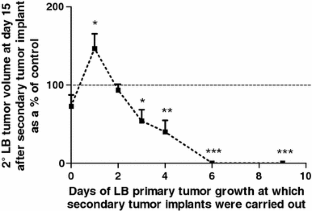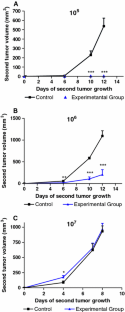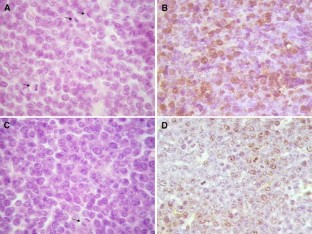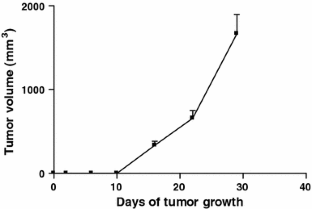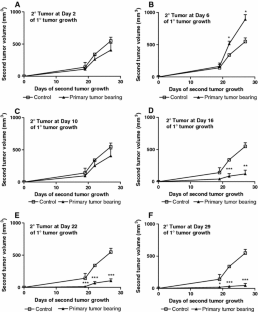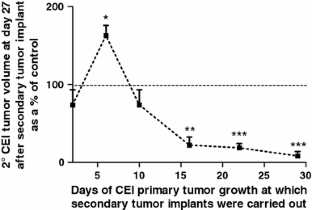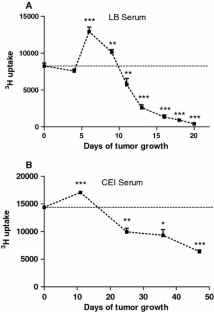 References
Beecken WD, Engl T, Jonas D, Blaheta RA (2009) Expression of angiogenesis inhibitors in human bladder cancer may explain rapid metastatic progression after radical cystectomy. Int J Mol Med 23:261–266

Bertin C, Weston LA, Huang T, Jander G, Owens T, Meinwald J, Schroeder FC (2007) Grass roots chemistry: meta-tyrosine, an herbicidal nonprotein amino acid. PNAS 104:16964–16969

Bonfil RD, Ruggiero RA, Bustuoabad OD, Meiss RP, Pasqualini CD (1988) Role of concomitant resistance in the development of murine lung metastases. Int J Cancer 41:415–422

Calabrese EJ (2005) Historical blunders: how toxicology got the dose–response relationship half right. Cell Mol Biol (Noisy-le-grand) 51:643–654

Calabrese EJ (2007) Cancer biology and hormesis: human tumor cell lines commonly display hormetic (biphasic) dose responses. Crit Rev Toxicol 35:463–582

Calabrese EJ (2008a) An assessment of anxiolytic drug screening tests: hormetic dose responses. Crit Rev Toxicol 38:489–542

Calabrese EJ (2008b) Hormesis and medicine. BJCP 66:594–617

Chiarella P, Reffo V, Bruzzo J, Bustuoabad OD, Ruggiero RA (2008a) Therapeutic anti-tumor vaccines: from tumor inhibition to enhancement. Clin Med Oncol 2:1–9

Chiarella P, Vulcano M, Bruzzo J, Vermeulen M, Vanzulli S, Maglioco A, Camerano GV, Palacios V, Fernández G, Fernández Brando R, Isturiz MA, Dran GI, Bustuoabad OD, Ruggiero RA (2008b) Anti-inflammatory pretreatment enables an efficient dendritic cell-based immunotherapy against established tumors. Cancer Immunol Immunother 57:701–718

Eichler O, Sies H, Stahl W (2002) Divergent optimum levels of lycopene, beta-carotene and lutein protecting against UVB irradiation in human fibroblasts. Photochem Photobiol 75:503–506

Farma JM, Pingpank JF, Libutti SK, Bartlett DL, Ohl S, Beresneva T, Alexander HR (2005) Limited survival in patients with carcinomatosis from foregut malignancies after cytoreduction and continuous hyperthermic peritoneal perfusion. J Gastrointest Surg 9:1346–1353

Folkman J (2007) Angiogenesis: an organizing principle for drug discovery? Nat Rev Drug Discov 6:273–285

Franco M, Bustuoabad OD, di Gianni PD, Goldman A, Pasqualini CD, Ruggiero RA (1996) A serum-mediated mechanism for concomitant resistance shared by immunogenic and non-immunogenic tumours. Br J Cancer 74:178–186

Gao J, Wymore RS, Wang Y, Gaudette GR, Krukenkamp IB, Cohen IS, Mathias RT (2002) Isoform-specific stimulation of cardiac Na/K pumps by nanomolar concentrations of glycosides. J Gen Physiol 119:297–312

Honar H, Riazi K, Homayoun H, Sadeghispour H, Rashidi N, Ebrahimkhani MR, Mirazi N, Dehpour AR (2004) Ultra-low-dose naltrexone potentiates the anticonvulsant effect of low-dose morphine on clonic seizure. Neuroscience 129:733–742

Laird AK (1969) Dynamics of growth in tumors and in normal organisms. Natl Cancer Inst Monograph 30:15–28

Lange PH, Hekmat K, Bosl G, Kennedy BJ, Fraley EE (1980) Accelerated growth of testicular cancer after cytoreductive surgery. Cancer 45:1498–1506

Loberg RD, Bradley DA, Tomlins SA, Chinnaiyan AM, Pienta KJ (2007) The lethal phenotype of cancer: the molecular basis of death due to malignancy. CA Cancer J Clin 57:225–241

McAllister SS, Gifford AM, Greiner AL, Kelleher SP, Saelzler MP, Ince TA, Reinhardt F, Harris LN, Hylander BL, Repasky EA, Weinberg RA (2008) Systemic endocrine instigation of indolent tumor growth requires osteopontin. Cell 133:994–1005

Meiss RP, Bonfil RD, Ruggiero RA, Pasqualini CD (1986) Histological aspects of concomitant resistance induced by nonimmunogenic murine tumors. J Natl Cancer Inst 76:1163–1175

Mimori K, Iwatsuki M, Yokobori T, Mori M (2009) Important matters to identify robust markers for metastasis and recurrence in solid cancer. Ann Surg Oncol 16:1070–1071

Norbury KC (1977) In vitro stimulation and inhibition of tumor cell growth mediated by different lymphoid cell populations. Cancer Res 37:1408–1415

O'Reilly MS, Holmgren L, Shing Y, Chen C, Rosenthal RA, Moses M, Lane WS, Cao Y, Sage EH, Folkman J (1994) Angiostatin: a novel angiogenesis inhibitor that mediates the suppression of metastases by a Lewis lung carcinoma. Cell 79:315–328

Prehn RT (1972) The immune reaction as a stimulator of tumor growth. Science 176:170–171

Prehn LM (1976) Immunostimulation of highly immunogenic target tumor cells by lymphoid cells in vitro. J Natl Cancer Inst 56:833–838

Prehn RT (2006) The paradoxical effects of splenectomy on tumor growth. Theor Biol Med Model 3:6

Prehn RT (2007) Immunostimulation and immunoinhibition of premalignant lesions. Theor Biol Med Model 4:6

Ruggiero RA, Bustuoabad OD (2006) The biological sense of cancer. Theor Biol Med Model 3:43

Ruggiero RA, Bustuoabad OD, Bonfil RD, Meiss RP, Pasqualini CD (1985) "Concomitant immunity" in murine tumours of non-detectable immunogenicity. Br J Cancer 51:37–48

Ruggiero RA, Bustuoabad OD, Cramer P, Bonfil RD, Pasqualini CD (1990) Correlation between seric antitumor activity and concomitant resistance in mice bearing nonimmunogenic tumors. Cancer Res 50:7159–7165

Shearer WT, Parker CW (1978) Antibody and complement modulation of tumor cell growth in vitro and in vivo. Fed Proc 37:2385–2389

Southam CM (1968) Coexistence of allogeneic tumor growth and homograft immunity in man. Eur J Cancer 4:507–511

Sugarbaker EV, Thornthwaite J, Ketcham AS (1977) Inhibitory effect of a primary tumor on metastases. In: Day SB et al (eds) Cancer invasion and metastasis. Biological mechanisms and therapy. Raven, New York, pp 227–240

Szabadi E (1977) Model of two functionally antagonistic receptor populations activated by the same agonist. J Theor Biol 69:101–112

Thong HY, Maibath HI (2007) Hormesis [biological effects of low level exposure (BELLE)] and dermatology. Cutan Ocul Toxicol 26:329–341

Wise LE, Lichtman AH (2007) The uncompetitive N-methyl d-aspartate (NMDA) receptor antagonist memantine prolongs spatial memory in a rat delayed radial-arm maze memory task. Eur J Pharmacol 575:98–102

Zahalka MA, Okon E, Naor D (1993) Blocking lymphoma invasiveness with a monoclonal antibody directed against the beta-chain of the leukocyte adhesion molecule (CD18). J Immunol 150(10):4466–4477
Acknowledgments
This work was supported by grants from CONICET (Consejo Nacional de Investigaciones Científicas y Técnicas), Fundación Roemmers and Agencia Nacional de Promoción Científica y Tecnológica (PICT 05-38197/2005), Argentina. The authors are grateful to Dr. Richmond T. Prehn and Dra. Christiane D. Pasqualini for critical discussion of this article.
Conflict of interest statement
None.
About this article
Cite this article
Bruzzo, J., Chiarella, P., Meiss, R.P. et al. Biphasic effect of a primary tumor on the growth of secondary tumor implants. J Cancer Res Clin Oncol 136, 1605–1615 (2010). https://doi.org/10.1007/s00432-010-0818-7
Received:

Accepted:

Published:

Issue Date:
Keywords
Murine tumors

Hormesis

Biphasic dose–response

Secondary tumor implants

Metastases