Abstract
Purpose: Chemotherapy regimens based on anthracycline (doxorubicin) are well established in lymphoma therapy. The purpose of this study was to examine the effects of l-carnitine with a view to reducing cytotoxic side-effects. Methods: 20 patients were scheduled to receive 3 g l-carnitine before each chemotherapy cycle, followed by 1 g l-carnitine/day during the following 21 days, while 20 patients received a placebo (randomized controlled trial). The plasma lipid profile and relative mRNA levels of key enzymes of oxidative metabolism (carnitine acyltransferases) were measured at three points of time. In addition to the clinical parameters we used the mRNA of white blood cells to evaluate the toxic effects on cardiomyocytes. Results: In the present study no cardiotoxicity of anthracycline therapy was detected. Carnitine treated patients showed a rise in plasma carnitine which led to an increase of relative mRNA levels from CPT1A (liver isoform of carnitine palmitoyltransferase) and OCTN2 (carnitine transporter). Following chemotherapy, an activation of carnitine acyltransferases was associated with a stimulation of OCTN2 in both groups. Conclusion: Biochemical and molecular analyses indicated a stimulation of oxidative metabolism in white blood cells through carnitine uptake.
Access options
Buy single article
Instant access to the full article PDF.
USD 39.95
Price excludes VAT (USA)
Tax calculation will be finalised during checkout.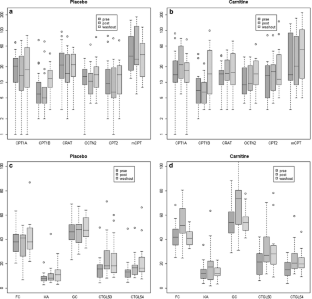 References
Abd-Allah AR, Al-Majed AA, Al-Yahya AA, Fouda SI, Al-Shabana OA (2005) l-Carnitine halts apoptosis and myelosuppression induced by carboplatin in rat bone marrow cell cultures (BMC). Arch Toxicol 79:406–413

Abdel-aleem S, el-Merzabani MM, Sayed-Ahmed M, Taylor DA, Lowe JE (1997) Acute and chronic effects of adriamycin on fatty acid oxidation in isolated cardiac myocytes. J Mol Cell Cardiol 29:789–797

Al-Majed AA, Gdo AM, Al-Shabanah OA, Mansour MA (2002) Alpha-lipoic acid ameliorates myocardial toxicity induced by doxorubicin. Pharmacol Res 46:499–503

Anderlini P, Benjamin RS, Wong FC, Kantarjian HM, Andreeff M, Kornblau SM, O'Brien S, Mackay B, Ewer MS, Pierce SA (1995) Idarubicin cardiotoxicity: a retrospective study in acute myeloid leukemia and myclodysplasia. J Clin Oncol 11:2827–2834

Andrieu-Abadie N, Jaffrezou JP, Hatem S, Laurent G, Levade T, Mercaider JJ (1999) l-Carnitine prevents doxorubicin-induced apoptosis of cardiac myocytes: role of inhibition of ceramide generation. FASEB J 13:1501–1510

Brown HR, Ni H, Benavides G, Yoon L, Hyder K, Giridhar J, Gardner G, Tyler RD, Morgan KT (2002) Correlation of simultaneous differential gene expression in the blood and heart with known mechanisms of adriamycin-induced cardiomyopathy in the rat. Toxicol Pathol 30:452–469

Choi KM, Lee J, Kim YH, Kim KB, Kim DL, Kim SG, Shin DH, Kim NH, Park IB, Choi DS, Baik SH (2003) Relation between insulin resistance and hematological parameters in elderly Koreans-Southwest Seoul (SWS) Study. Diabetes Res Clin Pract 60:205–212

Cruciani RA, Dvorkin E, Homel P, Culliney B, Malamud S, Shaiova L, Fleishman S, Lapin J, Klein E, Lesage P, Portenoy R, Esteban-Cruciani N (2004) l-Carnitine supplementation for the treatment of fatigue and depressed mood in cancer patients with carnitine deficiency: a preliminary analysis. Ann NY Acad Sci 1033:168–176

Ganapathy ME, Huang W, Rajan DP, Carter AL, Sugawara M, Iseki K, Leibach FH, Ganapathy V (2000) Beta-lactam antibiotics as substrates for OCTN2, an organic cation/carnitine transporter. J Biol Chem 275:1699–1707

Garcia-Ruiz C, Colell A, Mari M, Morales A, Fernandez-Checa JC (1997) Direct effect of ceramide on the mitochondrial electron transport chain leads to generation of reactive oxygen species. Role of mitochondrial glutathione. J Biol Chem 272:11369–11377

Gardner JP, Li S, Srinivasan SR, Chen W, Kimura M, Lu X, Berenson GS, Aviv A (2005) Rise in insulin resistance is associated with escalated telomere attrition. Circulation 111:2171–2177

Grynberg A (2005) Effectors of fatty acid oxidation reduction: promising new anti-ischaemic agents. Curr Pharm Des 11:489–509

Gurlek A, Tutar E, Akcil E, Dincer I, Erol C, Kocaturk PA, Oral D (2000) The effects of l-carnitine treatment on left ventricular function and erythrocyte superoxide dismutase activity in patients with ischemic cardiomyopathy. Eur J Heart Fail 2:189–193

Hale JP, Lewis IJ (1994) Anthracyclines: cardiotoxicity and its prevention. Arch Dis Child 71:457–462

Haripriya D, Sangeetha P, Kanchana A, Balu M, Panneerselvam C (2005) Modulation of age-associated oxidative DNA damage in rat brain cerebral cortex, striatum and hippocampus by l-carnitine. Exp Gerontol 40:129–135

Hofmann S, Tuchler H, Bernhart M, Stacher A, Lutz D (1993) A questionnaire suitable for general practice for detection of the health status and quality of life of patients with hemato-oncologic diseases: psychometric properties. The Study G "Quality of Life" of the International Society for Chemo- and Immunotherapy (I.G.C.I.). Wien Klin Wochenschr 105:277–283

Karlic H, Lohninger S, Koeck T, Lohninger A (2002) Dietary l-carnitine stimulates carnitine acyltransferases in the liver of aged rats. J Histochem Cytochem 50:205–212

Karlic H, Lohninger A, Laschan C, Lapin A, Bohmer F, Huemer M, Guthann E, Rappold E, Pfeilstocker M (2003) Downregulation of carnitine acyltransferases and organic cation transporter OCTN2 in mononuclear cells in healthy elderly and patients with myelodysplastic syndromes. J Mol Med 81:435–442

Karlic H, Lohninger A (2004) Supplementation of L-carnitine in athletes: does it make sense? Nutrition 20:709–715

Kolovou GD, Anagnostopoulou KK, Cokkinos DV (2005) Pathophysiology of dyslipidaemia in the metabolic syndrome. Postgrad Med J 81:358–366

Kraemer WJ, Volek JS, French DN, Rubin MR, Sharman MJ, Gomez AL, Ratamess NA, Newton RU, Jemiolo B, Craig BW, Hakkinen K (2003) The effects of l-carnitine l-tartrate supplementation on hormonal responses to resistance exercise and recovery. J Strength Cond Res 17:455–462

Kumaran S, Savitha S, Anusuya Devi M, Panneerselvam C (2004) l-carnitine and dl-alpha-lipoic acid reverse the age-related deficit in glutathione redox state in skeletal muscle and heart tissues. Mech Ageing Dev 125:507–512

Kumaran S, Subathra M, Balu M, Panneerselvam C (2005) Supplementation of l-carnitine improves mitochondrial enzymes in heart and skeletal muscle of aged rats. Exp Aging Res 31:55–67

Lamhonwah AM, Skaug J, Scherer SW, Tein I (2003) A third human carnitine/organic cation transporter (OCTN3) as a candidate for the 5q31 Crohn's disease locus (IBD5). Biochem Biophys Res Commun 301:98–101

Lefrak EA, Pitha J, Rosenheim S, Gottlieb JA (1973) A clinicopathologic analysis of adriamycin cardiotoxicity. Cancer 32:302–314

Lohninger A, Preis P, Linhart L, Sommoggy SV, Landau M, Kaiser E (1990) Determination of plasma free fatty acids, free cholesterol, cholesteryl esters, and triacylglycerols directly from total lipid extract by capillary gas chromatography. Anal Biochem 186:243–250

Lohninger A, Hofbauer R, Nissel H, Karlic H (2002) Carnitine and transcription of carnitine palmitoyltransferases—in vitro and in vivo studies. In: Richter RW, Rassoul F, Thiery J (eds) Lipoproteinmetabolismus und Atherosklerosepraevention. Wissenschaftliche Skripten, Leipzig, pp 113–122

McFalls EO, Paulson DJ, Gilbert EF, Shug AL (1986) Carnitine protection against adriamycin-induced cardiomyopathy in rats. Life Sci 38:497–505

Mingrone G, Greco AV, Capristo E, Benedetti G, Giancaterini A, De Gaetano A, Gasbarrini G (1999) l-Carnitine improves glucose disposal in type 2 diabetic patients. J Am Coll Nutr 18:77–82

Minotti G, Menna P, Salvatorelli E, Cairo G, Gianni L (2004) Anthracyclines: molecular advances and pharmacologic developments in antitumor activity and cardiotoxicity. Pharmacol Rev 56:185–229

Mutomba MC, Yuan H, Konyavko M, Adachi S, Yokoyama CB, Esser V, McGarry JD, Babior BM, Gottlieb RA (2000) Regulation of the activity of caspases by l-carnitine and palmitoylcarnitine. FEBS Lett 478:19–25

Nakamura T, Ueda Y, Juan Y, Katsuda S, Takahashi H, Koh E (2000) Fas-mediated apoptosis in adriamycin-induced cardiomyopathy in rats: in vivo study. Circulation 102:572–578

Nakashima H, Ozono R, Suyama C, Sueda T, Kambe M, Oshima T (2004) Telomere attrition in white blood cell correlating with cardiovascular damage. Hypertens Res 27:319–325

Olson RD, Mushlin PS (1990) Doxorubicin cardiotoxicity: analysis of prevailing hypotheses. FASEB J 4:3076–3086

Paterna S, Furitano G, Scaffidi L, Barbarino C, Campisi D, Parisi G, Carreca I (1984) Effects of l-carnitine on adriamycin-induced cardiomyopathy in rabbit. Int J Tissue React 6:91–95

Paumen MB, Ishida Y, Han H, Muramatsu M, Eguchi Y, Tsujimoto Y, Honjo T (1997a) Direct interaction of the mitochondrial membrane protein carnitine palmitoyltransferase I with Bcl-2. Biochem Biophys Res Commun 231:523–525

Paumen MB, Ishida Y, Muramatsu M, Yamamoto M, Honjo T (1997b) Inhibition of carnitine palmitoyltransferase I augments sphingolipid synthesis and palmitate-induced apoptosis. J Biol Chem 272:3324–3329

Peluso G, Nicolai R, Reda E, Benatti P, Barbarisi A, Calvani M (2000) Cancer and anticancer therapy-induced modifications on metabolism mediated by carnitine system. J Cell Physiol 182:339–350

Pittner F, Lohninger A, Pittner G (2005) 100 Years research on carnitine. Chem Mon 136:1255–1544

Quiles JL, Huertas JR, Battino M, Mataix J, Ramirez-Tortosa MC (2002) Antioxidant nutrients and adriamycin toxicity. Toxicology 180:79–95

Quillet-Mary A, Jaffrezou JP, Mansat V, Bordier C, Naval J, Laurent G (1997) Implication of mitochondrial hydrogen peroxide generation in ceramide-induced apoptosis. J Biol Chem 272:21388–21395

Rabbani A, Finn RM, Ausio J (2005) The anthracycline antibiotics: antitumor drugs that alter chromatin structure. Bioessays 27:50–56

Ramsay RR, Gandour RD, van der Leij FR (2001) Molecular enzymology of carnitine transfer and transport. Biochim Biophys Acta 1546:21–43

Sayed-Ahmed MM, Shouman SA, Rezk BM, Khalifa MH, Osman AM, El-Merzabani MM (2000) Propionyl-l-carnitine as potential protective agent against adriamycin-induced impairment of fatty acid beta-oxidation in isolated heart mitochondria. Pharmacol Res 41:143–150

Singal PK, Iliskovic N, Li T, Kumar D (1997) Adriamycin cardiomyopathy: pathophysiology and prevention. FASEB J 11:931–936

Tuchler H, Hofmann S, Bernhart M, Brugiatelli M, Chrobak L, Franke A, Herold M, Holowiecki J, Ihle R, Jaksic B et al (1992) A short multilingual quality of life questionnaire—practicability, reliability and interlingual homogeneity. Qual Life Res 1:107–117

Wagner CA, Lukewille U, Kaltenbach S, Moschen I, Broer A, Risler T, Broer S, Lang F (2000) Functional and pharmacological characterization of human Na(+)-carnitine cotransporter hOCTN2. Am J Physiol Renal Physiol 279:F584–F591

Xuan W, Lamhonwah AM, Librach C, Jarvi K, Tein I (2003) Characterization of organic cation/carnitine transporter family in human sperm. Biochem Biophys Res Commun 306:121–128

Yoon HR, Hong YM, Boriack RL, Bennett MJ (2003) Effect of l-carnitine supplementation on cardiac carnitine palmitoyltransferase activities and plasma carnitine concentrations in adriamycin-treated rats. Pediatr Res 53:788–792

Zeibig J, Karlic H, Lohninger A, Dumsgaard R, Smekal G (2005) Do blood cells mimic gene expression profile alterations known to occur in muscular adaptation to endurance training ? Eur J Appl Physiol 7 April 2005 [Epub ahead of print]
Acknowledgements
Supported by Bürgermeisterfonds der Stadt Wien and Fresenius Kabi Austria. Thanks are due to Sigrid Lechner for expert technical assistance and to the staff of the 3rd Dept. of Medicine, Hanusch Hospital for medical support.
About this article
Cite this article
Waldner, R., Laschan, C., Lohninger, A. et al. Effects of doxorubicin-containing chemotherapy and a combination with l-carnitine on oxidative metabolism in patients with non-Hodgkin lymphoma. J Cancer Res Clin Oncol 132, 121–128 (2006). https://doi.org/10.1007/s00432-005-0054-8
Received:

Accepted:

Published:

Issue Date:

DOI: https://doi.org/10.1007/s00432-005-0054-8
Keywords
Anthracycline

l

-Carnitine

Oxidative metabolism