Abstract
Purpose
The aim of this study was to compare the biomolecular profile of high-grade (HG) with low-grade (LG) prostate cancers matched by preoperative serum prostate-specific antigen (PSA) levels.
Methods
From 2,560 patients undergoing radical prostatectomy for localised disease, 24 men with HG cancer (Gleason score ≥9) were eligible. Their clinical data were compared with those of 24 LG tumours (Gleason score ≤6), matched by PSA values. The expression of Ki-67, p53, Bcl-2, chromogranin A, α-catenin, and PSA were analysed and compared between both groups.
Results
The expression of Ki-67 (P=0.031), p53 (P=0.008), Bcl-2 (P=0.002), and chromogranin A (P=0.042) were expressed significantly higher, and α-catenin (P=0.020) and PSA (P<0.001) significantly lower in HG tumours. Cancer volumes of HG and LG differed significantly (10.6 cm3 vs 5.3 cm3; P=0.006). Overall, cancer volume correlated with increased expression of p53 (r=0.52; P<0.001) and chromogranin A (r=0.46; P<0.001), and with decreased expression of PSA (r=0.41; P<0.004).
Conclusions
According to our data, tumour grade is clearly associated with a change in the biomolecular profile, even between patients with similar serum PSA levels. As the prognosis of HG prostate cancer is poor, these tumours should be analysed by immunohistochemical staining to identify specific tumour features for an appropriate selection of adjuvant therapy.
This is a preview of subscription content,
to check access.
Access this article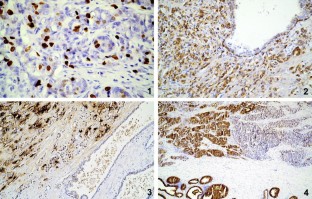 Similar content being viewed by others
References
Aaltomaa S, Lipponen P, Ala-Opas M, Eskelinen M, Kosma VM (1999) α-Catenin expression has prognostic value in local and locally advanced prostate cancer. Br J Cancer 80:477–482

Abrahamsson PA, Cockett AT, di Sant'Agnese PA (1998) Prognostic significance of neuroendocrine differentiation in clinically localized prostatic carcinoma. Prostate [Suppl 8]:37–42

Ahlegren G, Pedersen K, Lundberg S, Aus G, Hugosson J, Abrahamsson P (2000) Neuroendocrine differentiation is not prognostic of failure after radical prostatectomy but correlates with tumor volume. Urology 56:1011–1015

Allsbrook WC, Simms WW (1992) Histochemistry of the prostate. Hum Pathol 23:297–305

Bettencourt M, Bauer JJ, Sesterhenn IA, Mostofi FK, McLeod DG, Moul JW (1996) Ki-67 expression is a prognostic marker of prostate cancer recurrence after radical prostatectomy. J Urol 156:1064–1068

Bonkoff H (1998) Neuroendocrine cells in benign and malignant prostate tissue: morphogenesis, proliferation, and androgen receptor status. Prostate [Suppl8]:18–22

Bubendorf L, Sauter G, Moch H, Schmid HP, Gasser TC, Jordan P, Mihatsch MJ (1996) Ki67 labelling index: an independent predictor of progression in prostate cancer treated by radical prostatectomy. J Pathol 178:437–441

Colombel M, Symmans F, Gil S, O'Toole KM, Chopin D, Benson M, Olsson CA, Korsmeyer S, Buttyan R (1993) Detection of the apoptosis-suppressing oncoprotein bc1–2 in hormone-refractory human prostate cancers. Am J Pathol 143:390–400

D'Amico AV, Chen MH, Malkowicz SB, Whittigton R, Renshaw AA, Tomaszewski JE, Samofalov Y, Wein A, Richie JP (2002) Lower prostate specific antigen outcome than expected following radical prostatectomy in patients with high grade prostate cancer and a prostatic specific antigen level of 4 ng/ml or less. J Urol 167:2025–2031

Di Sant'Agnese PA, Cockett AT (1996) Neuroendocrine differentiation in prostatic malignancy. Cancer 78:357–361

Finlay CA, Hinds PW, Levine AJ (1989) The p53 proto-oncogene can act as a suppressor of transformation. Cell 57:1083–1093

Gleason DF and Veterans Administration Cooperative Urological Research Group (1977) Histological grading and clinical staging of prostate carcinoma. In: Tannenbaum M (ed) Urologic pathology: the prostate. Lea and Febiger, Philadelphia, pp 171–197

Grossfeld GD, Olumi AF, Connolly JA, Chew K, Gibney J, Bhargava V, Waldman FM, Carroll PR (1998) Locally recurrent prostate tumors following either radiation therapy or radical prostatectomy have changes in Ki-67 labeling index, p53 and bcl-2 immunoreactivity. J Urol 159:1437–1443

Haussler O, Epstein JI, Amin MB, Heitz PU, Hailemariam S (1999) Cell proliferation, apoptosis, oncogene, and tumor suppressor gene status in adenosis with comparison to benign prostatic hyperplasia, prostatic intraepithelial neoplasia, and cancer. Hum Pathol 30:1077–1086

Helpap B, Klöppel G (2002) Neuroendocrine carcinomas of the prostate and urinary bladder: a diagnostic and therapeutic challenge. Virchows Arch 440:241–248

Henke RP, Krüger E, Ayhan N, Huebner D, Hammerer H, Huland H (1994) Immunohistochemical detection of p53 protein in human prostatic cancer. J Urol 152:1297–1301

Hsu SM, Raine L, Fanger H (1981) Use of avidin-biotin-peroxidase complex (ABC) in immunoperoxidase techniques: a comparison between ABC and unlabeled antibody (PAP) procedures. J Histochem Cytochem 29:577-580

Hull GW, Rabbani F, Abbas F, Wheeler TM, Kattan MW, Scardino PT (2002) Cancer control with radical prostatectomy alone in 1,000 consecutive patients. J Urol 167:528–534

Ismail AHR, Landry F, Aprikian AG, Chevalier S (2002) Androgen ablation promotes neuroendocrine cell differentiation in dog and human prostate. Prostate 51:117–125

Jemal A, Thomas A, Murray T, Thun M (2002) Cancer Statistics, 2002. CA Cancer J Clin 52:23–47

Johnson MI, Robinson MC, Marsh C, Robson CN, Neal DE, Hamdy FC (1998) Expression of bcl-2, bax, and p53 in high-grade prostatic intraepithelial neoplasia and localised prostate cancer: relationship with apotosis and proliferation. Prostate 37:223–229

Kallakury BV, Sheehan CE, Ross JS (2001) Co-downregulation of cell adhesion proteins alpha- and beta-Catenins, p120CTN, E-cadherin, and CD44 in prostatic adenocarcinomas. Hum Pathol 32:849–855

Koivisto P, Visakorpi T, Rantala I, Isola J (1997) Increased cell proliferation activity and decreased cell death are associated with the emergence of hormone-refractory recurrent prostate cancer. J Pathol 183:51–56

Lu Q-L, Abel P, Foster CS, Lalani E-M (1996) Bcl-2: Role in epithelial differentiation and oncogenesis. Hum Pathol 27:102–110

McNeal JE, Redwine EA, Freiha FS, Stamey TA (1988) Zonal distribution of prostatic adenocarcinoma. Correlation with histologic pattern and direction of spread. Am J Surg Pathol 12:897–906

Miayake H, Tolcher A, Gleave ME (2000) Chemosensitization and delayed androgen-independent recurrence of prostate cancer with the use of antisense Bcl-2 oligodeoxynucleotides. J Natl Cancer Inst 92:34–41

Moul JW, Bettencourt MC, Sesterhenn IA, Mostofi FK, McLeod DG, Srivastava S, Bauer JJ (1996) Protein expression of p53, bcl-2, and KI-67 (MIB-1) as prognostic biomarkers in patients with surgically treated, clinically localized prostate cancer. Surgery 120:159–166

Raffo AJ, Perlman H, Chen MW, Day ML, Streitman JS, Buttyan R (1995) Overexpression of Bcl-2 protects prostate cancer cells from apoptosis in vitro and confers resistance to androgen depletion in vivo. Cancer Res 55:4438–4445

Randolph TL, Amin MB, Ro JY, Ayala AG (1997) Histologic variants of adenocarcinoma and other carcinomas of prostate: pathologic criteria and clinical significance. Mod Pathol 10:612–629

Scalzo DA, Kallakury BVS, Gaddipati RV, Sheehan CE, Keys HM, Savage D, Ross JS (1998) Cell proliferation rate by Mib-1 immunhistochemistry predicts postradiation recurrence in prostatic adenocarcinomas. Am J Clin Pathol 109:163–168

Scherr DS, Vaughan ED Jr, Wei J, Chung M, Felsen D, Allbright R, Knudsen BS (1999) BCL-2 and p53 expression in clinically localized prostate cancer predicts response to external beam radiotherapy. J Urol 162:12–16

Sobin LH, Wittekind C (1997) International Union Against Cancer (UICC): TNM Classification of malignant tumors, 5th edn. Wiley-Liss, New York, pp. 170–173

Stamey TA, Freiha FS, McNeal JE, Redwine EA, Whittmore AS, Schmid HP (1993) Localized prostate cancer. Relationship of tumor volume to clinical significance for treatment of prostate cancer. Cancer 71:933–938

Stapleton AM, Zbell P, Kattan MW, Yang G, Wheeler TM, Scardino PT, Thompson TC (1998) Assessment of the biological markers p53, Ki-67, and apoptotic index as predictive indicators of prostate carcinoma recurrence after surgery. Cancer 82:168–175

Van Brussel JP, Jan Van Steenbrugge G, Van Krimpen C, Bogdanowicz JF, Van Der Kwast TH, Schroder FH, Mickisch GH (2001) Expression of multidrug resistance related proteins and proliferative activity is increased in advanced clinical prostate cancer. J Urol 165:130–135

Wulbrand U, Feldman M, Pfestroff A, Fehman HC, Du J, Hiltunen J, Marquez M, Arnold R, Westlin JE, Nilsson S, Holmberg AR (2002) A novel somatostatin conjugate with a high affinity to all five somatostatin receptor subtypes. Cancer [Suppl 94]:1293–1297

Yu DS, Hsieh DS, Chen HI, Chang SY (2001) The expression of neuropeptides in hyperplastic and malignant prostate tissue and its possible clinical implications. J Urol 166:871–875

Zelefsky MJ, Lyass O, Fuks Z, Wolfe T, Burman C, Ling CC, Leibel SA (1998) Predictors of improved outcome for patients with localized prostate cancer treated with neoadjuvant androgen ablation therapy and three-dimensional conformal radiotherapy. J Clin Oncol 16:3380-3385
Acknowledgements
The authors thank Mrs. Ebisch for immunohistochemical assays. This work was supported by a grant from the Deutsche Forschungsgemeinschaft to H. Huland. Dr. H. Augustin was partially supported by a grant of the Österreichische Gesellschaft für Urologie sponsored by AESCA Corp. (Traiskirchen, Austria).
About this article
Cite this article
Augustin, H., Hammerer, P.G., Graefen, M. et al. Characterisation of biomolecular profiles in primary high-grade prostate cancer treated by radical prostatectomy. J Cancer Res Clin Oncol 129, 662–668 (2003). https://doi.org/10.1007/s00432-003-0496-9
Received:

Accepted:

Published:

Issue Date:

DOI: https://doi.org/10.1007/s00432-003-0496-9
Keywords