Abstract
Plastic bronchitis (PB) is a rare and life-threatening complication encountered in several disease states that leads to airway obstruction by branching casts. PB is most often reported in children with cyanotic congenital heart disease where recurrence is common, and mortality is high. There is limited data on optimal management strategies or recurrence of non-structural heart disease–related PB in children. We describe the clinical features, management, and outcomes in our cohort of children with non-structural heart disease-related PB. Among the 12 identified patients, asthma was the most common (67%) diagnosis. Ventilatory requirements ranged from room air to one patient who required extracorporeal membrane oxygenation (ECMO). Most patients (92%) required bronchoscopy, and cryotherapy was successfully utilized in two patients to relieve refractory obstructive airway casts. All patients received chest physiotherapy, and 11 patients were treated with two or more medications. There was one mortality despite ECMO, and one-third had recurrent PB, all of whom had asthma.
Conclusion: Asthma is a risk factor for recurrent PB. Bronchoscopic interventions including cryotherapy are safe and effective treatment options in patients with refractory PB.
What is Known:
• Plastic bronchitis is a rare but life-threatening cause of airway obstruction caused by branching casts that are generally reported in patients with congenital heart disease.
What is New:
• In children without structural heart disease, asthma is a risk factor for recurrent plastic bronchitis. Cryotherapy via bronchoscopy is a safe and effective intervention in patients with refractory plastic bronchitis.
This is a preview of subscription content,
to check access.
Access this article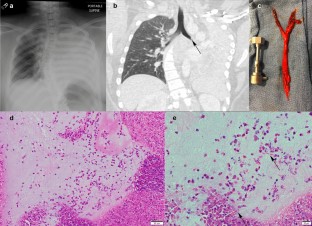 Similar content being viewed by others
Data availability
The deidentified data from human subjects has not been uploaded to any public servers.
Abbreviations
BAL:

Bronchoalveolar lavage

CHD:

Congenital heart disease

ECMO:

Extracorporeal membrane oxygenation

ETT:

Endotracheal tube

FB:

Flexible bronchoscopy

HFNC:

High flow nasal cannula oxygen

MV:

Mechanical ventilation

NPPV:

Noninvasive positive pressure ventilation

PB:

Plastic bronchitis

PCR:

Polymerase chain reaction

RB:

Rigid bronchoscopy

SCACS:

Sickle cell acute chest syndrome

tPA:

Tissue plasminogen activator
References
Rubin BK (2016) Plastic Bronchitis. Clin Chest Med 37:405–408. https://doi.org/10.1016/j.ccm.2016.04.003

Seear M, Hui H, Magee F et al (1997) Bronchial casts in children: a proposed classification based on nine cases and a review of the literature. Am J Respir Crit Care Med 155:364–370. https://doi.org/10.1164/ajrccm.155.1.9001337

Gibb E, Blount R, Lewis N et al (2012) Management of plastic bronchitis with topical tissue-type plasminogen activator. Pediatrics 130:e446–e450. https://doi.org/10.1542/peds.2011-2883

Mateos-Corral D, Cutz E, Solomon M, Ratjen F (2009) Plastic bronchitis as an unusual cause of mucus plugging in cystic fibrosis. Pediatr Pulmonol 44:939–940. https://doi.org/10.1002/ppul.21063

Krenke K, Krenke R, Krauze A et al (2010) Plastic bronchitis: an unusual cause of atelectasis. Respiration 80:146–147. https://doi.org/10.1159/000243711

Deng J, Zheng Y, Li C et al (2010) Plastic bronchitis in three children associated with 2009 influenza A(H1N1) virus infection. Chest 138:1486–1488. https://doi.org/10.1378/chest.10-0548

Brogan TV, Finn LS, Pyskaty DJJ et al (2002) Plastic bronchitis in children: a case series and review of the medical literature. Pediatr Pulmonol 34:482–487. https://doi.org/10.1002/ppul.10179

Kuperman T, Wexler ID, Shoseyov D et al (2006) Plastic bronchitis caused by neoplastic infiltrates in a child. Pediatr Pulmonol 41:893–896. https://doi.org/10.1002/ppul.20370

Li Y, Williams RJ, Dombrowski ND et al (2020) Current evaluation and management of plastic bronchitis in the pediatric population. Int J Pediatr Otorhinolaryngol 130:109799. https://doi.org/10.1016/j.ijporl.2019.109799

Madsen P, Shah SA, Rubin BK (2005) Plastic bronchitis: new insights and a classification scheme. Paediatr Respir Rev 6:292–300. https://doi.org/10.1016/j.prrv.2005.09.001

Wang L, Wang W, Sun J, min, et al (2020) Efficacy of fiberoptic bronchoscopy and bronchoalveolar lavage in childhood-onset, complicated plastic bronchitis. Pediatr Pulmonol 55:3088–3095. https://doi.org/10.1002/ppul.25016

Johnson RS, Sita-Lumsden EG (1960) Plastic bronchitis. Thorax 15:325–332. https://doi.org/10.1136/thx.15.4.325

Soyer T, Yalcin Ş, Emiralioğlu N et al (2016) Use of serial rigid bronchoscopy in the treatment of plastic bronchitis in children. J Pediatr Surg 51:1640–1643. https://doi.org/10.1016/j.jpedsurg.2016.03.017

Cajaiba MM, Borralho P, Reyes-Mugica M (2008) The potentially lethal nature of bronchial casts: plastic bronchitis. Int J Surg Pathol 16:230–232. https://doi.org/10.1177/1066896907307234

Sriratanaviriyakul N, Lam F, Morrissey BM et al (2015) Safety and clinical utility of flexible bronchoscopic cryoextraction in patients with non-neoplasm tracheobronchial obstruction: a retrospective chart review. J Bronchology Interv Pulmonol 22:288–293. https://doi.org/10.1097/LBR.0000000000000203

Engelhardt K, Pirolli T, Raman L et al (2019) Successful use of pulmonary cryotherapy for tracheobronchial thrombus extraction and recanalization of the tracheobronchial tree during a pediatric venovenous extracorporeal membrane oxygenation run. Pediatr Allergy Immunol Pulmonol 32:28–30

Kazachkov M, Vicencio A (2016) Foreign body removal is getting "cooler." Pediatr Pulmonol 51:886–888. https://doi.org/10.1002/ppul.23521

DiBardino DM, Lanfranco AR, Haas AR (2016) Bronchoscopic cryotherapy. Clinical applications of the cryoprobe, cryospray, and cryoadhesion. Ann Am Thorac Soc 13:1405–1415. https://doi.org/10.1513/AnnalsATS.201601-062FR

Schultz KD, Oermann CM (2003) Treatment of cast bronchitis with low-dose oral azithromycin. Pediatr Pulmonol 35:139–143. https://doi.org/10.1002/ppul.10196

Vezina K, Dipchand AI, Narang I (2020) High-flow nasal cannula for the treatment of life-threatening plastic bronchitis. Pediatr Pulmonol 55:E1–E2
Ethics declarations
Ethics approval
The study was approved by the Children's Healthcare of Atlanta Institutional Review Board. In view of the retrospective nature of this study, all procedures performed were part of routine clinical care.
Consent to participate
Not applicable since this was a retrospective chart review.
Consent for publication
All authors have consented for the publication of the current version of this manuscript.
Conflict of interest
The authors declare no competing interests.
Additional information
Communicated by: Daniele De Luca
Publisher's Note
Springer Nature remains neutral with regard to jurisdictional claims in published maps and institutional affiliations.
About this article
Cite this article
Kallam, E.F., Kasi, A.S., Patki, R. et al. Bronchoscopic interventions for plastic bronchitis in children without structural heart disease. Eur J Pediatr 180, 3547–3554 (2021). https://doi.org/10.1007/s00431-021-04161-5
Received:

Revised:

Accepted:

Published:

Issue Date:

DOI: https://doi.org/10.1007/s00431-021-04161-5
Keywords