Abstract
Population-based screening studies have documented prevalence of celiac disease (CD) at 1% at age 7 years, but 90% of children remain undiagnosed. This prospective cohort study aims to examine whether observed differences in diagnosis rates of CD exist between children from different socioeconomic groups and how this has changed over a 12-year period. All children aged ≤15 years with a postcode within South West of England (SWE) diagnosed with CD during a 12-year period (1999–2010) when all diagnoses were based on endoscopic histology were included in the study. The incidence rates in socioeconomic groups were determined using the Index of Multiple Deprivation Score and Office of National Statistics population data. Four hundred fifteen children were diagnosed with CD; 65 within the City of Bristol (CoB). Diagnosis rate rose 4.2 times in SWE and 3.1 times in CoB between the first and last 4 years of the study. The rate was 1.6 times higher in the least socioeconomically deprived compared to most deprived (2.2 times in CoB), and the gap widened over the 12 years. Missed cases estimates for CoB and SWE are at least 83% and 91%, respectively.
Conclusion: These findings suggest that while incidence of diagnosed CD in children has increased over a 12-year period, 83–91% remained undiagnosed. Socioeconomically deprived children are more likely to be underdiagnosed, and the gap between the least and most deprived has widened. To fully address massive underdiagnosis, further strategies including pilot studies using finger prick serological mass screening for CD in children entering primary schools are needed.
What is Known:
• Epidemiological studies record a 1% prevalence of celiac disease (CD), but up to 90% of children may remain undiagnosed.
• Previous studies have documented an increased incidence of CD in higher socioeconomic groups, but proposed reasons remain conflicting.
What is New:
• Incidence of diagnosed CDhas gone up across all social classes but more so in higher socioeconomic groups and there is an increasing health/wealth gap.
• This study estimates that 83–91% of children with CD are still being missed despite improved and easily available serological testing and suggest that population screening should be reconsidered.
Access options
Buy single article
Instant access to the full article PDF.
USD 39.95
Price includes VAT (USA)
Tax calculation will be finalised during checkout.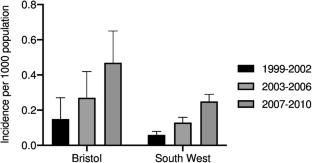 Data Availability
Available on request from Dr. Whitburn.
Abbreviations
ALSPAC:

Avon Longitudinal Study of Parents and Children

BRHC :

Bristol Royal Hospital for Children

CD:

Celiac disease

CoB:

City of Bristol

DGH:

District General Hospital

ESPGHAN:

European Society of Paediatric Gastroenterology, Hepatology and Nutrition

HLA:

Human leukocyte antigen

IMD:

Index of Multiple Deprivation

LSOA:

Lower Layer Super Output Area

NASPGHAN:

North American Society for Pediatric Gastroenterology, Hepatology and Nutrition

ONS:

Office of National Statistics

PALGA:

Pathologisch Anatomisch Landelijk Geautomatiseerd Archief

RR:

Relative risk

SWE:

South West of England

UK:

United Kingdom

USA:

United States of America
References
1.

Ludvigsson JF, Leffler DA, Bai JC et al (2013) The Oslo definitions for coeliac disease and related terms. Gut. 62:43–52

2.

Husby S, Koletzko S, Korponay-Szabó IR et al (2012) European Society for Pediatric Gastroenterology, Hepatology and Nutrition guidelines for the diagnosis of coeliac disease. J Pediatr Gastroenterol Nutr 54:136–160

3.

Lohi S, Mustalahti K, Kaukinen K et al (2007) Increasing prevalence of coeliac disease over time. Aliment Pharmacol Ther 26:1217–1225

4.

White LE, Merrick VM, Bannerman E et al (2013) The rising incidence of celiac disease in Scotland. Pediatrics. 132:e924–e931

5.

Bingley PJ, Norcross AJ, Lock RJ, Ness AR, Jones RW (2004) Undiagnosed coeliac disease at age seven: population based prospective birth cohort study. BMJ. 328:322–323

6.

Fabiani CC, Ratsch IM, Coppa GV et al (1996) The coeliac iceberg in Italy. A multicentre antigliadin antibodies screening for coeliac disease in school-age subjects. Acta Pediatr Suppl 412:29–35

7.

Fasano A, Berti I, Gerarduzzi T et al (2013) Prevalence of celiac disease in at-risk and not-at-risk groups in the United States. Arch Intern Med 163:286-292

8.

Mäki M, Mustalahti K, Kokkonen J et al (2003) Prevalence of celiac disease among children in Finland. N Engl J Med 348:2517–2524

9.

Ravikumara M, Nootigattu VK, Sandhu BK (2007) Ninety percent of celiac disease is being missed. J Pediatr Gastroenterol Nutr 45:497–499

10.

Kondrashova A, Mustalahti K, Kaukinen K et al (2008) Lower economic status and inferior hygienic environment may protect against celiac disease. Ann Med 40:223–231

11.

Olén O, Bihagen E, Rasmussen F, Ludvigsson JF (2012) Socioeconomic position and education in patients with coeliac disease. Dig Liver Dis 44:471–476

12.

Whyte LA, Kotecha S, Watkins WJ, Jenkins HR (2014) Coeliac disease is more common in children with high socio-economic status. Acta Paediatr 103:289–294

13.

Zingone F, West J, Crooks CJ et al (2015) Socioeconomic variation in the incidence of childhood coeliac disease in the UK. Arch Dis Child 100:466–473

14.

Roy A, Mehra S, Kelly CP et al (2016) The association between socioeconomic status and the symptoms at diagnosis of celiac disease: a retrospective cohort study. Ther Adv Gastroenterol 9:495–502

15.

Fuchs V, Kurppa K, Huhtala H, Collin P, Mäki M, Kaukinen K (2014) Factors associated with long diagnostic delay in celiac disease. Scand J Gastroenterol 49:1304–1310

16.

Norström F, Lindholm L, Sandström O, Nordyke K, Ivarsson A (2011) Delay to celiac disease diagnosis and its implications for health-related quality of life. BMC Gastroenterol 11:118

17.

Rubio-Tapia A, Kyle RA, Kaplan EL et al (2009) Increased prevalence and mortality in undiagnosed celiac disease. Gastroenterology. 137:88–93

18.

Godfrey JD, Brantner TL, Brinjikji W et al (2010) Morbidity and mortality among older individuals with undiagnosed celiac disease. Gastroenterology. 139:763–769

19.

Burger JP, Roovers EA, Drenth JP, Meijer JW, Wahab PJ (2014) Rising incidence of celiac disease in the Netherlands; an analysis of temporal trends from 1995 to 2010. Scand J Gastroenterol 49:933–941

20.

Bonamico M, Nenna R (2009) Implications of mass screening for childhood celiac disease. Pediatr Health 3:413–415

21.

Fabiani E, Taccari LM, Rätsch IM, Di Giuseppe S, Coppa GV, Catassi C (2000) Compliance with gluten-free diet in adolescents with screening-detected celiac disease: a 5-year follow-up study. J Pediatr 136:841–843

22.

Edlinger-Horvat C, Fidler D, Huber WD et al (2005) Serological screening for undiagnosed coeliac disease in male adolescents in lower Austria: a population based study. Eur J Pediatr 164:52–53

23.

Ludvigsson JF, Card TR, Kaukinen K et al (2015) Screening for celiac disease in the general population and in high-risk groups. United European Gastroenterol J 3:106–120
Ethics declarations
Ethics approval
This study was conducted as a service review with approval from the local audit department.
Consent to participate
Not applicable as no patient data was collected.
Consent for publication
Not applicable as no patient data was collected.
Conflict of interest
The authors declare no competing interests.
Additional information
Publisher's note
Springer Nature remains neutral with regard to jurisdictional claims in published maps and institutional affiliations.
Communicated by Peter de Winter
About this article
Cite this article
Whitburn, J., Rao, S.R., Paul, S.P. et al. Diagnosis of celiac disease is being missed in over 80% of children particularly in those from socioeconomically deprived backgrounds. Eur J Pediatr 180, 1941–1946 (2021). https://doi.org/10.1007/s00431-021-03974-8
Received:

Revised:

Accepted:

Published:

Issue Date:
Keywords
Celiac disease

Socioeconomic

Health/wealth gap

Missed diagnosis

Child

Biopsy