Abstract
Pyogenic sacroiliitis (PS) is rare with less than 100 pediatric cases reported in the medical literature. To better characterize PS in the pediatric population, we investigated a series of children presenting with PS. Retrospective data analysis was done at an academic tertiary center between the years of 2000 and 2017. All hospitalized children ≤ 16 years of age with PS were evaluated. Of the 894 children hospitalized with osteoarticular infections, 18 were diagnosed with PS (2%) and are included in the review. Two clinically distinct groups were identified. PS in infants (n = 13, 72.2%, mean age 1.1 years) had an indolent course and a faster recovery without any bacterial source identified. In contrast, the group of older children (n = 5, 27.8%, mean age 11.6 years) had a more complicated course and a higher rate of identified bacterial infections.
Conclusion: We describe an under-recognized entity of PS in infants with a mild clinical course and fast recovery that differ from the "classical" septic sacroiliitis. Infants with PS did not suffer from invasive complications, and pathogen characteristics of older children were not identified. Infants with fever, irritability, decreased range of motion in the pelvic area, and pain during diapering should alert the clinician to this diagnosis.
What is Known:
• Pediatric pyogenic sacroiliitis is an extremely rare condition usually caused by Staphylococcus aureus with highest incidence in adolescents.
• The diagnosis of PS is challenging due to its rarity and difficulty in assessing the sacroiliac joint.
What is New:
• We describe an under-recognized entity of PS in infants with a mild clinical course, without invasive complications and with fast recovery that differ from "classical" septic sacroiliitis.
• Infants with fever, irritability, decreased range of motion in the pelvic area and pain during diapering should raise clinical suspicion of this diagnosis.
Access options
Buy single article
Instant access to the full article PDF.
US$ 39.95
Tax calculation will be finalised during checkout.
Subscribe to journal
Immediate online access to all issues from 2019. Subscription will auto renew annually.
US$ 119
Tax calculation will be finalised during checkout.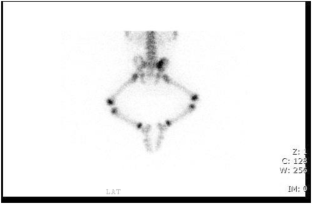 Abbreviations
GPC:

Gram-positive cocci

MSSA:

Methicillin-sensitive Staphylococcus aureus

PS:

Pyogenic sacroiliitis
References
1.

Donzelli A, Samara E, Spyropoulou V, Juchler C, Ceroni D (2017) Pediatric sacroiliitis: clinical and microbiologic differences between infants and children-adolescents. Pediatr Infect Dis J 36(7):631–634

2.

El Houmami N, Minodier P, Dubourg G, Mirand A, Jouve JL, Basmaci R et al (2016) Patterns of Kingella kingae disease outbreaks. Pediatr Infect Dis J 35(3):340–346

3.

Ferroni A, Al Khoury H, Dana C, Quesne G, Berche P, Glorion C et al (2013) Prospective survey of acute osteoarticular infections in a French paediatric orthopedic surgery unit. Clin Microbiol Infect 19(9):822–828

4.

Gafur OA, Copley LA, Hollmig ST, Browne RH, Thornton LA, Crawford SE (2008) The impact of the current epidemiology of pediatric musculoskeletal infection on evaluation and treatment guidelines. J Pediatr Orthop 28(7):777–785

5.

Herman MJ, Martinek M (2015) The limping child. Pediatr Rev 36(5):184–195 quiz 96-7

6.

Imagama T, Tokushige A, Sakka A, Seki K, Taguchi T (2015) Postpartum pyogenic sacroiliitis with methicillin-resistant Staphylococcus aureus in a healthy adult: a case report and review of the literature. Taiwan J Obstet Gynecol 54(3):303–305

7.

Leroux J, Bernardini I, Grynberg L, Grandguillaume C, Michelin P, Ould Slimane M, Nectoux E, Deroussen F, Gouron R, Angelliaume A, Ilharreborde B, Renaux-Petel M (2015) Pyogenic sacroiliitis in a 13-month-old child: a case report and literature review. Medicine 94(42):e1581

8.

Manz N, Krieg AH, Heininger U, Ritz N (2018) Evaluation of the current use of imaging modalities and pathogen detection in children with acute osteomyelitis and septic arthritis. Eur J Pediatr 177(7):1071–1080

9.

McMullan BJ, Andresen D, Blyth CC, Avent ML, Bowen AC, Britton PN, Clark JE, Cooper CM, Curtis N, Goeman E, Hazelton B, Haeusler GM, Khatami A, Newcombe JP, Osowicki J, Palasanthiran P, Starr M, Lai T, Nourse C, Francis JR, Isaacs D, Bryant PA, ANZPID-ASAP group (2016) Antibiotic duration and timing of the switch from intravenous to oral route for bacterial infections in children: systematic review and guidelines. Lancet Infect Dis 16(8):e139–ee52

10.

McNeil JC, Kaplan SL, Vallejo JG (2017) The influence of the route of antibiotic administration, methicillin susceptibility, vancomycin duration and serum trough concentration on outcomes of pediatric Staphylococcus aureus bacteremic osteoarticular infection. Pediatr Infect Dis J 36(6):572–577

11.

Molinos Quintana A, Morillo Gutierrez B, Camacho Lovillo MS, Neth O, Obando Santaella I (2011) Pyogenic sacroiliitis in children-a diagnostic challenge. Clin Rheumatol 30(1):107–113

12.

Moros ML, Rodrigo C, Villacampa A, Ruiz J, Lapresta C (2009) Septic shock in pregnancy due to pyogenic sacroiliitis: a case report. J Med Case Rep 3:6505

13.

Schaad UB, McCracken GH Jr, Nelson JD (1980) Pyogenic arthritis of the sacroiliac joint in pediatric patients. Pediatrics 66(3):375–379

14.

Srinivasan S, Miller C, Akhras N, Blackwood AR (2012) Pediatric pyogenic sacroiliitis and osteomyelitis. Infect Dis Rep 4(1):e18

15.

Tseng YC, Yang YS, Wu YC, Chiu SK, Lin TY, Yeh KM (2014) Infectious sacroiliitis caused by Staphylococcus aureus following acupuncture: a case report. Acupunct Med 32(1):77–80

16.

Wada A, Takamura K, Fujii T, Yanagida H, Surijamorn P (2008) Septic sacroiliitis in children. J Pediatr Orthop 28(4):488–492

17.

Wu MS, Chang SS, Lee SH, Lee CC (2007) Pyogenic sacroiliitis--a comparison between paediatric and adult patients. Rheumatology (Oxford) 46(11):1684–1687

18.

Zimmermann B, Mikolich DJ, Lally EV (1996) Septic sacroiliitis. Semin Arthritis Rheum 26(3):592–604
Ethics declarations
Conflict of interest
The authors declare that they have no conflict of interest.
Ethical approval
The Institutional Review Board of Hadassah-Hebrew University Medical Center approved the study protocol (0140-15-HMO August 2015). Oral informed consent was obtained from all individual participants included in the study prior to phone interview.
Authors' Contributions
EL, AGH & YB designed the study, collected and analyzed the data and drafted the manuscript. NS, DA and IW provided substantial contribution to draft the paper and reviewed the final manuscript. All authors gave their final approval of the version to be published and agree to be accountable for all aspects of the work.
Additional information
Publisher's note
Springer Nature remains neutral with regard to jurisdictional claims in published maps and institutional affiliations.
Communicated by Nicole Ritz
About this article
Cite this article
Lavi, E., Gileles-Hillel, A., Simanovsky, N. et al. Pyogenic sacroiliitis in children: don't forget the very young. Eur J Pediatr 178, 575–579 (2019). https://doi.org/10.1007/s00431-019-03333-8
Received:

Revised:

Accepted:

Published:

Issue Date:
Keywords
Osteoarticular infections

Osteomyelitis

Septic arthritis

Infants

Kingella kingae
Staphylococcus aureus