Abstract
Children with intellectual disability frequently undergo needle-related procedures for diagnosis or treatment. Nevertheless, only a few studies deal with pain and distress management during the procedure in this population of children. This study aimed to investigate the number of anxiety and pain management techniques performed during needle procedure in children with intellectual disability (cases) compared to a population of children without intellectual disability (controls). This multicenter cohort study was performed from July 2016 to January 2018 in the pediatric ward of four urban hospitals in Italy. Eligible subjects were children with and without intellectual disability, from 4 to 17 years old, who needed venipuncture or intravenous cannulation for diagnosis or treatment. Use of topical anesthesia, distraction techniques, and physical or verbal comfort during procedures were recorded. Pain and anxiety scores were also recorded. Forty-seven cases and 94 controls were recruited. Three pain- and anxiety-relieving techniques were performed during the procedure in 12 (25%) cases and in 10 controls (11%); two techniques were performed in 23 (50%) cases and in 26 (28%) controls; 12 (25%) cases and 52 (55%) controls received only one.
Conclusion: In this series, children with intellectual disability received significantly more relieving techniques, but experienced more pain and anxiety when compared to children without intellectual disability.
What is Known:
• Children with intellectual disability experience more episodes of pain than cognitively healthy ones, and almost 10% of these episodes are due to medical procedures.
What is New:
• Children with intellectual disability despite receiving more relieving techniques during a needle-related procedure experienced more pain and anxiety when compared to healthy children.
This is a preview of subscription content, log in to check access.
Access options
Buy single article
Instant access to the full article PDF.
US$ 39.95
Price includes VAT for USA
Subscribe to journal
Immediate online access to all issues from 2019. Subscription will auto renew annually.
US$ 199
This is the net price. Taxes to be calculated in checkout.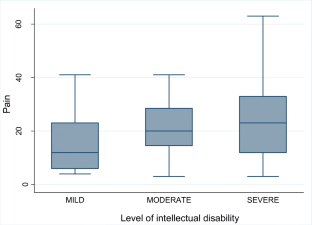 Abbreviations
CEMS:

Children's Emotional Manifestation Scale

ID:

Intellectual disability

NCCPC-PV:

Non-Communicating Children's Pain Checklist-Postoperative Version
References
1.

Ben-Pazi H, Lotem-Ophir R, Cohen A, Kroyzer-Shapira N (2011) Clown care for reducing pain among children with cerebral palsy undergoing needle procedures: the science and art. PLoS One 12(4):e0175028. https://doi.org/10.1371/journal.pone.0175028

2.

Breau LM, Finley GA, McGrath PJ, Camfield CS (2002) Validation of the non-communicating children's pain checklist-postoperative version. Anesthesiology 96(3):528–535. Erratum in Anesthesiology 97(3):769

3.

Breau LM, Camfield CS, McGrath PJ, Finley GA (2003) The incidence of pain in children with severe cognitive impairments. Arch Pediatr Adolesc Med 157(12):1219–1226. https://doi.org/10.1001/archpedi.157.12.1219

4.

Breau LM, Camfield CS, McGrath PJ, Finley GA (2007) Pain's impact on adaptive functioning. J Intellect Disabil Res 51(2):125–134. https://doi.org/10.1111/j.1365-2788.2006.00851.x

5.

Defrin F, Lotan M, Pick CG (2006) The evaluation of acute pain in individuals with cognitive impairment: a differential effect of the level of impairment. Pain 124(3):312–320

6.

Duff AJA, Gaskell SL, Jacobs K, Houghton JM (2012) Management of distressing procedures in children and young people: time to adhere to the guidelines. Arch Dis Child 97(1):1–4. https://doi.org/10.1136/archdischild-2011-300762

7.

Felluga M, Rabach I, Minute M, Montico M, Giorgi R, Lonciari I, Taddio A, Barbi E (2016) A quasi randomized-controlled trial to evaluate the effectiveness of clown therapy on children's anxiety and pain levels in emergency department. Eur J Pediatr 175(5):645–650. https://doi.org/10.1007/s00431-015-2688-0

8.

Hauer J, Houtrow AJ (2017) Pain assessment and treatment in children with significant impairment of the central nervous system. Pediatrics 139(6):e20171002. https://doi.org/10.1542/peds.2017-1002

9.

Hicks CL, Von Baeyer CL, Spafford PA, Van Korlaar I, Goodenough B (2001) The Faces Pain Scale—revised: toward a common metric in pediatric pain measurement. Pain 93(2):173–183

10.

Leahy S, Kennedy RM, Hesselgrav J, Gurwitch K, Barkey M, Millar TF (2008) On the front lines: lessons learned in implementing multidisciplinary peripheral venous access pain-management programs in pediatric hospitals. Pediatrics 122(Sup. 3):S161–S170. https://doi.org/10.1542/peds.2008-1055i

11.

Li HCW (2007) Evaluating the effectiveness of preoperative interventions: the appropriateness of using the children's emotional manifestation scale. J Clin Nurs 16(10):1919–1926. https://doi.org/10.1111/j.1365-2702.2007.01784.x

12.

Malviya S, Voepel-Lewis T, Tait AR, Merkel S, Lauer A, Munro H, Farley F (2001) Pain management in children with and without cognitive impairment following spine fusion surgery. Paediatr Anaesth 11(4):453–458

13.

Malviya S, Voepel-Lewis T, Burke C, Merkel S, Tait AR (2006) The revised FLACC observational pain tool: improved reliability and validity for pain assessment in children with cognitive impairment. Paediatr Anaesth 16(3):258–265. https://doi.org/10.1111/j.1460-9592.2005.01773.x

14.

Massaro M, Ronfani L, Ferrara G, Badina L, Giorgi R, D'Osualdo F, Taddio A, Barbi E (2014) A comparison of three scales for measuring pain in children with cognitive impairment. Acta Paediatr 103(11):e495–e500. https://doi.org/10.1111/apa.12748

15.

Noel M, McMurtry MC, Chambers CT, McGrath PJ (2010) Children's memory for painful procedures: the relationship of pain intensity, anxiety, and adult behaviors to subsequent recall. J Pediatr Psychol 35(6):626–636. https://doi.org/10.1093/jpepsy/jsp096

16.

Pillai Riddell RR, Racine NM, Gennis HG, Turcotte K, Uman LS, Horton RE, Ahola Kohut S, Hillgrove Stuart J, Stevens B, Lisi DM (2012) Cochrane review: non-pharmacological management of infant and young child procedural pain. Cochrane Database Syst Rev 12:CD006275. https://doi.org/10.1002/14651858.CD006275.pub3.

17.

Slifer KJ, Hankinson JC, Zettler MA, Frutchey RA, Hendricks MC, Ward CM, Reesman J (2011) Distraction, exposure therapy, counter conditioning, and topical anesthetic for acute pain management during needle sticks in children with intellectual and developmental disabilities. Clin Pediatr (Phila) 50:688–697. https://doi.org/10.1177/0009922811398959

18.

Sparks LA, Setlik J, Luhman J (2007) Parental holding and positioning to decrease IV distress in young children: a randomized controlled trial. J Pediatr Nurs 22(6):440–447. https://doi.org/10.1016/j.pedn.2007.04.010

19.

Thrane SE, Wanless S, Cohen SM, Danford CA (2016) The assessment and non-pharmacologic treatment of procedural pain from infancy to school age through a developmental lens: a synthesis of evidence with recommendations. J Pediatr Nurs 31(1):e23–e32. https://doi.org/10.1016/j.pedn.2015.09.002

20.

Uman LS, Birnie KA, Noel M, Parker JA, Chambers CT, McGrath PJ, Kisely SR (2013) Psychological interventions for needle-related procedural pain and distress in children and adolescents. Cochrane Database Syst Rev 10:CD005179. https://doi.org/10.1002/14651858.CD005179.pub3.

21.

von Baeyer CL, Spagrud LJ, McCormick JC, Choo E, Neville K, Connelly MA (2009) Three new datasets supporting use of the Numerical Rating Scale (NRS-11) for children's self-reports of pain intensity. Pain 143(3):223–227. https://doi.org/10.1016/j.pain.2009.03.002.

22.

Wong D, Baker C (1988) Pain in children: comparison of assessment scales. Pediatr Nurs 14(1):9–17

23.

Young KD (2005) Pediatric procedural pain. Ann Emerg Med 45(2):160–171

24.

Zanchi C, Massaro M, Ferrara G, Montico M, D'Osualdo F, Rutigliano R, Taddio A, Vecchi Brumatti L, Cozzi G, Barbi E (2017) Validation of the Italian version of the Non-Communicating Children's Pain Checklist-Postoperative Version. Ital J Pediatr 43(1):75. https://doi.org/10.1186/s13052-017-0388-2

25.

Zempsky WT (2008) Pharmacologic approaches for reducing venous access pain in children. Pediatrics 122:S140–S153. https://doi.org/10.1542/peds.2008-1055g
Acknowledgements
We would like to thank every health professional worker, especially the nurses, who took care of the hospitalized children.
Ethics declarations
Conflict of interest
The authors declare that they have no conflict of interest.
Informed consent
Written informed consent was obtained from all parents of all children included in the study.
Ethical approval
The independent ethical committee of our Institutes and of every participated center approved the study protocol before enrollment of the first participant.
Ethical standards
All procedures performed in studies involving human participants were in accordance with the ethical standards of the institutional and/or national research committee and with the 1964 Helsinki declaration and its later amendments or comparable ethical standards.
Animal studies
This article does not contain any studies with animals performed by any of the authors.
Additional information
Communicated by Mario Bianchetti
Electronic supplementary material
About this article
Cite this article
Pascolo, P., Peri, F., Montico, M. et al. Needle-related pain and distress management during needle-related procedures in children with and without intellectual disability. Eur J Pediatr 177, 1753–1760 (2018). https://doi.org/10.1007/s00431-018-3237-4
Received:

Revised:

Accepted:

Published:

Issue Date:
Keywords
Intellectual disability

Procedural pain

Procedural distress

Distraction