Abstract
Neonates with low birthweight (LBW) represent a vulnerable population. This retrospective study analyzed the birth frequency of diseases detected by neonatal screening (NBS) in normal and LBW neonates in the Czech Republic. Between years 2002 and 2016, the number of screened disorders in the Czech Republic gradually increased from two to 13. Prevalence of screened diseases was calculated for cohorts ranging from 777,100 to 1,277,283 neonates stratified by birthweight. Odds ratio of the association of LBW with each disease was calculated and statistical significance was evaluated using the chi-square test or Fisher's exact test, as appropriate. Three diseases were associated with higher risk of prevalence in LBW neonates, namely congenital hypothyroidism (OR 2.50, CI 1.92; 3.25), cystic fibrosis (OR 2.44, CI 1.51; 3.94), and long chain 3-hydroxyacyl-CoA dehydrogenase deficiency (LCHADD) (OR 7.74, CI 2.18; 27.42).
Conclusion: Although the underlying mechanisms are not well understood, results can be hypothesized that LBW (respectively prematurity) may lead to the secondary and often transitory hypothyroidism while cystic fibrosis and LCHADD may manifest already prenatally and result into preterm birth and LBW.
What is Known:
• The percentage of low birthweight (LBW) neonates in the Czech Republic has been increasing.
• Previously published studies reported positive association between LBW and congenital hypothyroidism and cystic fibrosis.
What is New:
• The association between LCHADD and LBW has not yet been described.
• LBW can be the first manifestation of cystic fibrosis and LCHADD.
Access options
Buy single article
Instant access to the full article PDF.
USD 39.95
Price excludes VAT (USA)
Tax calculation will be finalised during checkout.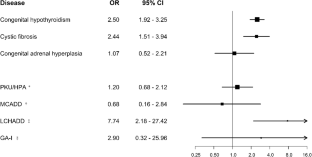 Abbreviations
17-OHP:

17-Hydroxyprogesterone

CACTD:

Carnitine-acylcarnitine translocase deficiency

CFTR:

Cystic fibrosis transmembrane conductance regulator

CAH:

Congenital adrenal hyperplasia

CF:

Cystic fibrosis

CH:

Congenital hypothyroidism

CI:

Confidence interval

CPTID:

Carnitine palmitoyl transferase I deficiency

CPTIID:

Carnitine palmitoyl transferase II deficiency

GA I:

Glutaric aciduria type I (glutaryl-CoA dehydrogenase deficiency)

IMDs:

Inherited metabolic disorders

IRT:

Immunoreactive trypsinogen

IVA:

Isovaleryl-CoA dehydrogenase deficiency (isovaleric acidemia)

LBW:

Low birthweight

LCHADD:

Long chain 3-hydroxyacyl-CoA dehydrogenase deficiency

MCADD:

Medium chain acyl-CoA dehydrogenase deficiency

MS/MS:

Tandem mass spectrometry

MSUD:

Maple syrup urine disease

NBS:

Neonatal screening

OR:

Odds ratio

PKU/HPA:

Phenylketonuria/hyperphenylalaninemia

TSH:

Thyroid-stimulating hormone

VLCADD:

Very long chain acyl-CoA dehydrogenase deficiency
References
Cheong JL, Doyle LW (2012) Increasing rates of prematurity and epidemiology of late preterm birth. J Paediatr Child Health 48:784–788

Ananth CV, Vintzileos AM (2006) Epidemiology of preterm birth and its clinical subtypes. J Matern Fetal Neonatal Med 19:773–782

Dalili S, Rezvany SM, Dadashi A, Medghalchi A, Mohammadi H, Dalili H, Mirzanejad M, Gholamnezhad H, Amirhakimi A (2012) Congenital hypothyroidism: a review of the risk factors. Acta Med Iran 50:735–739

Waller DK, Anderson JL, Lorey F, Cunningham GC (2000) Risk factors for congenital hypothyroidism: an investigation of infant's birth weight, ethnicity, and gender in California, 1990–1998. Teratology 62:36–41

Festini F, Taccetti G, Repetto T, Reali MF, Campana S, Mergni G, Marianelli L, de Martino M (2005) Gestational and neonatal characteristics of children with cystic fibrosis: a cohort study. J Pediatr 147:316–320

Buyukgebiz A (2006) Newborn screening for congenital hypothyroidism. J Pediatr Endocrinol Metab 19:1291–1298

Votava F, Novotna D, Kracmar P, Vinohradska H, Stahlova-Hrabincova E, Vrzalova Z, Neumann D, Malikova J, Lebl J, Matern D (2012) Lessons learned from 5 years of newborn screening for congenital adrenal hyperplasia in the Czech Republic: 17-hydroxyprogesterone, genotypes, and screening performance. Eur J Pediatr 171:935–940

Sommerburg O, Krulisova V, Hammermann J, Lindner M, Stahl M, Muckenthaler M, Kohlmueller D, Happich M, Kulozik AE, Votava F, Balascakova M, Skalicka V, Stopsack M, Gahr M, Macek M Jr, Mall MA, Hoffmann GF (2014) Comparison of different IRT-PAP protocols to screen newborns for cystic fibrosis in three central European populations. J Cyst Fibros 13:15–23

Pourfarzam M, Zadhoush F (2013) Newborn screening for inherited metabolic disorders; news and views. J Res Med Sci 18:801–808

Léger J, Olivieri A, Donaldson M, Torresani T, Krude H, van Vliet G, Polak M, Butler G (2014) European Society for Paediatric Endocrinology consensus guidelines on screening, diagnosis, and management of congenital hypothyroidism. J Clin Endocrinol Metab 99:363–384

Speiser PW, Azziz R, Baskin LS, Ghizzoni L, Hensle TW, Merke DP, Meyer-Bahlburg HF, Miller WL, Montori VM, Oberfield SE, Ritzen M, White PC, Endocrine Society (2010) Congenital adrenal hyperplasia due to steroid 21-hydroxylase deficiency: an Endocrine Society clinical practice guideline. J Clin Endocrinol Metab 95:4133–4160

Mayell SJ, Munck A, Craig JV, Sermet I, Brownlee KG, Schwarz MJ, Castellani C, Southern KW (2009) A European consensus for the evaluation and management of infants with an equivocal diagnosis following newborn screening for cystic fibrosis. J Cyst Fibros 8:71–78

Van Spronsen F, Mj van Wegberg A, Ahring K, Bélanger-Quintana A, Blau N, Bosch AM, Burlina A, Campistol J, Feillet F, Gizewska M et al (2017) Key European guidelines for the diagnosis and management of patients with phenylketonuria. Lancet Diabetes Endocrinol 5:743–756

Leonard JV, Dezateux C (2009) Newborn screening for medium chain acyl CoA dehydrogenase deficiency. Arch Dis Child 94:235–238

Duryea EL, Hawkins JS, McIntire DD, Casey BM, Leveno KJ (2014) A revised birth weight reference for the United States. Obstet Gynecol 124:16–22

Lee JH, Kim SW, Jeon GW, Sin JB (2015) Thyroid dysfunction in very low birth weight preterm infants. Korean J Pediatr 58:224–229

Bijarnia S, Wilcken B, Wiley VC (2011) Newborn screening for congenital hypothyroidism in very-low-birth-weight babies: the need for a second test. J Inherit Metab Dis 34:827–833

Gaudino R, Garel C, Czernichow P, Léger J (2005) Proportion of various types of thyroid disorders among newborns with congenital hypothyroidism and normally located gland: a regional cohort study. Clin Endocrinol 62:444–448

Korzeniewski SJ, Grigorescu V, Kleyn M, Young WI, Birbeck G, Todem D, Romero R, Paneth N (2013) Transient hypothyroidism at 3-year follow-up among cases of congenital hypothyroidism detected by newborn screening. J Pediatr 162:177–182

Vaidya B, Campbell V, Tripp JH, Spyer G, Hattersley AT, Ellard S (2004) Premature birth and low birth weight associated with nonautoimmune hyperthyroidism due to an activating thyrotropin receptor gene mutation. Clin Endocrinol 60:711–718

Tylek-Lemańska D, Kumorowicz-Kopiec M, Starzyk J (2005) Screening for congenital hypothyroidism: the value of retesting after four weeks in neonates with low and very low birth weight. J Med Screen 12:166–169

Cavarzere P, Camilot M, Popa FI, Lauriola S, Teofoli F, Gaudino R, Vincenzi M, Antoniazzi F (2016) Congenital hypothyroidism with delayed TSH elevation in low-birth-weight infants: incidence, diagnosis and management. Eur J Endocrinol 175:395–402

Muller AE, Thamm B, Lietz T, Handrick W, Walter S (1999) Cystic fibrosis: a cause of reduced birth weight? Eur J Pediatr 158:264

Mylona P, Glazier JD, Greenwood SL, Sides MK, Sibley CP (1996) Expression of the cystic fibrosis (CF) and multidrug resistance (MDR1) genes during development and differentiation in the human placenta. Mol Hum Reprod 2:693–698

Strauss AW, Bennett MJ, Rinaldo P, Sims HF, O'Brien LK, Zhao Y, Gibson B, Ibdah J (1999) Inherited long-chain 3-hydroxyacyl-CoA dehydrogenase deficiency and a fetal-maternal interaction cause maternal liver disease and other pregnancy complications. Semin Perinatol 23:100–112

Deltetto N, Maxit C, Marchione D, Szlago M, Schenone A, Besada CH, Vaccarezza M, Agosta G (2012) Long chain 3-hydroxyacyl-coA dehydrogenase deficiency, association with HELLP and magnetic resonance spectroscopy findings. Arch Argent Pediatr 110:63–66

Karall D, Brunner-Krainz M, Kogelnig K, Konstantopoulou V, Maier EM, Möslinger D, Plecko B, Sperl W, Wolkmar B, Scholl-Burgi S (2015) Clinical outcome, biochemical and therapeutic follow-up in 14 Austrian patients with Long-Chain 3-Hydroxy Acyl CoA Dehydrogenase Deficiency (LCHADD). Orphanet J Rare Dis 10:21

Anandi VS, Shaila B (2017) Evaluation of factors associated with elevated newborn 17-hydroxyprogesterone levels. J Pediatr Endocrinol Metab 30:677–681
Funding
Institutional support was provided by the project DRO VFN64165 from the Ministry of Health of the Czech Republic and by the projects Progres Q26 and Q36 from Charles University.
Ethics declarations
Conflict of interest
The authors declare that they have no conflict of interest.
Informed consent
For this type of study, formal consent is not required. This article does not contain any studies with human participants or animals performed by any of the authors.
Additional information
Communicated by Mario Bianchetti
About this article
Cite this article
David, J., Chrastina, P., Vinohradska, H. et al. Neonatal screening in the Czech Republic: increased prevalence of selected diseases in low birthweight neonates. Eur J Pediatr 177, 1697–1704 (2018). https://doi.org/10.1007/s00431-018-3230-y
Received:

Revised:

Accepted:

Published:

Issue Date:

DOI: https://doi.org/10.1007/s00431-018-3230-y
Keywords
Congenital hypothyroidism

Cystic fibrosis

Long chain 3-hydroxyacyl-CoA dehydrogenase deficiency

Low birthweight

Neonatal screening