Abstract
Motivational interviewing (MI) is an effective method to promote weight loss that can be delivered by non-mental health providers. The aim of this study was to evaluate whether MI was superior to conventional counseling to improve the anthropometric outcomes of adolescents with obesity/overweight. It was a controlled cluster randomized trial with parallel design in a school setting. The study included two groups: Motivational Interviewing Group (MIG) and control group (Conventional Intervention Group, CIG). Students participated in three face-to-face 30-min interviews, 3 months apart. Outcomes were BMI z-score, abdominal circumference, percentages of fat mass and muscle mass, and blood pressure. Sessions were coded with the Motivational Interviewing Treatment Integrity (MITI) manual. Mixed repeated-measures ANOVAs were used to assess the group versus time interaction. Effect sizes were calculated for each ANOVA with eta-squared measures (η2). Eighty-three adolescents finished the protocol. While MIG participants showed a significant improvement in all anthropometric scores at 6 months, CIG participants showed an unfavorable change in those variables.
Conclusion: Our results provide additional evidence of the short-term usefulness of a school-based MI intervention on anthropometric outcomes of adolescents with obesity/overweight, demonstrating that pediatricians can play an important role in the prevention and management of pediatric obesity.
Trial registration: The study is called IMAGINE and is registered in Clinicaltrials.gov with the number NCT02745795.
What is Known:
• Although MI has been recognized as an effective counseling style for behavioral change in weight loss, there are few reports about the anthropometric outcomes of interventions with adolescents being treated for obesity/overweight.
• Our study showed significant positive changes in anthropometric variables (BMI z-score, abdominal circumference, percentage of fat mass, percentage of muscular mass, systolic and diastolic blood pressure) after only three face-to-face sessions over 6 months.
What is New:
• MI delivered by non-mental health providers in a school setting seems to have short-term usefulness in a program aiming the treatment of obese/overweight adolescents.
Access options
Buy single article
Instant access to the full article PDF.
US$ 39.95
Tax calculation will be finalised during checkout.
Subscribe to journal
Immediate online access to all issues from 2019. Subscription will auto renew annually.
US$ 119
Tax calculation will be finalised during checkout.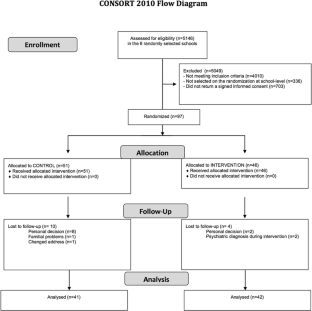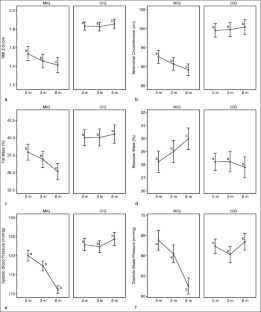 Abbreviations
BMI:

Body mass index

CIG:

Conventional Intervention Group

MI:

Motivational interviewing

MIG:

Motivational Interviewing Group

MITI:

Motivational Interviewing Treatment Integrity

PE:

Physical education

SD:

Standard deviation

WHO:

World Health Organization
References
1.

Ball GD, Mackenzie-Rife KA, Newton MS, Alloway CA, Slack JM, Plotnikoff RC, Goran MI (2011) One-on-one lifestyle coaching for managing adolescent obesity: findings from a pilot, randomized controlled trial in a real-world, clinical setting. Paediatr Child Health 16:345–350

2.

Bean MK, Powell P, Quinoy A, Ingersoll K, Wickham EP, Mazzeo SE (2015) Motivational interviewing targeting diet and physical activity improves adherence to paediatric obesity treatment: results from the MI values randomized controlled trial. Pediatr Obes 10:118–125

3.

Berkey CS, Colditz GA (2007) Adiposity in adolescents: change in actual BMI works better than change in BMI z-score for longitudinal studies. Ann Epidemiol 17:44–50

4.

Black MM, Hager ER, Le K, Anliker J, Arteaga SS, DiClemente C, Gittelsohn J, Magder L, Papas M, Snitker S, Treuth MS, Wang Y (2010) Challenge! Health promotion/obesity prevention mentorship model among urban, black adolescents. Pediatrics 126:280–288

5.

Brennan L (2016) Does motivational interviewing improve retention or outcome in cognitive behaviour therapy for overweight and obese adolescents? Obes Res Clin Pract 10:481–486

6.

Cole TJ, Faith MS, Pietrobelli A, Heo M (2005) What is the best measure of adiposity change in growing children: BMI, BMI %, BMI z-score or BMI centile? Eur J Clin Nutr 59:419–425

7.

Davis MM, Gance-Cleveland B, Hassink S, Johnson R, Paradis G, Resnicow K (2007) Recommendations for prevention of childhood obesity. Pediatrics 120(Suppl 4):S229–S253

8.

Davis JN, Gyllenhammer LE, Vanni AA, Meija M, Tung A, Schroeder ET, Spruijt-Metz D, Goran MI (2011) Startup circuit training program reduces metabolic risk in Latino adolescents. Med Sci Sports Exerc 43:2195–2203

9.

Dehghan M, Akhtar-Danesh N, Merchant AT (2005) Childhood obesity, prevalence and prevention. Nutr J 4:24

10.

DeSalvo KB, Olson R, Casavale KO (2016) Dietary guidelines for Americans. JAMA 315:457–458

11.

Epstein LH, Myers MD, Raynor HA, Saelens BE (1998) Treatment of pediatric obesity. Pediatrics 101:554–570

12.

Flattum C, Friend S, Neumark-Sztainer D, Story M (2009) Motivational interviewing as a component of a school-based obesity prevention program for adolescent girls. J Am Diet Assoc 109:91–94

13.

Freedman DS, Berenson GS (2017) Tracking of BMI z-scores for severe obesity. Pediatrics 140:e20171072

14.

Gayes LA, Steele RG (2014) A meta-analysis of motivational interviewing interventions for pediatric health behavior change. J Consult Clin Psychol 82:521–535

15.

Goran MI (1998) Measurement issues related to studies of childhood obesity: assessment of body composition, body fat distribution, physical activity, and food intake. Pediatrics 101:505–518

16.

Gourlan M, Sarrazin P, Trouilloud D (2013) Motivational interviewing as a way to promote physical activity in obese adolescents: a randomised-controlled trial using self-determination theory as an explanatory framework. Psychol Health 28:1265–1286

17.

Graffar M (1956) Une méthode de classification sociale d'échantillons de population. Courrier VI:455–459

18.

Hettema J, Steele J, Miller WR (2005) Motivational interviewing. Annu Rev Clin Psychol 1:91–111

19.

Kong AS, Sussman AL, Yahne C, Skipper BJ, Burge MR, Davis SM (2013) School-based health center intervention improves body mass index in overweight and obese adolescents. J Obes 2013:1–10

20.

Love-Osborne K, Fortune R, Sheeder J, Federico S, Haemer MA (2014) School-based health center-based treatment for obese adolescents: feasibility and body mass index effects. Child Obes 10:424–431

21.

Ludwig DS (2007) Childhood obesity-the shape of things to come. N Engl J Med 357:2325–2327

22.

Lurbe F, Agabiti-Rosei E, Cruickshank JK, Dominiczak A, Erdine S, Hirth A, Invitti C, Litwin M, Mancia G, Pall D, Rascher W, Redon J, Schaefer F, Seeman T, Sinha M, Stabouli S, Webb NJ, Wühl E, Zanchetti A (2016) 2016 - European Society of Hypertension (ESH) guidelines for the management of high blood pressure in children and adolescents. J Hypertens 85:167–169

23.

Macdonell K, Brogan K, Naar-King S, Ellis D, Marshall S (2012) A pilot study of motivational interviewing targeting weight-related behaviors in overweight or obese African American adolescents. J Adolesc Health 50:201–203

24.

Miller WR, Rollnick S (2013) Motivational interviewing: helping people change, third ed. Guilford Press, New York

25.

Moyers TB, Martin T, Manuel JK, Hendrickson SML, Miller W (2005) Assessing competence in the use of motivational interviewing. J Subst Abus Treat 28:19–26

26.

Naar-King S (2011) Motivational interviewing in adolescent treatment. Can J Psychiatr 56:651–657

27.

Naar-King S, Suarez M (2011) Motivational interviewing with adolescents and young adults, first ed. Ther Guilford Press, New York

28.

Naar-King S, Ellis DA, Carcone AI, Templin T, Jacques-Tiura AJ, Hartlieb KB, Cunningham P, Jen KKC (2016) Sequential multiple assignment randomized trial (SMART) to construct weight loss interventions for African American adolescents. J Clin Child Adolesc Psychol 45:428–441

29.

de Onis M, Lobstein T (2010) Defining obesity risk status in the general childhood population: which cut-offs should we use? Int J Pediatr Obes 5:458–460

30.

Pate RR, Davis MG, Robinson TN, Stone EJ, McKenzie TL, Young JC (2006) Promoting physical activity in children and youth: a leadership role for schools: a scientific statement from the American Heart Association Council on Nutrition, Physical Activity, and Metabolism (Physical Activity Committee) in collaboration with the Councils on Cardiovascular Disease in the Young and Cardiovascular Nursing. Circulation 114:1214–1224

31.

Pearson ES, Irwin JD, Morrow D, Battram DS, Melling CW (2013) The CHANGE program: comparing an interactive vs. prescriptive approach to self-management among university students with obesity. Can J Diabetes 37:4–11

32.

Reilly JJ, Kelly J (2011) Long-term impact of overweight and obesity in childhood and adolescence on morbidity and premature mortality in adulthood: systematic review. Int J Obes 35:891–898

33.

Riiser K, Løndal K, Ommundsen Y, Småstuen MC, Misvær N, Helseth S (2014) The outcomes of a 12-week internet intervention aimed at improving fitness and health-related quality of life in overweight adolescents: the young & active controlled trial. PLoS One 9:e114732

34.

Schwartz RP, Hamre R, Dietz WH, Wasserman RC, Slora EJ, Myers EF, Sullivan S, Rockett H, Thoma KA, Dumitru G, Resnicow KA (2007) Office-based motivational interviewing to prevent childhood obesity: a feasibility study. Arch Pediatr Adolesc Med 161:495–501

35.

Skelton JA, Beech BM (2011) Attrition in paediatric weight management: a review of the literature and new directions. Obes Rev 12:e273–e281

36.

Story MT, Neumark-Stzainer DR, Sherwood NE, Holt K, Sofka D, Trowbridge FL, Barlow SE (2002) Management of child and adolescent obesity: attitudes, barriers, skills, and training needs among health care professionals. Pediatrics 110:210–214

37.

Suder A, Gomula A, Koziel S (2017) Central overweight and obesity in Polish schoolchildren aged 7–18 years: secular changes of waist circumference between 1966 and 2012. Eur J Pediatr 176:1–8

38.

Tripp SB, Perry JT, Romney S, Blood-Siegfried J (2011) Providers as weight coaches: using practice guides and motivational interview to treat obesity in the pediatric office. J Pediatr Nurs 26:474–479

39.

Videira-Silva A, Fonseca H (2017) The effect of a physical activity consultation on body mass index z-score of overweight adolescents: results from a pediatric outpatient obesity clinic. 1–6

40.

Viggiano E, Viggiano A, Costanzo A, Viggiano A, Viggiano A, Andreozzi E, Romano V, Vicidomini C, Di Tuoro D, Gargano G, Incarnato L, Fevola C, Volta P, Tolomeo C, Scianni G, Santangelo C, Apicella M, Battista R, Raia M, Valentino I, Palumbo M, Messina G, Messina A, Monda M, De Luca M, De Luca B, Amaro S (2018) Healthy lifestyle promotion in primary schools through the board game Kaledo: a pilot cluster randomized trial. Eur J Pediatr 69:1–5

41.

Walpole B, Dettmer E, Morrongiello BA, McCrindle BW, Hamilton J (2013) Motivational interviewing to enhance self-efficacy and promote weight loss in overweight and obese adolescents: a randomized controlled trial. J Pediatr Psychol 38:944–953

42.

Wang Y, Chen H-J (2012) Use of percentiles and z-scores in anthropometry. In: Preedy VR (ed) Handbook of anthropometry. Springer, New York, pp 29–48
Acknowledgements
The authors thank the teachers of the schools involved in the study (Alfredo dos Reis Silveira High School, José Afonso High School, Manuel Cargaleiro High School, Amora High School, Terras de Larus Basic 2/3 School, Fernão Mendes Pinto High School, Emídio Navarro High School, Professor Ruy Luís Gomes High School), the Seixal and Almada Municipalities, the associations Independente Futebol Clube Torrense and Sociedade Recreativa União Pragalense, and the Holon Pharmacy Group®.
The study was not funded by any grant but the Portuguese Municipalities of Seixal and Almada, where the study took place, partially funded the physical activities for the participants. Dieticians from Holon Pharmacy Group® gave free dietetic counseling, which did not involve any selling of dietetic products in the pharmacies. Neither the municipalities nor the above mentioned pharmacy group had any role in the study protocol or in any decisions related to the study.
Funding
This study was not funded by any grant, but the municipalities where the study took place (Seixal and Almada, Portugal) partially funded the physical activities for the participants. Additionally, pharmacies from Group Holon® gave free dietetic counseling, without selling any dietetic products. Neither the municipalities nor the pharmacies had any influence on the study protocol or on the analysis of results. Authors do not have any financial relationship with the organizations that sponsored the research.
This research did not receive any specific grant from funding agencies in the public, commercial, or not-for-profit sectors.
Ethics declarations
Conflict of interest
The authors declare that they have no conflict of interest.
Study registry
The Study is called IMAGINE and is registered at Clinicaltrials.gov database with the number NCT02745795.
Ethical approval
Approval to conduct the study was granted by the local research ethics committees (equivalent to a Human Subjects Review Boards). The study is called IMAGINE and is registered in Clinicaltrials.gov with the number NCT02745795. The full trial protocol can be accessed at the repositorium of the University which supervised the study (University of Lisbon). The students who agreed to participate provided written assent and their parents/guardians were asked to sign an informed consent, which was obtained from all individual participants included in the study. All procedures performed in this study involving human participants were in accordance with the institutional and/or national research committee and with the Code of Ethics of the World Medical Association (1964 Helsinki Declaration) and its later amendments or comparable ethical standards for experiments involving humans and with uniform requirements for manuscripts Submitted to Biomedical Journals.
Informed consent
Informed consent was obtained from all individual participants included in the study.
Additional information
Communicated by Mario Bianchetti
About this article
Cite this article
Freira, S., Lemos, M.S., Fonseca, H. et al. Anthropometric outcomes of a motivational interviewing school-based randomized trial involving adolescents with overweight. Eur J Pediatr 177, 1121–1130 (2018). https://doi.org/10.1007/s00431-018-3158-2
Received:

Revised:

Accepted:

Published:

Issue Date:
Keywords
Pediatric obesity

School health services

Motivational interviewing

Body mass index

Body composition

Blood pressure