Abstract
Both traditional case-control studies (TCCSs) and test-negative case-control studies (TNCCSs) are commonly used to assess influenza vaccine effectiveness (VE). To compensate for the fact that observational studies are susceptible to bias, we combined both methods to assess VE in one geographical area during the 2015/2016 season, when influenza A (H1N1)pdm was dominant. Our TNCCS covered 331 children aged 6 months to 15 years who visited our hospital with fever, including 182 with influenza, and our TCCS covered 812 pediatric outpatients aged 6 months to 15 years, including 214 with influenza. Influenza infection and vaccination history were reviewed, and VE was calculated as (1 − odds ratio) × 100. In the TNCCS, VE against influenza A was 68% (95% CI 47–81) overall, and 70% (48–83) for those given two doses; against influenza B, VE was 37% (− 12–64) overall and 49% (2–74) for two doses. In the TCCS, VE against influenza A was 44% (15–63) overall and 44% (13–64) for two doses, and VE against influenza B was 24% (− 19–52) overall and 41% (3–64) for two doses.
Conclusion: Both studies confirmed significant VE against influenza A, significant two-dose VE against influenza B, and better two-dose VE than one-dose VE.
What is Known:
• Influenza vaccine effectiveness (VE) varies from year to year.
• Observational studies are conventionally used for VE assessment. However, they are inherently susceptible to bias and confounding.
What is New:
• This is the first report of influenza VE assessment using more than one observational study and performed in a specific area during the same season.
• VE estimates obtained in our traditional case-control study were lower than those in our test-negative case-control study, but both studies found significant VE against influenza.
Access options
Buy single article
Instant access to the full article PDF.
US$ 39.95
Tax calculation will be finalised during checkout.
Subscribe to journal
Immediate online access to all issues from 2019. Subscription will auto renew annually.
US$ 119
Tax calculation will be finalised during checkout.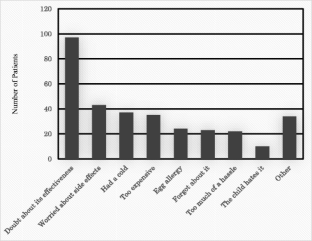 Abbreviations
TCCS:

Traditional case-control study

TNCCS:

Test-negative case-control study

VE:

Vaccine effectiveness
References
1.

Belongia EA, Kieke BA, Donahue JG, Greenlee RT, Balish A, Foust A, Lindstrom S, Shay DK (2009) Marshfield influenza study group. Effectiveness of inactivated influenza vaccines varied substantially with antigenic match from the 2004-2005 season to the 2006-2007 season. J Infect Dis 199:159–167

2.

Brendan Flannery, Sue B. Reynolds, Lenee Blanton, et al (2017) Influenza vaccine effectiveness against pediatric deaths: 2010-2014. Pediatrics 139: e20164244

3.

Chung JR, Flannery B, Thompson MG, Gaglani M, Jackson ML, Monto AS, Nowalk MP, Talbot HK, Treanor JJ, Belongia EA, Murthy K, Jackson LA, Petrie JG, Zimmerman RK, Griffin MR, McLean HQ, Fry AM (2016) Seasonal effectiveness of live attenuated and inactivated influenza vaccine. Pediatrics 137:e20153279

4.

Dixon GA, Moore HC, Kelly H, Jacoby P, Carcione D, Williams S, Smith D, Keil AD, van Buynder P, Richmond PC, the WAIVE study team (2010) Lessons from the first year of the WAIVE study investigating the protective effect of influenza vaccine against laboratory-confirmed influenza in hospitalized children aged 6-59 months. Influenza Other Respir Viruses 4:231–234

5.

Jackson ML, Nelson JC (2013) The test-negative design for estimating influenza vaccine effectiveness. Vaccine 31:2165–2168

6.

Kissling E, Nunes B, Robertson C, et al (2009) I-Move towards monitoring seasonal and pandemic influenza vaccine effectiveness: lessons learnt from a pilot multi-centric case-control study in Europe, 2008–9. Euro Surveill 14(44)

7.

Kelly H, Carville K, Grant K, Jacoby P, Tran T, Barr I (2009) Estimation of influenza vaccine effectiveness from routine surveillance data. PLoS One 4:e5079

8.

National Institute of Infectious Diseases (2015) Age group composition of reported cases of influenza virus-associated encephalitis from 2009/10 to 2014/15 seasons. http://www.nih.go.jp/niid/images/iasr/36/429/graph/df42951.gif

9.

National Institute of Infectious Diseases (2016) Number of reported influenza virus isolation/detection for 2015/16 season. http://www.nih.go.jp/niid/images/iasr/2016/11/441tt02.gif

10.

National Institute of Infectious Diseases (2016) Overview of the 2015/16 influenza season. Infectious Agents Surveillance Report 37:211–213. http://www.nih.go.jp/niid/ja/flu-m/flutoppage/592-idsc/iasr-topic/6871-441t.html

11.

National Institute of Infectious Diseases (2015) Influenza 2014/15 season, Japan. IASR 36:199–201. http://www.niid.go.jp/niid/en/iasr-vol36-e/865-iasr/6096-tpc429.html

12.

Nohynek H, Baum U, Syrjänen R, Ikonen N, Sundman J, Jokinen J (2016) Effectiveness of the live attenuated and the inactivated influenza vaccine in two-year-olds—a nationwide cohort study Finland, influenza season 2015/16. Euro Surveill 21(38)

13.

Orenstein EW, De Serres G, Haber MJ, Shay DK, Bridges CB, Gargiullo P, Orenstein WA (2007) Methodologic issues regarding the use of three observational study designs to assess influenza vaccine effectiveness. Int J Epidemiol 36:623–631

14.

Ozasa K, Washio M (2009) Issues associated with evaluating the effectiveness of influenza vaccination. Jpn J Public Health 56:18–24

15.

Regan AK, Klerk ND, Moore HC, Omer SB, Shellam G, Effler PV (2016) Effectiveness of seasonal trivalent influenza vaccination against hospital-attended acute respiratory infections in pregnant women: a retrospective cohort study. Vaccine 34:3649–3656

16.

Shinjoh M, Sugaya N, Yamaguchi Y, Tomidokoro Y, Sekiguchi S, Mitamura K, Fujino M, Shiro H, Komiyama O, Taguchi N, Nakata Y, Yoshida N, Narabayashi A, Myokai M, Sato M, Furuichi M, Baba H, Fujita H, Sato A, Ookawara I, Tsunematsu K, Yoshida M, Kono M, Tanaka F, Kawakami C, Kimiya T, Takahashi T, Iwata S, Keio Pediatric Influenza Research Group (2015) Effectiveness of trivalent inactivated influenza vaccine in children estimated by a test-negative case-control design study based on influenza rapid diagnostic test results. PLoS One 10:e0136539

17.

Shuler CM, Iwamoto M, Bridges CB, Marin M, Neeman R, Gargiullo P, Yoder TA, Keyserling HL, Terebuh PD (2007) Vaccine effectiveness against medically attended, laboratory-confirmed influenza among children aged 6 to 59 months, 2003-2004. Pediatrics 119:e587–e595

18.

Skowronski DM, Gilbert M, Tweed SA et al (2005) Effectiveness of vaccine against medical consultation due to laboratory-confirmed influenza: results from a sentinel physician pilot project in British Columbia, 2004-2005. Can Commun Dis Rep 31:181–191

19.

Skowronski DM, De Serres G, Crowcroft NS et al (2010) Association between the 2008-09 seasonal influenza vaccine and pandemic H1N1 illness during spring-summer 2009: four observational studies from Canada. PLoS Med 7:e1000258

20.

Sugaya N, Takeuchi Y (2005) Mass vaccination of schoolchildren against influenza and its impact on the influenza-associated mortality rate among children in Japan. Clin Infect Dis 41:939–947

21.

Sugaya N, Shinjoh M, Kawakami C, Yamaguchi Y, Yoshida M, Baba H, Ishikawa M, Kono M, Sekiguchi S, Kimiya T, Mitamura K, Fujino M, Komiyama O, Yoshida N, Tsunematsu K, Narabayashi A, Nakata Y, Sato A, Taguchi N, Fujita H, Toki M, Myokai M, Ookawara I, Takahashi T (2016) Trivalent inactivated influenza vaccine effective against influenza A(H3N2) variant viruses in children during the 2014/15 season, Japan. Euro Surveill 21(42)

22.

The Ministry of Health, Labour and Welfare (2016) Influenza Q&A Q31: are there cases of mortality from influenza vaccination? http://www.mhlw.go.jp/bunya/kenkou/kekkaku-kansenshou01/qa.html
Funding
This work was supported by a grant for medical research from Tokyo Metropolitan Government.
Ethics declarations
Conflict of interest
This work was supported by a grant for medical research from Tokyo Metropolitan Government. Author Norio Sugaya has received lecture fees from Astellas, Daiichi Sankyo, Denka Seiken, and Takeda, but none of these talks were connected with the work presented here. Author Masayoshi Shinjoh has also received lecture fees from Japan Vaccine and MSD, but again, the talks were unconnected with the studies describe in this paper. No other authors declare any potential conflicts of interest.
Informed consent
Informed consent was obtained from all individual participants included in the study.
Additional information
Communicated by Nicole Ritz
About this article
Cite this article
Kimiya, T., Shinjoh, M., Anzo, M. et al. Effectiveness of inactivated quadrivalent influenza vaccine in the 2015/2016 season as assessed in both a test-negative case-control study design and a traditional case-control study design. Eur J Pediatr 177, 1009–1017 (2018). https://doi.org/10.1007/s00431-018-3145-7
Received:

Revised:

Accepted:

Published:

Issue Date:
Keywords
Influenza vaccine effectiveness

Inactivated quadrivalent influenza vaccine

2015/2016 season

Test-negative case-control study

Traditional case-control study