Abstract
The aim of this study was to determine bacteriological stability of a probiotic mixture dispersed in various diluents. The commercially available probiotic (Infloran®), containing Bifidobacterium bifidum (109 CFU/250 mg tablet) and Lactobacillus acidophilus (109 CFU/250 mg tablet), was dispersed within expressed breast milk, sterile water, and infant formula and examined at temperatures of 4 and 21 °C. When stored at 4 °C, significant decreases (P < 0.05) in the level of L. acidophilus and B. bifidum were observed in expressed breast milk and sterile water after a 6-h period. However, when stored in infant formula, both strains remained stable over a 12-h period. When stored at 21 °C, a significant decrease (P < 0.05) was observed in the level of L. acidophilus in sterile water, expressed breast milk and infant formula throughout a 12-h period. However, no significant decrease was observed overtime in B. bifidum in all three diluents at this temperature.
Conclusion: Our findings suggest that, when stored at 4 °C, this probiotic product can remain at a stable condition for 6 h in sterile water and infant formula; however, the viability of the probiotic decreases significantly after this period of time. Administration of this probiotic in sterile water can be an acceptable alternative to dispersion and administration in expressed breast milk.
What is Known:
• Administration of probiotics containing lactobacilli and bifidobacteria has become more widespread in neonatology, mainly as prophylaxis for the prevention of necrotising entercolitis in preterm infants.
• Probiotic reconstitution, from its powder base, is not standardized and various diluents, including sterile water, breast milk, and infant formula, have been used.
What is New:
• When stored at 4 °C, a probiotic containing lactobacilli and bifidobacteria remains at a stable microbological condition for up to 6 h in sterile water.
• Administration of this probiotic dispersed in sterile water, followed by an EBM feed, can be an acceptable alternative to dispersion and administration in EBM.
Access options
Buy single article
Instant access to the full article PDF.
USD 39.95
Price excludes VAT (USA)
Tax calculation will be finalised during checkout.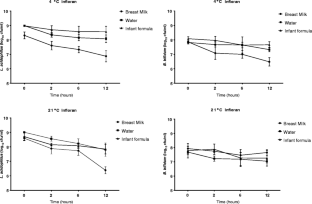 Abbreviations
EBM:

Expressed breast milk

LBS:

Lactobacillus selection

MRS:

de Mann, Rogosa and Sharpe

NEC:

Necrotising enter colitis
References
Collado MC, Sanz Y (2006) Method for direct selection of potentially probiotic Bifidobacterium strains from human feces based on their acid-adaptation ability. J Microbiol Methods 66(3):560–563

Corcoran BM, Stanton C, Fitzgerald GF, Ross RP (2005) Survival of probiotic lactobacilli in acidic environments is enhanced in the presence of metabolizable sugars. Appl Environ Microbiol 71(6):3060–3067

Deshpande G, Rao S, Patole S, Bulsara M (2010) Updated meta-analysis of probiotics for preventing necrotizing enterocolitis in preterm neonates. Pediatrics 125:921–930

Deshpande G, Rao SC, Keil AD, Patole S (2011) Evidence-based guidelines for use of probiotics in preterm neonates. BMC Med 9:92

Deshpande G, Rao SC, Patole S (2015) Probiotics in neonatal intensive care—back to the future. Aust N Z J Obstet Gynaecol 55(3):210–217

Hoyert DL, Jiaquan X Deaths: preliminary data for 2011—selected causes. Natl Vital Stat Rep 6:40–42

Larsen N, Vogensen FK, Gøbel R, Michaelsen KF, Al-Soud WA, Sørensen SJ, Hansen LH, Jakobsen M (2011) Predominant genera of fecal microbiota in children with atopic dermatitis are not altered by intake of probiotic bacteria Lactobacillus acidophilus NCFM and Bifidobacterium animalis subsp. lactis Bi-07. FEMS Microbiol Ecol 75(3):482–496

Macfarlane S, Macfarlane GT (2003) Regulation of short-chain fatty acid production. Proc Nutr Soc 62:67–72

Shigwedha N and Jia L (2013) Bifidobacterium in human GI tract: screening, isolation, survival and growth kinetics in simulated gastrointestinal conditions. In Lactic Acid Bacteria-R & D for Food, Health and Livestock Purposes. InTech. doi: 10.5772/50457

Tarnow-Mordi WO, Wilkinson D, Trivedi A, Brok J (2010) Probiotics reduce all-cause mortality and necrotizing enterocolitis: it is time to change practice. Pediatrics 125:1068–1070

Wang Y, Hoenig JD, Malin KJ, Malin KJ, Qamar S, Petrof OE, Sun J, Antonopoulos AD, Chang EB, Claud EC (2009) 16S rRNA gene-based analysis of fecal microbiota from preterm infants with and without necrotizing enterocolitis. ISME J 3:944–954
Acknowledgements
The authors acknowledge the assistance of Carol-Anne O′ Shea and Maura Cahill from the Cork University Maternity Hospital (CUMH) for their help in providing the probiotic and for demonstrating probiotic administration in the NICU.
Funding
The authors are supported, in part, by the Science Foundation Ireland, through The APC Microbiome Institute (APC), and INFANTMET (Project (Ref No 10FDairy), funded by the Food Institutional Research Measure (FIRM) of the Department of Agriculture, Food and the Marine.
Ethics declarations
The research does not involve human or animals. This study did not require informed consent. Ethical approval for the study was granted from Clinical Research Ethics Committee of the Cork Teaching Hospitals. (ECM4(M)01/09/15& (EMC)(dddddddd)12/04/16.
Conflict of interest
The authors declare that they have no conflict of interest.
Additional information
Communicated by Patrick Van Reempts
About this article
Cite this article
Watkins, C., Murphy, K., Dempsey, E.M. et al. The viability of probiotics in water, breast milk, and infant formula. Eur J Pediatr 177, 867–870 (2018). https://doi.org/10.1007/s00431-018-3133-y
Received:

Revised:

Accepted:

Published:

Issue Date:

DOI: https://doi.org/10.1007/s00431-018-3133-y
Keywords
Probiotics

Expressed breast milk

Water

Preterm

Newborns