Abstract
Bronchopulmonary dysplasia (BPD) is one of the most serious chronic lung diseases in infancy and one of the most important sequels of premature birth (prevalence of 15–50%). Our objective was to estimate the cost of BPD of one preterm baby, with no other major prematurity-related complications, during the first 2 years of life in Spain. Data from the Spanish Ministry of Health regarding costs of diagnosis-related group of preterm birth, hospital admissions and visits, palivizumab administration, and oxygen therapy in the year 2013 were analyzed. In 2013, 2628 preterm babies were born with a weight under 1500 g; 50.9% were males. The need for respiratory support was 2.5% needed only oxygen therapy, 39.5% required conventional mechanical ventilation, and 14.9% required high-frequency ventilation. The incidence of BPD was of 34.9%. The cost of the first 2 years of life of a preterm baby with BPD and no other major prematurity-related complications ranged between 45,049.81 € and 118,760.43 €, in Spain, depending on birth weight and gestational age. If the baby required home oxygen therapy or developed pulmonary hypertension, this cost could add up to 181,742.43 €.
Conclusion: Prematurity and BPD have an elevated cost, even for public health care systems. This cost will probably increase in the coming years if the incidence and survival of preterm babies keeps rising. The development of new therapies and preventive strategies to decrease the incidence of BPD and other morbidities associated with prematurity should be a priority.
What is known:
• Bronchopulmonary dysplasia (BPD) is a serious chronic lung disease related with premature birth.
• BPD is an increasing disease due to the up-rise in the number of premature births.
What is new:
• The economic cost of preterm birth and BPD has never before been estimated in Spain nor published with European data.
• Preterm babies with BPD and a good clinical outcome carry also an important economic and social burden.
Access options
Buy single article
Instant access to the full article PDF.
USD 39.95
Price excludes VAT (USA)
Tax calculation will be finalised during checkout.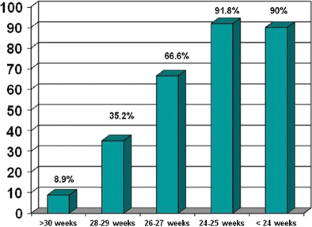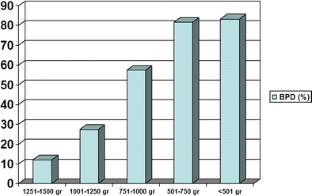 Similar content being viewed by others
Abbreviations
BPD:

Bronchopulmonary dysplasia

DRG:

Diagnostic-related groups

PH:

Pulmonary hypertension

VLBW:

Very low birth weight
References
Ancel PY, Goffinet F, EPIPAGE-2 Writing Group, Kuhn P, Langer B, Matis J et al (2015) Survival and morbidity of preterm children born at 22 through 34 weeks' gestation in France 2011: results of the EPIPAGE-2 cohort study. JAMA Pediatr 169(3):230–238

Baraldi E, Filippone M (2007) Chronic lung disease after premature birth. N Engl J Med 357:1946–1955

Beck S, Wojdyla D, Say L, Betran AP, Merialdi M, Harris Requejo J, Rubens C, Menon R, Van Look PFA (2010) The worldwide incidence of preterm birth: a systematic review of maternal mortality and morbidity. Bull World Health Organ 88:31–38

Del Cerro MJ, Sabaté Rotés A, Cartón A, Deiros L, Bret M, Cordeiro M, Verdú C, Barrios MI, Albajara L, Gutierrez-Larraya F. (2013) Pulmonary hypertension in bronchopulmonary dysplasia: clinical findings, cardiovascular anomalies and outcomes. Pediatr Pulmonol. 20. doi: https://doi.org/10.1002/ppul.22797.

DeVries LB, Heyne RJ, Ramaciotti C, Brown LS, Jaleel MA, Kapadia VS, Burchfield PJ, Brion LP (2017) Mortality among infants with evolving bronchopulmonary dysplasia increases with major surgery and with pulmonary hypertension. J Perinatol 00:1–4

Fanaroff AA, Stoll BJ, Wright LL, Carlo W, Ehrenkrantz RA, Stark AR, Bauer CR, Donovan EF, Korones SB, Laptook RA, Lemmons JA, Oh W, Papile LA, Shankaran S, Stevensons DK, Tyson JE, Poole WK, NICHD Neonatal Research Network (2007) Trends in neonatal morbidity and mortality for very low birthweight infants. Am J Obstet Gynecol 196:147.e1–147.e8

Furman L, Baley J, Borawski-Clark E, Aucott S, Hack M (1996) Hospitalization as a measure of morbidity among very low birth weight infants with chronic lung disease. J Pediatr 128:447–452

Gortner L, Misselwitz B, Milligan D, Zeitlin J, Kollée L, Boerch K, Agostino R, Van Reempts P, Chabernaud JL, Bréart G et al (2011) Members of the MOSAIC Research Group. Rates of bronchopulmonary dysplasia in very preterm neonates in Europe: results from the MOSAIC cohort. Neonatology 99(2):112–117

Gunville CF, Sontag MK, Stratton KA, Ranade DJ, Abman SH, Mourani PM (2010) The scope and impact of early and late preterm infants admitted to the PICU with respiratory illness. J Pediatr 157(2):209–214

Howe TH, Sheu CF, Wang TN, Hsu YW (2014) Parenting stress in families with very low birth weight preterm infants in early infancy. Res Dev Disabil 35(7):1748–1756

Jobe AH, Bancalari E (2001) Bronchopulmonary dysplasia. Am J Respir Crit Care Med 163(7):1723–1729

Johnson TJ, Patel AL, Jegier B, Engstrom JL, Meier P (2013) The cost of morbidities in very low birth weight infants. J. Pediatrics 162(2):243–249

Khemani E, McElhinney DB, Rhein L, Andrade O, Lacro RV, Thomas KC, Mullen MP (2007) Pulmonary artery hypertension in formerly premature infants with bronchopulmonary dysplasia: clinical features and outcomes in the surfactant era. Pediatrics 120:1260–1269

Kusters CD, van der Pal SM, van Steenbrugge GJ, den Ouden LS, Kollée LA (2013) The impact of premature birth on the family; consequences are experienced even after 19 years. Ned Tijdschr Geneeskd 157(25):A5449

Latini G, De Felice C, Giannuzzi R, Del Vecchio A (2013) Survival rate and prevalence of bronchopulmonary dysplasia in extremely low birth weight infants. Early Hum Dev 89(Suppl 1):S69–S73

Lewandowski AJ, Bradlow WM, Augustine D, Davis EF, Francis J, Singhal A, Lucas A, Neubauer S, McCormick K, Leeson P (2013) Right ventricular systolic dysfunction in young adults born preterm. Circulation 128(7):713–720. https://doi.org/10.1161/CIRCULATIONAHA.113.002583

López Guinea A, Casado Flores J, Martín Sobrino MA, Espínola Docio B, De la Calle CT, Serrano A, García Teresa MA (2007) Bronquiolitis grave. Epidemiología y evolución de 284 pacientes. An Pediatr (Barc) 67:116–122

McGrath-Morrow S. Long-term consequences of bronchopulmonary dysplasia and pulmonary hypertension. 6th International Conference Neonatal and Childhood Pulmonary Vascular Disease. June 2013. University of California, San Francisco

Memoria del SNS del año (2010) Subdirección General de Información Sanitaria e Innovación. Ministerio de Sanidad, Servicios Sociales e Igualdad

Moro M, Figueras-Aloy J, Fernández C, Doménech E, Jiménez R, Pérez-Rodríguez J, Pérez-Sheriff V, Quero J, Roqués V, Grupo SEN 1500 et al (2007 Nov) Mortality for newborns of birthweight less than 1500 g in Spanish neonatal units (2002-2005). Am J Perinatol 24(10):593–601

Perez Perez G, Navarro Merino M, Romero Perez MM, Saenz Reguera C, Pons Tubio A, Polo PJ (2004) Morbilidad respiratoria tras el alta hospitalaria en prematuros (<32 semanas) con displasia broncopulmonar. An Pediatr (Barc) 60(2):117–124

Sipola-Leppänen M, Vääräsmäki M, Tikanmäki M, Hovi P, Miettola S, Ruokonen A, Pouta A, Järvelin MR, Kajantie E (2014) Cardiovascular risk factors in adolescents born preterm. Pediatrics 134(4):e1072–e1081. https://doi.org/10.1542/peds.2013-4186

Smith VC, Zupancic JA, McCormick MC, Croen LA, Greene J, Escobar GJ (2004) Rehospitalization in the first year of life among infants with bronchopulmonary dysplasia. J Pediatr 144:799–803

Stenmark KR, Abman SH (2005) Lung vascular development: implications for the pathogenesis of bronchopulmonary dysplasia. Annu Rev Physiol 67:623–661
Acknowledgments
We would like to thank the Fundación contra la Hipertensión Pulmonar for funding this study.
Ethics declarations
This article does not contain any studies with human participants or animals performed by any of the authors.
Disclosure
All authors have indicated they have no financial relationships relevant to this article to disclose.
Conflict of interest
The authors declare that they have no conflicts of interest.
Additional information
Communicated by Patrick Van Reempts
About this article
Cite this article
Álvarez-Fuente, M., Arruza, L., Muro, M. et al. The economic impact of prematurity and bronchopulmonary dysplasia. Eur J Pediatr 176, 1587–1593 (2017). https://doi.org/10.1007/s00431-017-3009-6
Received:

Revised:

Accepted:

Published:

Issue Date:

DOI: https://doi.org/10.1007/s00431-017-3009-6
Keywords