Abstract
The purposes of this study are to investigate the prevalence of nonresponsive feeding practice (NRFP) and child's eating behavior (CEB) and to explore the hypothetical association between child's weight status, NRFP and CEB for 1- to 6-year-old children. In this study, 2423 caregivers of 1- to 6-year-old children are from the Nanjing Maternal and Child Health Hospital who completed the self-report questionnaires about their NRFP and CEB as well as their children's sociodemographic data. Chi-square test and multiple regression analyses were used to examine the correlation between child's weight status and NRFP and CEB. The total prevalence of overweight and obesity was 15.2 and 7.3%, respectively. High prevalence of CEB problems and NRFP was detected at 2- and 5-year-old children. Moreover, maternal NRFP was significantly positively associated with CEB. The regression and correlation analysis revealed CEB and maternal NRFP are closely associated with BMI. For instance, refusing new food (OR = 3.57, 95%CI, 1.37–9.33, 1.5-year-old) and restriction (OR = 3.01, 95%CI, 1.34–6.76) are likely to be associated with underweight. Preferring junk food (OR = 4.892, 95%CI, 1.71–14.01, 1-year-old) and inattention (OR = 2.24, 95%CI, 1.16–4.35, 1-year-old) are prone to be overweight and obese, and pressure (OR = 0.23, 95%CI, 0.06–0.91, 1-year-old) is less likely to be associated with underweight.
Conclusion: The findings provide strong evidence for the correlation between NRFR and CEB, and this indicates that prevention and intervention of unhealthy weight should start in early life. However, further research is necessary to gain an understanding of the impact of NRFP on CEB and weight.
What is known:
• Responsive feeding practice is crucial to the formation of eating behavior, and poor practice is associated with the current epidemics of childhood obesity and underweight.
What is new:
• The findings provide a strong evidence for the correlation between NRFR and CEB.
• This finding indicates that NRFR and CEB are associated with child's unhealthy weight.
Access options
Buy single article
Instant access to the full article PDF.
US$ 39.95
Tax calculation will be finalised during checkout.
Subscribe to journal
Immediate online access to all issues from 2019. Subscription will auto renew annually.
US$ 119
Tax calculation will be finalised during checkout.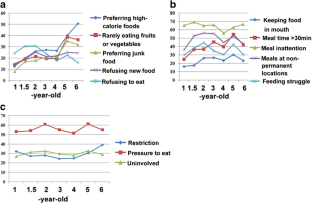 Abbreviations
NRFP:

Nonresponsive feeding practice

CEBQ:

Child Eating Behavior Questionnaire

RFQ:

Responsive Feeding Questionnaire

CEB:

Child's eating behavior
References
1.

Aboud FE, Moore AC, Akhter S (2008) Effectiveness of a community-based responsive feeding programme in rural Bangladesh: a cluster randomized field trial. Matern Child Nutr 4:275–286

2.

Alles-White ML, Welch P (1985) Factors affecting the formation of food preferences in preschool children. Early Child Dev Care 21:265–276

3.

Barlow SE (2007) Expert committee recommendations regarding the prevention, assessment, and treatment of child and adolescent overweight and obesity: summary report. Pediatrics 120(Suppl 4):S164–S192

4.

Benjasuwantep B, Chaithirayanon S, Eiamudomkan M (2013) Feeding problems in healthy young children: prevalence, related factors and feeding practices. Pediatric reports 5:38–42

5.

Bentley ME, Wasser HM, Creed-Kanashiro HM (2011) Responsive feeding and child undernutrition in low- and middle-income countries. J Nutr 141:502–507

6.

Bergstrom S, Carr H, Petersson G, Stephansson O, Bonamy AK, Dahlstrom A, Halvorsen CP, Johansson S (2016) Trends in congenital heart defects in infants with down syndrome. Pediatrics 138(1):e20160123

7.

Birch LL, Fisher JO, Davison KK (2003) Learning to overeat: maternal use of restrictive feeding practices promotes girls' eating in the absence of hunger. Am J Clin Nutr 78:215–220

8.

Black MM, Hurley KM (2010) Infant nutrition. In Bremmer JG, Wachs T, editors. Handbook on infant development. In: Applied and policy issues, vol 2nd. Wiley-Blackwell, New York, pp 33–61

9.

Blake CE, Devine CM, Wethington E, Jastran M, Farrell TJ, Bisogni CA (2009) Employed parents' satisfaction with food-choice coping strategies. Influence of gender and structure. Appetite 52:711–719

10.

Costanzo PR, Woody EZ (1985) Domain-specific parenting styles and their impact on the child's development of particular deviance: the example of obesity proneness. J Soc Clin Psychol 3:425–445

11.

Dearden KA, Hilton S, Bentley ME, Caulfield LE, Wilde C, Ha PB, Marsh D (2009) Caregiver verbal encouragement increases food acceptance among Vietnamese toddlers. J Nutr 139:1387–1392

12.

Eli K, Sorjonen K, Mokoena L, Pietrobelli A, Flodmark CE, Faith MS, Nowicka P (2016) Associations between maternal sense of coherence and controlling feeding practices: the importance of resilience and support in families of preschoolers. Appetite 105:134–143

13.

Gross AC, Fox CK, Rudser KD, Foy AMH, Kelly AS (2016) Eating behaviours are different in youth with obesity and severe obesity. Clin Obes 6:68–72

14.

Ha PB, Bentley ME, Pachón H, Sripaipan T, Caulfield LE, Marsh DR, Schroeder DG (2002) Caregiver styles of feeding and child acceptance of food in rural VietNam. Food Nutr Bull 23:95–100

15.

Helland SH, Bere E, Øverby NC (2016) Study protocol for a multi-component kindergarten-based intervention to promote healthy diets in toddlers: a cluster randomized trial. BMC Public Health 16:273

16.

Hoffman ER, Bentley ME, Hamer RM, Hodges EA, Ward DS, Bulik CM (2014) A comparison of infant and toddler feeding practices of mothers with and without histories of eating disorders. Matern Child Nutr 10:360–372

17.

Hughes SO, Shewchuk RM, Baskin ML, Nicklas TA, Qu H (2008) Indulgent feeding style and children's weight status in preschool. J Dev Behav Pediatr JDBP 29:403–410

18.

Hurley KM, Cross MB, Hughes SO (2011) A systematic review of responsive feeding and child obesity in high-income countries. J Nutr 141:495–501

19.

Jansen E, Mallan KM, Nicholson JM, Daniels LA (2014) The feeding practices and structure questionnaire: construction and initial validation in a sample of Australian first-time mothers and their 2-year olds. Int J Behav Nutr Phys Act 11:1–13

20.

Lakshman R, Whittle F, Hardeman W, Suhrcke M, Wilson E, Griffin S, Ong KK (2015) Effectiveness of a behavioural intervention to prevent excessive weight gain during infancy (the baby milk trial): study protocol for a randomised controlled trial. Trials 16:1–10

21.

Mccarthy EK, Chaoimh CN, Murray DM, Hourihane JO, Kenny LC, Kiely M (2015) Eating behaviour and weight status at 2 years of age: data from the Cork BASELINE birth cohort study. Eur J Clin Nutr 69:1356–1359

22.

Nowicka P, Sorjonen K, Pietrobelli A, Flodmark CE, Faith MS (2014) Parental feeding practices and associations with child weight status. Swedish validation of the child feeding questionnaire finds parents of 4-year-olds less restrictive. Appetite 81:232–241

23.

Onis DMD, Lobstein T (2010) Defining obesity risk status in the general childhood population: which cut-offs should we use? Int J Pediatr Obes IJPO Off J Int Assoc Study Obes 5:458–460

24.

Ontai LL, Sitnick SL, Shilts MK, Townsend MS (2016) My child at mealtime: a visually enhanced self-assessment of feeding styles for low-income parents of preschoolers. Appetite 99:76–81

25.

Ray C, Maatta S, Lehto R, Roos G, Roos E (2016) Influencing factors of children's fruit, vegetable and sugar-enriched food intake in a Finnish preschool setting—preschool personnel's perceptions. Appetite 103:72–79

26.

Saxton J, Carnell S, Jaarsveld CHMV, Wardle J (2009) Maternal education is associated with feeding style. J Am Diet Assoc 109:894–898

27.

Silva GA, Costa KA, Giugliani ER (2016) Infant feeding: beyond the nutritional aspects. Jornal de pediatria 92:S2-76. Journal ArticleBlack MM, Aboud FE (2011) Responsive feeding is embedded in a theoretical framework of responsive parenting. J Nutr 141:490–494

28.

Steinsbekk S, Belsky J, Wichstrøm L (2016) Parental feeding and child eating: an investigation of reciprocal effects. Child Dev 87:1538–1549
Funding
This work was supported by grants from the National Key Basic Research Program of China (2013CB530604), the National Natural Science Foundation of China (81500674, 81370964, 81330067), the Jiangsu Provincial Medical Youth Talent, Program for Innovative Research Teams of Jiangsu Province (LJ201108), the National Natural Science Foundation of Jiangsu Province (BK20150082) and the Project of Preeminent Youth Fund of Nanjing Public Health Bureau (JQX13013).
Ethics declarations
All procedures performed in studies involving human participants were in accordance with the ethical standards of the Hospital Administration (2014(55)).
Conflict of interest
All authors have no financial relationships with any organization relevant to this article to disclose. The authors declare that they have no conflict of interest.
Informed consent
All parents and their children gave their informed consent prior to their inclusion in the study.
Additional information
Communicated by Mario Bianchetti
Electronic supplementary material
About this article
Cite this article
Shi, C., Li, N., Dong, J. et al. Association between maternal nonresponsive feeding practice and child's eating behavior and weight status: children aged 1 to 6 years. Eur J Pediatr 176, 1603–1612 (2017). https://doi.org/10.1007/s00431-017-3007-8
Received:

Revised:

Accepted:

Published:

Issue Date:
Keywords
Nonresponsive feeding

Child's eating behavior

Weight status

BMI