Abstract
This study aims to describe the patterns in low back, mid back, and neck pain complaints in young adolescents from the Danish National Birth Cohort (DNBC) and to investigate the co-occurrence of spinal pain and stress and general well-being, respectively. Cross-sectional data from the 11-year follow-up of DNBC were used. As part of a web-based survey, a total of 45,371 young adolescents between 10 and 14 years old completed the Young Spine Questionnaire, the Stress in Children Questionnaire, and a one-item question on general well-being. Associations between spinal pain and, respectively, stress and general well-being were estimated by means of multiple logistic regression models. Almost one fifth of boys and one quarter of girls reported spinal pain. Compared with adolescents who reported no stress, adolescents reporting medium and high values of stress had odds ratios (OR) of 2.19 (95% CI 2.08–2.30) and 4.73 (95% CI 4.28–5.23), respectively, of reporting spinal pain (adjusted for age, gender, and maternal education). Adolescents who reported poor general well-being had an OR of 2.50 (95% CI 2.31–2.72) for reporting spinal pain compared to adolescents with good general well-being.
Conclusion: Spinal pain is a common complaint among young adolescents and co-occurs with stress and poor general well-being. The mutual dependency between the factors remained to be explained.
What is Known:
• The prevalence of spinal pain increases rapidly during childhood and adolescence, but different measurement instruments result in great variation in the estimates of spinal pain in children and adolescents.
• Some studies have shown that different psychosocial measures are associated with spinal pain in children and adolescents.
What is New:
• Spinal pain, as measured by the newly developed and validated Young Spine Questionnaire, is a common complaint in young adolescents aged 10–14 years.
• Spinal pain in young adolescents co-occurs with stress and poor general well-being.
Access options
Buy single article
Instant access to the full article PDF.
USD 39.95
Price includes VAT (USA)
Tax calculation will be finalised during checkout.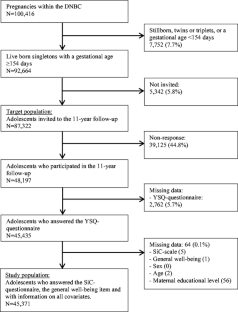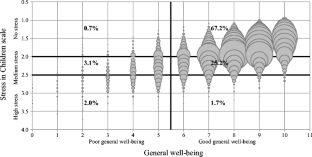 Abbreviations
DNBC:

Danish National Birth Cohort

OR:

Odds ratio

rFPS:

The revised version of the Faces Pain Scale

SD:

Standard deviation

SDQ:

Strengths and Difficulties Questionnaire

SiC:

Stress in Children

YSQ:

Young Spine Questionnaire

95% CI:

95% confidence intervals
References
1.

Aartun E, Hartvigsen J, Wedderkopp N, Hestbaek L (2014) Spinal pain in adolescents: prevalence, incidence, and course: a school-based two-year prospective cohort study in 1,300 Danes aged 11-13. BMC Musculoskelet Disord 15(1):187. doi:10.1186/1471-2474-15-187

2.

Brattberg G (2004) Do pain problems in young school children persist into early adulthood? A 13-year follow-up. Eur J Pain 8(3):187–199. doi:10.1016/j.ejpain.2003.08.001

3.

Calvo-Munoz I, Gomez-Conesa A, Sanchez-Meca J (2013) Prevalence of low back pain in children and adolescents: a meta-analysis. BMC Pediatr 13:14. doi:10.1186/1471-2431-13-14

4.

Cantril H (1965) The pattern of human concerns. Rutgers University Press, New Brunswick

5.

Currie C, Zanotti C, Morgan A, Currie D, de Looze M, Roberts C, Samdal O, Smith O, Barnekow V (2012) Social determinants of health and well-being among young people. Health Behaviour in School-aged Children (HBSC) study: international report from the 2009/2010 survey. WHO Regional Office for Europe (Health Policy for Children and Adolescents, No. 6), Copenhagen

6.

Diepenmaat AC, van der Wal MF, de Vet HC, Hirasing RA (2006) Neck/shoulder, low back, and arm pain in relation to computer use, physical activity, stress, and depression among Dutch adolescents. Pediatrics 117(2):412–416

7.

Dunn KM, Hestbaek L, Cassidy JD (2013) Low back pain across the life course. Best Pract Res Clin Rheumatol 27(5):591–600. doi:10.1016/j.berh.2013.09.007

8.

Greene N, Greenland S, Olsen J, Nohr EA (2011) Estimating bias from loss to follow-up in the Danish National Birth Cohort. Epidemiology 22(6):815–822. doi:10.1097/EDE.0b013e31822939fd

9.

Gunzburg R, Balague F, Nordin M, Szpalski M, Duyck D, Bull D, Melot C (1999) Low back pain in a population of school children. Eur Spine J 8(6):439–443

10.

Hemingway H, Shipley MJ, Stansfeld S, Marmot M (1997) Sickness absence from back pain, psychosocial work characteristics and employment grade among office workers. Scand J Work Environ Health 23(2):121–129

11.

Hestbaek L, Leboeuf-Yde C, Kyvik KO, Manniche C (2006) The course of low back pain from adolescence to adulthood: eight-year follow-up of 9600 twins. Spine 31(4):468–472. doi:10.1097/01.brs.0000199958.04073.d9

12.

Hestbaek L, Korsholm L, Leboeuf-Yde C, Kyvik KO (2008) Does socioeconomic status in adolescence predict low back pain in adulthood? A repeated cross-sectional study of 4,771 Danish adolescents. Eur Spine J 17(12):1727–1734. doi:10.1007/s00586-008-0796-5

13.

Hicks CL, von Baeyer CL, Spafford PA, van Korlaar I, Goodenough B (2001) The Faces Pain Scale-Revised: toward a common metric in pediatric pain measurement. Pain 93(2):173–183

14.

Jeffries LJ, Milanese SF, Grimmer-Somers KA (2007) Epidemiology of adolescent spinal pain: a systematic overview of the research literature. Spine 32(23):2630–2637. doi:10.1097/BRS.0b013e318158d70b

15.

Lauridsen HH, Hestbaek L (2013) Development of the young spine questionnaire. BMC Musculoskelet Disord 14:185. doi:10.1186/1471-2474-14-185

16.

Levin K, Currie C (2013) Reliability and validity of an adapted version of the Cantril Ladder for use with adolescent samples. Soc Indic Res

17.

Linton SJ (2000) A review of psychological risk factors in back and neck pain. Spine 25(9):1148–1156

18.

Manchikanti L, Singh V, Datta S, Cohen SP, Hirsch JA (2009) Comprehensive review of epidemiology, scope, and impact of spinal pain. Pain Phys 12(4):E35–E70

19.

Martin BI, Deyo RA, Mirza SK, Turner JA, Comstock BA, Hollingworth W, Sullivan SD (2008) Expenditures and health status among adults with back and neck problems. JAMA 299(6):656–664. doi:10.1001/jama.299.6.656

20.

Mohapatra S, Deo S, Satapathy A, Rath N (2014) Somatoform disorders in children and adolescents. German J Psychiatr 17(1):19–24

21.

Murphy B, Buckle P, Stubbs D (2007) A cross-sectional study of self-reported back and neck pain among English schoolchildren and associated physical and psychological risk factors. Appl Ergon 38:797–804

22.

Mustard CA, Kalcevich C, Frank JW, Boyle M (2005) Childhood and early adult predictors of risk of incident back pain: Ontario Child Health Study 2001 follow-up. Am J Epidemiol 162(8):779–786. doi:10.1093/aje/kwi271

23.

Nohr EA, Frydenberg M, Henriksen TB, Olsen J (2006) Does low participation in cohort studies induce bias? Epidemiology 17(4):413–418. doi:10.1097/01.ede.0000220549.14177.60

24.

Olsen J, Melbye M, Olsen SF et al (2001) The Danish National Birth Cohort—its background, structure and aim. Scand J Public Health 29(4):300–307

25.

Osika W, Friberg P, Wahrborg P (2007) A new short self-rating questionnaire to assess stress in children. Int J Behav Med 14(2):108–117

26.

Pincus T, McCracken LM (2013) Psychological factors and treatment opportunities in low back pain. Best Pract Res Clin Rheumatol 27(5):625–635. doi:10.1016/j.berh.2013.09.010

27.

Szpalski M, Gunzburg R, Balague F, Nordin M, Melot C (2002) A 2-year prospective longitudinal study on low back pain in primary school children. Europ Spine J 11(5):459–464. doi:10.1007/s00586-002-0385-y

28.

Torsheim T, Eriksson L, Schnohr CW, Hansen F, Bjarnason T, Valimaa R (2010) Screen-based activities and physical complaints among adolescents from the Nordic countries. BMC Public Health 10:324. doi:10.1186/1471-2458-10-324

29.

Vos T, Flaxman AD, Naghavi M et al (2012) Years lived with disability (YLDs) for 1160 sequelae of 289 diseases and injuries 1990-2010: a systematic analysis for the Global Burden of Disease Study 2010. Lancet 380(9859):2163–2196

30.

Watson K, Papageorgiou A, Jones G, Taylor S, Symmons D, Silman A, Macfarlane G (2003) Low back pain in schoolchildren: the role of mechanical and psychosocial factors. Arch Dis Child 88(1):12–17
Acknowledgements
The Danish National Research Foundation established the Danish Epidemiology Science Centre, where the Danish National Birth Cohort was initiated. The cohort is furthermore a result of a major grant from this foundation. Additional support for the DNBC is obtained from the Pharmacy Foundation, the Egmont Foundation, the March Dimes Birth Defects Foundation, the Augustinus Foundation, and the Health Foundation. The DNBC 11-year follow-up was supported by grants from the Danish Council for Independent Research (DFF) and the Lundbeck Foundation.
Ethics declarations
Funding
This particular work was supported by the University of Copenhagen, the Danish Council for Independent Research (DFF), and the Lundbeck Foundation.
Conflict of interest
The authors declare that they have no conflict of interest.
Ethical approval
All procedures performed in studies involving human participants were in accordance with the ethical standards of the institutional and/or national research committee and with the 1964 Helsinki declaration and its later amendments or comparable ethical standards.
Informed consent
Informed consent was obtained from all mothers included in the study and children were invited to the study through an invitation to the mother.
Additional information
Communicated by Communicated by Mario Bianchetti
About this article
Cite this article
Stallknecht, S.E., Strandberg-Larsen, K., Hestbæk, L. et al. Spinal pain and co-occurrence with stress and general well-being among young adolescents: a study within the Danish National Birth Cohort. Eur J Pediatr 176, 807–814 (2017). https://doi.org/10.1007/s00431-017-2915-y
Received:

Revised:

Accepted:

Published:

Issue Date:
Keywords
Back pain

Lumbar pain

Thoracic pain

Neck pain

School children