Abstract
Timely recognition of deterioration of hospitalised children is important to improve mortality. We developed a modified Paediatric Early Warning Score (PEWS) and studied the effects by performing three different cohort studies using different end points. Taking unplanned Paediatric Intensive Care Unit admission as end point and only using data until 2 h prior to end point, we found a sensitivity of 0.67 and specificity of 0.88 to timely recognise patients. This proves that earlier identification is possible without a loss of sensitivity compared to other PEWS systems. When determining the corresponding clinical condition in patients with an elevated PEWS dichotomously as 'sick' or 'well', this resulted in a total of 27 % false-positive scores. This can cause motivational problems for caregivers to use the system but is a consequence of PEWS design to minimise false-negative rates because of high mortality associated with paediatric resuscitation. Using the need for emergency medical interventions as end point, sensitivity of PEWS is high and it seems, therefore, that it is also fit to alert health-care professionals that urgent interventions may be needed. Conclusion: These data show the effectiveness of a modified PEWS in identifying critically ill patients in an early phase making early interventions possible and hopefully reduce mortality.
Access options
Buy single article
Instant access to the full article PDF.
USD 39.95
Price excludes VAT (USA)
Tax calculation will be finalised during checkout.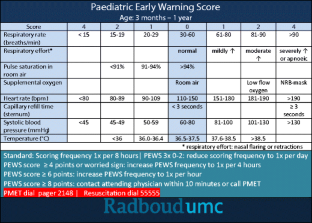 Abbreviations
PEWS:

Paediatric Early Warning Score

PICU:

Paediatric Intensive Care Unit

SA:

Situational awareness

SSE:

Serious safety event
References
Akre M, Finkelstein M, Erickson M, Liu M, Vanderbilt L et al (2010) Sensitivity of the Pediatric Early Warning Score to identify patient deterioration. Pediatrics 125:e763–e769

Bleetman A, Sanusi S, Dale T, Brace S (2012) Human factors and error prevention in emergency medicine. Emerg Med J 29(5):389–393

Bonafide CP, Roberts KE, Weirich CM, Paciotti B, Tibbetts KM, Keren R, Barg FK, Holmes JH (2013) Beyond statistical prediction: qualitative evaluation of the mechanisms by which pediatric early warning scores impact patient safety. J Hosp Med 8(5):248–253

Burch VC, Tarr G, Morroni C (2008) Modified early warning score predicts the need for hospital admission and inhospital mortality. Emerg Med J 25(10):674–678

Cooksley T, Kitlowski E, Haji-Michael P (2012) Effectiveness of Modified Early Warning Score in predicting outcomes in oncology patients. QJM 105(11):1083–1088

Edwards ED, Powell CV, Mason BW, Oliver A (2009) Prospective cohort study to test the predictability of the Cardiff and Yale paediatric early warning system. Arch Dis Child 94(8):602–606

Girotra S, Spertus JA, Li Y, Berg RA, Nadkarni VM, Chan PS (2013) Survival trends in pediatric in-hospital cardiac arrests: an analysis from Get With the Guidelines-Resuscitation. Circ Cardiovasc Qual Outcomes 6(1):42–49

Isaacman DJ, Shults J, Gross TK, Davis PH, Harper M (2000) Predictors of bacteremia in febrile children 3 to 36 months of age. Pediatrics 106(5):977–982

McCabe A, Duncan H, Heward Y (2009) Paediatric early warning systems: where do we go from here? Paediatr Nurs 21(1):14–17

McGaughey J, Alderdice F, Fowler R, Kapila A, Mayhew A, Moutray M (2007) Outreach and Early Warning Systems (EWS) for the prevention of intensive care admission and death of critically ill adult patients on general hospital wards. Cochrane Database Syst Rev 3, CD005529

Parshuram CS, Duncan HP, Joffe AR, Farrell CA, Lacroix JR, Middaugh KL, Hutchison JS, Wensley D, Blanchard N, Beyene J, Parkin PC (2011) Multicentre validation of the bedside paediatric early warning system score: a severity of illness score to detect evolving critical illness in hospitalized children. Crit Care 15(4):R184

Roland D (2012) Paediatric early warning scores: Holy Grail and Achilles' heel. Arch Dis Child Educ Pract Ed 97(6):208–215

Solevåg AL, Eggen EH, Schröder J, Nakstad B (2013) Use of a modified pediatric early warning score in a department of pediatric and adolescent medicine. PLoS One 8(8):e72534

Subbe CP, Kruger M, Rutherford P, Gemmel L (2001) Validation of a modified Early Warning Score in medical admissions. QJM 94(10):521–526

Tucker KM, Brewer TL, Baker RB, Demeritt B, Vossmeyer MT (2009) Prospective evaluation of a pediatric inpatient early warning scoring system. Spec Pediatr Nurs 14(2):79–85

Van den Bruel A, Haj-Hassan T, Thompson M, Buntinx F, Mant D, European Research Network on Recognising Serious Infection investigators (2010) Diagnostic value of clinical features at presentation to identify serious infection in children in developed countries: a systematic review. Lancet 375(9717):834–845
Conflict of interest
No conflict of interest is to be reported.
Additional information
Communicated by Patrick Van Reempts
About this article
Cite this article
Fuijkschot, J., Vernhout, B., Lemson, J. et al. Validation of a Paediatric Early Warning Score: first results and implications of usage. Eur J Pediatr 174, 15–21 (2015). https://doi.org/10.1007/s00431-014-2357-8
Received:

Revised:

Accepted:

Published:

Issue Date:

DOI: https://doi.org/10.1007/s00431-014-2357-8
Keywords